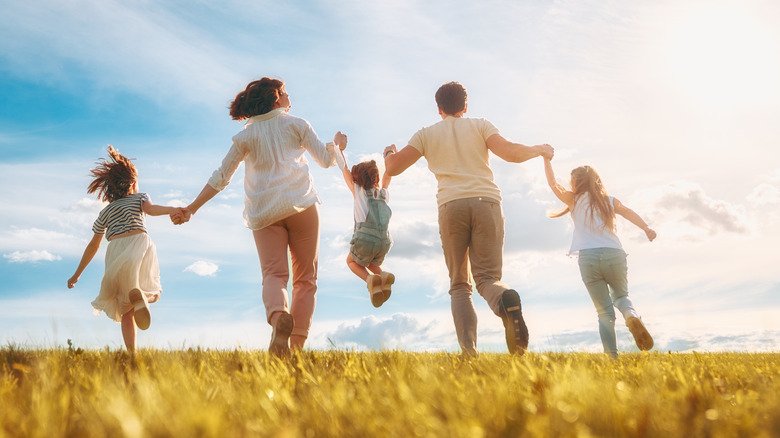 When you are a busy parent, it can be challenging to get enough exercise. Plus, you are probably responsible for getting your kids to move, too. Unfortunately, an estimated 80% of Americans don't exercise enough to optimize their health (per the Cleveland Clinic). Children aged 6 to 17 should get at least an hour of moderate to intense physical activity daily. Meanwhile, adults should try to get 2.5 to 5 hours of moderate exercise or 1.25 to 2.5 hours of vigorous exercise weekly.
The Mayo Clinic discusses common barriers to exercise, including not having enough time, boredom from repetitive activities, worrying about one's physical appearance while working out, and feeling too tired or too lazy to exercise. Yet another obstacle may occur when your family isn't supportive of your efforts. In this situation, the site's experts advise: "Remind those close to you of the benefits of regular exercise, and then bring them along to exercise."
Although overcoming workout barriers isn't always easy, there are many important reasons to do so. According to the CDC, "Regular physical activity can help keep your thinking, learning, and judgment skills sharp as you age. It can also reduce your risk of depression and anxiety and help you sleep better." Additionally, exercise can help with weight management, reduce many health risks, strengthen bones and muscles, and improve your ability to perform daily tasks. It may even help you live longer. Below, we share some ideas for workouts you can do with your whole family.
Walk around the neighborhood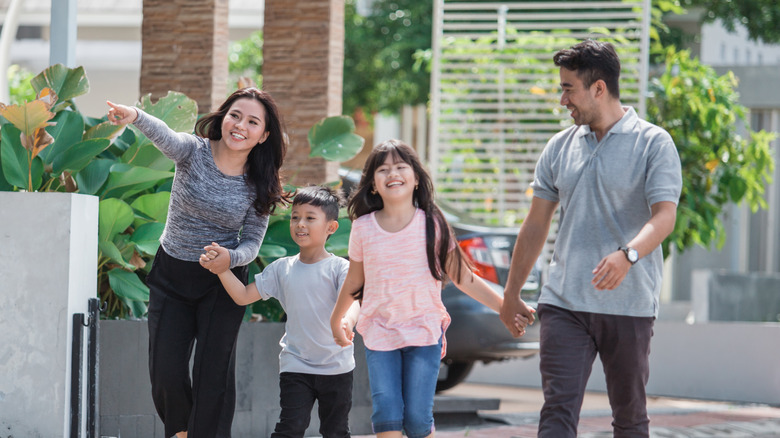 One of the easiest ways to get moving as a family is to go for walks around your neighborhood. America Walks states that walking offers a range of health benefits, including decreasing your risk for cardiovascular disease, lowering blood pressure, and reducing rates of death from all causes. Additionally, walking does not cost anything, does not require any particular skills or equipment, and can be done pretty much anywhere. As the organization put it: "Walking is also accessible across a lifespan, making it one of the best solutions for increasing population-level physical activity."
Family walks are a great time to get some fresh air, disconnect from screens, and reconnect with each other. To make your family walks even better, Creative Family Fun offers some helpful tips. These include counting objects on your route (such as trees or parked cars), exploring the neighborhood up close with binoculars, playing I Spy while you walk, and bringing along a bag to collect natural treasures (such as leaves or stones). You can also go on family scavenger hunts together to keep things interesting (via Coffee and Carpool).
Venture out for a family hike
For nature-loving families, trekking on hiking trails can be the perfect way to soak in the great outdoors while also getting in a workout. As Pathways shares, "Playing in nature can help children of all ages with their motor skills, communication, social-emotional skills, sensory integration, and so much more!" Adults can also experience a range of benefits from being outdoors, including greater life satisfaction, lower blood pressure, increased immunity, and improved sleep (per Trip Outside).
If your family hasn't done much hiking, choosing the right trail to get started is pretty important. To select the right hike, you may want to ask around for local recommendations. You can also research them via sites like AllTrails. Most trails are classified on a scale from easy (short distances with little elevation gain or obstacles) to more difficult (involving greater distances and elevation gain, obstacles, or technical skills and equipment), per Active. If you have very young children, you'll want to look for a short, flat hike that the whole family can enjoy. On the other hand, older kids and teens may appreciate longer distances that involve scrambling over rocks or climbing up to a ridge or peak.
REI offers tips on how to make family hiking fun. They suggest planning adventures together, using a navigation app for motivation, letting kids set the pace, packing lots of snacks, and enjoying a post-hike reward (ice cream, anyone?). You could also try geocaching, described as "a high-tech treasure hunt."
Enjoy a bike ride together
There's nothing quite like the exhilaration of a bike ride. So why not take the whole family on one with you? Of course, you'll need to teach your child how to ride a bike first. Today's Parent suggests breaking that down into five steps: buying the right size bike, starting easy with a balance bike, finding a safe spot to practice, balancing your child as they begin to pedal, and finally, sending them off solo.
Once the whole family is reasonably steady on two wheels, you'll want to make sure that they understand the rules of the road and other safety measures before heading out. USA Cycling reminds cyclists to ride with traffic, be predictable, be conspicuous, think ahead, and ride prepared for flat tires or other mechanical issues. Finally, make sure that you always wear a helmet.
When your family heads out together, remember to focus on the fun of it, not on speed or endurance (per REI). Keep things light by stopping as often as necessary for rest and snacks. You should choose beginner terrain, remind your kids to "stop, look, and listen", and wear visible clothing. Over time, your family can work their way up to more challenging rides. If you want a great cycling workout right now without worrying about differing ability levels, look for a family cycling session or a spin class. Everyone can enjoy great music while participating at their own pace on stationary bikes.
Go swimming
There are so many great places to swim, from beaches and lakes to rivers and pools. Little kids can even "swim" in the bathtub. No matter where you choose to immerse yourself, swimming offers a full whole body workout you can do with your whole family. According to Just Swim, swimming helps people de-stress and relax, increases energy levels, and lowers the risk for many diseases. And if you don't like to break a sweat while working out, swimming may just be the perfect form of exercise for you.
While swimming offers many health benefits, it also comes with some inherent risks. Safe Kids Worldwide shares that drowning is the top cause of injury-related death in children from 1 to 4 years old, and the third leading cause of unintentional injury-related death for individuals 19 years old and under. Safety experts recommend always watching kids around water, learning CPR and basic water rescue skills, and teaching children how to swim. They should be instructed on five essential water survival skills: stepping or jumping into water overhead and returning to the surface, turning in the water towards safety, floating or treading water, combining breathing with forward movement in the water, and being able to exit the water.
Take a family yoga class
Yoga involves little equipment, can be practiced just about anywhere, and can benefit both kids and adults. "Yoga offers physical and mental health benefits for people of all ages. And, if you're going through an illness, recovering from surgery or living with a chronic condition, yoga can become an integral part of your treatment and potentially hasten healing," according to Johns Hopkins Medicine. Some of yoga's many benefits include improved flexibility, strength, and balance. Yoga can also ease back pain, boost your mood, and improve your sleep quality.
Action for Health Kids offers advice on how to introduce kids to yoga. They suggest scheduling an appropriate time and place, then focusing on age-appropriate yoga poses like the mountain pose, warrior pose, tree pose, and cobra pose. Additionally, there are many available online classes and videos that can keep anyone motivated. Awake & Mindful shares five of the best yoga videos for kids and families, including Cosmic Kids Yoga and Yoga for Beginners Kids. Alternatively, you can look for an in-person family yoga class in your area.
Engage in strength training sessions
While strength training may not be the first type of workout that comes to mind for your family, it is an integral part of a well-rounded exercise program. Older kids and teens can go to the gym with you, or the entire family can work out together at home.
Before getting started, talk to your doctor (and your child's pediatrician) to discuss any potential restrictions. The American Academy of Pediatrics offers the following guidelines: "When children or adolescents undertake a strength-training program, they should begin with low-resistance exercises until proper technique is perfected. When 8 to 15 repetitions can be performed, it is reasonable to add weight in 10% increments. Increasing the repetitions of lighter resistance may be performed to improve endurance strength of the muscles in preparation for repetitive-motion sports."
No gym membership or weights at home? There are plenty of exercises that can be performed with just body weight. You can strengthen chest muscles with push-ups, work your core with sit-ups and planks, and generally pump it up with mountain climbers, burpees, squats, and lunges. Although you may want to set up different stations so that family members can work out at their own pace and level, CNN suggests always doing a family warm-up and cooldown together. They also recommend celebrating the end of each workout with a family high-five (we love that!). Parents offers a comprehensive list of fun family strength building activities, including crab toe-touches, inchworms, cartwheels, and supermans.
Run around a track
If you love to run but your kids can't keep up (or vice versa), try heading to a track for a great family workout. This way, you can all go at your own pace. Track running also allows you to keep an eye on younger children while simultaneously working out. When a family member gets tired, they can simply head to the middle of the field to stretch or play until everyone else is finished.
Runner's World provides a helpful guide on track running for beginners. It covers track math (1,600 meters equals roughly 1 mile or 4 laps around the track), track rules (always run counterclockwise), track lingo ("intervals" and "repeats"), and sample track workouts. At the track, you can take turns counting laps, assign one family member to count for others, or use an app to track distance and/or time to monitor improvement.
There are also other ways to run together as a family. You can bring along babies and toddlers in a running stroller, or have slower family members bike alongside faster runners (via MapMyRun). This allows the whole family to get some exercise and, in some cases, a stroller nap! Registering for a 5k fun run can also be a good way of keeping your whole family motivated.
Play outdoor games
Some workouts you can do with your whole family don't actually feel like workouts at all. So why not head outside to play an outdoor game? They are usually free, and can boost academic performance, build strength, reduce stress, and improve sleep (per The Important Site). Your family can get started with basic playground games like hide and seek, tag, cat and mouse, or hopscotch. Or when weather allows, try organizing a balloon toss or taking turns running through the sprinklers.
If you can invest in a little equipment, there are many more outdoor game options available. For instance, CNet shares some excellent outdoor game options that you can buy to play with your family and friends. Their highest recommendation goes to Kubb Viking Clash, a simple lawn game that involves tossing a wood dowel to knock over wood blocks. Spikeball, another popular option, is much more physical, involving fast movements and even diving to score points.
Play sports together
Playing sports together as a family can be an excellent workout. Some of the many health benefits of sports include increased strength, endurance, and flexibility, aerobic fitness for your heart and lungs, improved sleep, and weight management (via Sports Plus). Kids who participate in youth sports also experience social benefits like mingling with teammates and developing the ability to work together in a team.
A 2013 study in Open Access Journal of Sports Medicine examines both the pros and the cons of youth sports. When too much focus is placed on winning, kids do not thrive: "It appears that an emphasis on having fun while establishing a balance between physical fitness, psychologic well-being, and lifelong lessons for a healthy and active lifestyle are paramount for success."
Whether or not your child participates in team sports, you can enjoy sports like tennis, basketball, soccer, and golf as a family. You can also work together to practice team sports skills to improve your child's confidence (i.e. playing catch to prepare for the upcoming baseball season). Just make sure that the primary focus remains on fun and fitness.
Jump rope
Do you have fond memories of jumping rope at recess during your grade school years? A jump rope is a small piece of portable equipment that can really help you shake up your cardio workouts, according to Self. And as many people continue to avoid the gym due to the pandemic, jumping rope is rising in popularity. This fun activity can be done just about anywhere — and the whole family can do it together.
WebMD describes jumping rope as "a great calorie-burner" and good for cardiovascular health. However, it can also place stress on your knees, ankles, and hips, so you should take care to avoid overuse injuries. Dr. Benedict Nwachukwu, an orthopedic surgeon and hip, knee, and shoulders surgery specialist tells Self that in order to avoid injuries, you should start by alternating 30 seconds of jumping with 30 seconds of rest. Once you can do that comfortably, you can go ahead and gradually increase your interval length.
Many kids enjoy jumping rope, so hopefully yours will be enthusiastic participants. If they need some extra encouragement, Scary Mommy lists the best jump ropes for kids, which come in a wide variety of colors and styles. The only other thing that family members need for this workout are comfortable clothes and shoes. Then, you can begin to build skills like criss-cross, double unders, and backwards jumping — check out Crossrope's video tutorials.
Create an obstacle course in your backyard
What about building an obstacle course in your backyard? From chalk-drawn sidewalk courses to full-blown DIY ninja obstacles, your family can get a great workout while also using problem solving skills and having fun together. Playtivities provides a number of ideas for easy-to-build family obstacle courses that are perfect for even young children. Suggestions include obstacles made from water, pipes, pool noodles, and yarn.
If you have space and are up for building something more substantial, Pinterest offers lots of DIY ninja course ideas. In fact, you can find online plans for just about all things ninja — from jungle gym structures, climbing walls, and wobble bridges to more challenging obstacles like salmon ladders and mega walls from the hit TV show American Ninja Warrior.
Once your obstacle course is constructed, your family can time each other while working through basic obstacles, or even work together to conquer more difficult skills and tasks. There may also be ninja gyms near you where you can take family classes. Alternatively, you may want to sign up for an obstacle course race near you, like a fun mud run.
Play at the park
Free outdoor play offers many health benefits, both physical and mental. Some physical benefits include improved motor skills, a lower body mass index (BMI), and stronger muscles (per Miracle Recreation). Family members can also develop social, emotional, and intellectual skills with greater self-awareness, an appreciation for the environment, and better communication. To encourage outdoor play, you should aim to keep it fun, since "[c]hildren won't want to go outside if they think it's boring." It is also important to take kids to new places, like different community parks.
Not sure what your family can do at the park? The options are endless. Go ahead and chase the kids around play structures, pump your legs on the swings together, climb on the monkey bars, or toss around a frisbee. If your family enjoys sports, you can also play catch, kick around a soccer ball, or shoot some hoops. How Stuff Works suggests additional park activities like having a picnic, learning about nature, going for a hike, organizing a scavenger hunt, and playing with the family dog.
Try rock climbing or bouldering
For a fun family adventure, try going rock climbing. As Method Climb states: "One of the reasons rock climbing is brilliant for kids' fitness is because it feels like a fun adventure, not a forced workout. Kids who love competition can set goals and improve on previous climbs. Those who prefer laid-back exploration can approach climbing walls with an easy-going mindset." Additionally, strength, flexibility, and other physical elements of rock climbing are less imposing due to how they are incorporated into the leisure activity.
According to Climber News, there are two main types of climbing: roped climbing (up to 65 feet), during which you are "attached to a rope that a partner holds with a safety device," and bouldering (up to 14.5 feet), when you climb with thick protective matting below and neither a rope nor a harness. In both cases, climbers can expect strength improvements in the upper body, back, core, abs, grip, and forearms. You can also develop increased flexibility, balance, and coordination. Along with the many physical benefits of climbing, it can lead to improved mental engagement and problem solving skills. Climbing can also help younger family members learn to push past failures.
Outdoor rock climbing options will vary based on your location. Indoor climbing gyms can be a good place to get started. Depending on your natural surroundings, you may find hikes with bouldering opportunities along the way, or nearby guided climbing excursions.
Dance like nobody's watching
Dancing together as a family can be a blast — and a great workout, too. According to Healthline, dancing can improve cardiovascular health, balance, and strength. It can also challenge brains, boost moods, and provide a perfect forum for everyone to participate. CNN even discusses "the power of family dance parties when the world is falling apart," with input from Jody Wager, a board-certified dance therapist. To throw a successful family dance party, Wager recommends choosing music with an irresistible beat and allowing kids to select their favorite songs. You can also add a role-playing element (i.e. everyone dancing like a certain animal, or mimicking a leader's movements) or play freeze dance "which kids love — especially when they get to be in charge of the pause button".
Another fun option is to play a dance game such as Just Dance for the Wii. Unlike many other screen-based activities, this one can actually get the whole family moving and grooving. Plus, there are quite a few variations of Just Dance (including "Kids" and "Disney Party"), so it's tough to get bored. Alternatively, some family members may enjoy taking dance classes like ballet, tap, hip-hop, or Zumba together. Look for opportunities at nearby studios, gyms, and community centers. There are also a plethora of options online.