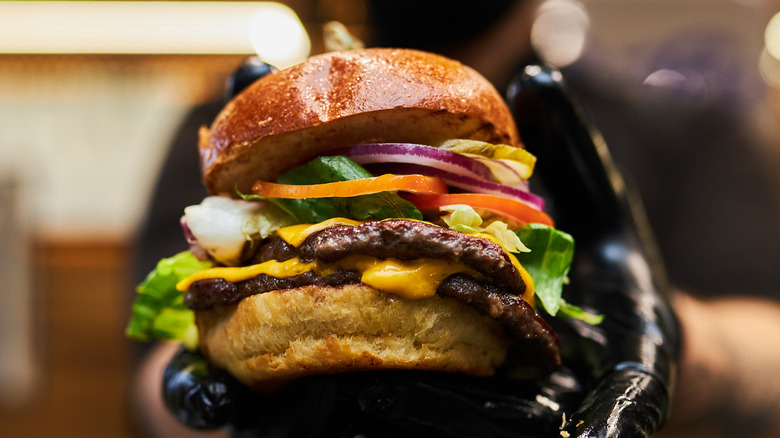 There's no other food more iconically American than the hamburger. While the debate as to who actually invented the hamburger has yet to be settled, the ground beef patty between two pieces of bread has come a long way from its humble beginnings to rise to the top of fast food fame. No matter where you are in the world, you can find a version of one of the bigger burger chains.
However, if you look beyond the Golden Arches, you can find a bounty of burger spots popping up across America serving fresh, fun, high-quality burgers and making delicious changes to the fast-food game. These smaller but mighty regional chains have earned them a cult following in their neighborhoods thanks to their unique takes on the flame-broiled food.
From all-vegan drive-thrus to famous family-owned chains, your next favorite burger spot may be one you've never heard of before. So to help you find your next favorite burger dive, we're sharing some of the best burger spots you've probably never tried.
1. Amy's Drive-Thru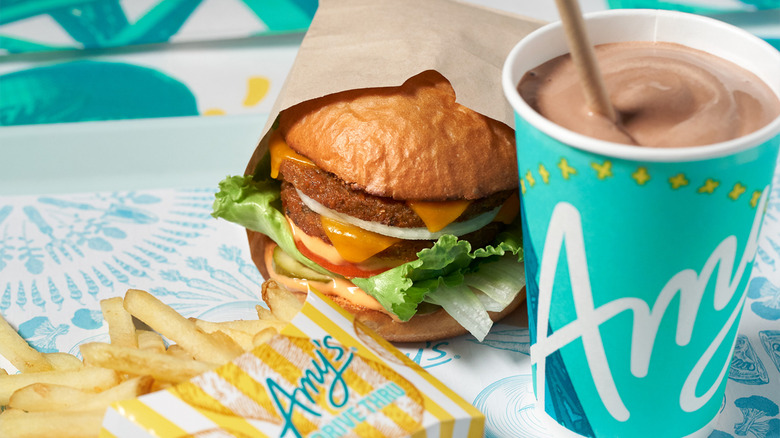 Since opening its doors along a Northern California highway in 2015, Amy's Drive-Thru has been a leader amongst plant-based patty chains. The vegetarian fast-food chain offers a variety of plant-based burgers including their signature item "The Amy," which took three years to create (via Forbes). This best-selling burger consists of a classic grain and veggie patty topped with lettuce, tomato, onion, pickle, and Fred Sr's Special Sauce.
Beyond burgers, customers can order other drive-thru dishes including giant burritos, mac and cheese, breakfast items, grilled cheese sandwiches, loaded chili fries, milkshakes, pizzas, and salads. Everything on the Amy's drive-thru menu can be made vegan or gluten-free and the company prides itself on cooking with only real, organic ingredients in all of its offerings.
While most of America has become familiar with this burger brand from their Amy's Kitchen line of organic and non-GMO frozen foods, California residents have been hitting the driving-thru in droves, leading Amy's with plans to expand its meatless drive-thru empire between 25 and 30 locations by 2027.
2. Slutty Vegan
The Atlanta-based burger chain with a provocative name, Slutty Vegan has brought plant-based food to the South in a big way. Slutty Vegan is a Black woman-owned restaurant that began as a food truck and has grown into a vibrant, trendy, vegan empire beloved by meat-eaters and vegans alike.
The menu features hearty plant-based burgers made with Impossible meat and creative names like the One Night Stand, a burger loaded with vegan bacon, vegan cheese, caramelized onions, lettuce, tomato, and Slut Sauce on a vegan Hawaiian bun. In addition to burgers, dinners can also order other all-vegan items like chicken patties, shrimp sandwiches, Philly cheesesteaks, bratwurst, and unique desserts like seamoss banana pudding.
The service at Slutty Vegan goes beyond just delicious plant-based foods, the founder also serves the local community through The Pinky Cole Foundation, whose philanthropic initiatives help empower generations of color in the pursuit of their entrepreneurial dreams.
3. Elevation Burger
Elevation Burger is a premium organic burger chain that truly lives up to its name with its commitment to sustainable fast food practices. The first Elevation Burger opened in 2005 in Falls Church, Virginia a town with just under 14,000 people, and was crowned as "the first organic burger joint" by Saveur magazine.
The elevated burger chain prides itself on offering authentic and sustainably prepared food that's better for you and the environment. The menu has a variety of 100% organic and grass-fed burgers, organic chicken sandwiches, vegan and veggie patties, shakes, and fries cooked in heart-healthy olive oil.
Beyond the burgers, the dedication to sustainability includes each of its restaurant locations, which are built with energy-efficient sustainable materials and also means ensuring their menu items are fairly priced and accessible to everyone in the community (via QSR). What began as one small family shop has now expanded into 40 locations nationally and internationally, with more Elevation Burger in the works, according to Nation's Restaurant News.
4. Kewpee Hamburgers
Kewpee Hamburgers is a little-known burger chain that has a pretty big history. Founded in 1923 in Flint, Michigan as "Kewpee Hotel Hamburgs" it is one of the oldest fast food operations in the country and was one of the first to institute curbside service. The family-owned chain is named after the Kewpie doll and offers simple but classic square-shaped burgers made from locally raised beef that's delivered fresh daily (via Nation's Restaurant News). The rest of the menu is made of classic items like homemade chili, veggie, fish, and chicken sandwiches, along with hand-cut fries, freshly baked pies, breakfast omelets, and thick malt milkshakes.
At its peak, there were more than 400 Kewpee restaurants in operation however today there are only five remaining locations in Ohio and Michigan.In January 2010, Kewpee was named to the Nation's Restaurant News 50: All-American Icons list and the restaurant in Lima, Ohio is considered a historic site. According to the restaurant, Kewpee was a childhood favorite restaurant of Dave Thomas and inspired him to go on and create the famous Wendy's chain.
5. Hamburger Mary's Bar & Grille
Hamburger Mary's has been a staple in San Francisco since 1972 as an open-air bar and grille for open-minded people. A longstanding LGBT-friendly restaurant chain, Hamburger Mary's is celebrated for its menu of fun, delicious gourmet food served in a flamboyant dining experience.
The menu features a variety of humorously named burgers with an assortment of options to choose from like turkey, buffalo, Kobe, veggie, and ostrich burgers on a bakery-fresh bun. But there's more to Mary's than hamburgers, they also offer a full menu including their famous homemade chili, soups made daily, a variety of salads, appetizers, sandwiches, entrees, and desserts featuring deep-fried Twinkies, homemade peanut butter pie, and "Mary Tyler S'Mores." For the children, they also offer a special kids menu called Mary's "Little Lambs." Many of their locations offer an "All you can eat Sunday Brunch" with bottomless champagne or Mimosas and specials on their Famous Spicy Bloody Mary.
Every Hamburger Mary's has a patio and a full bar with live entertainment such as karaoke, dating game, bingo, local comics, entertainers, and a Mary's Idol Contest that liven up the evening after guests have finished dining. Along with serving up food and fun, each Hamburger Mary's location supports local charities with a portion of proceeds going to benefit these worthwhile causes.
6. Crown Burgers
Not only do Crown Burgers reign supreme for hamburgers in Salt Lake City, Utah, but they're also considered sandwich royalty. According to Salt Lake City Weekly, Greek family-owned and run patty chain has been serving everything from burgers to French Dip since 1978. With a menu of over 100 different items, the sky is the limit when it comes to choices at Crown Burger.
Highlights from their extensively delicious menu are Mushroom Swiss Burger, the Smothered Burrito, Souvlakia with Tzatziki sauce, Rib Eye Steak Sandwich, and Fish & Chips along with hearty salads, kids menus, and the usual burger sides. Crown Burgers also carries its own version of the regional condiment fry sauce, a special combination of ketchup, mayonnaise, and spices.
The most popular and signature sandwich is the "Crown Burger" —a quarter pounder on a sesame seed bun topped with Thousand Island dressing, lettuce, tomato, onions cheese, and hot pastrami cooked and prepared in the front counter grills where customers can watch their food being made before their eyes. If you visit any of Crown Burger's seven locations in Utah, you will always find at least one of the family members working there helping to build a sandwich experience you won't forget.