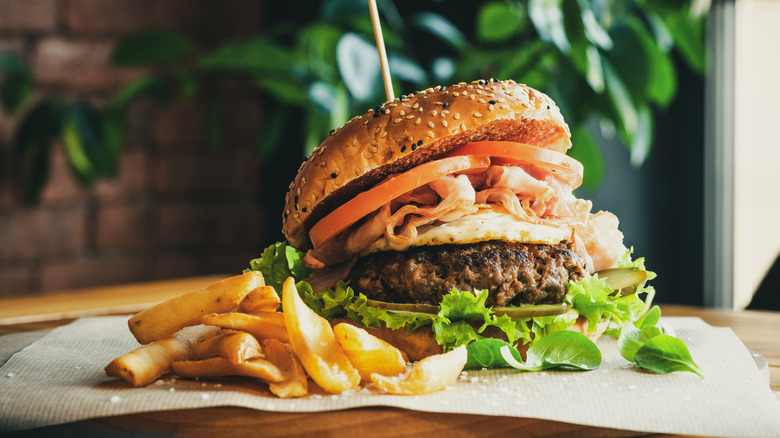 Americans are obsessed with burgers, and that's a fact. As the country's unofficial national dish, it's not surprising they can be found pretty much everywhere (Smithsonian Magazine). As Quartz notes, a study from the United States Department of Agriculture found Americans consume over 50 billion burgers annually. It's a staggering amount that's only undone by the "billions and billions served" by the Golden Arches since time immemorial.
While the origins of the meat sandwich are less clear, as individuals from Seymour, Wisconsin to Akron, Ohio attest to its creation (via What's Cooking America), what is clear is that Americans love a good whopper. Much like the people of this great country, no one burger is exactly the same. There are mini sliders for appetizers, the smash-burgers of fast food giants, and the craft burgers stacked so high you have to unclench your jaw to eat them. There are styles and toppings that differ by region. You can eat a hamburger on a barstool, from a walk-up counter, and even in the comfort of your own car. Is there ever a bad time for a burger? We don't think so!
To inspire your next craving, we've rounded up a cross-country lineup of rockin' burgers from coast to coast that is sure to make your tummy rumble. So loosen those belt loops and dig into the absolute best burgers in the U.S.
1. The Cheesy Todd at Datz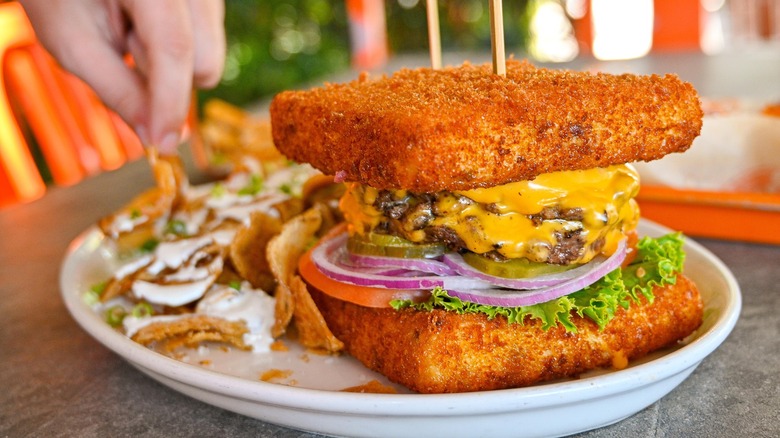 In our experience, buns can make or break a burger. But who needs ciabatta or brioche when you can use macaroni and cheese? That's what Tampa, Florida eatery Datz did when they constructed The Cheesy Todd, a mouthwatering cheeseburger gaining recognition on "Good Morning America" and a fan following soon after.
It turns the cheeseburger on its head using two deep-fried discs of mac and cheese (flecked with bacon and jalapeno, we might add) in lieu of the bread. Nestled between the two "buns" are a juicy beef patty with American cheese, fresh lettuce, tomato, red onion, and tart pickles, which compliments the crunch and gooeyness of the cheesy pasta. Yelp reviewers who've tried it first-hand called the burger "freaking amazing" and "to die for." And if you were questioning the effectiveness of a fried macaroni bun, one person confirmed that it "totally held up!" from start to finish. Is it more prone to mess? Maybe. Is it pure comfort food heaven? Absolutely. See if you can finish it AND the chips on the side — we dare you!
2. Henry's Marrow Spiked Burger at Henry's Majestic
Venturing out to the Lone Star State requires landing some Tex-Mex and BBQ, but Texas also lays claim to burgers as big as the state itself. At Henry's Majestic in Dallas, they use high-quality Akaushi beef, a Japanese cow breed that also roams in large numbers throughout Southern Texas, the biggest herd outside Japan (via HeartBrand Cattle).
Tourists and locals alike rave about Henry's Marrow Spiked Burger, a mighty sandwich that's equipped with aged cheddar, crispy bacon, and caramelized onions on a plush brioche bun. Instead of the typical fry basket, burgers come with an order of homemade potato chips (yum). It has all the elements of a killer burger: curated toppings, diverse textures, and a melt-in-your-mouth patty. Plus, a solid meat-to-bun ratio makes biting into it a dream. Reviewers have sung its praises on Yelp as "outstanding" and "juicy," with one going as far to call it the best burger in the city. If you love meat, then you'll love this burger.
3. Bulgogi Burger at Five Stars Family Burger
Hole-in-the-walls tend to produce the tastiest burgers, and one of the best comes from this little restaurant in Cornelius, Oregon. Five Stars Family Burger makes quick bites like hot dogs and cheeseburgers, but with a Korean spin that takes the traditional burger to even greater heights. Nothing on the menu embodies this fusion more than the Bulgogi Burger, which reviewers on Yelp have called "incredible" and "as good as it gets." Bulgogi meat, a Korean BBQ staple consisting of thinly sliced strips of pork or beef, is draped on a juicy beef patty with one's choice of toppings. Plus, their Instagram account points out that they use locally-sourced ingredients (Carlton Farms beef, Tillamook cheddar cheese). With the place making burgers to order, you can count on it being as fresh as can be. Just make sure to grab plenty of napkins, as you'll likely unleash all the juices when you take your first bite.
4. Trailer Trash Zombie Burger at Zombie Burger + Drink Lab
Don't be fooled by Zombie Burger's horrifying name. While this cheeky burger joint in downtown Des Moines, Iowa boasts names like Undead Elvis and an exclusive meat blend referred to as a "special grind," patrons will find scary-good grub for the whole family. Of all the ghoulish fare offered at Zombie Burger, foodies rave the most about the Trailer Trash Zombie Burger off the "Goremet Bashed Burgers" menu.
A cheeseburger of beastly proportions, the sandwich is stuffed with pure fried goodness: fried pickles, chicken-fried bacon, cheese curds, and a heaping drizzle of ranch dressing. Finally, a fluffy sesame bun takes the whole thing home. A reviewer on Trip Advisor called it "heart-stopping good," which is the kind of ringing endorsement a zombie-themed restaurant deserves, does it not? We'd eat this to ward off the imminent zombie apocalypse, or hunger pangs any day of the week. Just add fries and a Zombie Unicorn shake (if your stomach can handle it).
5. Croque Garcon Burger at Block 16
You know you're onto something when Alton Brown calls your hamburger "high art." He was talking about Block 16's Croque Garcon Burger, a farm-to-table marvel the TV personality has called the best burger in America (via USA Today). It's no mystery Alton Brown's a trusted source 'round these parts, so we'll come out with it: he's right on this one.
To elevate the burger to grander heights, the Omaha establishment uses the French breakfast sandwich as its inspiration. You've got a 1/3 pound of beef that's embellished with fixtures straight out of a continental breakfast: melted Swiss cheese, ham, and a cheerful sunny-side-up egg drizzled with truffle mayo and mustard. To support the hefty ingredients and condiments, they use a hearty ciabatta bun to keep it all together. It's artisanal and upscale without being unapproachable — diners could mow this down for Sunday brunch or on date night without breaking a sweat. Pair it with the sweet potato fries and prepare for a memorable meal.
6. One Night Stand at Slutty Vegan
Remember that old Wendy's commercial featuring the catch-phrase "Where's the beef?" You won't be asking that question when you hit up Slutty Vegan. The name may make you blush, but the plant-based bites coming out of this Black-owned business are nothing to be bashful about. There's no trace of meat at this Atlanta eatery, instead serving Impossible patties and vegan buns with good-humored naughtiness.
Names like Big Dawg and Menage A Trois line the menu, but sure to convert any carnivore to the other side is the restaurant's top-seller, The One Night Stand (via New York Times). It's a vegan Hawaiian bun towering with vegan bacon, vegan cheese, grilled onions, lettuce, tomato, and a generous dose of Slut Sauce for good measure. Basically, a delicious bacon cheeseburger loaded with all the fixings and none of the cow. Slutty Vegan shows a good burger, let alone a great burger, doesn't need beef to be one of the best.
7. Whipper Burger at Hawkins House of Burgers
Anyone visiting Los Angeles would be remiss without a stop at Hawkins House of Burgers. Often hailed as the city's best, the unassuming storefront in the Watts neighborhood makes the same freshly-grilled burgers that propelled them to fame in the late 1930s. In other words, they've spent 80 years in the burger-cooking game. That's a long time to do anything, and the fact that they've been at it so long shows in the quality and craftsmanship. Just look at the long lines forming out the door to this day! (via TimeOut)
For a solid introduction to Hawkins, we recommend ordering the Whipper Burger off the specialty menu. It takes the double cheeseburger above and beyond with shaved pastrami and a flayed hot link sausage stacked high on a bun. The triple-threat of the succulent patty, tender pastrami, and juicy sausage takes the traditional burger and launches it into the flavor-sphere. Burger fans with a generous appetite can spring for the Leaning Tower of Watts, granted your cholesterol levels can take it.
8. Luger-Burger at Peter Luger Steakhouse
The last thing we'd consider ordering at a Michelin starred restaurant is a burger. However, we might change our minds if it's Peter Luger Steakhouse. One of the nation's top destinations for dry-aged ribeyes, the Brooklyn, New York steakhouse serves the kind of burger purists will rejoice at, a simple burger bearing a simple name. All you get is a half-pound of juicy beef with cheese on a sesame seed bun. That's it. Customers can get it with bacon, but otherwise what you see is what you get.
Compared to the sauce-drenched whoppers on this list, the Luger-Burger sticks out like a sore thumb. There's no secret sauce dripping down the sides, no lettuce or tomato either. But its simplicity is part of what makes it so great. Bare-bones doesn't have to mean boring when the quality is exceptional, and visitors find it flavorful enough without the add-ons. If anything, the toppings would only distract from the experience. It's a steeper pick at $18.95, but worth it if you can spare the extra cash. Don't sleep on those perfectly seasoned fries, either.
9. Hubcap Cheeseburger at Cotham's in the City
Cotham's in the City (formerly Cotham's Mercantile) serves up a monstrously huge burger you won't find quite like it anywhere else outside Little Rock, Arkansas. People travel near and far to try the Hubcap Cheeseburger, which gets its name from the fact that it literally resembles a hubcap on your car (via Cotham's in the City). This is no exaggeration or figure of speech: according to RoadFood, the sandwich measures almost a foot across with an oversized beef patty and a smorgasbord of tomato, onion, and pickles piled between two humungous bread buns. Have we mentioned the patty is so wide it hangs off the edge of the bun? You'd need a knife and fork to finish this thing, if you can finish it at all.
As you can see, a single-patty Hubcap is pretty darn big on its own. But that's not even its final form. Arkansans can order it as a Quad, which comes with four giant beef patties instead of one, so you're getting quadruple the meats for quadruple the price ($35.99). You might not eat it every day, but it's something you've gotta try at least once.
10. Big Ben Burger at Burger Bar
This Roy, Utah drive-in is like a time capsule of 1950s Americana — bold signage, a walk-up counter, and menu prices going back to the Eisenhower administration. The simplicity of its menu is how Burger Bar's endured into the 21st century, with hand-made burgers and a monthly lineup of exotic meats to keep things exciting.
Guy Fieri raved about the Big Ben Burger on an episode of "Diners, Drive-Ins and Dives" for "doing it right" (via Food Network), three words every burger should live up to. Priced at a humble $6.49, the namesake burger of founder Ben Fowler features a quarter-pound patty dressed in lettuce, pickles, and an addictive fry sauce, all time-honored ingredients of the American burger. What steps it to the next level is the hamburger buns, which are made locally (don't forget a helping of fries on the side). Burgers on the menu can be customized as singles, doubles, or even quads according to the restaurant, letting customers pile the meat on as high (or low) as they want.
11. Jucy Lucy at Matt's Bar
The Twin Cities is home to many cultural touchstones — Prince, Mall of America, and a cheese-stuffed burger called the Juicy Lucy. Or the "Jucy Lucy" if you're going by Matt's Bar in Minneapolis, one of the two restaurants who claim to have invented it (the other is 5-8 Club). Whatever your thoughts on the matter, there's no denying Matt's Bar whips up a mean Jucy Lucy.
A visit to this no-frills dive requires a few things, among them hitting up the napkin dispenser as well as an ATM so you can pay with cash. But from then on, it's smooth sailing. Any bite taken into a burger this gooey and cheesy will result in abated hunger and a powerful craving for more, with Yelp reviewers gushing over the "juicy" meat and "delicious" taste, from beef to bun. To no one's surprise, it may also result in a burnt tongue due to the "molten lava cheese" seeping out. So proceed with caution!
12. Emmy Burger at Emily
Have you ever seen a burger so … beautiful? Emily in New York City somehow managed to accomplish this feat, being primarily a pizza joint who stumbled upon this gem as a deviation from the main menu (via Business Insider). The Emmy Burger has it all: a top-notch Pat LaFrieda beef patty adorned with melted cheese, pickles, and grilled onions, and vibrant orange Emmy sauce drizzled on a perfectly toasted pretzel bun. It also comes with fries boasting the right amount of crisp and crunch.
A review from Business Insider lauded the sweet and spicy sauce, whose recipe is under wraps save for two ingredients, Korean Gochujang and Kewpie mayo. Despite staining one's fingers the color of traffic cones, the Emmy Burger really is buzz-worthy. Diners can find it at the Brooklyn and West Village outposts, but depending on where you go there might be some slight differences. You'll either get American cheese and pickles (West Village) or Grafton Cheddar and cornichons (Brooklyn). Both are worth all the extra napkins in the world.
13. Double Cheeseburger at Au Cheval
Ahh, the double cheeseburger. Where juicy beef and melted cheese forge a decadent relationship. Au Cheval in Chicago has perfected upscale diner cuisine on the renowned Restaurant Row, and the superstar of their menu is the double cheeseburger. But don't get it twisted. This is not the smashed hockey puck you get at the drive-thru with the change in your pocket. In fact, it's the total opposite in terms of taste and quality.
This isn't your average cheeseburger for many reasons. Contrary to what the name suggests this burger actually contains three patties instead of two, each blanketed with a velvety slice of American cheese. It's then garnished with traditional toppings like pickles, onion, and a creamy dijon-mayo for extra kick. Think the Big Mac, if it got a luxurious makeover. A reviewer from Business Insider ordered it with a sunny-side-up egg and said it was "absolutely divine." They were also "completely satisfied" by the end, despite not being able to finish it. In other words, the way an absolute best burger should be.
14. World Famous at Sparky's
Much like New York City bagels and Wisconsin's dairy empire, New Mexico is all about the green chile. The piquant pepper can be found in just about any breakfast, lunch, or dinner, but the green chile cheeseburger is where it really shines. Should you venture south on the region's Green Chile Cheeseburger trail, you'll find countless restaurants offering their take on the regional specialty (via New Mexico Tourism Department). By all accounts, Sparky's in the New Mexico village of Hatch is hard to beat.
The World Famous consists of a 7-ounce beef burger patty, complete with gooey American cheese and chopped green chiles on a bun with fries. If you're starting to notice how there aren't any tomatoes or grilled onions, that's because you're not going to find any. The restaurant's website explicitly states no other toppings are offered beyond cheese and chiles. That may be a problem for some, but the heat of the chiles mixed with the sharp cheese give enough oomph already. Plus, it just wouldn't be a Green Chile Cheeseburger!