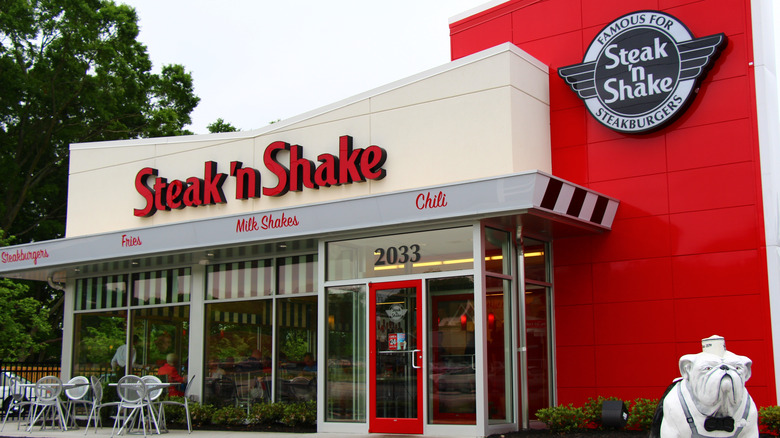 There's arguably no restaurant chain more unequivocally American in its intent than Steak 'n Shake. The dining establishment channels the aesthetics of classic '50s diners. It specializes in making giant milkshakes and greasy Steakburgers that taste the same at every location.
Steak 'n Shake has its roots in the Midwest — the first restaurant was founded in 1934 in Normal, Ill. Outside of burgers and shakes, the restaurant offers quick eats like fries, chicken fingers, and more. Many Steak 'n Shake locations are open 24/7 and offer both dine-in and drive-thru service. The parent company, Biglari Holdings, operates hundreds of Steak 'n Shakes in the U.S., Europe, and the Middle East, with many storefronts being franchised establishments.
Steak 'n Shake has one of the rare dining concepts that are good for both dine-in and drive-thru service. It feels like you're eating more of a meal than your typical fast food, even though the menu items are fairly traditional. The hand-dipped milkshakes come in several flavors, and their addition to the menu incorporates an old school touch that sets it apart from other burger competitors. However, the price point remains as low as major fast-food chains, which is one of the main draws.
It's surprisingly affordable for a restaurant that sells hearty portions of milkshakes and burgers. This is despite the fact that Steak 'N Shake has also been around for nearly a century.
The restaurant's 4 for $4 is an amazing deal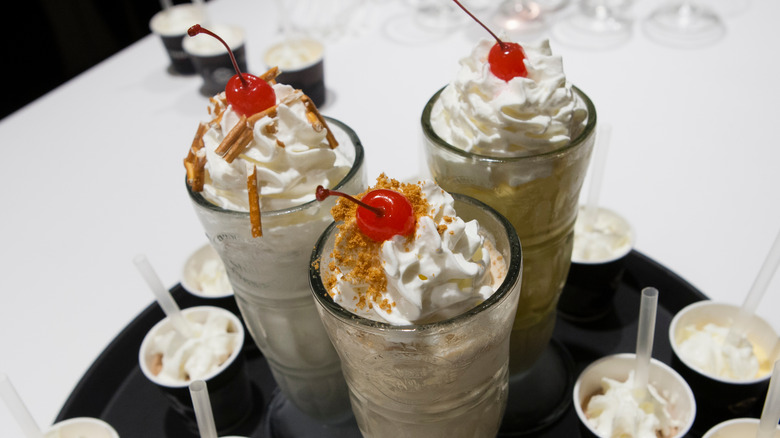 The biggest financial draw to Steak 'n Shake is its $4 menu. The offerings include 3 burger options, like the Double Steakburger and Bacon 'n Cheese Single Steakburger, as well as chicken fingers. You really can't beat getting a complete meal for less than $5. It's especially surprising considering that the milkshakes, which are definitely big enough to be considered 2 portions, tend to ring up at just over $5 apiece. A milkshake is almost a meal in itself, so either option is an affordable way to fill your stomach with some diner grub.
The 4 for $4 has been around for years at Steak 'N Shake and is clearly something the chain is known for. In fact, back in 2013, some Colorado customers were surprised to see that the discounted menu items were listed at $5 apiece. It apparently wasn't profitable for franchisees to sell meals for $4, and many locations entered into a dispute with Biglari. Some franchisees settled, but it's definitely a touchy subject. The meal deal is a major part of Steak 'n Shake's national marketing, even though it might result in a financial loss on the company's end.
It keeps its ingredient inventory low
When looking at the Steak 'N Shake menu, it's pretty no-nonsense. Burgers, milkshakes, hot dogs, chili, and fries make up the bulk of offerings, so the kitchen has to keep very few core items stocked at all times. It keeps things interesting by offering tasty toppings on some burgers, from its Garlic Steakburger to the Western BBQ 'N Bacon Steakburger, but the core items remain the same.
It's definitely more profitable for a restaurant to streamline its menu to cut down costs for buying ingredients regularly. To make the various burgers or milkshakes, the company needs to have several shelf-stable toppings on hand that it can buy in bulk. It doesn't need to load its fridges with produce that goes bad for veggie-heavy entrees. By keeping the non-perishable items to a minimum, Steak 'n Shake also cuts down on its amount of food waste by buying ingredients it can use in several different ways.
The menu is filled with highly profitable items
Steak 'n Shake's Steakburgers and hand-dipped shakes might be its selling point, but they aren't the most profitable. The burgers use a mix of ground round, sirloin, and T-bones, while milkshakes use premium ice cream. However, Steak 'n Shake's menu is also littered with more profitable items, such as coffee and soda, which often have high mark-ups.
Another guaranteed money maker restaurant chains love to offer is a kids menu, and Steak 'N Shake is no different. The chain offers an extensive kids menu that includes mini portions of regular menu items like chicken fingers, Steakburgers, and hot dogs. However, despite the smaller portions, the price point per menu item remains between $4-5. It is important to note that the kids menu does include a drink, so that's factored in, but the portions are significantly smaller. This makes it an easy way to increase profit margins.
The parent company has plenty of profit sources
Steak 'n Shake is owned by Biglari Holdings, an investment company that is worth about $270 million. Outside of Steak 'n Shake, it owns several other profitable companies that increase the company's worth, allowing it to utilize a business model that incorporates cheap menu items. Biglari has a wide range of businesses in its portfolio, including Western-Sizzlin restaurant group, the Maxim media company, an oil company, and a few insurance businesses.
It's typical for most major fast-food chains to be backed by corporations with diversified assets. This backing allows it to be able to offer low-cost options to its customers. However, it's important in the case of Steak 'N Shake, which rarely sells menu items over $10 is not reliant on food sales to entirely fund its operation. Biglari also makes money with its franchising operations, which is factored into its overall profit margin.
Steak 'n Shake is transitioning to self-serve kiosks
Like many fast-food companies, Steak 'n Shake is also saving money when it comes to worker wages. Restaurant jobs aren't notorious for paying well, but it also depends on what position you hold at the business. A Steak 'n Shake team member currently makes around $11.79 an hour, according to Indeed. If you're a shift manager, you make a bit more (around $14.18) and a general manager makes about $18 an hour. The cooks' hourly pay comes in at about $12, but there are insurance benefits available for team members, which is a major expense on the company's side.
Steak 'n Shake is also pivoting to a self-service model, which may help cut down on costs. It's an effort to increase efficiency, and definitely impacted by the labor shortage and implications due to the COVID-19 pandemic. The company has already begun implementing self-service kiosks, which cuts down on the number of employees needed each shift.
Steak 'n Shake recently paired down its menu
In recent years, Steak 'n Shake has seemingly paired down its menu. As previously mentioned, menu items can vary from location to location as franchise owners can make different calls. When comparing menus from 2022 and 2018, however, the current menu is significantly streamlined. Of course, the classic offerings — hot dogs, burgers, chicken fingers — have been and always will be there. But back in the day, the menu used to be way more diverse.
Back in 2018, Steak 'n Shake used to offer different sandwiches, featuring items like grilled chicken or a turkey club. It also had a salad menu featuring hearty salads that make a meal of their own. Now, the 2022 menu is streamlined to include very little outside of hot dogs, Steakburgers, and milkshakes, which is a simpler operation. As a result, there is also less room for error, and profit margins can remain comfortably the same.