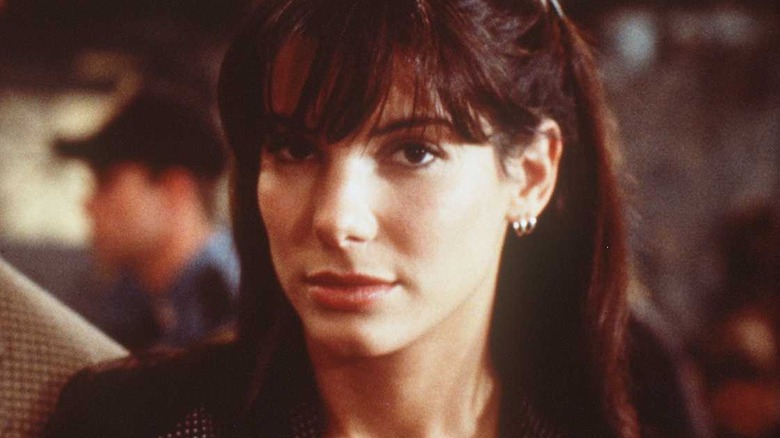 Sandra Bullock may have been donned "America's Sweetheart" by the world, but she's definitely proved she's more than just that. Her various action-packed and physically demanding on-screen roles have given her quite an edge, and she's quickly become one of the industry's most powerful leading ladies. Bullock was named one of Forbes' highest-paid actresses in 2014, following the success of her role in "Gravity." She's gained even more traction since then after starring in the Netflix release "Bird Box." However, these roles didn't come easily to the actress, and Bullock has had quite a unique journey leading her to stardom.
When just breaking out on the big screen in the '90s, Bullock had told Vanity Fair, "For years, my type was out of fashion. I was either too ethnic-looking or not ethnic enough. Not mainstream. Or too edgy. Or not ingenue enough." Fast-forward a few decades, and it's apparent that Bullock has come quite a long way, and her path to success has sure been an inspiring one. This is the stunning transformation of Sandra Bullock.
Entertainment runs in Sandra Bullock's family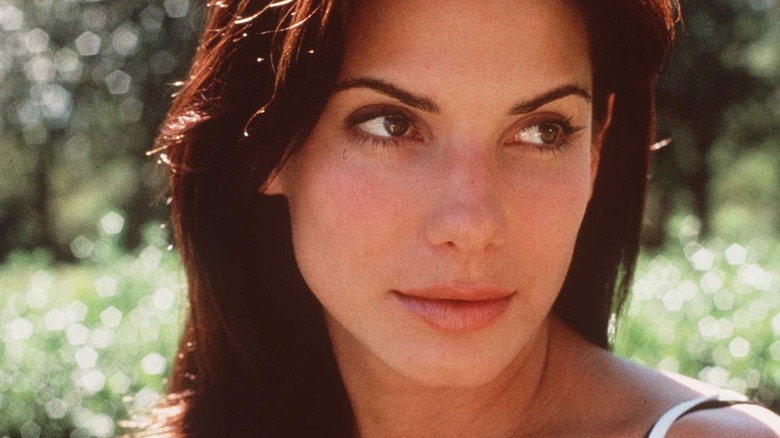 Entertainment definitely runs throughout the Bullock family. Sandra Bullock's mother was a German professional opera singer, and Bullock's father was a vocal coach. Young Sandra Bullock grew up traveling back and forth between the United States and Germany each opera season to attend shows, as she shared in an interview on "The Ellen DeGeneres Show," so she was constantly surrounded by the theatrical world. Though she never sang herself, Bullock told Vanity Fair, "I spent most of my time hanging out in the costume department."
In true performer fashion, Bullock told InStyle that her mom would always tell her to be original when she was growing up. She noted, "Which made no sense to me because the last thing you want to do as a teenager is be original. You want to blend in." Bullock continued to say that she later appreciated her individuality as she grew older, which can be admired in many of Bullock's interviews. Her unique down-to-earth personality definitely makes her one of the reasons she is one of the most influential actresses of our time!
Sandra Bullock's career had a humble beginning
After witnessing firsthand through her family what the entertainment industry had to offer, Sandra Bullock ultimately decided to pursue a career as an actress. She began to study the dramatic arts at North Carolina's East Carolina University, where she started out her acting career in plays such as "Peter Pan" and "Three Sisters" (via Deadline).
She held various small jobs to make money while pursuing a professional career in the business, as any actress is usually forced to do, but Bullock held one theatrical job in particular throughout college that seems to surprise everyone she meets. When asked about it on "The Late Late Show with James Corden," she revealed that she used to open up as a dancer for drag queens while living in North Carolina. "I wasn't hired because I was good," she laughed. "I believe I was hired because I was very enthusiastic."
Sounds like Bullock's always been up for a new adventure, but little did she know at the time that her journey into the entertainment industry was just beginning.
Sandra Bullock's need for Speed led to her breakout role
Sandra Bullock's portrayal of Annie in "Speed" is the role that is often credited for catapulting her career. "It was probably one of the hardest roles I had to do," Bullock told the "Today" show in 1994. She explained how action was at the forefront of the fast-paced film, which didn't give her as much time throughout the story to focus on developing her character on-screen as she was used to. She noted, "You have to get across an emotion within, like, two seconds and have everyone believe you."
Having had a crush on Keanu Reeves during filming, Bullock once admitted to Ellen DeGeneres that it was difficult to act seriously in front of him. "I think about how sweet Keanu Reeves was and how handsome he was," Bullock gushed. Though the two never dated, during a later interview on "The Ellen DeGeneres Show," Reeves admitted to having a crush on Bullock while filming as well, which perfectly explains why the two actors had such great chemistry on the big screen.
"It was nice to go to work," he told DeGeneres.
Sandra Bullock started her own production company
In order to have more control over the films she was a part of and move forward with her own creative vision for them, Sandra Bullock decided to start up her own production company in 1995 and named her sister, Gesine Bullock-Prado, as president, as reported by Variety in 2001. Fortis Films, named after the Greek term for "strength," was a key part in producing "Practical Magic" and "Miss Congeniality," both of which were huge starring roles for Bullock.
With Bullock racking up executive producer credits, she's been more easily able to control the stories unfolding on-screen that she has a major part in creating. Gesine Bullock-Prado told Variety that her famous sister "wanted to find things [that were] not coming her way and develop things that she wants to do — as well as passion projects." It looks as though the entertainment bug bit both Bullock children!
Sandra Bullock starred in Miss Congeniality but didn't want to act out this scene
A few years after filming "Speed," Sandra Bullock took a role in a different type of film titled "Miss Congeniality." She starred as an FBI agent, but one who goes undercover as a beauty pageant contestant. The role showed her versatility on screen in a different light, as viewers saw her character's drastic transformation from a tough FBI agent into, perhaps, the girliest one of all.
Ironically enough, Bullock told InStyle that as a teenager she was a "tomboy." She elaborated, "Jeans, baseball caps. I skated, rode bikes. I was scared of that sexual energy."
Perhaps because of that, she was hesitant about participating in a "Miss Congeniality" scene revolving around a classic beauty pageant experience — the dreaded swimsuit competition. Bullock told Entertainment Tonight that there were multiple times that she tried to get it written out, but the scene was shot and is a part of the classic film seen today. In reference to her FBI agent character, Bullock said, "She's not your typical beauty queen, so her body's not going to be perfect either."
Sandra Bullock was Blind Sided by her first Oscar win
Sandra Bullock's very first Oscar nomination and subsequent win came from her role in the 2009 family-focused film "The Blind Side." Based on a true story, "The Blind Side" stars Bullock in a more serious role, playing a mother who takes in a homeless teenager to help him get back on his feet.
With her competition in the leading lady category including Meryl Streep, Carey Mulligan, Helen Mirren, and Gabourey Sidibe, Bullock acted as if she were absolutely stunned as she took the stage when her name was announced as the winner. In true "America's Sweetheart" fashion, she took the time to call out each nominated actress in her acceptance speech, admiring each and every one of them and their unique talents that they brought to the screen.
Bullock continued, "I would like to thank what this film was about for me, which are the moms that take care of the babies and the children no matter where they come from."
Sandra Bullock made it through heartbreak
Sandra Bullock had always dreamed of being a mother and realized her dream could become a reality after falling in love with television personality Jesse James. Shortly after she married bad boy James, they decided to start a family of their own and adopt a child.
After beginning the process of filing adoption paperwork, Bullock told Independent, "My life took a trajectory that wasn't very pleasant." She quickly found her personal life plastered across tabloids that claimed James had had multiple affairs over the course of their marriage. Shattered by the reality of it all, Bullock filed for divorce. The following year, James told his side of the story in a memoir titled "American Outlaw." In an interview with The Daily Beast, he said, "I've apologized to her and tried to do everything possible to convey to her how sorry I am that things happened the way they did, and that I never wanted to hurt her."
Regarding her divorce, Bullock told Independent, "I feel like it had to happen in order for me to fully understand what family was about."
Sandra Bullock became a mother
Following her heartbreak, Sandra Bullock expressed to the "Today" show how she thought that fulfilling her dream of becoming a mother had passed once she lived the single life again after splitting from Jesse James. She told Hoda Kotb, "The beautiful thing that I was constantly told was, 'The perfect child will find you. You will find your child.'" This advice was much easier said than done. Bullock said she had trouble believing it and would constantly ask herself, "Where is my family?"
After seeing the devastation that Hurricane Katrina left behind, Bullock suddenly had a deep feeling that her child was there in New Orleans. It was then in 2010, four years after initially beginning the adoption process with James, that she finally started her own little family. She became the proud parent to her son, Louis, and a few years later, she adopted daughter Laila, who was also from Louisiana. She told "Today," "I finally realize, 'Oh, this is what I was supposed to do when I grew up. Not be an actress, to be a mom."
Sandra Bullock felt grounded by Gravity
When Sandra Bullock was first pitched the idea for the film "Gravity," she knew she had to be a part of it. She recalled being drawn to the emotion behind the story and really understanding why director Alfonso Cuarón wanted to make it. "I connected with him immediately, and I had wanted to work with him for so long," Bullock told Rotten Tomatoes in 2013.
As the story follows two astronauts who must survive being unexpectedly trapped in outer space, Bullock explained that the idea behind the film is that a person never really knows how much time they have left and how they needed to "seize the day." Bullock related to her character Ryan's sense of rebirth that is reflected on-screen and felt that she had experienced instances of that in her personal life as well. "I have the gift of a little person that is reminding me on a daily basis how fast time is going by," Bullock told Rotten Tomatoes, referring to her son.
For her work in "Gravity," Bullock was nominated for her second Oscar.
Sandra Bullock found love again
Just when Sandra Bullock had begun rocking it as an independent mother, she was seen spotted with her new boyfriend, photographer Bryan Randall, shortly after adopting daughter Laila. When she announced to the world exclusively through a People magazine cover announcing the little one's addition to her family in 2015, Randall was actually the one that snapped the adorable shot for the publication.
Though the two appear to be happy, their relationship has been mostly tucked out of the public eye, and the fact that Bullock is not on social media may have something to do with it. She told InStyle that she's not ignoring what's going on online, though. "I'm just lazy. But I'm going to get on it and troll my friends. Once my kids are using it, I'll know how to navigate it," she shared. "I don't want to be naïve." When asked about Randall, she divulged, "For the kids he's sort of No. 1, and I'm No. 2." She continued, "But I get it because he's more fun and has better treats."
Sandra Bullock was named People's Most Beautiful Woman at age 50
While magazine covers always seem as though they are plastered with young, anti-aging celebrities these days, People magazine named Sandra Bullock the World's Most Beautiful Woman in 2015, following the success of "Gravity."
Bullock was 50 years old at the time and one of the highest-paid actresses in the business. With the news of this title, Bullock said she believed entering into the Hollywood scene at an older age and never being labeled as a young "bombshell" made her feel more comfortable with aging in the public eye. Even though she was dominating as one of the industry's most powerful leading ladies at the time, she also admitted to the magazine that she hates watching herself on-screen. "I don't mind aging on film, I just don't feel beautiful," she said. "If I see myself on TV, I flip right by it; I do not stop." It's really a shame considering that she's starred in some pretty classic and quote-worthy films.
The all-female cast in Ocean's 8 wasn't a big deal to Sandra Bullock
Sandra Bullock's role in "Ocean's 8" was monumental, though it took years for the heist movie to come together as the team had to juggle with eight A-list actresses' busy schedules. When it finally did hit theaters, it seemed as though it couldn't have come at a better time. Female empowerment was becoming a hot topic in the media, and audiences applauded the fact that eight females were starring in action-packed roles normally given to men. In fact, the movie ended up beating out all other films in the franchise at the box office during its opening weekend in 2018.
That year, Bullock told InStyle, "I always said I want what the guys get to have — whether I'm doing an action movie, a comedy, or a sexy heist film."
When Refinery29 asked the cast how they felt releasing the movie at a time that was so relevant for women and society, they explained how the timing was coincidental and how they just wanted it to be recognized as a fun film. "There's been groups of women making movies. I did one, ['Practical Magic'], about witches!" Bullock said.
Sandra Bullock made Bird Box for her kids
Sandra Bullock usually doesn't like scary movies, but she knew she had to be a part of Netflix's "Bird Box" the moment she read the script. The film follows Bullock's character, Malorie, a woman who will do anything in her power to protect her two small children against a monster. Even with its R-rating, Bullock said she joined the film for her own kids. "This came about when my kids said, 'Why don't you make something for us?' I now realize they were talking about, you know, animated or Marvel," she laughed as the told the "Today" show, but she hopes her children see the deeper meaning behind the film.
When winning the award for most frightened performance at the 2019 MTV Movie & TV Awards, Bullock explained how she would do anything to protect her children just like her "Bird Box" character, Malorie. "What you saw in that movie is what your mommy would do for you," she said. "I was put on this earth to protect you."
After almost 20 years, Sandra Bullock headed back to TV as a producer
So what has Sandra Bullock been up to since "Bird Box"? Well, her production company, Fortis Films, has been staying busy! In June 2019, Deadline broke the news that Bullock would revisit the television world almost 20 years after she worked as an executive producer on ABC's "George Lopez." She signed on as executive producer on a series for Amazon alongside producers John Legend and Akiva Goldsman. Based loosely on Bullock's college years, the dramedy follows a young woman in the south during the 1980s who refuses the cultural expectations set for her and is on a mission to find her true self.
Deadline reported that the story will touch on topics "traversing the worlds of drag-culture, mental health, and the AIDS epidemic, all while following a group of young outcasts who band together and dare to be themselves." If the series is even relatively close to what Bullock has experienced throughout her life, it's sure to be an inspiring one.
But that doesn't mean Bullock is done acting. She plays a "woman who has just gotten out of prison after serving a long sentence" in the movie "The Unforgivable," out November 2021 (via EW), and Bullock has more projects on the horizon.