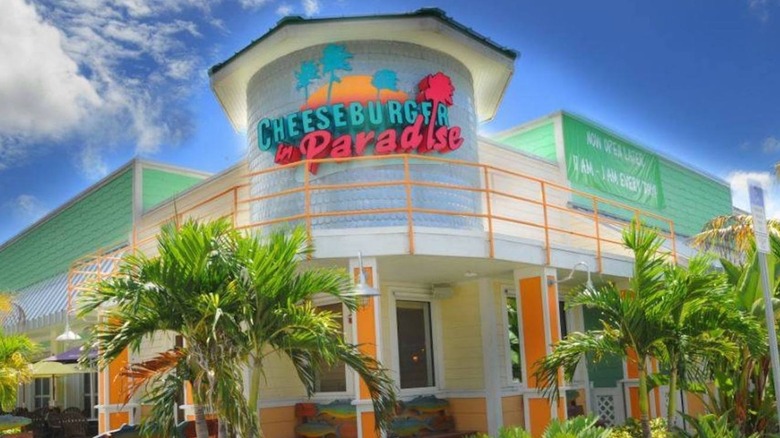 Many things have disappeared since the start of the pandemic. Jimmy Buffett's restaurant chain Cheeseburger in Paradise was one of them. Parrotheads — as the singer's fans call themselves — mourned the loss of this American institution when it said goodbye to the last remaining location in 2020. It wasn't the only business of its kind to do so. Many other burger chains are struggling, and the pandemic is only part of the problem.
There was always a lot that set Cheeseburger in Paradise apart — which might have led some fans to think that the chain would survive the changing times. It was a restaurant founded by a musician, with island-themed decor, and a name that came from an iconic song. The novelty factor was through the roof.
However, for as many positive qualities drove fans to Buffett's restaurants, there were a handful of scandals through the years that could've been driving people away, including a skunk attack, a "muenster" controversy, and a trademark lawsuit. Here is the untold truth of Cheeseburger in Paradise.
The chain is named after a song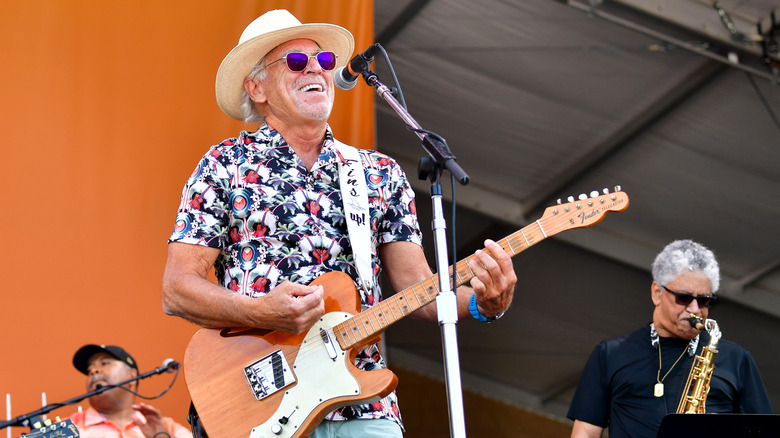 To begin to understand this burger chain, you'll need to know about the man behind it. Per Rolling Stone, founder Jimmy Buffett's musical career began in the country music world in Nashville, but he never achieved more than moderate success there. That changed when he moved to Key West, Florida. After a few years of releasing songs, he got a hit with "Margaritaville" in 1977. The next year, Buffett released the song "Cheeseburger in Paradise," as part of the album "Son of a Son of a Sailor" (via Genius),
The comedic track tells the story of an individual who is trying to eat less meat by adopting a vegetarian diet. This path creates hurdles for the narrator, who says "Losin' weight without speed, eatin' sunflower seeds." Eventually, this restricted eating causes the singer to have dreams about indulging in a delicious cheeseburger. Buffett sings, "Cheeseburger in Paradise, Heaven on earth with an onion slice, Not too particular, not too precise." Even though he's "not too particular," Buffett does also outline his preferred burger order, saying "I like mine with lettuce and tomato, Heinz 57 and french-fried potatoes, big kosher pickle and a cold draft beer."
According to HuffPost, the song's title eventually served as the name for Jimmy Buffet's chain of cheeseburger restaurants, which opened decades after the song was released.
A near-death experience inspired the song
While many know the song inspired Jimmy Buffett's famous chain, they may not know that the musician's own harrowing, near-death experience inspired the song itself. A brush with vegetarianism didn't provide the only creative fuel he needed to write it.
According to American Songwriter, "Cheeseburger in Paradise" was inspired by a sailing excursion that Buffett himself went on. During the long boat journey through the Caribbean, Buffett's boat was damaged in bad weather. The voyage was extended longer than expected, causing the crew to run low on supplies. Buffett and his crew members were living off of peanut butter and canned food during the worst moments of the trip.
Finally, the boat reached land. The crew headed to the nearest restaurant, where the singer ordered a cheeseburger. Even though the food wasn't that good, Buffett said that the song memorializes his hunger at that moment. This feeling became the inspiration for the song "Cheeseburger in Paradise."
The musician's Margaritaville chain started first
Today, Jimmy Buffett has become known for his successful commercial enterprises as much as his discography. His first step into the business world was creating his Margaritaville chain. As we've already covered, Buffett opened his first successful Margaritaville retail store in 1985. It was more successful than his first business attempt, a Margaritaville restaurant in Alabama that swiftly closed. The store was located in Buffett's beloved city of Key West, Florida. In the first years of the chain, there were only three Margaritaville restaurants (via Vinepair).
Starting in 1999, the Margaritaville empire started growing at a quick rate. Eventually, Buffett's entrepreneurial empire made him one of the wealthiest celebrities in the world, with a net worth of approximately $600 million in 2016 (via Forbes). By 2018, Variety reported that Buffett owned over 70 businesses, many of which were in various sectors of the food and hospitality industry.
Although the Margaritaville restaurants started all this, the Cheeseburger in Paradise chain would become a cherished (yet possibly underrated) part of Buffett's tropical empire. A beach theme, casual menu, a laid-back attitude, and music were essential to both chains.
The first restaurant opened in Indiana
Jimmy Buffett opened the first Cheeseburger in Paradise in 2002. It was located in Indianapolis, Indiana at 4670 Southport Crossings Drive, according to the IndyStar. Per North Jersey.com, the chain began as a joint enterprise between Margaritaville Holdings LLC (Buffett's company) and the OSI Restaurant Partners (the company behind Outback Steakhouse). The Indiana spot would be the first of many Cheeseburger in Paradise locations in the United States.
The chain survived for the next two decades. Tropical decor and comforting menu items brought in customers. However, the reviews weren't always outstanding. Even at the original Indianapolis location, the business averaged only three out of five stars on Yelp.
One of these three-star reviews said plainly, "Well it is what you would expect. A menu full of various cheeseburgers." Another review explained, "Not what I expected. No Jimmy Buffett music and a shaker of salt on every table." One person disappointedly said, "I think I like the idea of Cheeseburger in Paradise a lot more than the actual experience."
Warren Buffett isn't related to the founder
Despite the disappointments of Cheeseburger in Paradise, the chain's founder is quite the wealthy man. However, his earnings are still far less than the income of closely-named billionaire Warren Buffett, whose estimated net worth is $114 billion (via Forbes). Because the two rich men share a last name, some may think they are related.
Jimmy, now 75, and Warren, now 91, even once suspected so much. They both took a 23andMe DNA to see if it was true, according to The New York Times. The test didn't reveal anything new: the two are not related. Although the men aren't family, CNBC reports that they still call each other "Uncle Warren" and "Cousin Jimmy."
The two also support each other's profitable businesses. Jimmy once wrote a song referencing buying stock in Warren's holding company, Berkshire-Hathaway. The singer wrote, "I bought Berkshire way back when it was cheap, I bought Berkshire way back then, and I do nothing but keep … it," (via The Wall Street Journal). In return, Warren likes to patronize Jimmy's restaurants, especially the Cheeseburger in Paradise in Omaha, Nebraska (when it was still open). Jimmy has even called his fast food-loving friend Warren a "cheeseburger freak."
A rabid skunk attack occurred at one of the locations
A skunk assault is among the most unfortunate events in this chain's story. The incident occurred in Southern Maryland in 2012 (via NBC). Fittingly enough, this tropical restaurant in particular was located in the city of California, Maryland, according to The Washington Post. The beach vibes were quickly ruined when a skunk — which later turned out to be rabid — headed towards the Cheeseburger in Paradise.
As the skunk approached the business, patrons went inside. However, the rabid animal entered as well. This skunk did not wait to be seated, but instead went up to one patron and bit her on the foot. Employees bravely intervened, placing a box on top of it. The Huffington Post reported that officials later came, retrieved the animal from under the box, took it into the parking lot, and shot it dead.
The dead skunk's brain tissue later revealed it had rabies. The attack seemed to follow a pattern in the area, where there had recently been five other attacks involving rabid animals around that time (via Eater).
Tropical drinks filled the robust menu
A big part of this restaurant's appealing island vibe was the drinks. What better way to pretend you're at the beach than with a paper umbrella or a slice of pineapple in your glass? Cheeseburger in Paradise was no Margaritaville, but it was filled with frozen and sweet alcoholic beverages to accompany those delicious burgers (via Yelp).
According to Sirved, the Secaucus, New Jersey location offered drink specials and Happy Hour prices Monday through Thursday. There were several different kinds of piña coladas, margaritas, and mojitos to choose from. You could also get drinks named things like "Tropical Sunset," "Tropical Paradise," or classics like the blue-colored "Ocean Breeze."
In addition to cocktails, Cheeseburger in Paradise offered multiple different varieties of sangria, beer, and wine. There were also non-boozy options, of course. But with plenty of Jimmy Buffet songs like "God's Own Drunk," "Half Drunk," and "Why Don't We Get Drunk," likely to play while you were having dinner, you might've been persuaded to get tipsy as well (via Oldies.com).
There were plenty of different cheeseburgers to sample
Of course, the real star of the Cheeseburger in Paradise menu was the burgers. Even if you were not familiar with Jimmy Buffett or his music, you could tell what was going to be the specialty of these establishments, before heading in.
According to AllMenus.com, there many different kinds of specialty burgers. There was the Bacon Cheddar Burger, the Mushroom Swiss, the Blue Cheese Burger, the BBQ Cheddar, the Guacamole Burger (with pepper jack), the Patty Melt (with Swiss), the Baja Burger (with pepper jack), and the Good Egg Burger (with American). You could also get a turkey or veggie burger.
One item titled the "Beach Burger," appeared to reference the order spelled out by Buffett in the titular song. The ingredients for this menu item were "American cheese, pickles, lettuce, red onion, and tomato" and "a big kosher dill pickle on the side." Yelp reviews show that these cheeseburgers weren't usually outstanding. But they weren't terrible, either. Most comments used describe them called them "pretty good," or "average," compared to other casual, sit-down restaurants.
The "Mustard v. Muenster" controversy lives on
There is a little-known condiment controversy involving this business. As many know, the song "Cheeseburger in Paradise" includes descriptions of Jimmy Buffett's burger fantasies. One line goes, according to Genius, "Medium rare with Muenster'd be nice." However, many fans misheard this word as "mustard," which is incorrect. If that word was replaced with "mustard," there would be no mention of cheese in the song. In reality, Buffett was singing about a preference for Muenster cheese, according to Buffett World.
However, this confusion is understood, as many official recipes for the Buffett "Cheeseburger in Paradise" fail to mention Muenster cheese. One recipe from Parade recommends American. A recipe from Big Oven says to use cheddar. The Food Network also mentions American cheese.
Don't let these instructions stop you from making the perfect "Cheeseburger in Paradise." Per Wisconsin Cheeseman, "Muenster cheese is very tasty melted over a grilled hamburger." Buffett was really onto something with his recipe.
The restaurant's atmosphere meant to offer an escape
The interior decor of Cheeseburger in Paradise was an essential component to the business. It provided the atmosphere necessary for customers to get into that relaxed vacation mindset. Every restaurant had a beach theme. The decorations of similar chains — some of which are still open today — like Islands, Baja Fish Tacos, and Joe's Crab Shack, look a little like a Cheeseburger in Paradise used to.
On the now-defunct chain's LinkedIn page, Cheeseburger in Paradise described itself as "an Island of escape from the chaos of everyday life." They also said, "we create a 'Paradise State of Mind' in everyone who enters our restaurant."
According to Yelp pictures of their California, Maryland location (yes, the one where the skunk attack occurred) there were murals of beach sunsets inside the walls of the restaurant. On another Yelp page of a closed Cheeseburger in Paradise, the outside of the restaurant was made to look like a storefront on a beach boardwalk.
At its peak, there were 38 locations across 17 states
The Cheeseburger in Paradise chain continued to grow after the first store opened in 2002. It peaked in 2006, according to Eat This, Not That. The restaurant expanded to 38 American stores that year. Locations were spread across 17 states, with restaurants in Indiana, Maryland, New Jersey, Virginia, South Carolina, Florida, and more. By 2012, the chain had brought in revenue of $50 million, reports Reuters.
One Chicago Tribune review from the early years of the chain claimed the Illinois restaurant once had a two-hour wait to get in. "Two hours of standing around, waiting for the guy with the list to announce your release — that's not Paradise, that's Purgatory," the reviewer wrote. But they also said this didn't seem to bother others, "On weekends when the doors open at noon … people get in line at 11:45, as though in fear that this will be the day the joint runs out of ground beef."
The famous Hawaiian eateries are not owned by the chain
There's a bit of confusion that continues to follow this chain, even after permanently closing. Vacationers who've been to Hawaii may have come across a few restaurants named Cheeseburger in Paradise while visiting. However, Jimmy Buffett's restaurant chain never opened a store on the islands. These restaurants are not owned by Buffett's company. However, it can be hard to tell the difference. These Hawaiian restaurants are also focused on burgers, rock music, and island decor.
Founders Edna Bayliff and Laren Gartner got the idea for their fast food business while on a 1989 trip to Lahaina, a neighborhood on the Hawaiian island of Maui, according to their website. The women were picture frame salespeople who sold their products at fairgrounds in their home state of California. But they noticed a lack of burgers in Hawaii. They borrowed investment money from friends and opened up the first Hawaiian restaurant in 1989, then named Cheeseburger in Paradise, without any prior restaurant experience.
The success of the first restaurant allowed them to open two additional locations in Hawaii, in Wailea and Waikiki. The Wall Street Journal reports the businesses were profitable from the start. Within days of opening, the women were making $5,000 per day. By 2004, the three restaurants were making $20 million a year in revenue. That's nearly half of Buffett's revenue at the chain's peak success, with far fewer locations.
Buffett sued the copycat businesses for using his title
In 1997, Buffett launched a lawsuit against the Hawaiian restaurant founders Edna Bayliff and Laren Gartner for their restaurant's use of his song title, according to the LA Times. However, trademark protection had been granted to the pair in 1993. Even though they used Buffett's song title, they were way ahead of him in terms of the business. Their first restaurant opened years ahead of Buffett's. Also, at the time of the lawsuit, Buffett was yet to open his first Cheeseburger in Paradise restaurant.
Buffett wasn't having this. He sued the founders seeking monetary damages, the removal of their trademark, and a name change. The singer told the Tampa Bay Times, "They were perfectly nice people when I met them, but they've crossed the boundary lines now. Go invent something of your own."
In the end, Bayliff and Gartner were allowed to keep the name (via Honolulu Star-Bulletin). Only two of their restaurants were open at the time, in Lahaina and Waikiki, and these restaurants could still be known as Cheeseburger in Paradise. However, the court ruled that no further restaurants from the dup could use the name. Future restaurants, such as the Wailea-located Cheeseburger Grille and Taproom, could not be named after Buffett's masterpiece. This location has since closed, according to TripAdvisor.
The Luby's company purchased Cheeseburger in Paradise in 2012
In 2012, Buffett struck a deal to rid himself of the Paradise Restaurant Group and all of its restaurants. He sold the group — which, at the time, controlled 23 Cheeseburger in Paradise restaurants in 14 different states — to Luby's LLC, the owner of the Fuddruckers chain, for $11 million in 2012 (via HuffPost). With that, Buffett said goodbye to his burger chain. He was probably also saying "Breathe in, Breathe out, Move on" to himself, as well.
Luby's told HuffPost at the time, "Luby's anticipates developing opportunities to expand the brand." However, Reuters perceived Luby's purchasing of the cheeseburger chain as a little surprising. Although Luby's already had experience in the burger business because they owned Fuddruckers, the company's brands were a little more family-friendly than the boozy Cheeseburger in Paradise. As it turned out, the Luby's acquisition was the beginning of the end for the chain.
The end was coming for Cheeseburger in Paradise before the pandemic
According to Nation's Restaurant News, the chain was already getting rid of some locations before the Paradise Restaurant Group was sold — they were down to 23 from 38. But after Luby's purchased the group, it began to shed even more restaurants. Luby's claimed that most of the Cheeseburger in Paradise storefronts were located in great spots. Most experienced heavy traffic and were not far from then-still functioning malls. But overall the businesses were a burden, decreasing Luby's profitability by around $2.3 million, they said.
The Delaware location closed in 2014, reported Delaware Online. The same year, another location closed in Wisconsin (via Madison.com). By the end of 2014, a total of 15 Cheeseburger in Paradise's had closed and only eight locations were remaining. Luby's converted some of the shuttered locations into Fuddruckers and liquidated others.
In 2018, the restaurant in Myrtle Beach, Virginia closed, according to the Williamsburg Yorktown Daily, leaving only two Cheeseburger in Paradise restaurants open in the whole country.
In 2020, the last remaining location closed
There was one remaining Cheeseburger in Paradise location before the onset of the COVID-19 pandemic. Following the closure of the Nebraska and Indiana restaurants, the Secaucus, New Jersey restaurant was the last one standing (via USA Today). According to NJ.com, it isn't clear when the final Secaucus location closed its doors. However, the official announcement that the New Jersey Cheeseburger in Paradise was closing for good came in September 2020. "Thank you for supporting Cheeseburger in Paradise. All of our restaurant locations are now permanently closed," read a new message posted to the chain's website.
Earlier that year, Luby's revealed it was struggling with financial problems. This wasn't surprising, as COVID-19 forced the unplanned closure of restaurants across the country — sometimes forcing them to close their doors permanently. Per Texas Monthly, Luby's said in June 2020 that their company was for sale. By September, Luby's announced it would dissolve, liquidating all of its assets. By the end of 2020, there were no more Cheeseburgers in Paradise.