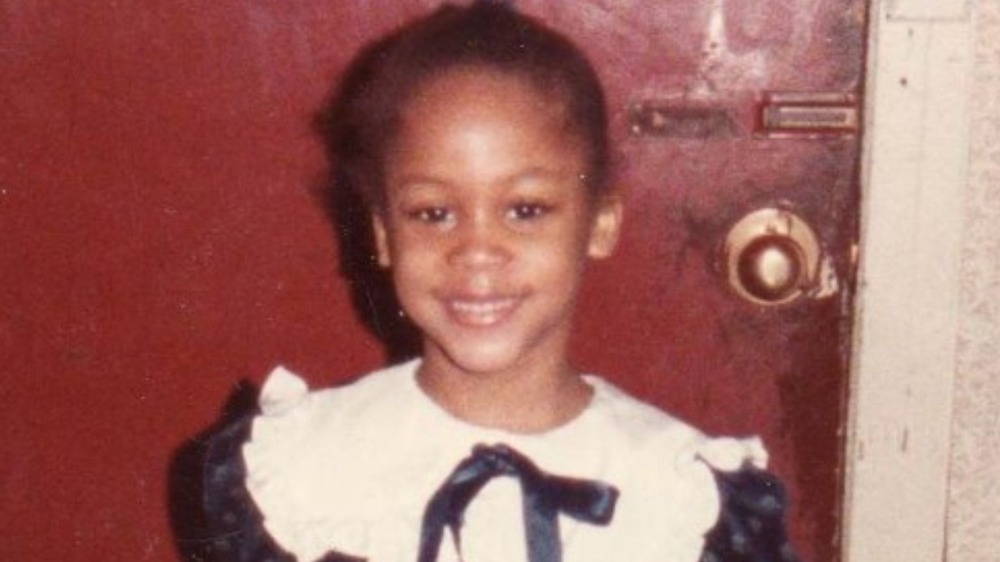 Eve has gone through a genuinely jaw-dropping transformation over the years. From rapping with one of the most prolific rap crews to come out of the East Coast to co-hosting The Talk with the likes of Sharon Osborne and Sheryl Underwood (here's the real reason Eve left The Talk), she's done it all. Really, what can't the multi-hyphenate entertainer not do? Since Eve was a child, she has always enjoyed performing and being in the spotlight. She started with dancing and singing, which eventually led to rapping. She began battle rapping, and her skills were impressive. Not only was she able to keep up in this male-dominated game, but she was also winning. However, her dreams were bigger than local notoriety. She wanted her words to be heard worldwide.
As a self-described "Philly Chick," the Philadelphia native seemed to touch adversity every step of the way to stardom. Eve's story is one of a person who never stops trying to reach their dreams even when the bets are not in their corner. Continue reading to learn how Eve went from barely graduating high school to becoming a Grammy-winning female rap superstar and Emmy-nominated television host.
Eve was born to a teen mom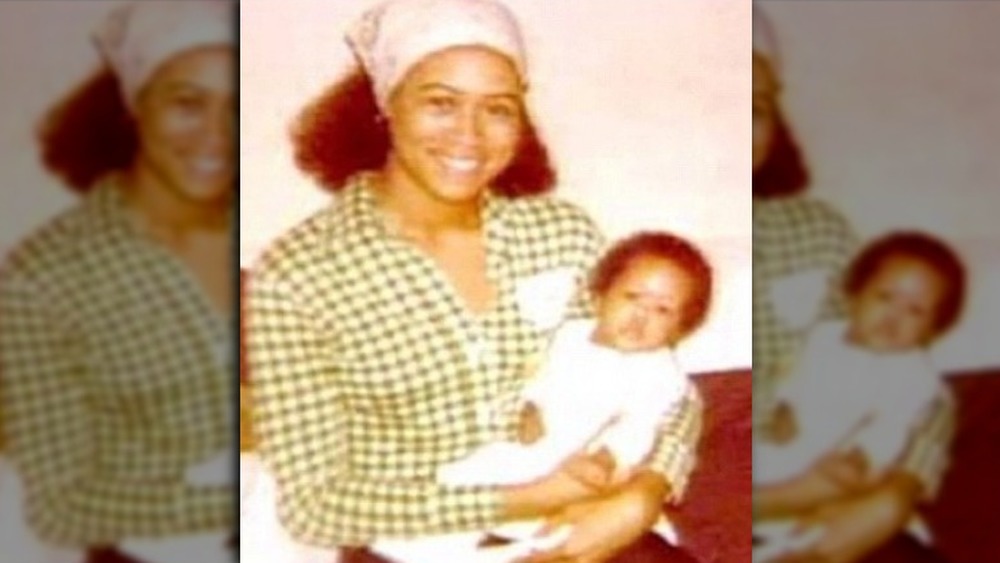 On Nov. 10, 1978, 17-year-old high school senior Julie Wilch gave birth to Eve Jihan Jeffers, whom many know simply as Eve. The strength of this new life enamored Wilch; in VH1's Driven docuseries, Wilcher shared the reason for giving Eve her name, saying that her presence even as a baby was so "strong," and she thought the name matched perfectly.
In Eve's early life, she grew up in public housing, which she hated. She knew from an early age she wanted more for herself. She told Financial Times about her and her mother essentially growing up together. With Eve's father not really in the picture, life was hard. But Eve's mom would carry the weight of being a single parent with strength and pride. Childhood friends described Eve as wanting to be just like her mother. When Financial Times asked who was or is Eve's mentor, she simply stated, "My mom." She continued, "She was adamant about me being independent. She was the woman I wanted to grow up to be." She imitated that strength until it became real.
Eve was in two girl groups before she flew solo
As a youngster, Eve encapsulated her mother's strength along with her fearlessness. Eve had a booming personality that would sometimes get her in trouble. Janis Cash, one of Eve's middle school teachers at Our Lady of Victory, recalled a time on VH1's Driven when Eve's mother, Julia Wilch, was called because 12-year-old Eve would not stop talking. Twenty minutes later, Wilch was at the school with masking tape to put on her daughter's mouth.
While Eve's imagination might have run a bit too much during class, outside of class, she was letting it out on paper, writing songs and raps. Eve eventually joined her first rap group called Dope Girl Posse. They performed everywhere — on the street, in class, at house parties, and even on radio station WPEB 88.1, as described by LaRonda Braxton, Evette Evans, and Danae Peak, Eve's childhood friends and crewmates. "Eve knew she was gonna be a star," said Peak. But to their dismay, Eve moved from Philadelphia to Germantown, which forced the crew to break up. In the 10th grade, Eve would form a new female rap duo group called EDJP (pronounced "Egypt") while attending Martin Luther King High School.
Eve is a self-described "Tomboy girly girl"
After the disbandment of EDJP, Eve continued to sharpen her skills by battle rapping anyone willing to step into the ring. It did not matter if the battles were in school hallways or on a crowded Philadelphia street corner. "I was a battle rapper. I wanted to go up against all the guys, in every cypher, on every corner. I've always been a tomboy," she told BET for the multi-part Ruff Ryders Chronicles series.
She continued, "Hip hop for me was [Queen] Latifah, MC Lyte, Salt-N-Pepa. The sexiness that they brought to it, but they still had guy swag." She noted, "I never wanted to just be good for a girl." She wanted her talent to speak for itself, never wanting her raps or style to be boxed in because of her gender. "I don't know why. I feel like they're always who I've been — a tomboy girly girl. I would do cyphers and be wearing baggy jeans, but my hair and nails were done every week. That was just the juxtaposition of who I was," she told Dazed.
Eve rapped for The Roots when she was just 15
Eve made it her mission to show up and be seen. She became known for her short hair and for her rapping everywhere she went. "In Philly, people knew me in my hood. … I was always the girl with the short hair that rapped," she explained to Brett Berish, CEO of Luc Belaire, in the web series Self Made Tastes Better. Her consistency would eventually pay off. After attending many concerts held by The Roots, they noticed the then-15-year-old Eve and invited her to rap for them.
Everything would come full circle with Eve and The Roots. She told Dazed that she did not think her sound reflected Philadelphia, with the exception being the song she did with The Roots called "You Got Me," featuring Erykah Badu. "For me, a Philadelphia sound is really, like, Jill Scott. That, to me, is very Philly, because that's what I grew up on, but I never thought I sounded like that. … I never felt like I was the Philly sound — except for my accent," she said.
Eve's focus changed from high school to the music business
By the time Eve entered high school, she had tunnel vision for the music industry. Books and homework were last on her checklist. School just did not pique her interest any more. In those high school years, she rebelled hard. "She was determined that at that point that she wasn't going to live up to nobody's expectations of her. She was going to do what Eve wanted to do," said Eve's childhood friend LaRonda Braxton in Eve's Driven episode.
Eve had been a good student up to that point, but she would abandon her A and B grades for a chance in the spotlight. "I did every talent show in our city. I would pawn little things I had to get a bus ticket to go to New York City to see if I could see any execs. I was very determined," Eve told Financial Times. "I loved school. I always loved words — English was my favorite class. But I barely made it out of high school — I'd made the decision I wanted to be in the music business. A lot of my education was outside of school, writing beats in a friend's bedroom."
Eve became, in her words, "the laziest stripper"
Unfortunately, Eve's hopes of being discovered by the time she graduated high school did not happen. Now fully independent from the strings of required education, she began to doubt her rapping abilities. She frequently traveled between New York and Philadelphia to no avail. "I thought I'd be signed by the time I got out of high school," Eve expressed to BET, "and I was kind of on the verge of quitting." In need of quick cash, she met a group of exotic dancers that did not mind taking Eve under their wing. But from the outside looking in, the people closest to Eve were concerned. In VH1's Driven, her mother described her daughter as being "totally different" and that "she had really gone down a spiral."
Eve's time on the pole did not last for long. She described herself to BET as the "laziest stripper," and she only lasted about two months before calling it quits. She would tell her customers, "I could give you a lap dance, but I am better at rapping."
This rapper convinced Eve to keep rapping
The then-up-and-coming rapper Mase helped inspire Eve to leave the pole for good. Eve revealed to Entertainment Tonight their brief encounter. "It was a slow night and this guy comes walking in, and one of the girls who I hung out with was like, 'Yo that's that new kid, he just got signed to Puff [Diddy],'" she remembered. She worked up the nerve to walk over and asked if he wanted a dance. Instead of focusing on her dance, he inquired about her life and what was she doing with it. After bit of back and forth, the last part of their conversation hit home for Eve. "You're not supposed to be here," Mase said, and he asked, "What is it that you wanna do?" Eve replied, "I told him I wanna be a rapper."
That encounter struck a chord with Eve because she never went back. Addressing Mase later opening a church, Eve explained to ET, "I was always telling people he was supposed to do that, he knows some things, and that he sent me a message that I needed to hear at that time. It was incredible."
Eve signed her first record deal with Dr. Dre… but things took a turn
With luck seemingly on her side, Eve got a call from her manager who said to drop everything and meet up with "Dr. Dre's right hand man," Mike Lynn. Coming up with a plan to be disguised as a delivery girl, Eve took the opportunity to spring her skills on the unknowing guest. Lynn was not only surprised by the impromptu performance, but he was also impressed. According to music producer Mel-Man, as he told VH1's Driven, Lynn recalled thinking Eve was "the future of female rap." Two weeks later, she was on a plane headed to Los Angeles, where she would also impress Dr. Dre and immediately sign a record deal with Aftermath Records.
Unfortunately, as soon as she began to settle in, there was trouble brewing in paradise. She had to fight for Dr. Dre's attention to record a full demo, which was the reason for her being in Los Angeles. Seven months into living in the City of Angels, Aftermath dropped Eve from the label.
Eve had to rap battle for a record deal with Ruff Ryders
With Los Angeles behind her, Eve was back where she had started. She felt like she had taken 10 steps forward, only to go back 15. "I'd bragged, and had this big going-away party, and then I was back at my mom's house riding the bus again. I was really depressed, but I needed it to happen. I was a battle rapper, but I didn't know how to make songs," she told The Guardian.
But that depression only lasted a month until she received a call from her manager telling her she needed to go to Yonkers, N.Y. — which was the Ruff Ryders' home — that same day. Jimmy Iovine, co-founder and chairman of Interscope Records, knew she had talent. "I knew that [Dr.] Dre always believed in her. I always believed in her. And I was always looking for something, for a spot for her to help her make the record she wanted to make," he told BET's Ruff Ryders Chronicles.
It would not be sunshine and roses. Eve had to come in and battle in a rap cypher to earn a spot in the Ruff Ryders crew. "Everyone had to battle to become a Ruff Ryder," said Joaquin "Waah" Dean, founder of the Ruff Ryders. Fortunately, Eve made it!
Eve completed her first album in two months
After she became the "First Lady of Ruff Ryders" in 1998, Eve's skills were put to the test. The Ruff Ryders did not treat her differently because she was a girl. "It was important for me that they saw I am going to hustle the way you guys hustle, period. Do not separate me. And they didn't," Eve admitted to BET in the network's Ruff Ryders documentary. As a new member of the Ruff Ryders, boot camp was required, which meant long days in the studio writing and rapping for four months to a year, as described by former label mate Drag-on in VH1's Driven.
In 1999, Eve recorded her first album, Let There Be Eve, in its entirety in less than two months, as she explained to Brett Berish, CEO of Luc Belaire, in the web series Self Made Tastes Better. It would become the first female rap album to debut at No. 1 on the Billboard charts. Eve noted that every song was about her life up to that point. She even dedicated a song about stripping called "Heaven Only Knows."
Eve made history with her Grammy win
By her second album, Eve was making history, again. Much to the dismay of many people on her team, the last song to be included on her second studio album, Scorpion, was "Let Me Blow Ya Mind," featuring Gwen Stefani. The song would make history by winning the inaugural Grammy award for Best Rap/Sung Collaboration in 2002. The hypnotizing Dr. Dre beat captured many across the world, making Eve a global sensation.
The mega-hit was not supposed to happen due to the supposed differences between the artists. With Stefani having mainly a rock background as the lead singer of No Doubt (here's why No Doubt split up), Eve's record label could not see the vision at first, but Eve could, and so she pushed for it to happen, according to Dazed. The Grammy win would push Eve's career to the next level of stardom.
Next stop: Hollywood
With her Grammy secured, Eve opened a new world of possibilities within the entertainment industry. Television and movies beckoned her name. "The Grammy was the door opener; it was the key to other possibilities in the entertainment business," said Eve's step-father, Ron Wilch, to VH1's Driven.
According to IMDb, 2002 was a great year to be Eve. She starred in two major movie releases. Her first movie role was in the action film xXx (pronounced "Triple X"). She shared screen time alongside movie heavyweights, Vin Diesel and Samuel L. Jackson. She would play a character named J.J., who was a sassy businesswoman. Later that year, she would also be seen in the highly successful movie Barbershop, acting alongside Ice Cube and Cedric the Entertainer.
Now with a couple of highly successful movies under her belt, she was ready for television. In 2003, Eve would star in her eponymous television show called Eve, playing the main character Shelly.
Eve met her husband at the 2010 Gumball Car Rally
After Eve met her husband, Maximillion Cooper, one of several husbands you didn't know rappers had, in 2010, the pair began a long-distance relationship for a few years. The two officially tied the knot on June 13, 2014, which also came with the title of "First Lady of Gumball" — leaving the First Lady of Ruff Ryders title in the past. "I'm so happy to make Eve my wife," Cooper told E! News. "The whole experience has been amazing and we are both so happy to have tied the knot."
The duo met at a Gumball Car Rally, which is attended by the ultra-rich who drive their supercars 3,000 miles across different countries. Despite any of Eve's reservations about dating someone who hangs in ultra-rich circles, Cooper turned out to be different than she expected. "I remember thinking: he must be a player, because you can't throw something like that and not be a player, right?" told The Guardian. After spending the day getting ready for a one-of-a-kind wedding, according to Us Weekly, the newlyweds said "I do" around 8 p.m., while rapper and close friend Bun B served as the master of ceremonies.
Eve splits her time between London and Los Angeles
According to the CBS official website, Eve splits her time between Los Angeles and London. After marrying her husband, she moved to London, where he resides with his four children. Eve's new role as a wife and mom keeps her on her toes. "We definitely went through some growing pains," she said to The Guardian, "I moved countries, got married, and became a stepmom all at the same time. That took a lot of figuring out my identity."
Cooper, having never dated a Black woman before, did not understand certain aspects of Eve's life. The pair had to develop patience and understanding for one another as Eve spent time teaching him and his children about her experiences as a Black woman. While certain situations seemed to be a challenge, Eve is not one to easily accept defeat. Looking back throughout her life, giving up has never been an option. She welcomes most things under her personal mantra: "Have a glass of wine, laugh it off."