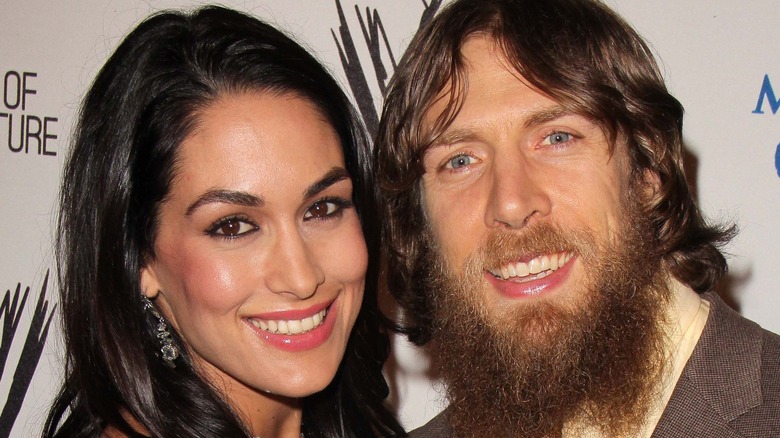 Brie Bella and Daniel Bryan are big stars — both in the WWE world and reality TV world. Brie, along with her identical twin sister, Nikki, rose to fame with their "Twin Magic" in which they would switch places in the ring during matches — a move created by movie star Freddie Prinze Jr., who was writing for the WWE at the time. The rest, as they say, is history, and now the Bella twins have not only been inducted into the coveted WWE Hall of Fame, but are also bonafide reality TV stars on E!'s "Total Bellas."
Daniel Bryan, who also appears on the show, is a big wrestling star in his own right. In the WWE, he's captured both the World Heavyweight Championship and Grand Slam Championship, and is the record holder for the longest single-recorded stint in a Royal Rumble Match.
It's clear that both Brie Bella and Daniel Bryan are heavy hitters in the ring, but Daniel also put a ring on it when the two married in 2014. Almost a decade later, the two are still going strong. Here's how Brie Bella and Daniel Bryan have given their love a fighting chance despite some ups and downs.
They originally dated just for the cameras, but it resulted in true love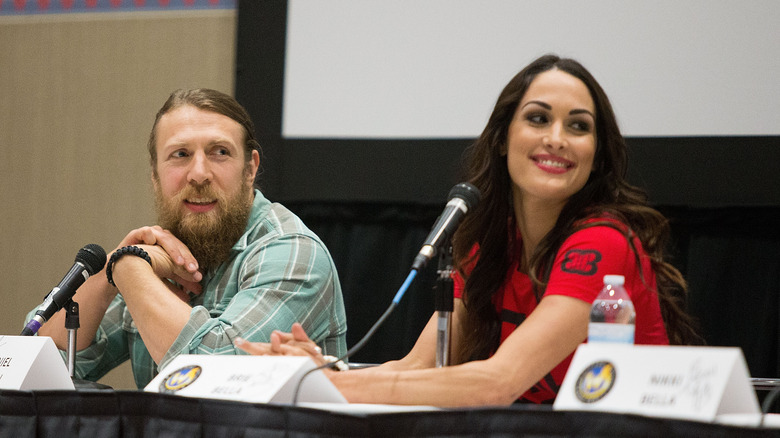 The WWE is famous for its wrestling storylines when it comes to their performers, and initially, the romance between Brie Bella and Daniel Bryan was exactly that — a story. Back in 2010, the two were seen as a pair after his win on an episode of Monday Night Raw (via E! News).
"It actually started as a story line and then we really hit it off," he told PW Mania in 2013. "Actually it was shortly before our story line ended we kind of started dating each other. We kind of started off real slow, but now we've been together for two and half years."
Brie said as the two got more serious with their relationship, she "just knew" that he was the one for her. "I could look past that puppy-love thing and just know that he would make me the happiest wife and be the best dad," she told Health. "He's the nicest person who has ever walked this earth, and he treats me like a queen."
Daniel Bryan was nervous when he proposed to Brie Bella
Brie Bella and Daniel Bryan had been dating for three years and were happy and serious about each other when Daniel popped the question. Even though he's a big wrestling champion, according to Brie, Daniel was the most nervous she'd ever seen him when he proposed during a hike in Big Sur. "He got really, really nervous and he started talking about how long we've been together," she told E! News. "He got down on one knee and compared our love. He said he'll love me forever like the ocean goes on."
Daniel surprised Brie with a ring that was exactly what she wanted — a vintage European 1.5 carat diamond that was also an eco-friendly, conflict-free diamond. "It really fits how Bryan and I are with nature. It's elegant and dainty."
Daniel went above and beyond with the proposal by flying Brie's entire family out for an engagement dinner. "That was probably the most special thing anyone has ever done for me," she shared.
They tied the knot in Arizona
Brie Bella and Daniel Bryan made it official in Brie's home state of Arizona at L'Auberge Resort and Spa in Sedona. The couple had a "country rustic" theme and exchanged vows in front of their closest friends and family, including John Cena, Tyson Kidd, Cesaro, Jimmy Uso, and, of course, Nikki Bella, who served as maid of honor (via E! News).
According to E!, the bride wore a Katie May wedding dress and Yves Saint Laurent heels gifted by her sister — even though she would have preferred to get married barefoot. The wedding also had a special furry guest: Brie and Daniel's dog, Josie.
The couple was more than ready for a full-on commitment like marriage. Brie shared with Health that before they said "I do," they asked each other, "Can you marry my flaws?" knowing that she was "fiery" and that he was fighting a battle with depression. Doing so, Brie said she felt they "both knew what we were going into and how to deal with it."
They are parents to Birdie and Buddy
Brie Bella and Daniel Bryan expanded their family with the arrival of their daughter, Birdie, and then, later, Buddy. "It's a BOY!!!" Brie said on Instagram in August 2020, three years after Birdie's birth and six years after they tied the knot. "We are overwhelmed with joy and everyone is healthy!!!" The couple chose to not learn the sex of their second child before the birth, just like they did with Birdie (via People). In a wild twist of events, Brie welcomed her second child only a day after her twin Nikki welcomed her own son.
However, the road to adding to their family after Birdie wasn't easy for Brie and Daniel. She told Health that they were trying for a while with little success, and that she also questioned whether they were ready to have another child. "To be honest, I'd get these sweats thinking about how to travel with two. I hear going from one to two changes things big-time," she said.
A trip to France to meet Nikki's fiancé Artem Chigvintsev's family changed everything when Brie discovered she was pregnant. "I felt a little off. I was irritated and uncomfortable in my body," Brie told People. "When we got home, I took a test two days before Thanksgiving, and when I saw the positive sign, I was like, 'Oh, s***!' "
They make a great team inside and outside of the ring
Brie Bella and Daniel Bryan not only make a great tag team in the ring — they also make an amazing parenting team. Daniel shared with E! that parenthood made his relationship with Brie stronger. He noted that he read about how becoming parents could change a marriage, and was conscious about that when they welcomed Birdie." But if you know that and you know that going in and, 'OK, I'm going to put my partner first.' That sort of thing. And it feels like our relationship has become stronger because of it."
He added that, even if he didn't think it was possible, seeing Brie give birth made him love her even more. That love definitely came in handy when the couple transitioned into parenting two kids, as they helped each other with Daniel being on Birdie's schedule and Brie being on Buddy's schedule (via People). "It makes us both feel more sane and not be in that mommy/daddy fog, and feel more rested," she said.
Brie talked about how she and Daniel value connection and connection even more so since becoming parents. "We do have a couple of hours we get before we want to crash and go to sleep, and we really talk with [each other]. You really need a strong partnership to just do parenting, like, together and be sane," she said (via Us Weekly).
Brie supported Daniel through his depression
Brie Bella and Daniel Bryan had a few dark moments when it came to Daniel's mental and physical health, including his depression. Bryan's fight with depression was tested by his decision to retire from wrestling in 2016 from a result of numerous concussions leading to Brie sharing that he wasn't in a good place. "Ever since he had his surgeries, to losing his dad, to then losing his career … I just think Bryan's been holding so much inside."
Brie revealed that Daniel's depression is "very scary" and something she never experienced before. "But to see darkness come out of Bryan — to use all those elements to help bring that out — I feel like will only make Bryan better and make him happier, but that will also play into our marriage."
Brie continued her husband's struggle, even when he told her he was unable to attend her final WrestleMania match. In an episode of their reality show, "Total Bellas," Brie tells Nikki, "Bryan's an amazing catch and that's why I'm willing to fight with him through all of this, because I see the light at the end of the tunnel."
They grew apart in 2020
Even though Brie Bella and Daniel Bryan have been solid throughout their relationship, they have also navigated their ups and down. In 2020, Brie shared that she and Daniel weren't spending as much time together thanks to their busy and separate schedules. "We are kind of growing apart. Like, we're not growing together," she said. "Like, I know I could be happier. I know I could have a better marriage." Daniel felt the same, sharing, "We're both feeling this disconnection. It just shows kind of where we're at in our relationship" (via E! News). Brie admitted that they both have changed since they first started dating, and that they each want "different things and we have to be okay with that."
Daniel planned a trip to Sedona, Arizona, the spot where they married, to help reignite the spark and reconnect and "work on things." "If I want my marriage to work, I have to go into Sedona so honest," Brie said. "I can't come back to Phoenix with any regrets." On the trip, the couple sought out the guidance of a shaman. Daniel hoped that in doing that "the same way they can heal my depression, what I'm really hoping for, is maybe they can also heal a relationship" (via E! News).
The trip turned out to be exactly what the couple needed, with Brie acknowledging that you "have to work on" marriage. "And I have a really good husband. He's such an amazing man."
They have to deal that Brie is a twin and has a very close relationship with her sister
Brie Bella and Daniel Bryan have a unique third wheel in their marriage: Brie's twin sister, Nikki, who is arguably just as close, if not closer, to Brie than her own husband.
The closeness between the twins and Daniel and Brie's connection was tested when the sisters discovered they were pregnant at the same time, and considered throwing a joint party to reveal the sexes of the babies. Daniel reminded his wife they didn't want to know their baby's sex. "We talked about it, and we talked about doing a surprise," he said (via People).
Brie's tight relationship with Nikki even resulted in Daniel having an awkward heart-to-heart chat with Nikki's fiancé, Artem Chigvintsev, about pregnancy sex, telling him, "This is mildly uncomfortable for me to talk about but Brie asked me to talk to you about it because Nicole talked to her about it" (via People). Daniel later admitted on "Total Bellas" that one of his biggest problems in life "is that Nicole has more influence on Brie than I do."
They downsized their lives and moved to Napa Valley
Brie Bella and Daniel Bryan made a huge decision during the pandemic to move to California's Napa Valley. "We majorly downsized. We wanted to be more simple," Brie said on The Bellas Podcast in October 2020. "You guys have always known how Bryan and I are, so we were just like, we need to get back to who we were before kids, and let's simplify our life and live more country, and we're doing it. And so we did it!"
Brie shared on an episode of "Total Bellas" that the pandemic and her mother's brain surgery inspired her to reevaluate her life. "It's like, wait a second; We might not get the next five years. We might not get tomorrow. It's like, what fulfills you, do it today." Initially, Daniel was hesitant about the move since, according to him, the couple have moved at least eight times since they've been together. "We will move somewhere and she'll be happy and then she starts feeling a little dissatisfied and she can't figure out why," he said.
But the couple made it official, and moved to the wine region where the twins also have their own line of wines, and where they can hopefully lead a simpler life, like they both wanted.