Watching an episode of Amazon Prime's "The Marvelous Mrs. Maisel" will surely set you back in time with its antique accents, pops of vibrant color, and nostalgic mid-century vibe. The show is guaranteed to transport you from your sofa to 1950s New York City. In the above scene, the foyer displays a mixture of patterns and textiles. There are slight floral accents combined with different wall hues, table accents, and light fixtures creating an aesthetically pleasing space. Indeed, there is no shortage of color or pattern in the New York apartments as seen in this clip of "The Marvelous Mrs. Maisel." From the wall moldings to the wallpaper, the eye will wander.
According to Elle Decor, the building where Mrs. Maisel lives with her parents is an actual 20th century historic building in New York's Upper West Side. And while the era may be past, the modern vintage décor is mainstream today. Adding this look and texture to a space is achievable. To that end, we are peeking into the design elements of "The Marvelous Mrs. Maisel" and how to create a similar vibe in your home. From changing light fixtures to adding bold sofas with colorful pillows, here are the vintage touches you can add to your space. Continue reading for your mid-century modern inspiration.
Start with the sofa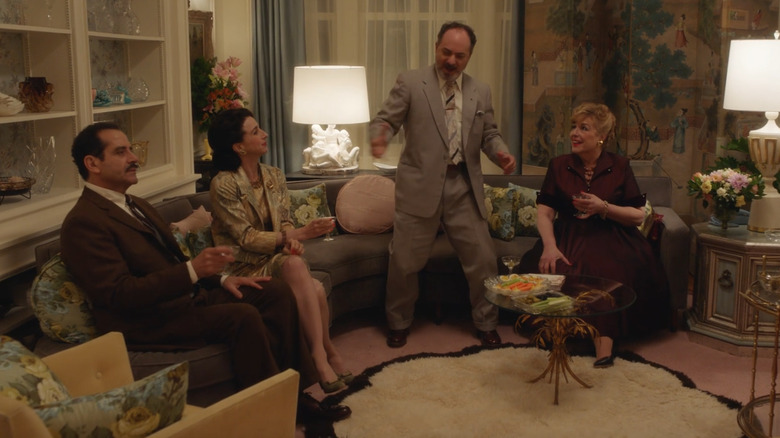 Impressive Interior Design shares how they think neutral schemes make the perfect backgrounds for any type of furniture or accessories. In the above scene from "The Marvelous Mrs. Maisel," Midge's couch is the perfect subtle gray. It blends effortlessly into the décor and delivers a soft touch to the living space, but not without being a statement piece. The shape alone offers movement to the room and does not take away from being inviting and functional. The bookcases are a classic white and offer delicate details the longer you stare at them.
If you prefer to add color to your space in a bold way, then look no further than a red tufted couch like in Mr. and Mrs. Weissman's apartment. This couch offers a bold way to add a pop of color against a neutral background. The color itself is eye-catching and it needs little accessorizing to stand out. This is ideal for someone who wants a piece of furniture to captivate the entire room, like Mrs. Maisel when she is on stage delivering her stand up performances.
Add colorful accents
Any home interior designer will tell you that the accents are the items they change and alter the most. Who doesn't love adding a plethora of pillows to a couch or even a bed? The pillows are full of color in this mid-century gathering room, much like Midge's dresses throughout "The Marvelous Mrs. Maisel." She does not shy away from colorful patterns in her home décor or dress choices; these soft pinks and greens give the room a sprinkle of color and tie the look together as they float from accent chair to sofa, complementing the rug.
Get this look by adding pillows to your sofa that have a pattern, even better if you mix up the shape with some circular and square ones. Additionally, anchor the room with the perfect accent rug. Rugs often have the ability to tie in existing colors. Using a patterned rug below your visual field makes it feel less intrusive. Furthermore, rugs can introduce a pattern to a space and provide it with a sense of character, as per Interior Editor. They can change the mood in a room and help accentuate accents.
Choose wallpaper accents
There is no shortage of wallpaper in the hallways, bedrooms, lobbies, or foyers throughout "The Marvelous Mrs. Maisel." The mid-century, picturesque world is filled with floral wallpaper accents in all shades of color from pinks and peaches to blues and whites. For example, the Weissmans papered their walls with a mixture of floral patterns and pastel blues and pinks. There is even wallpaper in the bookcases and the wall moldings in the series. This is a fantastic way to add color to a space and display movement throughout the room. Adding wallpaper can be a daunting task and large commitment, but fear not — there are alternatives and temporary methods.
Per Elle Decor, wallpaper has the ability to breathe some life into the house in a way that a fresh coat of paint just cannot. So, if you are looking to add depth to a space, then wallpaper may be the obvious choice. Spoonflower offers an eclectic selection of mid-century inspired wallpaper; you can surely bring out the mid-century look in your home once you choose the pattern you want for your space. Selecting the placement of the wallpaper is the next step. The walls are an obvious choice, but dare to be bold like Midge and add it somewhere unique — perhaps your bookshelves, ceiling, or plant ledge. If you have similar wall moldings in your place, perhaps put it there.
Add room dividers for a unique design element
There is no denying that the world of "The Marvelous Mrs. Maisel" is full of patterns and pops of vibrant color. The décor is immersive and the eye never settles as there is contrast all around the environment. One of the largest contrasting pieces is the room divider in the gathering room. This unique piece can be useful in all sorts, of ways but here it is used as a wonderful piece of art. It is uniquely set up in between the two windows, filling a void rather than partitioning a room. Additionally, House Beautiful shares how room partitions are more than useful. The right one can showcase dimension and introduce texture while adding color to a room. All these design elements in just one accent will definitely be a statement piece in any space.
Need to divide space in an open layout, or to cover a large wall? Need something budget kind and renter friendly? Find a room divider! Stand out like Mrs. Maisel and choose a divider that matches your needs, whether it is to offer a space-solution, provide privacy, divide a room, or be a work of art.
Accent chairs to complement your space
Gathering rooms are a central space in any house as they are where everyone comes together. To that end, this timeless sectional from "The Marvelous Mrs. Maisel" is inviting, as stated previously, but what about the other chairs in the room? Take a good look at the scene above and study the yellow accent chairs. They are not even the same! They bring color to the room in a bright way and are subtly different, offering functionality in the space and different shapes; they complement one another while being unique.
One of the easiest ways to create a space that is less uniform and more unique is to incorporate furniture of different heights, per Architectural Digest. Look for what your space is lacking and add an accent chair with a bright color or soft striped pattern. Opt for accent chairs that complement one another in style, but are unique in their shape, leg structure (angled legs), or arm accents.
Layer the window curtains
The curtains in this mid-century modern New York apartment in "The Marvelous Mrs. Maisel" are dreamy. The set designers used multiple curtain panels in a variety of colors throughout the rooms and main spaces in the apartments. Some curtains appear heavy, offering drama to the space with tassel accents, while others are sheer but still offer privacy. Additionally, the bedroom windows are draped with curtains that typically match the other décor in the room. In the scene pictured above, the pattern is repetitive in the pink blush curtain panels and the accent chair in the room. In this clip you can really see the two separate layers that adorn the window.
Indeed, curtains can bring drama to a space as they instantly lift the room and create atmosphere. So, dress your windows like "The Marvelous Mrs. Maisel" by matching a neutral curtain with a patterned set. Make sure you have a double curtain rod bracket to create the effect. Additionally, layering curtains is an easy decorating hack that instantly adds vibrancy and depth to the windows. Furthermore, Kwik-Hang shares that layering curtains has endless benefits; they have a fantastic way of beautifying a space and affecting mood.
Add floral arrangements to fill voids
A perfect centerpiece is often a floral arrangement, as it breaks up a room and fills voids. What beauty flowers can evoke in a space! Real or artificial plants can offer the same benefits in look and style, too. In "The Marvelous Mrs. Maisel," the apartments have multiple vases showcasing a variety of flowers in all sorts of colors. The scene above has two arrangements that complement the soft blush pinks in the room and accentuate the yellow detail. It is clear Miriam loves light pinks and soft lavenders.
You can add beauty to your home like "The Marvelous Mrs. Maisel" by adding fresh flowers. Better Homes & Gardens suggests choosing a color scheme before creating a flower arrangement, though. Make sure you know what colors you want to highlight in your space and accent them in your arrangement choices. Also, keep height in mind as not all vases and flowers may fit on the desired shelves or plant ledges. Baskets can serve as an additional option for displaying flowers in a vertically compressed area.
Pick the perfect statement bed
Much like a sofa is a statement piece in a gathering room, a bed is the primary focus in a bedroom. The mid-century modern aesthetic of this bed from "The Marvelous Mrs. Maisel" is sleek and simple. The tapered legs are popular and curved headboards create movement in the room. Midge shows her preferred mid-century style by choosing beds that have that movement and are typically carved from wood. Platform-based, this style of bed is functional and minimalist; it is simple but transitional, and provides the exact functionality needed without overtaking the space. You can find several other designs throughout the series in this marvelous clip.
Create the look in your home by deciding on function first. Adding functional touches like closed storage nightstands, armoires, or dressers is an easy step to take to achieve the aesthetic, as per Modsy. Don't shy away from tufted headboards, velvet material, or rounded edges in the bed frames, either. These differences in shapes and textures help create the mid-century vibe.
Vintage mirrors for a mixed era look
Beautifully crafted, vintage-style mirrors are all the rage these days. Hanging on a wall in an entryway, propped in a bedroom corner capturing the perfect natural light, or mounted in the bathroom over the vanity, French-style mirrors are sure to add the modern mid-century look in your space. They also have beautiful embellishments on the corners and often peak at the top, giving the mirror an antique look. Details like this in an antique mirror also allow it to tell a story and serve as a statement piece, shares Kathy Kuo Home. Even today's DIY lovers can't pass up a mirror like the one hanging in the entryway of Midge's apartment in "The Marvelous Mrs. Maisel," as seen here. The soft white subtly pops against the blush pink floral wallpaper and light blue wall trim.
Make it modern and lean a mirror on an entryway table. Or, as Kathy Kuo Home suggests, place a mirror above a fireplace or piano for a classical look. You may even decide to place a mirror above a media cabinet for a modern twist. Mixing these design elements creates a beautiful blend of old and new. What a perfect way to bring a piece of the past era of the 1950s into your home today!
Antique furniture is a statement
The oak and walnut antique furniture throughout "The Marvelous Mrs. Maisel" is taken to the maximum, embracing the mid-century era that is majorly popular in today's homes. Take a glance at this clip to see the specific décor. From antique nightstands, dressers, coffee tables, and credenzas, there is sure to be one if not two standout pieces in any given room. These dark wood classics are often adorned with brass and bronze hardware.
Who doesn't love a good find on the marketplace or at a garage sale? Grandma's old nightstand or dresser is the perfect DIY project to bring this mid-century look alive in your space. You can give the thrifted piece new life with some new hardware to add a more modern twist, too. If thrifting isn't your style, finding tables and dressers with notched legs and elegant shapes can complete the look. 21 Oak thinks mixing the eras is doable by blending your vintage vibe with old and new furniture pieces. Adding too much of one style to a room can make it feel too old, repetitive, or overdone. To keep the essence of the time, choose your pieces wisely and add modern touches to keep the theme current.
Floral patterns everywhere
Look at the scene of "The Marvelous Mrs. Maisel" above and try not spot a flower. The floral print is everywhere throughout the Maisels' apartment and her parents' pad as well. The flower power is strong throughout the design plans, and who could forget about the pink flower wallpaper in the foyer? Additionally, the pale blue design behind the bookshelves in the above scene ropes in the solid blue curtains and creates the ultimate 1950s feel. Fruit, flowers, and abstract designs were all the rage during this era, according to Planet Retro.
Give the floral motif a try in your next home project and choose a wallpaper with the perfect design. Wallpaper evokes texture and can make something stand out instead of blend in or get lost without contrast. Make it modern and look for large flowers in bright colors like green and yellow, or keep it classic and choose a pattern with dainty flowers and soft blush tones. Mixing multiple patterns is not uncommon in the mid-century look.
Lamp shades don't need to be paired
Lamps are often purchased in pairs, but there is something iconic about a lamp with no partner. The scene from "The Marvelous Mrs. Maisel above displays three completely different lamps, and let's not forget about the beautifully carved scene in the base of the lamp in the living room. There are many, many lamp bases and lamp shade combinations throughout the apartments in the series. The mix-matched colors, shapes, and heights creates a mid-century luxury look. The gold trimmings and swooped shade sides offer texture throughout the space, too.
According to Lightform, spherical pendant lights and curved floor lamps are essential pieces of any mid-century space. Create a modern mid-century look with sculptured pendant lights and uniquely structured lamp shades. Find timeless pieces with a focus on functionality. The mid-century era often displays clean organic curves and structured lines. Look at what the space needs and find the lighting that suits it. If one lamp fits, just use one lamp.
Wall sconces for any space
Wall sconces are very popular in today's décor. They were a big design piece in the mid-century modern era, too. You will often discover geometric shapes and visually appealing structures in this style. When adding light fixtures to a space to create the mid-century modern look, it is important to have the fixture feel artsy and airy, suggests Capital Lighting. Light fixtures like wall sconces can clutter a space, making mid-century fixtures popular for their clean lines and neutral tones. Wall sconces during this time were often brass or bronze, as seen in the image above from "The Marvelous Mrs. Maisel."
Make the look modern and ditch the lampshades if they're not your thing. There are also wall sconces that are more retro to fit the modern era mid-century look. There are even alternatives to hardwired sconces, such as puck lighting and light bulbs with switches or changing colors. Don't worry about mixing metals or styles — mid-century is all about functionality and simplicity.
Drink carts for hosting
Something "old school" that Midge has in her living room in "The Marvelous Mrs. Maisel" is a simple yet classy drink cart. She serves guests directly from the cart with drinks and fresh pastries. What a great way to add flare to a space and offer an easy way to entertain! Pictured behind her in the scene above you can see how the look is minimalist while serving a purpose. As you know, mid-century design is about functionality and simplicity. The cart effortlessly blends into the room and is definitely an attribute of the era.
Better Homes & Gardens states the drink cart is a staple for home entertaining. It brings functionality and style to the environment, making it the perfect mid-century accent. Add a drink cart to your gathering area and spruce it up with today's touches like charcuterie board snacks and sides. You can always change the theme of the cart too to cater to the event, too — maybe it's movie night with the kids or girls' night in. Whatever the function, find a cart that's purposeful and complete your mid-century look.