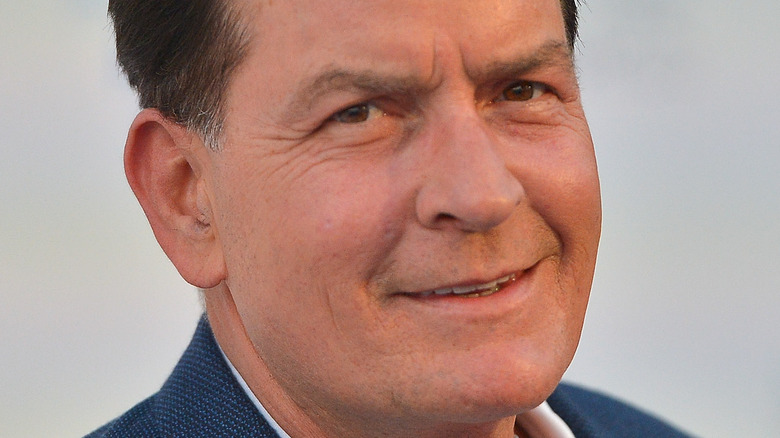 Every movie and TV star wants to make headlines — for the right reasons. And while they may earn accolades for their work, a number of actors have ended up the top story of the day/week/month/year for all the wrong reasons.
Sometimes being outspoken or having a different opinion than your producers can get you a bad rap in Tinseltown, but where is the line between sticking to your creative guns and being "difficult?" Another surefire way to become someone people don't want to work with? Be labeled rude, crude, or even downright mean. We are not here to play judge and jury. Our job is only to present the evidence.
Without further ado, here are some of Hollywood's stars who have earned reputations for being difficult to work with for one reason or another. Perhaps proving "like attracts like," some of the "difficult" stars do indeed pop up in other "difficult" stars' stories.
Lea Michele wasn't popular with her Glee co-stars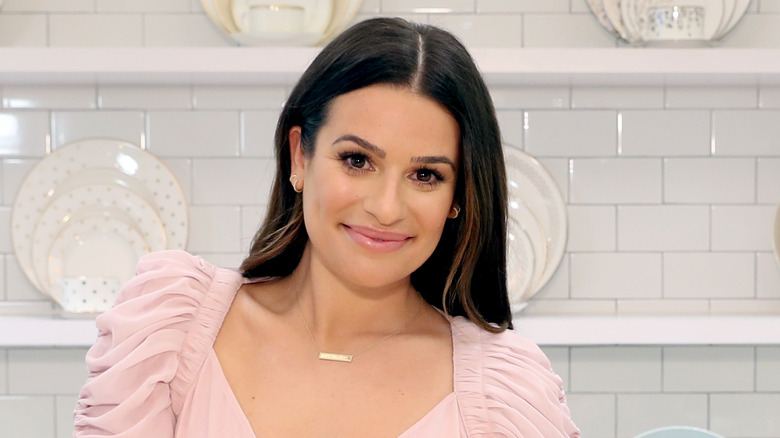 Lea Michele, the actor who shot to stardom as Rachel on "Glee," apparently did not get along with co-stars when the cameras were off. In her memoir, "Sorry Not Sorry: Dreams, Mistakes, and Growing Up," the late Naya Rivera wrote that Michele apparently wasn't thrilled about Santana becoming a bigger character. "I think Rachel — erm, I mean Lea — didn't like sharing the spotlight," Rivera recalled. At that point, their strained relationship turned cold as ice. "Soon, she started to ignore me, and eventually it got to the point where she didn't say a word to me for all of season six," she wrote.
In 2020, some more co-stars called Michele out. A since-deleted tweet (via Insider), "Glee" actor Samantha Marie Ware wrote, "REMEMBER WHEN YOU MADE MY FIRST TELEVISION GIG A LIVING HELL?!?!" She also said Michele told people that she would "S*** IN MY WIG." Ware later told Variety that Michele threatened her job.
"Glee" alum Heather Morris also tweeted her former colleague. "Was she unpleasant to work with? Very much so; for Lea to treat others with the disrespect that she did for as long as she did, I believe she SHOULD be called out," she wrote. Michele issued an apology on Instagram, writing, "We all can grow and change and I have definitely used these past several months to reflect my own shortcomings." To be continued.
Edward Norton had creative differences with Marvel
Edward Norton is a well-regarded actor, with a Golden Globe award and three Oscar nominations under his belt. But the "Birdman" star stirred up some problems after he was hired to play Bruce Banner in the 2008 Marvel Studios production of "The Incredible Hulk." In an interview with The New York Times, Norton explained that he had an idea to retool the creative direction of the film, and build a franchise that would take it in a different direction.
This is where "The Incredible Hulk" started to turn into an incredible fiasco. Norton rewrote the script about two months before production and Marvel, originally receptive to Norton's concept, decided they didn't like it. According to Director Louis Leterrier's account in Collider, they reshot "an assembly" of the film with Norton's changes. "It's called a suicide run because it's absolutely horrible," he said. "You want to commit suicide after you see it." Oof, a whole lot of yikes happening here.
Marvel's final cut of the film was shot without Norton's changes. At the 2018 Comedy Central roast of Bruce Willis, Norton managed to take a shot at Marvel as well: "I tried to be like you. I did a big action movie called 'The Incredible Hulk.' You know what went wrong? I wanted a better script." Norton was replaced by Mark Ruffalo.
Was Mike Myers 'nightmarish' behind the scenes?
Known to many as the "Saturday Night Live" breakout star who moved onto cultural juggernauts like "Austin Powers" and "Wayne's World," Mike Myers' behavior behind the scenes may not be so funny. As "So I Married an Axe Murderer" director Thomas Schlamme claimed to EW, there were days when the actor flat out refused to come out of his trailer and work.
Penelope Spheeris, who directed Myers in "Wayne's World," told EW that he "was emotionally needy and got more difficult as the shoot went along." Producer Rob Fried alleged to the outlet that Myers will "emote and threaten and express anger" to get his way. In a 2022 interview with Screen Rant, Spheeris said Myers' perfectionism was a driving force. "He wanted everything to be just right," she shared. "Honestly, it was a little bit like walking on eggshells dealing with him, because I didn't want to say the wrong thing or set him off or anything." Amy Hill, who appeared with Myers in "The Cat in the Hat," told The A.V. Club that working with him apparently was a "nightmarish experience. He had his handlers dress his trailer, and his area was all covered with tenting because he didn't want anybody to see him. It was so weird."
When the Los Angeles Times asked Myers about the rumors regarding the supposed "So I Married an Axe Murderer" set drama, he said, "We were all very passionate. Some people misinterpreted my passion as insanity."
Sharon Stone's requests 'bordered on ridiculousness'
Sharon Stone was already a major movie star in Hollywood thanks to flicks like "Basic Instinct" and "Casino" when she arrived in Italy to star in "The Golden Boy." Director Pupi Avati claimed in The Hollywood Reporter that her demands before even signing on to the film "bordered on ridiculousness… as if Italy was a third world country."
Producer Antonio Avati told the outlet, "Step-by-step, she started to feel more and more like Sharon Stone. It is the classic pattern with these American actresses who are slightly declining." On the last day of filming, Stone apparently disappeared into thin air after she saw a large group of photographers there and a TV crew filming as well. "We looked for her everywhere, but nothing!" said the producer, who was more peeved that he got a call from her manager in L. A. to negotiate her terms to return to the set. Stone's team denied all of it, telling THR, "Ms. Stone is the consummate professional."
Stone also reportedly made some outrageous demands for an invitation to luxury jeweler de Grisogono's annual party at the Hôtel du Cap-Eden-Roc. A source claimed to Page Six that she asked for "$300,000 plus eight rooms at the [hotel] for a week and a private jet." Kim Kardashian reportedly agreed to do the gig in exchange for "a pair of earrings."
Casey Affleck was accused of sexual harassment
When Casey Affleck was nominated for an Oscar for Best Actor in 2016 for "Manchester by the Sea," it stirred up all kinds of drama. Back in 2008, the actor was accused of sexually harassing cinematographer Magdalena Gorka and producer Amanda White while working on "I'm Still Here," per USA Today.
Gorka, who sued Affleck for $2.25 million, described the experience in her claim as "by far the most traumatizing of her career." She said she woke up in the middle of the night to find Affleck in bed next to her. White's allegations included claims that Affleck called women "cows" and manhandled her when she rebuffed his sexual advances, per The Guardian.
The cases were settled and Affleck went on to win that Oscar… and the backlash continued. As Time noted, critics maintain that honoring men who have been accused of such behavior "perpetuates a cycle of sexism in the industry." After actor Brie Larson made a point to not applaud or shake his hand when presenting him with the statue, she told Vanity Fair, "I think that whatever it was that I did onstage kind of spoke for itself." As for Affleck, he told the AP, "I behaved in a way and allowed others to behave in a way that was really unprofessional. And I'm sorry."
Katherine Heigl threw shade at Grey's Anatomy writers
The hit show "Grey's Anatomy" turned Katherine Heigl into a bona fide superstar, but it was also the show that branded her with a big "D" for difficult. According to People, after winning an Emmy in 2007, she made the gutsy move not to submit her name for consideration in 2008. "I needed juicy, dramatic, emotional material and I just didn't have that that season." The "Firefly Lane" star not only trashed the show's writers; she also threw the producers under the bus. On "The Late Show with David Letterman," she complained about her long first day back at "Grey's" in 2009, being "a 17-hour day, which I think is cruel and mean."
Another comment that got the "27 Dresses" star in hot water came during an interview with Vanity Fair where she described "Knocked Up" as being "a little sexist." She continued, "It paints the women as shrews, as humorless and uptight, and it paints the men as lovable, goofy, fun-loving guys… I had a hard time with it, on some days." That said, she did add that the movie was the "best filming experience of my career."
In 2021, the actor told The Washington Post the way she was shunned in Hollywood was so bad at one point she felt like she "would rather be dead." For those who still might call her difficult, she asked, "What is your definition of difficult? Somebody with an opinion that you don't like?"
Working with Bruce Willis was 'soul-crushing'
Bruce Willis, the marquee star of box office blockbusters like "Armageddon" and "The Sixth Sense," may not be the most fun guy on the call sheet, according to some of those who have worked with him. "Moonlighting" in the late '80s gave Willis his first break. It also fed his ever growing ego as his star power was growing.
In an interview with Moonlighting Strangers, producer Jay Daniel said he played "referee" on set while stars Willis and Cybill Shepherd would constantly bicker. Shepherd shared a similar account, telling EW, "I remember at one point in the show, it had gotten to where we just hated each other." Director Kevin Smith alleged on Marc Maron's podcast (via Film Drunk) that working with the actor on 2010's "Cop Out" was "f***in soul-crushing. I mean, a lot of people are gonna be like, 'Oh, you're just trying to blame the movie on him.' No, but I had no f***ing help from this dude whatsoever."
When Sylvester Stallone asked that dude to return to "The Expendables" franchise for the third installment, Willis asked for a million dollars a day. After news of Willis' exit broke, the "Rocky" star tweeted, "GREEDY AND LAZY . . . A SURE FORMULA FOR CAREER FAILURE." At that price, Stallone decided Willis was, well, expendable. An inside source told The Hollywood Reporter at the time, "I think [Willis] was pretty surprised he was replaced in 72 hours by Harrison Ford — a better actor, a much nicer person."
Chevy Chase 'acted horribly' to co-stars
Chevy Chase charted his successful path from "SNL" to films like "National Lampoon's Vacation" and "Caddyshack." But he reportedly burned a lot of people along the way, starting with the cast of "SNL." In "Live From New York: The Complete, Uncensored History of Saturday Night Live as Told by Its Stars, Writers, and Guests," the series' first openly gay cast member Terry Sweeney said working with Chase was not pleasant. "He acted horribly to me," Sweeney recalled. "He acted horribly to everyone." In the same book, Tim Meadows said of Chase, "He didn't care about what he said. He had no qualm about telling you you're an idiot."
Before Chase left "SNL," he inked a deal with NBC without letting Lorne Michaels know. In "Saturday Night: A Backstage History of Saturday Night Live," an "SNL" writer called Chase "a scumbag" for exiting the series like that, adding that he was "deceitful and dishonest about the whole thing."
Fast forward to 2011, when Chase was caught calling "Community" a "f***ing mediocre sitcom" in a leaked voicemail obtained by Celebuzz. This was followed by a report that Chase used the N-word on the "Community" set. According to The Hollywood Reporter, he apologized to his co-stars. Months before the "mutual agreement" regarding Chase's departure from "Community," he told HuffPostUK that doing the show was "a big mistake" and called sitcoms "the lowest form of television." Talk about biting the hand that feeds you…or should we say used to feed you?
Alec Baldwin apparently wasn't 'fun' on 30 Rock
Actor Alec Baldwin has made headlines for his work as well as his short temper — both on the set and off. In "The 30 Rock Book: Inside the Iconic Show, from Blerg to EGOT," "30 Rock" editor Doug Abel alleged Baldwin once threatened to assault director Adam Bernstein for "holding up his thumbs to frame a shot." Director Paul Feig said the "Beetlejuice" actor was "a little challenging" and "the least fun one to work with."
In another "The 30 Rock Book" story (via New York Post), Baldwin apparently went toe-to-toe with co-star Elaine Stritch after she added "an extra line" to the end of a scene. According to the book, Baldwin snapped, "Don't you last word me, you. It's my laugh-line, you b***h."
"The Departed" star, who reportedly accidentally shot and killed assistant director Halyna Hutchins with a prop gun on the set of the movie "Rust" in 2021, could be going to court. Per NBC News, lighting chief Serge Svetnoy claims that Baldwin, along with others, was responsible for "skimping on safety protocols and mishandling firearms." The lawsuit alleges they "were consciously aware of the wrongfulness and harmfulness of their conduct." According to The Hollywood Reporter, Baldwin and other producers are seeking a dismissal.
Christian Bale had an expletive-filled set meltdown
Oscar winner Christian Bale is known for his amazing ability to transform himself to disappear into a role. But all of that discipline and control still couldn't keep the "The Dark Knight" star from losing it on the set of "Terminator Salvation" in 2009, per ABC News.
When Shane Hurlbut, the film's director of photography, accidentally walked into Bale's eyeline while he was filming a scene with Bryce Dallas Howard, Bale was incensed. He shouted, "I want you off the f***ing set, you p****. Do you have any f***ing idea about it's f***ing distracting?" When Hurlbut tried to calm him down with an apology, it only enraged the actor even more. "You are trashing my scene. You do it one more f***ing time and I ain't walking on this set if you're still hired."
After his rant went viral, "The Dark Knight" star spoke to L.A. radio station KROQ (via The Guardian) to set the record straight. "I was out of order beyond belief. I make no excuses for it," he said, adding that he wanted to assure his fans he doesn't take his success for granted. "I am a lucky man, I never forget that and that is why I put so much into what I do, and why I care so much about it and why sometimes that enthusiasm just goes awry."
A producer said Russell Crowe threatened to kill him
Russell Crowe has given us many memorable performances, and he's received his share of accolades. The Oscar winner happens to be famous for his angry outbursts as well. According to "The Men Who Would Be King: An Almost Epic Tale of Moguls, Movies and a Company called DreamWorks," Crowe allegedly called "Gladiator" producer Branko Lustig in the middle of the night and said, "You motherf***er. I will kill you with my bare hands." Crowe was apparently upset that the studio wasn't paying Crowe's assistants what he considered a fair wage. Lustig later told Steven Spielberg, "I'm leaving. Russell wants to kill me."
Per "The Men Who Would Be King" (via The Guardian), the "L.A. Confidential" star also made waves with director Ridley Scott on the set of "Gladiator" when he scoffed at what turned out to be his most memorable line: "And I will have my vengeance, in this life or the next." Crowe eventually conceded, but not without griping about it, reportedly saying to Scott, "It was s***t, but I'm the greatest actor in the world and I can make even s**t sound good."
According to The Guardian, Crowe reportedly pinned BBC producer Malcolm Gerrie against the wall of a storage closet and verbally abused him 2002. Crowe, who was livid that his BAFTA Award acceptance speech for "A Beautiful Mind" was cut short from the broadcast, shouted at Gerrie that he would "never work in Hollywood." Crowe later apologized.
Lindsay Lohan was called 'a total nightmare'
Let's be real here. Lindsay Lohan, the precocious, promising star of "The Parent Trap" and "Mean Girls," has had a complicated personal life. Her professional life hasn't been so breezy either, and one need not look further than her guest-starring gig on "Glee." An on-set source claimed to E! that Lohan "was a total nightmare." She was perpetually several hours late and seemed like she wasn't even interested in being there, according to the source. "She had not memorized her lines, and she kept disappearing so no one could find her."
Charlie Sheen also gave her a not-so-glowing review for her work on "Anger Management." He told Jay Leno (via The Hollywood Reporter), "Day one, she was fabulous. She was on time; she knew her lines, hit every mark. Then we had to deal with day two. It was as though she had us held hostage because she gave us half a show."
Back in 2013, after her sixth rehab stay, Lohan sat down with Oprah, determined to address her past behavior. Per CNN, she said her reputation for being late to set and her unprofessional behavior came from being "so distracted in the past that I wasn't on point with that." While her career has waned over the years, she's been involved in a handful of projects in recent years, including a Netflix Christmas movie that's set to drop in 2022.
If you or anyone you know is struggling with addiction issues, help is available. Visit the Substance Abuse and Mental Health Services Administration website or contact SAMHSA's National Helpline at 1-800-662-HELP (4357).
Shia LaBeouf 'butted heads' with Alec Baldwin
Years before abuse allegations against Shia LaBeouf surfaced, the actor ended up in headlines for getting into an altercation with another celebrity. In 2013, the "Transformers" star clashed with Alec Baldwin while rehearsing for "Orphans" on Broadway. According to an account Baldwin provided to Vulture, "[LaBeouf] attacked me in front of everyone. He said, 'You're slowing me down, and you don't know your lines. And if you don't say your lines, I'm just going to keep saying my lines.'" LaBeouf was cut from the show before it opened. He later told Interview that he "made amends" with the "30 Rock" actor, adding, "Baldwin and I butted heads hard."
The following year, during the Berlin Film Festival, his bizarre antics were on full display, according to CBS News. At a press conference to promote his film "Nymphomaniac," he was asked if he was concerned about doing so many sex scenes. He really didn't answer the question. Instead, he responded with an obscure quote about seagulls and sardines before bolting out the door. Wait, there's more: For the red carpet premiere of the film, he wore a bag over his head that read, "I am not famous anymore."