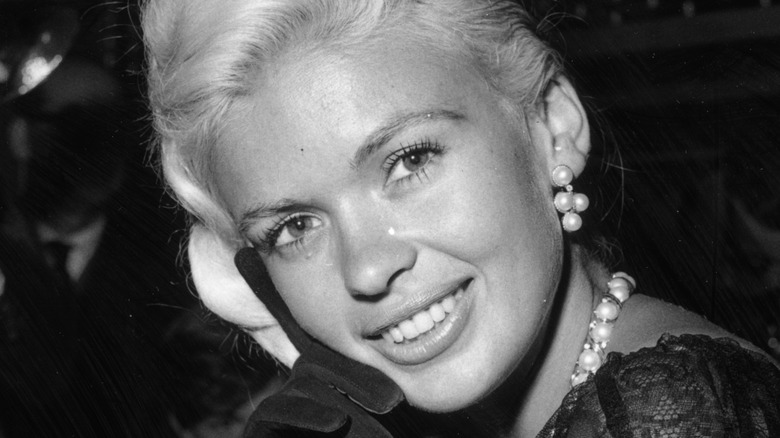 Jayne Mansfield was connected to many high-profile men during her reign as Hollywood's blonde bombshell in the late 1950s and early '60s (heck, she even had an alleged tryst with a Kennedy!), yet none seemed to truly fit her brand more than the Hungarian-born bodybuilder, Mickey Hargitay.
Sure enough, the ultra-feminine star — who was considered by many a "carbon copy" of Marilyn Monroe (via Roger Ebert) — met her match with 1955's Mr. Universe winner (who became her second husband), and fans lapped it up. According to the BBC documentary, "Living Famously: Jayne Mansfield," Mansfield and Hargitay "would get attention … [and] they really enjoyed the limelight." Of course, the A-listers found ways to monetize their good looks, too. In fact, right after their 1958 marriage, pin-up calendars of both celebs hit the shops, ready to capitalize on their match-made-in-heaven union.
Sadly, like many other things in Mansfield's tragic life, her marriage to Hargitay didn't last. As the muscleman once recalled, in the early years of their nuptials, his then-wife gushed, "We're sitting on top of the world." He further reflected, "And that's the way it was … pity sometimes people don't stay there, isn't it?" (via "Jayne Mansfield: The Girl Can't Help It"). This is the truth about Jayne Mansfield's relationship with Mickey Hargitay.
How they met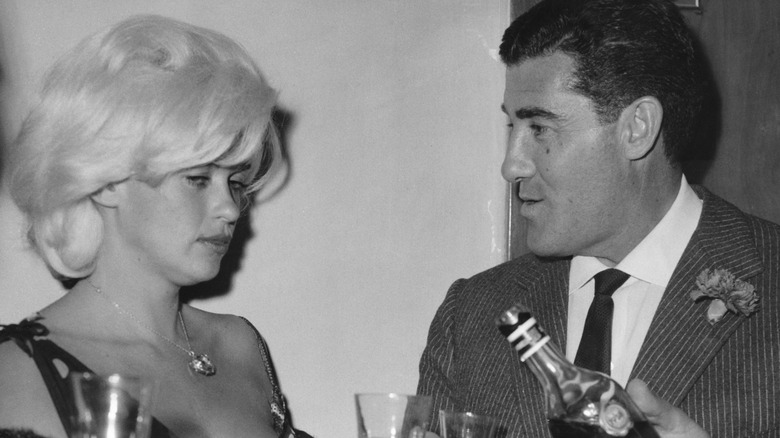 Jayne Mansfield and Mickey Hargitay's relationship began with a legendary quip by the blonde actor. As the story goes, in 1955, it was "Sextette" star Mae West who discovered Hargitay after spotting him on Strength and Health magazine's cover (via The Guardian). She quickly asked him to become one of the "musclemen" for her nightclub act, to which he agreed.
According to "Did Success Spoil Jayne Mansfield?," on May 13, 1956, Mansfield happened to be in New York (where West's act was located) and came to watch the show. When a server came to her table to ask what she would like, the star allegedly declared, "I'll have a steak and the man on the left."
It turned out that the attraction was mutual. "It [was] difficult to miss her," recalled Harigtay of that particular night to "Living Famously: Jayne Mansfield," adding, "She was drinking a milkshake, which impressed me, too." The pair immediately clicked ("It's like a fairy tale," gushed Hargitay), and the rest, as they say, was history.
Mickey Hargitay opted for a casual proposal
By 1957, Mickey Hargitay and Jayne Mansfield were an item, and the actor's press tour in Europe wasn't enough to cause a rift. In fact, according to "Jayne Mansfield: The Girl Couldn't Help It," Mansfield never forgot about her lover back home while she was away. By the time she returned home in November, Hargitay was at the airport waiting for her, alongside her daughter, Jayne Marie (from Mansfield's first marriage). "I saw the man I love and I guess I just went crazy," recalled Mansfield (via "The Girl Couldn't Help It").
Her affection was clearly enough for her bodybuilding beau, too, as in the car ride immediately after, he popped the question. As Mansfield explained, as the pair gushed over one another, Hargitay "casually" reached into his pocket, cheekily mentioning, "I've got a little something for you." The ring, according to W magazine, was "a 10 carat round diamond" valued at $25,000 at the time. "When I opened the package, I couldn't believe my eyes," recalled Mansfield. "I'm the happiest girl in the world!"
Their wedding wasn't exactly what they wanted
After Mickey Hargitay's November 1957 proposal, he and Jayne Mansfield began planning their A-list wedding. Of course, the blonde star first had to finalize her divorce from her first husband, Paul Mansfield, which she eventually did, with five days to spare. According to "Jayne Mansfield: The Girl Couldn't Help It," in January, the pair began holding press events, declaring that their union would be "quiet" and that it's "the one time" that Mansfield wanted minimal publicity.
The pair picked January 13, 1958, as their wedding date. According to Mansfield, it was because the couple initially met on the 13th, and also due to Hargitay's Mr. Universe win and American citizenship — both events which also happened to involve the number. The A-listers allegedly invited 100 guests (sent out on pink invites, Mansfield's trademark color, of course), many of which included celebrities. Hargitay bemoaned the idea of 100 guests but went with it, anyway.
According to "The Girl Couldn't Help It," none of the stars that Mansfield invited showed up — but things still got out of hand. "A hundred invitations turned out to be thousands," recalled Hargitay years later, noting that he almost couldn't make it to his own wedding due to the thick crowds. While the exact numbers of paparazzi that came to catch a glimpse of Mansfield aren't exact, it's believed that 1,500 to 2,000 reporters were present on the celebratory day. Their wedding was ultimately "slightly delayed due to the mobs."
They lived in The Pink Palace
Jayne Mansfield was truly, without a doubt, the queen of self-marketing. As detailed by Biography, the "Too Hot To Handle" actor knew the value of a good publicity stunt, often showing up to events where an "accidental" wardrobe malfunction would occur, causing the paparazzi to go into a frenzy. Above all, however, Mansfield marketed her own look, choosing pink as "her trademark color."
After marrying Mickey Hargitay in 1958, the happy couple bought their first home together. According to "Jayne Mansfield: The Girl Couldn't Help It," Hargitay and Mansfield snagged a mansion at 10100 Sunset Boulevard in Holmby Hills for a cool $76,500. Although they lived in it for a mere five years, the A-listers transformed it from a Mediterranean-style abode to their "House of Love," better known as "The Pink Palace."
The Pink Palace captured Mansfield's brand perfectly. Per Architectural Digest, the home was repainted in pink and quartz grains, while "hearts and cupids became the prevailing motifs in the house." To top it off, Hargitay himself built his lady a heart-shaped swimming pool, spelling "I love you Jaynie" in gold mosaic at the bottom. "The Pink Palace became Mickey's expression of his love for Jayne," explained the BBC documentary, "Living Famously: Jayne Mansfield."
Did their exes leave them with money woes?
The marriage of Mickey Hargitay and Jayne Mansfield wasn't the first one for either star. Mansfield was a mere 16 years old when she met Paul Mansfield, her first husband. The pair wed in 1950 and had one daughter together, Jayne Marie, per Biography. Sadly, after moving to Los Angeles and Jayne Mansfield's subsequent initial struggles to make it in Hollywood, the couple split in 1955. Hargitay, on the other hand, moved to America from Hungary in 1947 and married first wife Mary Birge in 1948, welcoming daughter Tina the following year (via "Jayne Mansfield: The Girl Couldn't Help It").
After Jayne and Hargitay got married in 1958 and moved into their Beverly Hills mansion, they were suddenly both slapped with ugly child-support claims. Per "The Girl Couldn't Help It," Paul demanded Jayne Marie stay with him in America while his ex-wife filmed a movie in Europe, dropping the suit only after Jayne threatened to make him pay "$1,000 in back alimony." Hargitay had his own problems, too, with Birge asking for "$5,500 a week" in child support.
As the book details, during these publicized proceedings, "Jayne and Mickey cried poverty." The pair allegedly brought reporters into their Pink Palace, detailing how they "slept on mattresses on the floor" and didn't have any furniture or rugs. As Jayne told reporters, they claimed to only spend "$45 to $50 a month on food," dramatically adding, "[but] don't worry about us."
They appeared in several movies together
To the public, Mickey Hargitay and Jayne Mansfield seemed like a match made in heaven. The 1955's Mr. Universe winner's hunky physique matched Mansfield's ultra-feminine look — in fact, while he was still performing in Mae West's nightclub prior to meeting his future wife, he was already becoming known as "the male Jayne Mansfield" (via "Jayne Mansfield: The Girl Couldn't Help It").
After the pair hooked up, Mansfield and Hargitay decided to profit off of their relationship, appearing in various roles together on the silver screen. According to the BBC documentary "Living Famously: Jayne Mansfield," their professional on-screen debut came in 1957 with the adaptation of the Broadway production "Will Success Spoil Rock Hunter?" It turns out it was Hargitay's idea to turn the successful play into a Hollywood flick. The result was handing Mansfield the leading part of Rita Marlowe, while Hargitay himself made his debut in a minor role, Bobo Branigansky, "the gorilla man." "Will Success Spoil Rock Hunter?" was "a spoof of Hollywood," with many critics dubbing it Mansfield's "best movie."
The flick was overall well-received by critics and certainly great publicity for both Mansfield and Hargitay. It also finally put the Hungarian bodybuilder on the map. "I felt like I made it!," Hargitay recalled, noting that he first came to America as a nobody. "Everybody knows me now!" The pair went on to do more feature films together, including 1963's controversial "Promises! Promises!" and the poorly-received "The Loves of Hercules" in 1960 (via The Guardian).
Twentieth Century Fox didn't approve of their relationship
Jayne Mansfield's manufactured image was pretty evident when she finally joined the ranks of her Hollywood peers. According to Interview, Mansfield's career started in the 1950s when she was "groomed by Twentieth Century Fox" to become the next Marilyn Monroe. The result was taking on comedic roles that only played up her dumb blonde image and iconic measurements. "She crafted this phenomenal, larger-than-life movie star image in the '50s," recalled "Mansfield 66/67" documentary filmmaker, P. David Ebersole, to Interview.
For a while, this image worked (much to the delight of Fox), so the studios weren't exactly thrilled when Mansfield embarked on domestic bliss with second husband Mickey Hargitay in 1958 (via Biography). As "Jayne Mansfield: A Bio-bibliography" details, Twentieth Century Fox "specifically" hired the star because they wanted someone with mass sex appeal — and someone who wasn't smart enough to fight back. Simply put, "they preferred their sex queens unmarried." Unfortunately for the studio, they hadn't banked on Mansfield's determination and intelligence — some reports alleged that the actor had an IQ of 163 (via "Jayne Mansfield: A Biography").
Interestingly enough, while Mansfield's studio wasn't pleased about her marriage to Hargitay, the press lapped it up, and it ultimately worked in favor for the A-list pair, who went on to have three children together: Miklos (Mickey) Jr., in 1958, Zoltan, in 1960, and Mariska, in 1964.
Their Vegas acts were extremely successful
After getting hitched, Jayne Mansfield and Mickey Hargitay decided to embark on a joint act to profit from their dazzling presence together. As explained in "Did Success Spoil Jayne Mansfield?," the happy couple didn't waste time after their 1958 honeymoon, making their on-stage debut at the Tropicana Hotel in Las Vegas, earning "$25,000 a week for four weeks."
"I was fortunate I was trained as an acrobat," explained Hargitay in the BBC doc, "Living Famously: Jayne Mansfield," adding that his ex-wife trained with him until she became "accomplished," as well. But talent wasn't enough for Mansfield, who, according to "Jayne Mansfield: The Girl Couldn't Help It," also went to scope out her competitors. She just so happened to watch Marlene Dietrich's act at the Sahara Hotel and was mesmerized by the icon's stunning gown, which was covered in diamonds. As a result, Mansfield decided to "out-gown" Dietrich, demanding her own, which reportedly cost "between $25,000 and $30,000." Weighing a whopping 15 pounds, the dressmaker told the star to avoid letting Hargitay toss her around on stage. Of course, the pair ignored these instructions, resulting in $250 repairs each night.
Nevertheless, "Tropicana Holiday," as it was called, was a hit, with the two stars returning to Vegas the following year for another show, this time at the Dunes Hotel (via "Did Success Spoil Jayne Mansfield?"). The establishment was also a step up for the A-listers, as it featured other big-name acts such as Frank Sinatra, Dean Martin, and Judy Garland.
Jayne Mansfield filed for divorce from Mickey Hargitay twice
Sadly, Jayne Mansfield and Mickey Hargitay's relationship didn't last. Along with mounting pressures from Mansfield's studio to lose the weight she gained after giving birth to her second son, Zoltan, her schedule was still demanding: according to "Did Success Spoil Jayne Mansfield?," the star quickly jetted off to Greece in 1960 to film "It Happened in Athens." It's there that she had an alleged tryst with co-star Trax Colan, all while fighting a growing alcohol problem.
As the years went on, the star traveled across the pond for more films — and more affairs. In 1962, during the production of the 1964's flick "Panic Button," the star embarked on a "passionate" romance with production manager Enrico Bomba, although at this point, she had filed for divorce from Hargitay, which came as a shock to the bodybuilder. According to Entertainment Weekly, the pair reconciled in 1963, but things didn't get better as more rumors mounted, such as Mansfield's purported fling with John F. Kennedy, per "Did Success Spoil Jayne Mansfield?."
"In a simpler, better world, if she had less of a drive for publicity and fame, they would have been compatible," notes BBC doc "Living Famously: Jayne Mansfield." In 1964, Mansfield filed for divorce again, announcing it to the public — and Hargitay, who was standing right next to her, unaware. She ultimately left her husband for director Matt Cimber.
If you or anyone you know is struggling with addiction issues, help is available. Visit the Substance Abuse and Mental Health Services Administration website or contact SAMHSA's National Helpline at 1-800-662-HELP (4357).
He was still her 'best friend' even after their divorce
While Mickey Hargitay's marriage to Jayne Mansfield heartbreakingly disintegrated, it doesn't mean the pair was on completely sour terms. "If you love a girl, you love her forever," the bodybuilder once mused, per Entertainment Weekly. The same year the pair divorced, in 1964, Mansfield married director Matt Cimber, a marriage which lasted a mere two years (via TCM).
It turns out that Hargitay was there for his ex-wife as she struggled with her new marriage. According to the BBC documentary "Living Famously: Jayne Mansfield," Hargitay was Mansfield's "best friend" during this time. "Mickey was there always … from the beginning to the end," the doc explains. As the actor struggled with her nose-diving fame and dwindling source of income, Mansfield saw her marriage to Cimber fall apart, too. Throughout her domestic struggles, Hargitay attempted "to act as oil on the water" (via "Living Famously: Jayne Mansfield").
After Mansfield's life came to a tragic end with her untimely death in 1967, Hargitay still remembers his time with the blonde legend fondly. "It was one of the greatest experiences of my life," the star recalled during a 1988 interview at his home. "She was one of the greatest ladies in my life."
Mickey Hargitay spoke to her the night she died
Jayne Mansfield never retired at the peak of her success. Sadly, the star's life came to a shocking end when she was involved in a fatal car accident in 1967. According to History, on June 29, Mansfield was en route from ​​Biloxi, Mississippi, to New Orleans for a television appearance. In the car was Ronald B. Harrison, Samuel S. Brody (Mansfield's "lawyer and companion), and the three children she had with Mickey Hargitay: Mariska, Zoltan, and Mickey Jr. While on U.S. Route 90, their car hit the rear end of a trailer-truck, instantly killing the actor, Brody, and Harrison. Remarkably, all three children survived.
It turns out that Mansfield actually spoke to Hargitay the same day as her untimely demise. As the bodybuilder himself revealed in the BBC doc "Living Famously: Jayne Mansfield," the star called her ex-husband while the travelers stopped at a gas station, yet an "angry voice" quickly got her off the phone (presumably Brody). It was the last he had heard from her. As Hargitay further recalled through tears, later that evening, he had a visit from the state marshal at his door, who informed him that Mansfield had died. She was 34.
A few months before Mansfield's passing in June, Hargitay himself remarried Ellen Siano, whom he stayed with for 38 years until he died in 2006 at the age of 80.
Their daughter has had incredible success in Hollywood
Jayne Mansfield and Mickey Hargitay had three children together, yet it's their daughter, Mariska Hargitay, who has seen the most comparable success as her parents — on the small screen, that is. Fans of "Law & Order: Special Victims Unit" will quickly recognize Mariska as the show's lead, Detective Olivia Benson, a character that she's played since 1999.
Although Mariska never had the opportunity to act alongside her famous mother, she's shared the small screen with her father. In a 2003 episode of "Law & Order: SVU," Mickey starred alongside his daughter in the role of a "Grandfather." According to StyleCaster, Benson interviewed the old man after he was privy to "the aftermath" of an attack "on a subway station escalator."
Sadly, with Mickey's death in 2006, Mariska didn't have another chance to grace either small or big screens with her dad. She does, however, credit both of her parents for her success, dubbing Mansfield as her "inspiration" during a chat with People in 2018. She added of her father, "I was the most like him … I do feel that he's with me. Even though he's not here physically, I carry him."