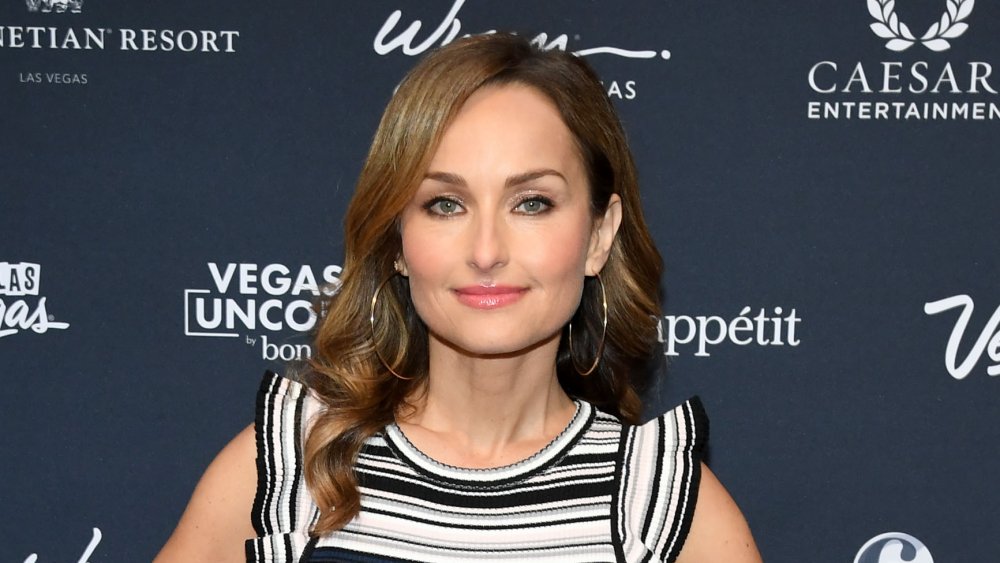 We all know and adore Giada de Laurentiis, the celebrity chef famous for her Italian delights and her show Everyday Italian. "My show goes beyond the food and incorporates Italian culture and lifestyle, and you don't get just tips and recipes, you also get my family stories and stories about my culture and the lifestyle where I come from," she told Food & Wine. "I try to have a lot of fun with what I do."
Besides seeing her on TV, she also regularly fills our Instagram feeds with mouthwatering photos of her Italian lemon cakes, grilled salmon dishes, cheesy bacon and hash brown frittatas, pumpkin carbonara, and so much more. We love her for it. Our stomachs love her for it. And we love her absolutely gorgeous California home where she will likely — ahem – cook up these ideas, too. The house is touted as a "midcentury bungalow," which the Italian-American chef and television personality purchased for a cool $4.86 million in August 2019, according to the Architectural Digest. While de Laurentiis decided to do renovations on the California home, though it was pretty spectacular to begin with. Let's take a look at the star's living space.
Giada de Laurentiis' house sits in the same neighborhood as her former home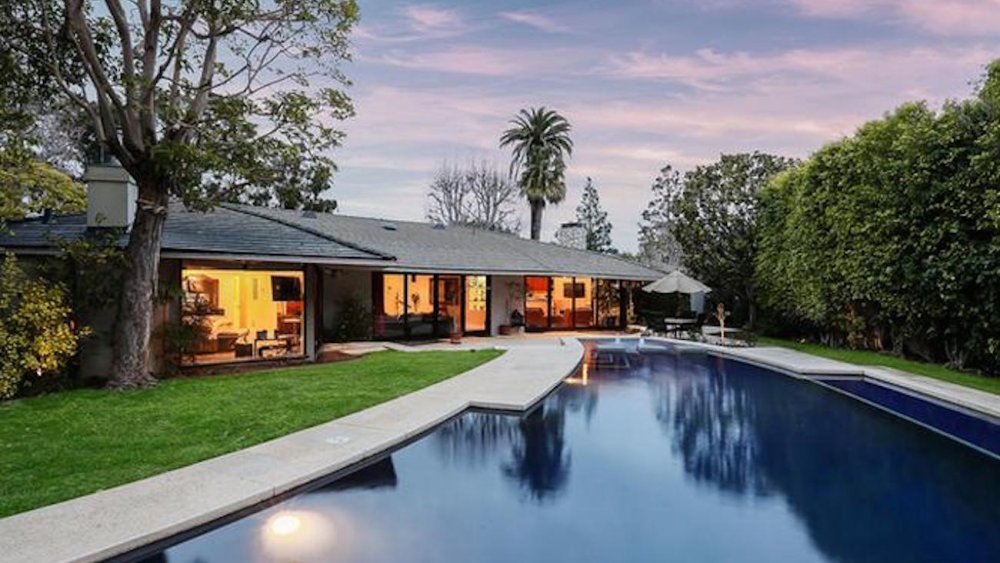 The Food Network chef's 3,600-square-foot bungalow sits on 0.31 acres in the Pacific Palisades area of the Riviera neighborhood in Los Angeles, Calif., which is actually the same neighborhood where her former home sits, according to Architectural Digest. The Pacific Palisades neighborhood is an affluent residential area that's sandwiched between the Santa Monica Mountains and the Pacific Ocean, and the Riviera is quite a pricey part of it, though clearly Giada de Laurentiis has the funds for it. (Here's how much money Giada de Laurentiis made from being chef!)
The neighborhood is near landmarks like the Getty Villa museum and the mid-century modern Eames House. There are also many outdoor activities to do, such as biking along the gorgeous beachfront path at the Will Rogers State Beach or hiking through various trekking trails at the Temescal Gateway Park. In other words, there will be plenty of things for de Laurentiis to do when she's not at home cooking for friends or family.
Giada de Laurentiis has been renovating the whole place
Giada de Laurentiis' 1958 home has historic charm, as noted by Architectural Digest. There are details around the house such as a curved dining room with a lot of windows that offer views of the yard, for example. It's all one level but boasts plenty of space, and there's a two-car garage and off-street parking for anyone who comes to visit, according to Dirt.
Though it was beautiful when she bought it, we're not surprised that the cook decided to renovate, as seen in an Instagram video featuring the gutted house. In it. she said, "I've got my work cut out for me." And that she does, as she showed her followers the huge kitchen space that they had to gut more than she said they'd anticipated due to problems with asbestos. Yikes. But we're sure that just like Giada de Laurentiis has had a stunning transformation, so too will her home!
And we're sure that the kitchen will be fabulous. After all, de Laurentiis told Architectural Digest of her last home that she wanted to have space for her daughter, Jade. "With her here I want to be around more, so we end up entertaining more," she said, adding, "Also, I want her to be around me in the kitchen at a young age." We can't wait to see what Giada de Laurentiis really eats in her new kitchen!
Giada de Laurentiis' house has plenty of bedrooms and bathrooms
Giada de Laurentiis' house has plenty of bedrooms and bathrooms — five bedrooms and five and a half bathrooms, to be exact, according to Variety. De Laurentiis likes her space for self-care time, and all those rooms will likely give her just that. "I make myself a cup of coffee. I stretch and, if possible, I listen to three minutes of a fireplace on the Calm app," she told The Cut of her morning self-care routine, adding that she also does yoga in the early mornings too.
Five bedrooms certainly seem like more than enough room for de Laurentiis, her partner, and her daughter, Jade, but it probably won't be easy keeping up with cleaning such a big house — especially since de Laurentiis really likes keeping things tidy. "The funny thing is I'm a neat freak and I clean up after everything!" she told Elle.
Giada de Laurentiis' backyard features a patio and pool
The backyard of Giada de Laurentiis' house features a patio and a pool for entertaining in the California sunshine, according to Architectural Digest. As she told The Cut, she usually enjoys sitting outside to do her work, so we assume she'll take advantage of the back area. "If it's a pretty day, I like to go outside with a second cup of coffee and in the sun get a little bit of vitamin D," she said. "I read my emails with my glasses and a hat because I can't see otherwise."
The house also has a half-court for playing basketball, according to Dirt. Though we're not sure how much time the chef has to play in between filming her cooking show, writing her cookbooks, and entertaining friends and family. Stealing a moment of relaxation isn't exactly on brand for the famous chef. "Taking a break is not the easiest thing for me because I feel like if I'm not doing something then I'm wasting my time," she admitted to The Cut. "I like to make the most of every second I have."
Giada de Laurentiis' home has a glass guesthouse with another bedroom and bathroom
Giada de Laurentiis' house boasts a glass guesthouse across the backyard, as reported by Variety. The guesthouse has another bedroom and a bathroom for any family or friends who happen to pop in for some time. While the guesthouse isn't occupied, however, perhaps de Laurentiis can use it as a workspace to write her famous cookbooks that she can't ever seem to get done while at home. "The cookbooks get done every 18 months. It's the cycle that I've been on for ten years," she told The Cut. "I will do some of it when I'm on vacation. For some reason, being at my house, I can't relax. There's too many distractions, so I'll rent a house somewhere."
The guesthouse could be the perfect home away from home right at home. And with the glass walls that let in the California sun, it could certainly feel like a vacation home, too.