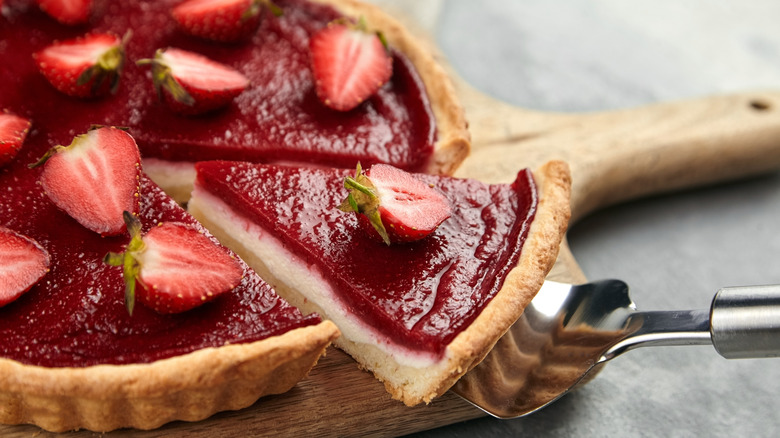 All over the United States there are great options for both sweet and savory pies. These pastry-based dishes make up a food category all their own, covering everything from breakfast quiches, to the filling shepherds pie, and all the sweet treats we know and love. Luckily, there are lots of bakers with a passion for pies, often dedicating all their efforts to producing the most mouth-watering recipes. Whether you're seeking a slice of the classic apple pie, or picking up a whole pie to take home, this list will point you in the direction of some of the best pie makers in the country.
On top of being delicious, trying out the pies on offer in different states can give you a sense of the local culture. Some states even have their own iconic pie, such as the official state dessert of Delaware, peach pie. You'll likely find great peach pie in Georgia as well, since that's their state fruit. As for Florida, you'll want to try their key lime pie.
When you want to indulge yourself, few things hit the spot better than a fresh slice of pie. Next time you're on a road trip, schedule a stop at one of the bakeries and restaurants on this list to try some of the best pie you've ever tasted. A visit and a quick bite may make for some of your best travel memories, or at least some of the sweetest.
Republic of Pie
This pie spot is a destination for Los Angeles visitors and a regular hangout for locals. Located in North Hollywood, Republic of Pie is a large restaurant and coffee shop with options to suit every taste. Offering free Wi-Fi codes at the register, plenty of seating, and lots of plants, this is a comfortable spot to get work done while you munch. You'll often find students and people working remotely sprawled about. Much of the time, guests are treating themselves to a slice of the fabulous pie.
Depending on availability, you'll find many sweet pie flavors at Republic of Pie. These can include apple, cherry, marionberry, blueberry peach, key lime, pecan, strawberry rhubarb, and more. Their savory pot pies and quiches are also a great choice if you're looking for a full meal.
Republic of Pie is often bustling and busy, so prepare to wait in line, or cozy up with others at a shared table. You'll also probably need to pay for street parking, as they don't have a dedicated parking lot. If you come on one of their live music nights, you'll get a free concert to along with your stellar slice of pie.
Rock Springs Cafe
If you haven't paid a visit to Rock Springs Cafe in Arizona, you should add it to your bucket list. Located in Black Canyon City, this historic restaurant offers a full menu,including plenty of pie to sate your craving for dessert. According to AZ Central, Rock Springs Cafe has been in operation for over 100 years and is a popular tourist destination for those driving north out of Phoenix. After pulling over for a quick bite, you'll be hitting the road again with a smile on your face.
Their Facebook page notes that Rock Springs Cafe is also known as "the pie place," and features photos of some interesting pies, including all-American apple pie topped with cheddar cheese and cranberry pie with pickles. These treats may strike you as odd, but you never know if you'll like them until you try a slice. Be sure to stop by and pick up pie slices or whole to-go pies if you ever get the chance. Having stayed in business for this long, they're definitely doing something right.
Dangerously Delicious Pies
This popular spot in Baltimore, Maryland is known for offering a wide array of delicious pie options. Whether you go for a mini pie or slices, they'll have just the thing you're looking for. The Dangerously Delicious Pies includes sweet options such as chocolate chess, lemon chess, banana cream, and traditional fruit pies like cherry, apple, and blueberry. They also have lots of specialty pies, such as salted caramel, toffee crunch and pineapple right side up pie.
One of Dangerously Delicious Pies' unique offerings is their signature Baltimore Bomb pie, described on their site as, "Loaded with Berger Cookies, a local specialty, melted and swirled into a sweet-vanilla Chess filling." Or, you could go for the Elvis, a peanut butter cream pie topped with whipped cream, bananas, bacon, and chocolate sauce. For a hearty meal, they have a vegan ratatouille pie, pork BBQ pie, pots pies, fish pies, and more.
You'll have a hard time choosing when faced with such a sprawling and intriguing menu. With this many options, you've got to stop here if you're ever in Baltimore. These pies will give you a taste of the city, and a sense of the creativity that it holds.
Four and Twenty Blackbirds
This iconic pie shop has been a go-to for pie-lovers since 2009. Located in Brooklyn, New York, Four and Twenty Blackbirds was founded by a pair of sisters with a passion for pie. The sisters began their bakery business in their apartment and gradually moved on to open their own pie store. These days, their pies are still bringing smiles to locals and visitors, in addition to those who order their pies online for delivery.
As far as flavors go, there are some innovative options on the menu, such as their chocolate pecan, matcha custard pie, and peaconut pie. This is a great place to get out of your comfort zone and try something new. The standard rate for a whole pie is $44, and they're prepared fresh to order. Of course, you get what you pay for, and if their popularity tells you anything, it's that you're going to get an amazing pie from Four and Twenty Blackbirds.
Mom's Pie House
If you ever get to visit the small town of Julian, located in the California mountains of San Diego County, you don't want to miss out on their famous apple pie. There are a few pie shops to choose from, but Mom's Pie House is a must-visit. They consistently have a line out the door, but it's worth the wait. You'll also find that they have many options beyond the traditional apple pie, though you certainly can't go wrong with that. They even offer many variations of apple pie, including flaky and crumb tops, plus apple boysenberry, apple cherry, and apple caramel flavors.
Their pie menu also includes bumbleberry, strawberry rhubarb, pecan, pumpkin, and more. They've even got ice cream to top your pie with, and will offer to warm up your slice if you like. You can also grab a delicious beverage to pair with your pie, such as lemonade or coffee, but their locally made apple cider should be a priority. It makes a visit to Julian so much more fun when you indulge in an incredible pie from Mom's Pie House. You can also take one home with you, and do it all again the next day.
Grand Traverse Pie Company
If that slice of apple crumb pecan pie has your mouth watering, you're not alone. Grand Traverse Pie Company is a popular Midwestern stop, and has multiple locations in Michigan and Illinois. They were founded about 25 years ago, and have grown into a franchise with 15 locations. Their menu boasts savory pot pies and quiches, plus tons of sweet pies including cherry, cherry peach, apple, mountain berry, raspberry, rhubarb, and several cream pies. They also have pumpkin, pecan, key lime, and lemon meringue, so whatever your favorite flavor is, they are likely to have it.
Since you have many locations to choose from, if you ever find yourself in this region, it should be easy to add a stop to your itinerary. The locals have found these pies to be irresistible, and it's a safe bet that you will too. If you're far away, not to worry; Grand Traverse Pie Company offers home delivery anywhere in the country.
Southern Baked Pie Co.
If you haven't heard of Southern Baked Pie Co. before, you'll be glad to know about them once you get a taste of their delicious offerings. This Georgia pie shop has four locations to choose from, and each one has pies that will hit the spot. Their salted caramel turtle pie was even featured on NBC's "Today with Hoda & Jenna." Co-host Jenna Bush Hager gushes that it's "the best pie I've ever tasted." That is some high praise! You'll have try to it yourself to see if you agree, but you can at least be sure that you're getting some of the best pie available in the South when you hit this shop.
Whole pies start at around $40 and include both classic pie options and rotating seasonal pies. Their mammoth quiche slices are a sight to behold, and the flaky pie crusts are baked to perfection. If you want a taste of the South, you can't go wrong with picking up a slice of this comfort food from Southern Baked Pie Co.
The Pie Hole
If you ever visit Southern California, try to schedule a stop at The Pie Hole for a quick bite that will blow your mind. The mini-chain includes six spots across Los Angles and Orange County. Their Arts District location is a go-to for visitors who are exploring downtown Los Angeles and wanting a quick bite. You may even stumble upon it just walking around town or while bar-hopping in the area.
The Pie Hole is well-known for their creative and tasty treats. One of their popular creations is the Cereal Killer cream cheese and Fruity Pebbles pie which is topped with Fruit Loops. This one is sure to please pie fans of all ages.
One pro-tip you should be aware of is that The Pie Hole ships nationally from their website, so you can order whole pies or even pie kits to bake yourself, all shipped to your door. If you're stopping in or getting local delivery, you'll have more options, but it's still nice to be able to get a taste of The Pie Hole from anywhere in the country.
Gold Star Pies
For the best pies to come out of a food truck, you'll want to track down Gold Star Pies in Colorado Springs, Colorado. Their pies have super flaky crusts your grandma would envy, and are baked with care using fresh, quality ingredients. They offer classics like pecan, blueberry, and apple pie, but also have some interesting alternatives, such as their brownie pie. Their salted maple pie and pineapple macadamia nut pie will have you wondering if it's time to spread your wings and try something new.
Gold Star Pies is a popular local business, and you can sometimes spot the truck at festivals and other events. Their calendar will tell you where to find them around town, but don't show up too late or you'll risk missing out once everything is gone. You'll also want to keep in mind that they gone cashless, so be sure to bring a debit or credit card, or mobile phone with payment app, so you can complete your purchase.
Joan's Perfect Pie
With a name like Joan's Perfect Pie, it's totally fine to set your expectations high. This Melbourne, Florida pie business offers lots of whole pies and mini pies in a wide range of flavors such as coconut custard, guava cream pie, apple cranberry pie, and Almond Joy pie. Some pies are usually hard to find, such as their derby pie, described on their website as having, "Chocolate, pecans and a hint of bourbon." Their hula pie is prepared with pineapples and cream cheese, and their sour orange pie pays a nod to Florida's signature citrus. Of course, they have Florida key lime pie as well. Needless to say, you won't be disappointed with the selection at Joan's.
So if you ever find yourself driving down the Florida coast towards Palm Beach or Miami, you might want to consider taking a quick detour to check out these pies. You could even enjoy a slice on the beach.
Extraordinary Desserts
One of the best dessert spots in the country can be found in beautiful San Diego, California. They don't call this place Extraordinary Desserts for nothing! Perfect for a date night, or just treating yourself, they offer an assortment of pies and other desserts that will have your mouth watering. The amount of detail and effort they put into their creations is part of the reason that these delicious treats have become so popular. Each one looks like a work of art, including the aloha pumpkin pie which is topped with flowers.
They're frequently quite busy, so you may want to call ahead to see if you can get a reservation. Otherwise, you'll be taking your chances in line. Even if you do end up waiting in line, the anticipation can be part of the fun. Plus, you'll get to check out all the gorgeous creations they have on display in their dessert window. Whether starting or ending your night in downtown San Diego at Extraordinary Desserts, you're definitely in for a good time.
Livin' the Pie Life
If you're searching for the best banana cream pie you've ever had, look no further than Livin' the Pie Life in Arlington, Virginia. They are known for sourcing locally-grown ingredients and using their business to support their community. So far, they have racked up several thousand followers on their Instagram, where they communicate with their fans about pie availability and new seasonal items. Of course, their Instagram is also used for showing off their beautiful, mouth-watering pies. Their s'mores pie is topped with whipped marshmallow, toasted to perfection. Their pumpkin chiffon pie is also a work of art, with its swirling layers of cream.
They also just seem to be nice folks. Their website even offers helpful how-to videos explaining the best way to cook, store, and reheat pies. That can be pretty useful if you decide to take one home. For some of the best pie Virginia has to offer, you'll want to check out Livin' the Pie Life.
Texas Pie Co.
Local favorite Texas Pie Co. has lots of tasty pies on offer. Located in Kyle, Texas, they're a hit for flavors like southern pecan, peanut butter mousse, and coconut cream pie. Their pies are also a great deal, ranging from $20 to $28. For a scratch-baked pie, it doesn't get much better than that.
For breakfast, lunch and dinner pies, they also have quiches and pot pies available. But they've also got casseroles and sandwiches, plus soup and salad if you'd rather save the pie for dessert. There are lots of options at Texas Pie Co.
According to their website, the shop was opened by Julie Albertson who uses family recipes that have been passed down for generations when making her pies. There is clearly a lot of love and effort being put into these tasty creations, so do yourself a favor and stop by to get a taste for authentic Texas pie.
Maui Pie
Located in Kihei, on the island of Maui, this pie shop does well with locals and tourists alike. Part of the reason they are one of the best pie shops in the country is that Maui Pie offers some really unique pies that you can't get anywhere else.
As an example, they make a lilikoi pie from fruit grown in Hawaii. Lilikoi, also known as passion fruit, according to Huffpost, and has a flavor both tart and sweet, while being packed with vitamin C. Using this fresh ingredient makes for a pie that is flavorful and uses local resources to create something distinctly Hawaiian that everyone can enjoy.
Of course, most of us aren't in Hawaii every day, but you can make a note to yourself to check this shop out if you're ever in Maui. Even if you don't want to venture out and try something new, you can still depend on them to have the classic slices you love.