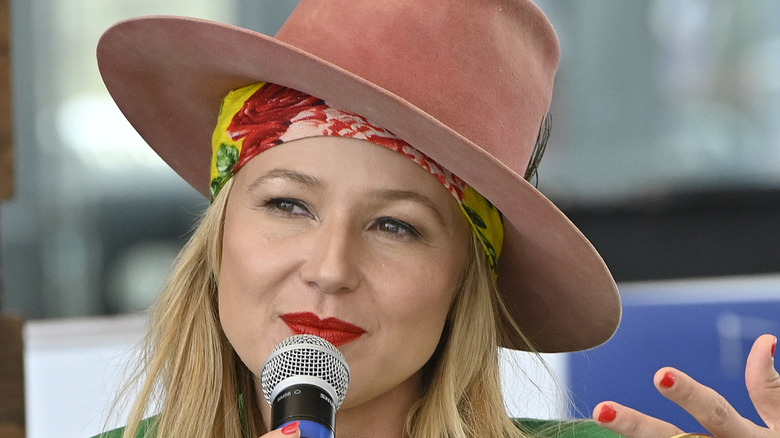 In the 1990s, Jewel Kilcher, better known as Jewel, was one of the biggest recording artists on the planet. She scored a No. 1 hit with her song "You Were Meant for Me" off her bestselling debut album, "Pieces of You," released in 1995 (via Billboard). The album sold more than 30 million copies and Jewel seemed to be an overnight success.
According to Biography, Jewel Kilcher was born in Alaska in 1974, debuting on stage at the tender age of 6. In her younger years, Jewel toured and performed with her parents who were also musicians — and from whom learned to yodel. After releasing her debut, though, Jewel's folk-pop sound mixed with grunge aesthetic really took off with audiences. She was a star.
According to USA Today, Jewel's ascendant fame and fortunes scored the musician an opening slot for Bob Dylan, and "You Were Meant for Me" remained in heavy rotation on MTV and on the radio for years. At the time, Jewel was unstoppable, but then — and almost just as suddenly — she disappeared from the public eye, or so it seemed.
She's a busy parent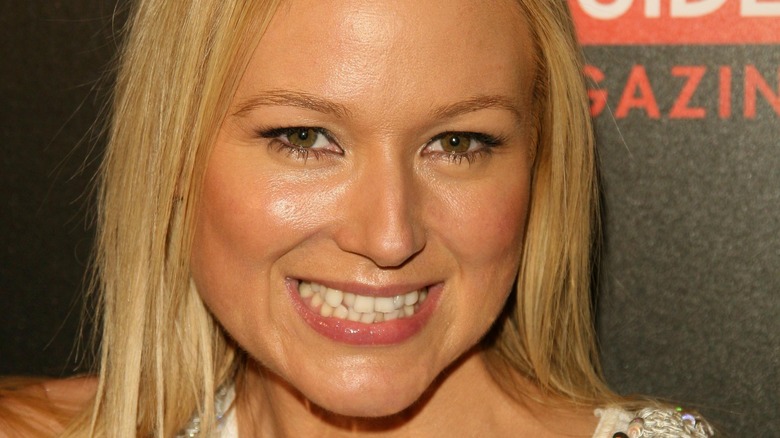 The truth of the matter, though, is that Jewel is as busy as she ever was at the zenith of her '90s-era success. Why you don't hear about her as much anymore was a somewhat conscious decision on the part of the musician, choosing to focus instead on family and different, lower-profile creative endeavors: Some related to music, while others had more to do with film and television.
In 2011, Jewel and her husband, Ty Murray, a champion professional rodeo rider, welcomed their first son into the world, Kase Townes Murray (via People). Kase appears to be following in his mother's footsteps. In 2018, Kase Townes Murray even played the ukulele in front of an audience of thousands!
Jewel and Murray have since amicably divorced. Nevertheless, life as a single parent has kept Jewel plenty occupied and out of the headlines. Still, she's just as creatively active as she ever was before. Even though Jewel is busy co-parenting Kase, she never, in fact, stopped playing music, releasing albums, or touring.
She's still a musician
As well as spending her time as a single parent, Jewel's musical output never let up. These days, however, it's far less likely you'll hear a song of hers on pop radio. The reason why? She simply switched genres. After scoring a pop hit with "Pieces of You," Jewel returned to her country music roots, releasing "Perfectly Clear" in 2008. The album debuted in the top spot on the Billboard country charts, and the album's first single, "Stronger Woman," also did well for the singer, climbing to the top twenty on Billboard's country chart, according to CMT.
Jewel's most recent album, in fact, "Picking Up the Pieces," came out in 2015, according to All Music. Outside the studio, she also continued performing music in front of audiences, touring with her family on "Jewel's Handmade Holiday Tour," featuring her father Atz Kilcher, with whom she once had a tense relationship though the two have since reconciled. In 2018, a Cirque du Soleil show about Jewel's life in which she also appears premiered in Vegas (via USA Today). Jewel's recent creative endeavors aren't just limited to music, however. She's also built a solid career as an actress on screens both big and small.
Jewel is also an actress and author
Some of the other things Jewel has been up to since her peak popularity in the '90s include numerous acting projects. Jewel began her acting career in Ang Lee's "Ride with the Devil," also starring Tobey Maguire and Skeet Ulrich, according to IMDb. Her first leading role, however, was well-suited for the musician — playing June Carter Cash in the made-for-TV biopic "Ring of Fire."
Where Jewel has really found her home as an actress is on the Hallmark Channel, starring in "The Fixer Upper Mystery Movies" series. She's also been in several well-known theatrical feature films like "Walk Hard: The Dewey Cox Story," "Return to Me," and "I Shot Andy Warhol," according to Hallmark Music and Movies. In 2015, the multi-talented artist released a memoir of her unusual and troubled upbringing called "Never Broken: Songs Are Only Half the Story." She's also written two children's books, according to Goodreads.
She's a humanitarian
Since her heyday in the 1990s, Jewel has also lent her hand as a humanitarian. The singer speaks openly about her unconventional upbringing and early days of experiencing homelessness in San Diego before her big break. Since then, she's taken up the cause, working for homeless populations and speaking on their behalf. In 2017, she also revealed to CNN that her father had been an abusive alcoholic.
She took this mission to improve the lives of unhoused individuals to the 2017 SALT Conference, speaking of her experiences stealing during the time she spent living on the streets. Other ways Jewel has spread her positive message about turning your life around include founding the mindfulness website, Never Broken, equipping visitors to the site with the skills they need for self-reflection, mindfulness, and other forms of self-improvement. In 2017, she applied these teachings to corporate culture, teaching mindfulness and similar values in the context of business and employee relations. Her first corporate partner was Zappos, says Hollywood Reporter.
She's a business person
Outside Jewel's self-improvement and humanitarian work, she's also founded a jewelry company with the designer Christopher Beaver. And no, Jewel's jewelry company isn't called "Jewel's Jewels." Instead, it's called Songlines, filled with pendant necklaces, earrings, and rings, fashioned from sterling silver and gold fill, and adorned with stones like labradorite and small diamonds.
In 2018, she told Forbes, "We just wanted to test out the idea and see what the response was." And since then, the business has grown on a direct-to-consumer basis, with two exclusive outlets in New York and Nashville. She also sells her work on the "Jewel's Handmade Holiday Tour," where her son also sells homemade bath bombs. The entrepreneurial spirit, it seems, runs in the family.
All combined, this just goes to show Jewel never really slowed down, and that even though she keeps a somewhat lower profile, Jewel's just as productive as she ever was in the era of flannel and grunge.