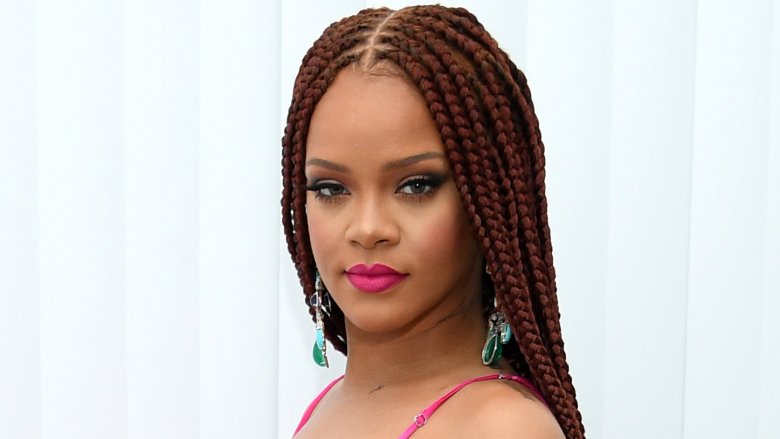 Once upon a time, Rihanna (real name Robyn Fenty) told the world that she 'ran out of f***s to give.' Specifically, that was her Twitter response to MTV after the network tweeted "Yikes!" along with a photo of her "smoking a rolled 'cigarette' on a bodyguard's shoulders at Coachella in 2012," reported Billboard. Though her statement was directed at one of the biggest worldwide entities in the music industry, Rihanna has kept her word. From her unapologetic fashion choices to her savage clap backs leveled against foes and fans alike, RiRi makes no apologies. In fact when questioned about her decision to not wear a bra under a sheer Swarovski-encrusted dress at a fancy awards event, Rihanna told Vogue that her only regret was that she didn't wear a bedazzled thong underneath. (Insert blushing emoji here.) She wore nude undies, in case you were wondering.
Rihanna is savage. We all know it. It's the name of her lingerie line! But has the woman Forbes named "The World's Richest Female Musician in 2019" taken her attitude too far? It's easy to laugh at the superstar's biting online commentary or to marvel at the fierceness of her material (Check out the fantasy revenge video for "B***h Better Have My Money.") However, there are plenty of moments when the award-winning artist's actions and words make her seem like more of a bully than a boss. Decide for yourself as we take a closer look at the shady side of Rihanna.
Rihanna's backstage demands are eye-popping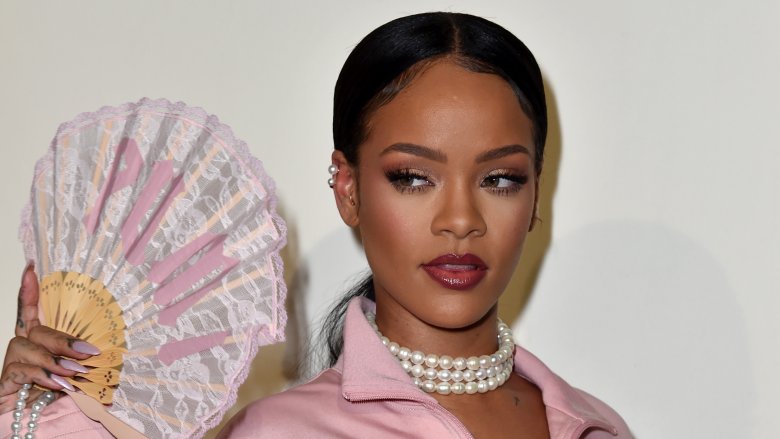 Judging by Rihanna's reported list of backstage demands, this superstar truly does want you to make her feel like the "Only Girl (In The World.)" According to a 2016 Business Insider report, Rihanna's eye-popping requests allegedly include covering the walls with dark blue or black drapes trimmed in "icy-blue chiffon" and a large, plush animal-print rug. With specific décor requests like these, it might not be long before she drops a Fenty interior design line.
The "Work" singer apparently makes her team work hard to keep her happy. She reportedly specified that her backstage area should create a "relaxed atmosphere," and when it comes to scents, her sensitive nose has expensive taste. Business Insider reported that the Barbados beauty needed exactly six Archipelago Black Forest candles. She also supposedly requested white tulips, but did display some flexibility on the flower front. If white tulips weren't available, Ri was reportedly willing to settle for white Casablanca lilies or white freesias. Keep in mind, all this is supposedly for one person for one appearance.
Rihanna's accountant accused her of reckless spending
Perhaps Rihanna should dial down the diva demands on the road because her "Last Girl On Earth" tour in 2010 reportedly couldn't keep pace with her spending — and the singer believed her accountants were to blame. According to Page Six, she filed a lawsuit in 2012 claiming it was her accounting firm's "negligence that prompted a costly IRS audit of her returns and that she lost millions during the tour because the firm failed to reconcile costs versus revenues while still paying itself millions in fees." The firm allegedly "gave her the green light to buy a $6.9 million Beverly Hills mansion even though she was bleeding cash." In a subsequent Page Six report, Rihanna's legal team alleged that property was a lemon that required about $1 million in renovations before she sold it at a loss. The singer was supposedly down to her last "$2 million at the end of 2009."
One of the accountants named in the suit sang a different tune in legal documents (via Page Six): "The tour was what she wanted, just as the exorbitant amount of expensive clothing and other purchases she squandered her money on were." He added, "…Was it really necessary to tell her that if you spend money for things you will end up with things, and not the money?" Rihanna was seeking $35 million but reportedly reached a $10 million settlement with the firm in 2014.
Rihanna responded to Drake's adoration with a helping of shade
If you've collaborated with Rihanna on several hit songs over the years, but she still doesn't like you, then your name is probably Drake. Despite making several songs together ("Work," "Take Care," "What's My Name?") Rihanna has not publicly reciprocated any fond feelings for her musical counterpart. In fact, in a 2019 Vogue cover story, she appeared to throw some serious shade at the rapper instead.
The fashion mag asked Rihanna about the 2016 MTV Video Music Awards, when Drake presented her with the Michael Jackson Vanguard Award. The rapper was definitely in his feelings during his lengthy speech, telling the world that RiRi is "someone I've been in love with since I was 22-years old, and she's one of my best friends in the world." What was Rihanna's take on that big moment? "Waiting through that speech was probably the most uncomfortable part, I don't like too many compliments; I don't like to be put on blast." Is she implying that these two are not besties, as Drake suggested?
"We don't have a friendship now, but we're not enemies either. It is what it is," she said. Ouch. That ice-cold response kind of broke all of our hearts.
Rihanna throws shade at her own fans
Rihanna is the clap back queen, and entire articles have been devoted to her trolling. When Barstool Sports published a piece in 2017 titled: "Is Rihanna Going to Make Being Fat the Hot New Trend?" she responded on Instagram with a Gucci Mane meme that depicted the rapper's varying shirtless physics. Her caption: "If you can't handle me at my 2007 Gucci Mane, you don't deserve me at my 2017 Gucci Mane." Within days, "Rihanna's fans responded with praise (and over 600,000 likes) for her devil-may-care attitude," reported Rolling Stone.
Unfortunately for her adoring fans, known as the Navy, Rihanna doesn't just troll her haters. She has also thrown shade at her followers. The singer promised a new album in 2019, so as the year progressed with no album in sight, fans began asking questions. Rihanna apparently didn't appreciate those queries because in July 2019, she shared a video clip from Love & Hip Hop Atlanta. In the clip, reality star Karlie Redd shares the results of a lie detector test and says, "Guys, it was all a lie." Rihanna made it clear in the captions that she was dedicating this sarcastic slam to the Navy. According to People, when one fan responded with: "I can't believe I stan a liar…." Rihanna clapped back with three laughing emojis.
Who wants to support an artist who makes fun of her own fans? Just kidding, RiRi. We love you. Please don't troll us.
RiRi even trolls other celebrities
The rich and famous are not immune to Rihanna's clap back battles. When fellow singer Ciara told the Fashion Police that Rihanna "wasn't the nicest" to her, Rihanna sent a not-so-nice tweet in response: "My bad ci, did I 4get to tip u? #howrudeofme"
The Daily Mail recounted another heavy dose of shade directed at actress Amanda Bynes in 2013. Bynes went on a racially-charged Twitter rant about Chris Brown and Rihanna's relationship. At the time, the former Nickelodeon star's mental stability had been making headlines, which seemed to be what Rihanna was referring to when she responded to Bynes' controversial tweets with one of her own: "Ya see what happens when they cancel intervention?"
In 2014, T-Boz and Chilli from the girl group TLC vented to Sunrise Australia about other female artists using their bodies to sell music. The Australian show said they singled out Rihanna. "Every time I see you, you don't have to be naked," said T-Boz, claiming TLC made music history "with our clothes on." RiRi's responded via Twitter with a picture of her sticking out her tongue and the caption: "When there's no changing the fact that I'm me, and they're well … they're them." According to Billboard, Rihanna also "changed her Twitter header photo to a shot of TLC wearing revealing outfits during their '94 VIBE photo shoot."
The lesson here: If you're going to critique Rihanna, you better brace yourself for the retaliation.
Rihanna attacked a fan at a concert
In what will go down as one of the most infamous concert mishaps of all time, Rihanna disciplined a fan with a bop on the head during her "Diamonds World Tour" in 2013. YouTube footage shows the "We Found Love" singer performing her hit song at a concert in Birmingham, England. Much to the delight of her screaming fans, Rihanna walks through the crowd during her performance, but someone apparently gets too excited and grabs RiRi's arm. Despite having a security guard by her side, RiRi takes matters into her own hands and appears to smack the concertgoer with her sparkling gold microphone. Then, she continues on her merry way like it's nobody's business.
Some fans believed the microphone attack was an accident, but Rihanna put those rumors to rest with a savage tweet (via The Huffington Post): "Purpose! That b***h won't let me go." There you have it, RiRi owns every ounce of her shade.
Rihanna's shady antics at performances have come under fire
Forcing fans to wait two hours for you to show up to your own concert and delivering a mediocre performance is not a good look. According to Yahoo!, Rihanna phoned in a 2013 performance in the Netherlands during her "Diamonds World Tour" after "spending the day shopping at the Alaia showroom in Paris." A Standaard music critic wrote that Rihanna's performance felt like "a Valium overdose," and according to Yahoo!'s summary of the review, RiRi "rarely danced and murmured only a few of her famous lyrics during the show, leaving the rest to a backing track."
The self-proclaimed "badgalRiRi" put out those same shady vibes in 2016 during her performance at the Pukkelpop festival in Belgium. According to the Daily Mail, the Barbados beauty was "booed by 60,000 fans … after showing up an hour late and lip-syncing almost the entire show. Clearly, she should have put more "work, work, work, work, work, work" into it. Whether you love her or loathe her, this music superstar's wildly successful career and powerful reputation remain tinged by a shady side.