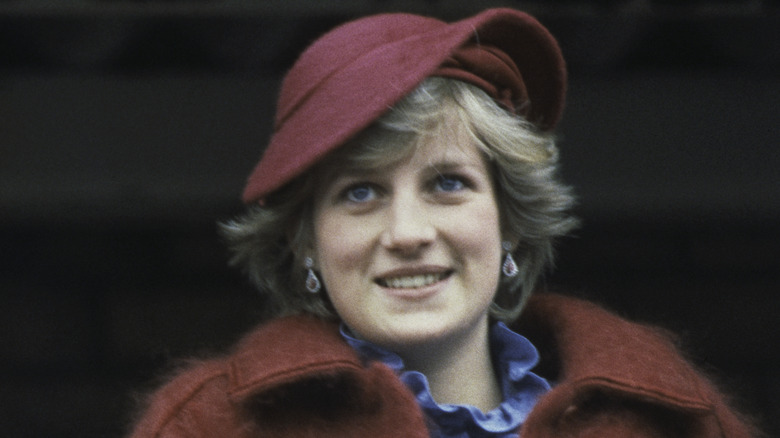 We often think of royals as leading lives of luxury and glamour, but they have many responsibilities that commoners can't even imagine — and more than one royal was a bit on the weird side. One of the expectations of royal women is to produce an heir for their country's throne, something that can put quite a lot of pressure on them. In the past, royals who didn't produce an heir were subject to more than just scrutiny. Henry VIII of England famously went to extreme measures to divorce his first wife when she failed to give birth to a male heir. His next wife, the mother of Queen Elizabeth I, was beheaded.
While not producing an heir isn't as dangerous these days, royal women are still expected to give birth to the next generation of royals. It's not surprising that many princesses and queens throughout history became mothers at a young age, but it's a trend that has continued even into modern times. Here are some royals who gave birth when they were quite young.
Princess Diana was barely more than a teen when William was born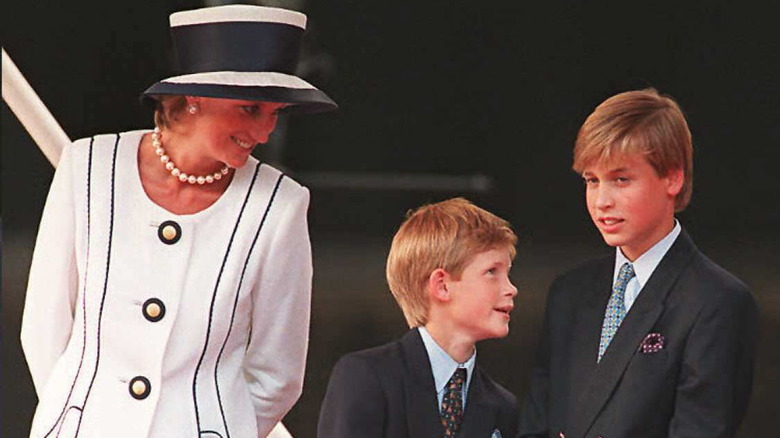 One of the most famous royals of all time, Princess Diana had a baby when she was barely out of her teens. Diana had just turned 20 a couple of weeks before marrying Prince Charles, who was 13 years older than her. Less than a year after their wedding, she gave birth to her first child, Prince William. In a break from tradition, Prince Charles was in the room during the birth. A couple of years later, Diana gave birth to Prince Harry, making her the mother of two children by the age of 23.
Diana later revealed that she suffered from postpartum depression, which led to rumors that the young royal was mentally unstable. She received little support from the royal family and was quite unhappy as a princess, but was devoted to her children who were her main source of happiness.
"As the boys got older and became like her counselors and friends as sons, she began to enjoy life a lot more," Diana's biographer, Andrew Morton, told Fox News. "Of course, she indulged them… She wanted to be a full hands-on parent herself. "
Queen Elizabeth II gave birth to Charles at 22
Queen Elizabeth II gave birth to the future king of England when she was only 22 years old. Britain's longest reigning monarch fell for her future husband, Prince Philip, when she was just 13. They became friends and became romantically involved a few years later, marrying in 1947 when Elizabeth was 21. The following year, the young bride gave birth to their first child, Prince Charles. She went on two have three more children, two boys and a girl.
Motherhood was not the only responsibility the young royal faced. When her father died in 1952, Elizabeth found herself ruling the country at the tender age of 25. In spite of her youth (or perhaps because of it), Queen Elizabeth II became a formidable ruler who helped bring Britain's monarchy into the modern age. She is also the only British monarch to have celebrated a Sapphire Jubilee, which commemorates a reign of 65 years.
Queen Victoria was 21 when she gave birth to the first of her nine kids
Before Queen Elizabeth II, Britain's longest reigning monarch was Queen Victoria, who ruled from 1837 to 1901. Like her great-great granddaughter Elizabeth, Victoria was also a very young mother. She married her first cousin, Prince Albert of Saxe-Coburg and Gotha, when they were both 20 years old. Victoria was already the queen at this point, having ascended to the throne three years earlier.
Victoria's ascendance to the throne at such a young age likely influenced her early marriage. It was an uncle of Albert and Victoria, Leopold, who suggested that the cousins marry. They had their first child, of a total of nine, the same year they were married, when Victoria was only 21 years old.
Victoria and Albert's children made strategic marriages with other royal houses, connecting many of the royal houses of Europe who can trace their descent from Queen Victoria. Queen Elizabeth II's husband, Prince Philip, is also a descendant of Victoria, making the royal couple distant cousins.
Augusta Victoria of Schleswig-Holstein gave birth at 23, but none of her kids took the throne
Germany no longer has a monarchy, but at one time the country was ruled by royals. The nation's last empress, Augusta Victoria of Schleswig-Holstein, was born in 1858. She married her distant cousin, Prince Wilhelm of Prussia (yet another descendant of Queen Victoria), when she was just 22 years old. She gave birth to her first son, Crown Prince Wilhelm, the following year at the age of 23.
Empress Augusta had five sons, but none of them took the throne as the monarchy was abolished. Crown Prince Wilhelm and his father were both forced to sign documents relinquishing their claims to the crown. They were exiled from the country, although the crown prince returned in 1923 after promising not to become involved in politics. He remained true to his word, and refused to endorse Hitler's Nazi Party even though Hitler wanted to form an alliance with the deposed royal.
Marie Antoinette was married for many years before giving birth at 23
Marie Antoinette's short life was marked by tragedy. In 1770, when she was only 14 years old, she was married to the French dauphin Louis, the grandson of the then-king Louis XV. Their marriage was an unhappy one and was not consummated for several years, which led to worries over the future of the monarchy. Rivals for the throne took advantage of Marie Antoinette's lack of children and conspired to take the crown for themselves. This led to scandals which helped contribute to the political turmoil which would eventually result in Marie Antoinette's execution during the French Revolution.
Even though she had been married for several years before giving birth, Marie Antoinette was still a very young mother when she had her first child at the age of 23. Although she had four children, only her firstborn, Marie Thérèse, lived to adulthood. Marie Thérèse lived her life out in exile after her parents were executed during the revolution and her other siblings had passed away.
Queen Paola of Belgium was 22 when she gave birth months after marrying Albert
Belgium's Queen Paola is yet another royal who gave birth at a young age. Born Princess Ruffo di Calabria in Italy, she grew up in Rome. While Paola was Italian, her grandmother, Laure Mosselman du Chenoy, was Belgian. The young princess reconnected with her Belgian roots in 1959, when she married Prince Albert of Belgium. She was only 21 years old at the time. She had her first child within a few months, giving birth to her son Philippe in 1960 when she was 22. Two years later, the royal had a daughter, Astrid. The year after that she gave birth to another son, Laurent.
While Queen Paola and her husband, King Albert II, are still alive as of April 2018, they are no longer the ruling monarchs of Belgium. Due to his declining health, Albert II abdicated the throne in 2013. At that time, the couple's oldest son Philippe ascended to the throne with his wife, Queen Mathilde.
Queen Sirkit of Thailand had two children while she was still a teenager
Thailand's queen mother, Queen Sirikit, was also a teen mother. The young royal is the daughter of Prince Chandaburi Suranath who served as Thai Minister to France and then Denmark, before becoming the Thai Ambassador to England's Court of St. James.
Because of her father's position, Sirikit was educated around the world. While her father was stationed in Paris, the young royal met her distant cousin, Bhumibol Adulyadej, who was studying in Switzerland at the time. They were married a week before King Bhumibol's coronation in 1950, when Queen Sirikit was just 17 years old.
The royal couple went on to have four children together. The oldest, Princess Ubolratana Rajakanya, was born the next year when Queen Sirikit was only 18. Princess Ubolratana married an American and gave up her royal title. Her younger brother, King Maha Vajiralongkorn Bodindradebayavarangkun, who was born when Queen Sirikit was only 19, inherited the throne from his father.
Mary, Queen of Scots was 23, and in her second marriage, when she first gave birth
Mary, Queen of Scots was just a few days old when she became queen of Scotland after her father died in 1542. Although she didn't have her first child until her second marriage, she was still quite young when she gave birth. When she was 15 she married Francis, the heir to the French throne. Francis became king the following year, making Mary his consort, but by 1560 he had died and the 18 year old Mary returned to Scotland.
The young widow married her cousin, the Earl of Darnley, in 1565. The marriage was an unhappy one, but brought her a son, James, in 1566. Mary was only 23 when she gave birth to her only child. Her husband was killed in an explosion just a few months later in what some suspected may have been murder. Mary remarried after a few months, which upset the Scottish nobles who then quickly turned on her.
Mary was forced to flee the country (leaving her infant son as the new king of Scotland) and went to England, seeking refuge with her cousin, Queen Elizabeth I. Instead of welcoming Mary, Elizabeth saw her cousin, a claimant to the English throne, as a threat. She kept Mary imprisoned for 19 years before having her executed in 1587. Mary's son went on to inherit the English throne from Elizabeth and became King James I, ruling over both England and Scotland.
Victoria Eugenie of Battenberg had her first of seven children at just 19
Queen Victoria's youngest granddaughter, Princess Victoria Eugenie Julia Ena of Battenberg, followed in her grandmother's footsteps and had children early. The princess was born in 1887 in Scotland. She was only 17 when she met the 19 year old king of Spain, Alfonso XIII.
The king was instantly smitten, and fought to marry the princess in spite of worries from his advisors that Victoria Eugenie was a carrier for hemophilia. King Alfonso XIII eventually won, and the two became engaged. In order to marry, the Protestant Victoria Eugenie had to convert to Catholicism and relinquish her claim to the British throne.
Victoria Eugenie and Alfonso had seven children together. The oldest, Alfonso, was born in 1907, the year after the couple married. Victoria Eugenie was only 19 years old. Alfonso should have inherited the throne, but he died in a tragic car crash when he was 31. He most likely would have survived his injuries, but he had hemophilia just as his father's advisors had feared. This caused complications, which led to his early death.
Cleopatra was around 22 when Ptolemy Caesar was born
The famous Egyptian queen Cleopatra was married at a young age, but it probably wasn't her husband who made her a young mother. As was the custom among Egyptian royals, Cleopatra most likely married her younger brother Ptolemy XIII after their father's death, and they ruled the country together. When her brother raised an army against her, Cleopatra turned to Rome for support. She and Roman general Julius Caesar had an affair, and he provided assistance in her battle against her brother. Ptolemy XIII drowned in the Nile while attempting to flee the Roman troops. Cleopatra then married his successor, her brother Ptolemy XIV.
Cleopatra's exact date of birth is uncertain, but she was around 22 when she gave birth to her son, Ptolemy Caesar. It is commonly thought that his father was her lover, Julius Caesar, although this has not been definitively proven. While skeptics remain, Caesar himself acknowledged Cleopatra's child as his own.
Empress Kōjun had her first daughter when she was 22
Japan's Empress Kōjun was born as Princess Nagako in 1903. Although she had a royal title, she was only very distantly related to the Imperial family. Her noble blood did, however, make her eligible to marry into it.
When she was still quite young she became engaged to her Prince Hirohito, the future emperor of Japan, who was her 14th cousin three times removed. She was trained for six years to prepare for her future duties as empress. The couple married in 1924, when the princess was 21 years old.
Their first child, Princess Shigeko, was born the following year when the future empress was 22 years old. A year later, in 1926, Nagako became the empress. She had a total of seven children, five boys and two girls. Her first four children were girls, and therefore ineligible to inherit their throne. Because of this, it was her fifth child, Akihito, who eventually succeeded his father as the emperor of Japan.