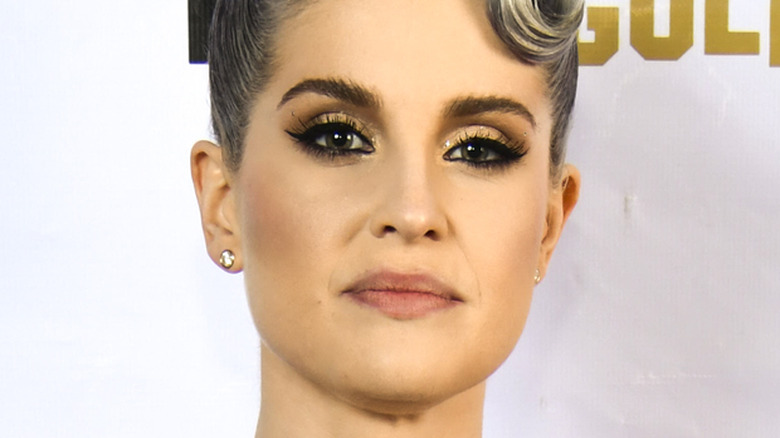 We may receive a commission on purchases made from links.
"Papa Don't Preach" crooner Kelly Osbourne first became a household name in 2002 at the young age of 17 with the premiere of "Meet the Osbournes," a reality show that chronicled the lives of rock and roller Ozzy Osbourne, his wife Sharon Osbourne, and their angsty teenage children: Jack and Kelly. Let the hijinks and hilarity ensue.
But since then Kelly's star power has only risen as she quickly emerged from underneath the shadow of her famous father and carved out a name for herself — one that includes, television star, author, fashion designer, and even a spot on Rolling Stone's "People of the Year" in 2002. The acclaimed publication perhaps summed her up best when they described her as a "wickedly funny, brutally honest, pint-size, potty-mouthed spitfire."
So how did she amass such fame and fortune on her own? Keep reading to learn all about the fascinating transformation of Kelly Osbourne.
Kelly Osbourne has written about her life in a famous family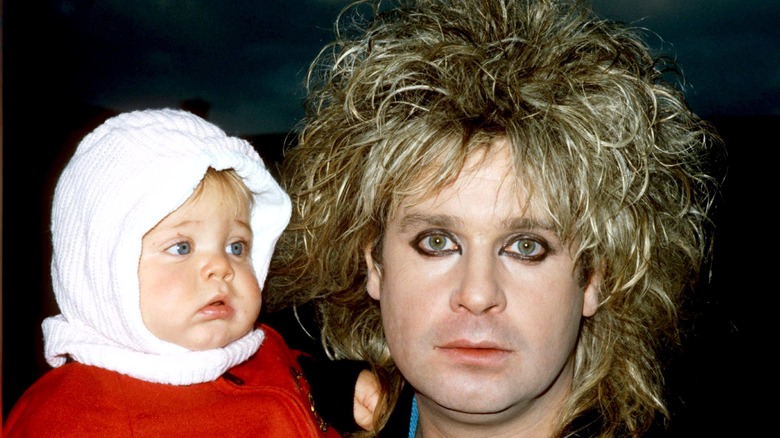 Though Kelly Osbourne may be most widely known for her television and music career, she's also an accomplished author. Pictured above as a baby with her famous father, Osbourne turned to her life experiences for her stories.
As reported by The Guardian, Osbourne debuted her very first book in 2009, an autobiography and self-help hybrid aptly titled "Fierce." In the book, she candidly discusses her famous father's struggles with alcoholism along with her own struggles. "I would like to dedicate this book to every young woman who's ever felt lost," the title page reads.
In 2017, Osbourne was bitten by the writing bug again when she penned "There Is No F*cking Secret: Letters From a Bada** Bitch," a memoir written in the form of various letters wherein she discusses various topics including her friendship with Amy Winehouse, an ode to those who pee on the toilet seat, and the harrowing moment she saw her father nearly lose his life in front of her following a serious ATV accident, per Vulture. "They had resuscitated him, and he was yelling, 'Don't f*** up my tattoos! I'll f***ing kill you if you f*** up my tattoos!'" she penned about the traumatic experience. "That gave me a little bit of hope," she added.
Kelly Osbourne struggled with addiction early in life
The road for Kelly Osbourne, pictured here as a teenager, has certainly not been easy — especially when it comes to addiction. "I am an addict and had thought that I had enough time under my belt and I could drink like a normal person, and it turns out I cannot and I will never be normal," she famously told Extra TV.
Osbourne was first introduced to prescription drugs at age 13. "I had my tonsils taken out, and they gave me liquid Vicodin," she told People in 2009. "I found, when I take this, people like me. I'm having fun, I'm not getting picked on. It became a confidence thing," she added. By the time she and her family were reality stars, she was a full-blown addict. Temporary confidence aside, however, the drug abuse was negatively impacting her life. "I drank, I was rude, I said I'd do something and wouldn't show up. I did what I could to destroy it," she recalled about the troubling period in her life.
Since then, Osbourne has fought long and hard against the disease with stints at various rehabilitation treatment centers and unfortunately a few relapses as well. Osbourne relapsed with alcohol in April 2021 but in true form she opted to address the situation head on. "This is something I am going to battle for the rest of my life. It's never going to be easy," she told Extra TV.
Kelly Osbourne added fashion designer to her résumé
Clothing connoisseur Kelly Osbourne has made quite the name for herself in the world of fashion.
Per Entertainment Weekly, Osbourne joined the panelists of E!'s "Fashion Police" in 2010 alongside the legendary Joan Rivers wherein she provided humorous commentary about A-list celebrities and their fashion mishaps. Alas, after more than five years on the show, she opted to leave following an offensive comment fellow panelist Giuliana Rancic made on-air about actress and singer Zendaya, as reported by HuffPost.
Prior to her departure from the famous show, however, Osbourne struck out on her own, creating her very own fashion line with HSN. During an interview with Glamour, Osbourne explained that the mission of the line, which she cleverly named "Stories by Kelly Osbourne," was to give the wearer an opportunity to attach a sentimental story to their favorite pieces. "Each piece comes with a name and a storybook so the customer can write about the first time they wore it," she dished.
Still, Osbourne was quick to admit that she doesn't consider herself an exclusive fashion designer. Instead she'd much rather cater to the masses. "I'm not trying to be the next, you know, Stella McCartney or the next big thing in fashion, I'm trying to make fashion fair. And make women feel beautiful and make clothing from size 0 to 24," she told Glamour.
Well done!
Kelly Osbourne transformed her body
It's no secret that Kelly Osbourne has struggled with her weight most of her life.
During an exclusive interview with The Guardian in 2014, Osbourne spoke candidly about the harsh criticism she's received from the public in regards to her size. "What I've learned through the media is that they look down on someone for being fat far more than for being a junkie," she said before adding, "A lot of kids still walk around thinking Pete Doherty is the coolest thing ever. I personally don't get it. Meanwhile, they are writing about how Charlotte Church is disgusting and fat – she's just had a baby! She's not fat!"
In August 2020, however, Osbourne made a shocking revelation and admitted on Instagram to shedding 85 pounds, as reported by Women's Health. In yet another post, she displayed a size 26 clothing tag. "Yes…I'm bragging because I worked hard and it feels good!!!" she captioned the photo. Although Osbourne's successful journey to a healthy weight stems from a diet that includes "plant-based eating and intermittent fasting," per The Beet, it's also important to note she confirmed to the "Hollywood Raw Podcast" that she got a gastric sleeve, a surgical procedure that removes 80% of the stomach. A "tube-shaped stomach about the size and shape of a banana" is left, per the Mayo Clinic, leading to weight loss.
Kelly Osbourne has officially found her voice
Kelly Osbourne's name once again landed on the tip of tongues everywhere in May 2021 as rumors of alleged plastic surgery started circulating. Fortunately, Osbourne resolved to set the record straight once and for all.
As reported by People, Osbourne clapped back at the haters in an impromptu Instagram video. "Good morning everyone. I'm currently in hair and makeup right now. I just want to bring up a topic that you guys are talking about because I'm always really honest and really upfront about what I've done to my body and who I am," Osbourne said in the now-viral video. "I have not had plastic surgery. I have never done anything to my face other than a couple of injections in my lips, in my jaw, and in my forehead here. I do not lie, but thank you for the compliment," she stated.
This in-your-face confrontational stance is a far cry from the behavior she's exuded in the past. During an interview with The Guardian, Osbourne recalled an encounter she had with television host Jonathan Ross. "He took a picture of me from my album cover and then another picture of me and goes, 'That's not you, you're fat! Look how much they airbrushed it,'" she divulged. While she played it off, Osbourne admits that the moment left her reeling. "What he said to me destroyed me for two years," she declared emphatically.
Perhaps Ross is deserving of his own Instagram clapback? TBD, we suppose…