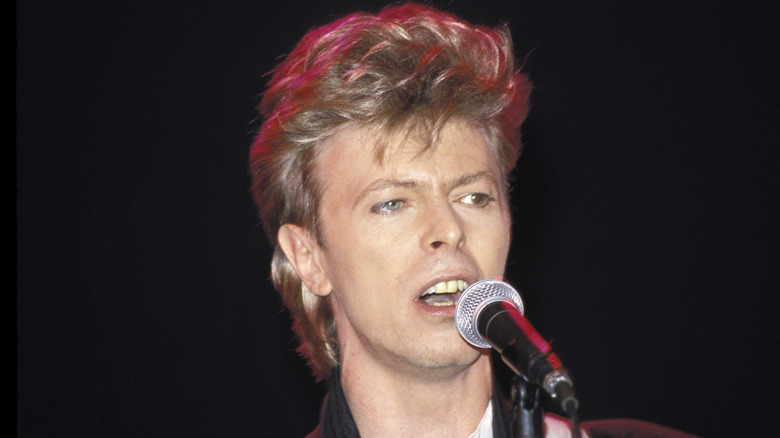 In the '60s, bands like The Beatles, The Rolling Stones, and the Beach Boys changed music — and culture — forever. But Rock Music Timeline says that the Beatles breaking up and a series of devastating early deaths of rockers like Janis Joplin, Jimi Hendrix, and Jim Morrison greatly culled the talent pool leading into the next decade. It was clear that new faces, and sounds, would have to emerge to carry the torch in an era about to be dominated by dance pop, disco, and acoustic balladry. Luckily, the growing radio industry — incorporating car radios and FM rock stations for the first time — led to new business models and an explosion of new genres. The '70s would end up producing some of rock's most important bands.
The artists who are on this list are the biggest and the best; the ones who still dominate classic rock radio to this day and who've influenced countless acts that followed in their gigantic footsteps. From Aerosmith to Eagles to The Ramones, Queen, and David Bowie, these are the greatest rock bands of the '70s.
KISS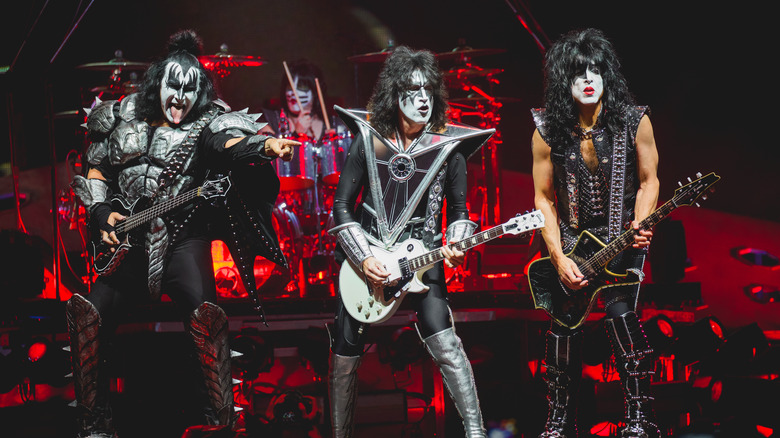 Ah, KISS: the makeup-smeared shock/glam rockers that are as much a brand as a band. According to CNN, the New York four piece, long co-fronted by "Demon" bassist Gene Simmons and "Starchild" rhythm guitarist Paul Stanley, has slapped their unmistakable image on everything from cameras to condoms to caskets to Teddy bears, barbecue sauce, and M&Ms. On the one hand, this kind of soulless cash-grabbing flies in the face of the "stick it to the man" rebellion at the heart of rock and roll. On the other hand, perhaps KISS just called the genre's bluff and decided not to hide the fact that this is the entertainment business, after all. At the end of the day, there's no point writing great '70s tunes like "Rock and Roll All Night," "Love Gun," and "Detroit Rock City" if you have no clue how to market them.
But as NBC points out, KISS isn't a scam, either. They're serious musicians who put their substantial money where their mouth is when it comes to live performances. Of course a band like this wouldn't be content to play acoustic guitars on a bland stage. Their shows are spectacles — events, even — with fire, lasers, smoke, a giant light-up logo behind them, and other manifestations of stage theatrics. KISS is corny and has nothing important to say whatsoever, beyond preaching the gospel of goofy, stupid, rock 'n' roll fun. Decades later, that hasn't stopped being exactly what fans want from them.
AC/DC
Let's say it right now: No artist has ever squeezed as much stadium-packing, multi platinum success out of such a limited sonic range. Every AC/DC record is the same, complete with raspy vocals, 4/4 beats, and distortion-heavy riffs courtesy of schoolboy uniform-wearing, duck-walking guitarist and spiritual frontman Angus Young. Don't take our word for it. Young himself admitted as much. When a critic accused them of making 10 albums that all sound the same, he said, per Tone Deaf, "He's a liar. We've made 11 albums that all sound the same."
And that's exactly how we want it to stay. In a Forbes article from 2014, Ruth Blatt claimed it was exactly this consistency, plus a fanatical resistance to following whatever musical trend might be hot, that's led to their groundbreaking (not to mention ear-splitting) success.
Not even the tragic death of original lead singer Bon Scott (to alcohol poisoning in February 1980, according to Ultimate Classic Rock) — with whom the band penned hit records like "Dirty Deeds Done Dirt Cheap" and "High Voltage" from 1976, "Let There Be Rock" the following year, 1978's "Powerage" and 1979's "Highway to Hell" (by far their most successful at that point, per Loudersound) — disrupted their formula for long. They mourned for a bit, hired similar-sounding Brian Johnson to man the mic, and hit titanic new heights of commercial success with 1980's "Back In Black," which Guitar World says is the single biggest album in rock history.
Fleetwood Mac
What they lacked in hotel-trashing debauchery, Fleetwood Mac made up for in seemingly endless romantic turmoil and infighting during the decade. Pitchfork has the messy receipts. First, Stevie Nicks and Lindsey Buckingham, a package deal who joined the group as a couple, had just broken up after a tumultuous relationship. But they were now key members of a hugely successful band, so "no contact" wasn't an option. Then Christine and John McVie were calling it quits too, and band namesake Mick Fleetwood was getting a divorce from his wife, who mercifully wasn't a fellow band member.
But with great pain comes great art. The band funneled all of this heartbreak into 1977's "Rumours," which, thanks to smash hits like "Go Your Own Way," "Dreams," and "Don't Stop," became one of the best selling and most celebrated albums of the decade. As Cool Accidents points out, the record is still influencing artists today, from Lorde to Florence + The Machine and Grimes.
As Britannica notes, the band's post-"Rumours" career was comparatively bumpy. Predictably, the same inner turmoil that made the record possible also made it exceptionally difficult to continue working together. In the '80s the constituent members went off on their own (Nicks is clearly the runaway solo success of the group), and they've all performed, recorded, and toured only sporadically in the decades since. "Rumours" was undeniably their peak. But what a peak it was. Few artists have ever written songs that still touch so many souls all these years later.
Aerosmith
It's not the rise and fall of Aerosmith. It's the rise and fall and rise and rise of Aerosmith. Michael Quinn has the details over at Classic Rock Magazine: The "Bad Boys from Boston," led by flamboyant lead singer Steven Tyler and lead guitarist Joe Perry (together one of the best singer-guitarist duos in rock history), found huge success in the mid-'70s on the backs of blues-infused hard rock hits like "Sweet Emotion," "Dream On," and "Walk This Way."
But a nonstop touring and recording schedule, alongside clashing egos and nonstop, out of control hedonism, led to serious strains within the ranks. By the end of the decade, Perry was out of the band. A string of disappointing albums followed, alongside near-fatal overdoses and even a motorcycle accident that hospitalized Tyler for months.
But the band got sober, reunited, rallied, and stormed the charts once more in the late '80s with hit single-packed records "Permanent Vacation" and "Pump." A collaboration with hip hop superstars Run DMC positioned them on the cutting edge of pop music heading into the '90s, a decade they'd enter with the massively successful "Get A Grip," featuring three Top 20 singles. By the 2000s, especially after 2001's "Just Push Play," the now-beloved classic band was too big to fail. It's been a rough road, but their dogged perseverance made them one of rock history's greatest triumphs.
David Bowie
As Far Out Magazine details, in the early '70s, David Bowie was alien rockstar Ziggy Stardust, as featured on 1972's "Ziggy Stardust and the Spiders From Mars." Then he was a more hard-edged version of the same character as Aladdin Sane, on 1973's album of the same name. On 1974's "Diamond Dogs," he debuted Halloween Jack, another riff on Stardust but updated to match the dystopian themes of the album. By 1976's "Station to Station," he'd fully realized his Thin White Duke character, a more sinister character referenced in the title track. Then there was the Blind Prophet, crafted years later and featured in the songs immediately preceding Bowie's 2016 death.
It might seem like this fickle stylistic chameleon simply couldn't decide what he wanted to be. But while each character was certainly a manifestation of where he was at the time, he made sure to leave his mark before he retired them. Billboard calls Bowie "the most influential rock star," due to his far-reaching influence across musical genres.
As proof, Billboard cites the "Space Oddity," "Ashes to Ashes" and "Rebel Rebel" rocker's asteroid-sized impact on everything from glam to grunge to indie to electronic music to nearly all forms of pop, and anyone else, across genres, who's dreamt a little bigger when it comes to live performances, showmanship, and exploring the distant edges of their own creative capabilities.
The Eagles
There's certainly no shortage of wildly successful American rock bands, but the Eagles just might be at the top of the heap. Let's get into the numbers a little bit. According to NPR, their 1976 album "Hotel California," which contains the hit title track and other fan favorites like "Life In The Fast Lane" and "New Kid In Town," is currently sitting at a whopping 26 times platinum. And that's not even their biggest seller. As of 2018, "Their Greatest Hits 1971-1975" has surpassed Michael Jackson's "Thriller" as the highest selling album ever in the United States, at 33-times platinum and 38,000,000 sales.
Pretty impressive stuff. But why are they so popular? According to Forbes, it might just be because the blue collar rockers are masters of their craft who give the fans what they want. Said longtime member Don Henley, "… we've gotten a lot of flak from that from the school of criticism that thinks everything should be spontaneous and rough around the edges and people should do long and boring guitar solos. But we always kept it tight and played the songs very much as they were on the record and we found that our fans liked that."
Any doubts that these guys know exactly what they're doing can be put to rest with while watching them practice their famous, gorgeous, multipart harmonies on a cover of Steve Young's "Seven Bridges Road."
Pink Floyd
Maybe it's the otherworldly nature of their songs, which the Rock and Roll Hall of Fame describes as everything from space rock to psychedelic to progressive. Maybe it's the massive success they've enjoyed (two of their albums, 1973's "The Dark Side of the Moon" and 1979's "The Wall" are two of music history's most successful releases), or the sheer spectacle of their legendary live performances — or the fact that nobody at the time was even trying to do what they were doing. Whatever it is, Pink Floyd occupies a unique, singular space in the annals of classic rock, where their tunes almost transcend the genre entirely and are accordingly revered.
But maybe "timeless" is the word that should be used here. Forbes notes that Miley Cyrus' rendition of "Wish You Were Here" on "Saturday Night Live" sent the original tune rocketing up the Billboard charts. Meanwhile, Rolling Stone describes how "Dune" sent fans stampeding towards "Eclipse," the closing track on "Dark Side of the Moon."
Far Out Magazine details the ugly, decades-long rift between one-time co-frontmen David Gilmour and Roger Waters. It's certainly rough and part of the "Comfortably Numb," "Money," and "Another Brick In The Wall" rockers' history that's impossible to ignore. But clearly, not even that is enough to undermine their transcendent, mighty musical legacy.
Queen
Many classic rock bands have seen their popularity endure well past their heydays, but it sure seems like nostalgia plays a smaller role in the perpetual global enthusiasm for British opera-rock legends Queen than it does for their peers. Plenty of factors likely play a role in how beloved tunes like "Bohemian Rhapsody," "We Will Rock You," "Somebody to Love," and "Under Pressure" still are popular decades after their releases in the '70s and '80s.
One, of course, would be the nearly peerless musical chops of the four members. John Deacon and Roger Taylor were one of the best rhythm sections of all time, and guitar virtuoso Brian May would've been the front and center superstar of any band that didn't include Freddie Mercury. Triple M points out that Mercury's astonishingly powerful voice, combined with his almost supernatural ability to control a crowd (even with something as seemingly silly as vocal warmups), was something approaching magic.
Forbes sums it all up nicely, saying the band's titanic influence is arguably second only to the Beatles, making Queen one of the greatest rock 'n' roll bands of all time. But as the article points out, it's not just the number of artists who cite Queen as an influence, but the range. Everyone from Katy Perry to Rob Zombie to Faith Hill, Mastodon, and Muse, among countless others, have taken notes from Queen due to the "We are the Champions" rockers' sheer range and talent.
The Ramones
Tommy, Johnny, Dee Dee, and Joey Ramone might not be the most amazing musicians in the world of rock, but the leather-jacket wearing, mop-topped, "I Wanna Be Your Boyfriend," "Beat On The Brat" and "Teenage Lobotomy" rockers knew how to pack more attitude and energy into less time than almost any other group in history. Discogs has the numbers on their eponymous 1976 debut album. The longest track on the record clocks in at 2 minutes and 35 seconds. The album's — and the band's — signature single, "Blitzkrieg Bop" (the one with the "Hey! Ho! Let's go!" chorus), is a mere 2 minutes and 12 seconds and is one of the longer songs here. The whole thing would take you less than half an hour to listen through. You get the point.
This band got to the point as crudely and simply as possible and refused to overstay its welcome. If that's not punk, we don't know what is. So it's appropriate that The Ramones are considered arguably the most important band in the history of that genre. Kerrang notes that the band's influence has vastly outstripped its commercial success. 1976's aforementioned "The Ramones" wasn't certified gold until the 21st century. But without these guys, there would be no Sex Pistols, no Clash, no Black Flag, no Green Day, no Offspring, and no Blink-182. Who wants to live in a world so inoffensive and joyless?
Black Sabbath
The story of how Black Sabbath axeman Tony Iommi accidentally invented the sound of heavy metal guitar is one of the most legendary tales in rock history. While working in a sheet metal factory in England, an accident cost Iommi several of his fingertips. "I went to the hospital and they cut the bones off and then they said, 'You might as well forget playing,'" Iommi told Loudwire. "God, I was just so upset. I wouldn't accept that there wasn't some way around it, that I couldn't be able to play."
Luckily, Loudwire points out he didn't have to quit his beloved guitar. And it's a good thing he didn't. As the Vintage News reports, by loosening the strings to make playing more comfortable for his wounded hand, he crafted a deeper, darker, heavier tuning that eventually became the sound of Black Sabbath's heavy metal.
Of course, he had help from bandmates Ozzy Osbourne, Geezer Butler, and Bill Ward. As Louder points out, the eponymous debut these four British lads churned out, 1970's "Black Sabbath," wasn't a critical darling upon release. But it was a commercial success that paved the way not only to Sabbath's domination of metal for the next decade but towards the eventual rise of everyone from Judas Priest to Iron Maiden to Metallica to Pantera and Slipknot.
Oh, and Louder also points out they slapped together the whole thing in about eight hours. How productive have you been today?
Led Zeppelin
Singer Robert Plant, guitarist Jimmy Page, bassist John Paul Jones, and drummer John Bonham technically got their start in the '60s, with their first two albums, "Led Zeppelin" and "Led Zeppelin II," both dropping in the final year of that decade. But this was a '70s band through and through. Why? Because enough of their peers ended up copying their sonic and fashion style that, as Britannica points out, it became the defining hard rock approach for the next two decades.
Britannica also notes that, like many of their early rock 'n' roll peers, the "Stairway to Heaven," "Over The Hills and Far Away," "Black Dog," and "Whole Lotta Love" rockers drew heavy influences from blues and folk (as well as other genres). The difference between Led Zeppelin and everyone else was that they took these older styles and used them not to develop a riff on the same old blueprint but as launchpads for an entirely new form of rock songwriting. Their ability to channel magic through their music, on stage and in the studio, was magical.
"It wasn't coming from a songbook," wrote Dave Grohl for Rolling Stone, who ranked Led Zeppelin the 14th greatest artist of all time. "It wasn't coming from a producer. It wasn't coming from an instructor. It was coming from four musicians taking music to places it hadn't been before — it's like it was coming from somewhere else. That's why they're the greatest rock & roll band of all time."