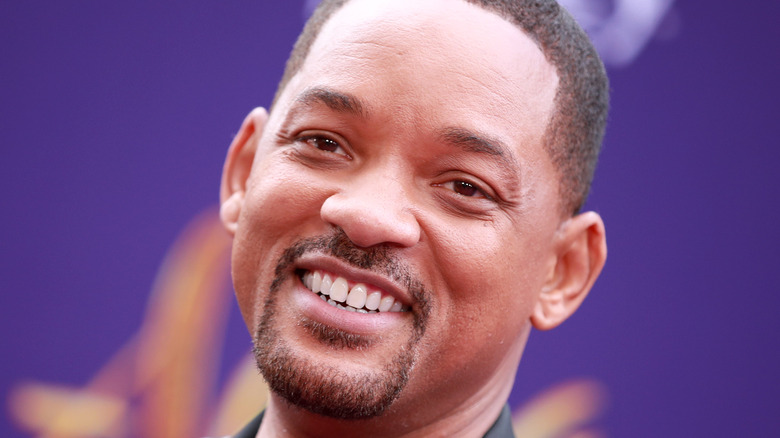 Ever since his life got flipped-turned upside down, Will Smith has been able to count himself among the most popular and genre-defying stars. And, it should be noted, one of the most highly remunerated. Starting out as a rapper with DJ Jazzy Jeff, Smith's financial nadir ended up propelling him towards sitcom stardom despite the young upstart having no prior acting experience. And it didn't take long before he went from reluctant newbie actor to A-list Hollywood royalty, as game for the high-grossing "Men in Black" franchise as he is for his slew of critically acclaimed dramatic roles.
Although he hasn't always delivered the goods ("Wild Wild West," anyone?), he is nonetheless an iconic figure whose popularity has managed to withstand the steadily shifting trends of each decade. It's been a hot minute since he's got Jiggy Wit It, but Smith is now a highly regarded actor, not to mention a successful TikTok impresario. The latter endeavor endeared him to Zellenials, many of whom were mere embryos when the aforementioned hit song was released. Though, it must be said, his introduction to new and younger fans has also left Gen-Z begging him to stop oversharing his tantric sexcapades (but more on that later).
Throughout the years, Smith has been through numerous changes, both physical and sartorial, from his neon '90s glory to his bulked-up action man transformation, and more recently, his decision to embrace the dad bod. This is the transformation of Will Smith from childhood to 53 years old.
From West Philadelphia born and raised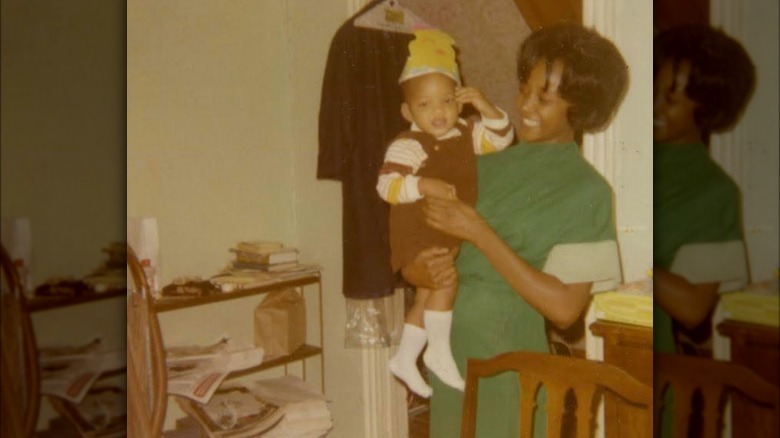 The following article references suicide and domestic violence.
Like his "Fresh Prince" namesake, Will Smith hails from West Philadelphia. He was born Willard Carroll Smith Jr. on September 25th 1968 to Caroline Bright, a school administrator, and Willard Smith Sr., a small businessman, per Biography.
Regarding his childhood, Smith wrote in his memoir, "For a young Black family in the 1970s, this was as 'American Dream' as you could get." As he recounts in his book, his father was a U.S. Air Force veteran whose parenting style was entrenched in "a military mind-set." Accordingly, Smith Sr. expected nothing less than perfection from his son, who explained that "Ninety-nine percent is the same as zero" was a mantra the Smith patriarch lived by.
Raised in a middle-class family, from an early age the adorable, cheeky-grinned youngster was encouraged to graft, which instilled in him a work ethic that he later described as "sickening" in an interview with CBS. He explained to the outlet that his father, who owned a refrigerator company, forced him and his younger brother to rebuild a wall outside his business premises when they were aged just 12 and 9 respectively. Although it was hard work, it ultimately provided an important lesson for the Smith boys. "He said, 'Now, don't you ever tell me there's somethin' that you can't do…' And me and my brother stood… and said, 'Daddy crazy as hell, ain't he?'" he joked. But Smith Sr.'s advice would prove prophetic for his son's glittering future career path.
Will Smith grew up in an abusive household
Although Will Smith loved and respected his father, the family patriarch's hard-boiled tactics led to displays of violence. Sadly, Smith watched his father physically abuse his mom. "When I was nine years old, I watched my father punch my mother in the side of the head so hard that she collapsed… That moment in that bedroom, probably more than any other moment in my life, has defined who I am," he wrote in "Will." These outbursts devastated Smith and ruptured his outwardly idyllic childhood. As he went on to explain, he couldn't fathom how the man he idolized, his "hero," could also be capable of domestic abuse. He emphasized the dichotomy of his father, who attended all his school plays and, later, his film premieres, yet was also violent.
Speaking with Today, he admitted that he felt guilty being a bystander to domestic abuse, a helpless child incapable of intervening. "What kind of kid stands there and lets somebody hit their mother and they don't do anything, you know?" he said. "And that became really the core trauma of my childhood."
During a segment on his YouTube series "Best Shape of My Life," Smith and his mom addressed the domestic violence, with the former sharing that the dire situation caused him to contemplate suicide, believing that, in his mind, "It was all my failure." However, his mom reassured him that she never once saw him as a coward. Smith Sr. died in 2016.
If you or someone you know is dealing with domestic abuse, you can call the National Domestic Violence Hotline at 1−800−799−7233. You can also find more information, resources, and support at their website.
If you or anyone you know is having suicidal thoughts, please call the National Suicide Prevention Lifeline at 1-800-273-TALK (8255) .
Rap came first for Will Smith
At school, Will Smith was a high achiever and could have gone on to obtain a college degree, but rap was more important to him. Although there is a longstanding rumor that he got accepted into Massachusetts Institute of Technology, he actually never applied to the prestigious university in the first place. "I had pretty high SAT scores and [MIT] needed Black kids, so I probably could have gotten in," he explained in the book "Will Smith." "But I had no intention of going to college."
Smith's dream was to pursue a rap career, so he partnered with Jeff Townes to form DJ Jazzy Jeff and the Fresh Prince, per I Am Hip Hop. Their image consisting of baggy cardigans and oversized glasses was reflective of an '80s rap aesthetic also popularized by the iconic likes of De La Soul. Their first single, 1987's "Girls Ain't Nothing but Trouble," was a major hit. "I had a hit single on the radio for 30 days before I graduated from high school. And that's dangerous," Smith laughed to CBS. "You don't want to have a hit record on the radio when you're in high school."
Smith was famed for his "clean" rap style, which was humorously parodied by "Family Guy." In his memoir, he attributes the mockery of his clean-cut artistry to the fact that he "was not a gangster, and I wasn't selling drugs," having been raised "on a nice street in a two-parent household."
A millionaire by age 19, Will Smith soon lost everything
By age 19, Will Smith had won his first Grammy and was catapulted into a life of A-list luxury and excess. Famously, he and Jazzy Jeff boycotted the 1989 Grammys, where they won the Best Rap Performance Award for "Parents Just Don't Understand." Per ET, their decision to skip the show was due to the organizers' apparent disdain towards rap music: rap performances were not televised, something that Smith deemed "a slap in the face." At this point, Smith's image had also shifted slightly in accordance with the transition to the late '80s, with a heavy reliance on denim and baseball caps (Jeff, meanwhile, draped himself in leather).
According to Celebrity Net Worth, Smith was a multimillionaire by age 19, having amassed $10 million between 1988 and 1990. In an interview with Arsenio Hall, he opened up about the pitfalls of becoming filthy rich at such a young age. "When you get a large sum of money that young, it's real hard to keep control of yourself," he confessed. "I was out buying clothes and cars and all of that kind of stuff… You just feel like the money never ends." Eventually, Smith explained, the money did run out.
"The tide turned somewhat at 19. The IRS came and took all my stuff," he told CBS. He owed a whopping $2.8 million in back taxes. Accordingly, the once well-heeled rapper lost everything before he was even out of his teens.
Will Smith became the Fresh Prince
Will Smith may have lost everything by 19, but he soon snagged the career opportunity of a lifetime, with "The Fresh Prince of Bel-Air." On a "Storytime" segment on his YouTube channel, Smith revealed that the show saved him from financial ruin: "Before I was in trouble with Uncle Phil, I was in trouble with Uncle Sam," he joked. The series was loosely based on the life of industry exec Benny Medina, who approached Smith regarding the lead role when they both appeared on "The Arsenio Hall Show." Initially, Smith declined, explaining, "I'm not an actor." But he soon relented and a Fresh Prince was born in 1990.
By this point, Smith's image was firmly in the mold of the '90s. With his brightly colored, patterned ensembles and fade cut, his "Fresh Prince" aesthetic remains one of the most defining of the era. Per The Independent, the show was a huge hit, drawing in 20 million viewers a week, and Smith was thus propelled towards TV stardom.
Although the show was generally a positive experience for Smith, there were tensions on set with co-star Janet Hubert, who played the original Aunt Vivian. Accordingly, Hubert was fired, something she still blames Smith for. "I will never do anything with an a**hole like Will Smith," she told TMZ, adding, "This constant reunion thing will never ever happen… unless there is an apology, which he doesn't know the word." (In 2020, Smith apologized to her on "Red Table Talk" and the reunion happened.)
In 1993, Will Smith had his first major film role
By 1992, a 24-year-old Will Smith had married his first wife, Sheree Zampino, and their son, Trey, was born soon after. The newly married Smith now adopted somewhat of a dad persona with a more conservative, albeit still highly oversized, clothing color palette and shorter hair. A year later, the rising star, who previously had a couple of minor big screen roles, landed his first leading man stint as a conman who claims to be the son of Sidney Poitier in "Six Degrees of Separation."
During this time, Smith's marriage to Zampino became strained due to him falling for co-star Stockard Channing. In his memoir, he reveals that method acting led to him "desperately yearning" for the "Grease" star long after filming for the movie had ended. "During shooting I fell in love with Stockard Channing," he confessed. Subsequently, Smith and Zampino broke up. While he wrote in his book that he was "not trying to relinquish any of my responsibility" for the dissolution of the marriage, he nonetheless acknowledged that his role in the film had a devastating effect on the relationship, one that the couple could never quite recover from.
In an interview with Esquire, Smith said that the unsettling experience showed him the "dangers of going too far for a character." As he explained, "So the movie was over and I went home, and I was dying to see Stockard. I was like, 'Oh no! What have I done?'"
Finding love with Jada Pinkett
In 1997, Will Smith married fellow actor Jada Pinkett. Of seeing his lady love for the first time — when she starred on "A Different World" — Will said on "Red Table Talk," "I knew there was something in our energy that would be magic." Except, when Will went to meet the future Mrs. Pinkett Smith on the show's set, he met first wife Sheree Zampino instead. Fate couldn't keep the pair apart for too long, however, and they got together following Smith's divorce. Unfortunately, Jada described their 1997 wedding as "horrible" since she was suffering from morning sickness, pregnant with son Jaden. Their daughter, Willow, soon followed in 2000.
The attractive couple accompanied one another to red carpet events in matching ensembles. At one premiere in 1997, Will took style inspo from George Costanza and draped himself in velvet, while Jada wore a snazzy leather fit complete with saucy suspenders.
Will and Jada may have found love, but they can't seem to stop discussing the intimate details of their love life, prompting fans to ask: Can Mr. and Mrs. Smith just stop? For instance, in an interview with HuffPost, Jada revealed that the couple has an open marriage, while Will has divulged graphic details of hiring a tantric sex expert, per The New York Post. Moreover, Jada openly discussed her affair with musician August Alsina, who is over 20 years her junior, while Will told GQ that he, too, had been getting jiggy with other people during their marriage.
A slew of hit movies… and Wild Wild West
When the mid '90s came around, Will Smith was swiftly on his way towards becoming a major movie star. Accordingly, his look shifted towards a more sleek and dapper persona, with short hair and a smattering of stubble. During this period, he was on a roll, starring in major blockbusters "Bad Boys," "Independence Day," and "Men in Black," all of which contributed to his monumental $350 million net worth.
Chatting about his shrewd career trajectory with Newsweek in 1997, he quipped, "I look for trends. I looked at the top 10 movies of all time, and 7 of the top 10 had creatures in them… So it was like, I want to make movies that have creatures. It's very obvious to me." But, it would later transpire, Smith probably shouldn't have taken the creature feature theory to heart.
In 1999, Smith released his sophomore solo album, "Willennium," to mark the end of the decade. While the album itself went multi-platinum, the eponymous film that spawned one its biggest hits was a major dud. No, not "Will 2K," but "Wild Wild West." The comedy western proved to be a rare failure for Smith in an otherwise victorious decade. A colossal box office bomb, it seems that fans weren't too keen on watching Smith and an ageing Kevin Kline battle a giant robo-tarantula. Smith later called the film his worst movie and "a thorn in my side" when going "undercover" for GQ.
Will Smith got an Oscars nod for Ali
The new millennium saw Will Smith adopt a decidedly different career path. In 2001, he took on the role of Muhammad Ali in Michael Man's biopic "Ali." Although the film didn't do too well at the box office, it was a hit with critics, who lauded Smith's remarkable transformation from mischievous boy next door to an imposing legend. The film marked a coming of age of sorts for Smith and proved his versatility as an actor. For the role, he packed on the pounds, looking near unrecognizable from his angular, baggy denim-bedecked "Fresh Prince" persona.
According to ABC News, it was Muhammad Ali himself who sought out Smith for the gig, but the actor feared that he couldn't do justice to the legendary boxer's story. "Intellectually, I didn't feel that I possessed what it took to become Muhammad Ali," Smith admitted. "I absolutely, positively did not want to be the dude that messed up the Muhammad Ali story." Upon seeing Smith's portrayal, The Greatest himself remarked, "I even thought he was me." Accordingly, Smith received his first Oscars nod, though he ultimately lost out to Denzel Washington for "Training Day."
He may not have taken home the golden statue, but Smith was far more concerned with honoring the legacy of the champ. "I was willing to sacrifice everything that had to be sacrificed to make it live up to the legacy… that Muhammad Ali had to live," he told United Press International.
Will Smith pivoted to serious roles
By the late 2000s, Will Smith was done with trying to please audiences and instead opted to take on the roles that truly meant something to him. This trajectory is a reflection of his maturation both as a performer and a human being. Around that time, Smith grew his hair out and donned chic, sophisticated attire, though physically he appeared to hardly age a day since his sitcom heyday.
In 2006, he starred in "The Pursuit of Happyness," chronicling homeless single father turned multimillionaire Chris Gardner's quest for the American dream. He received his second Oscar nomination for the film, with The Telegraph branding his performance "sublime." Two years later, he took on the harrowing "Seven Pounds." Speaking with The New York Times, Smith said that his decision to pursue dramatic roles was due to an epiphany that he longer needs to be "the biggest movie star in the world," which he explained is "completely over" now. "I realized that in order to enjoy my time here and in order to be helpful, it's much more about self-examination," he elaborated. "I want to take roles where I get to look at myself… I get to look at ideas that are important to me."
Beneath that famously cheeky grin lay a complex actor who expanded into hard-hitting action flicks in addition to the aforementioned weepies: the late 2000s also saw him appear in the blockbuster "I Am Legend," and as a reluctant superhero in "Hancock."
In 2010, Will Smith took a break from acting
Following his critical and commercial success, Will Smith found himself at a crossroads in both his life and career. Subsequently, he struggled to decipher what he wanted next. In 2009, he and Jada Pinkett Smith hosted the Nobel Peace Prize Concert and had the honor of meeting President Barack Obama, who was awarded the prize that year. Per Esquire, Will and Jada were the only people lucky enough to interview the President at the concert. Will appeared at the ceremony with a newly trimmed, sleek hairdo and a slightly graying beard, one of the few clues pointing towards him having recently hit the big 4-0.
Despite these achievements, Will was overwhelmed by a sense of emptiness and ennui. "In 2010, basically everything that I had ever dreamed of had come true and the hole was still there… It was the best and the worst year of my life. It was everything that I had dreamed, and my family was battered by the conquest," he admitted to Esquire. Subsequently, some time to himself was much needed and he wouldn't act again until 2012, when he took on "Men in Black 3."
At the time of Will's hiatus, Jada said that her husband would be focusing on raising their kids while she pursued movies of her own. "I am so thankful Will is home. Plus, I think when mom works it gives the kids a nice break," she enthused, per Contactmusic (via Digital Spy).
Will Smith's kids are creatives, too
Trey, Jaden, and Willow Smith have followed in the footsteps of their superstar dad and embarked on entertainment careers of their own. As Will Smith mused to Collider, "Jada (Pinkett-Smith), and I debate the age old debate of nature versus nurture. Is it because two actors went to Mexico and drank some tequila and made a baby? Does that make the baby an actor?"
Whatever the answer, Jada and Will's kids sure do have star power. Jaden was famed for his unique observations in his Twitter heyday, and in 2013, he and his dad gave an infamous interview with Vulture. "There's, like, a whole new mathematics that we'd have to learn to get that equation," Jaden remarked. Some deemed this a nod to Scientology, of which Will has long been rumored to be a member. At the time, the pair were promoting the heavily panned "After Earth," which saw a bulked up, buzzcut-sporting Will and his mini-me embark on what many perceived as a glorification of Scientology, the story penned by Smith himself. (In a 2018 episode of "Red Table Talk," Will and Jada denied any involvement with the church.)
Meanwhile, Willow has found a lucrative career as a musician, having been signed to Jay-Z's Roc Nation label at the tender age of 9, per NME. Quite the punkette, she's collab'd with the likes of Machine Gun Kelly and Travis Barker. Trey, Will's eldest kid, has also pursued a music career.
Will Smith keeps on taking swings
The mid 2010s saw Will Smith branch out into uncharted territory with his acclaimed role as head trauma expert Dr. Bennet Omalu in "Concussion." Conversely, he ended the decade by portraying Genie in the "Aladdin" reboot. At a press conference (per Irish News), he said it was Jaden who prompted him to play the blue jokester, with Smith declaring that the film is "truly and deeply based on ideas that sit near my heart."
Despite branching out into different terrain, Smith admitted that he would never be fully satisfied with his work. In a 2015 interview with Esquire, he explained, "I'm the type of person who is always going to be somewhat dissatisfied with myself… I'm never going to be a good enough actor for myself."
It was also the decade that he would miss out on some major film roles. For instance, he turned down the titular part in Quentin Tarantino's "Django Unchained." As he revealed to NPR, "I ultimately decided against Django, because I didn't want to make a movie set in slavery about vengeance. It was just slightly outside of my perception and belief in the ultimate goodness of humanity." In 2019, he stunned fans by confessing that he also turned down the role of Neo in "The Matrix." During a "Storytime" video for his YouTube channel, a casually dressed and goateed Smith said that he opted out of the film because it was apparently pitched terribly. "So, I made 'Wild Wild West," he quipped.