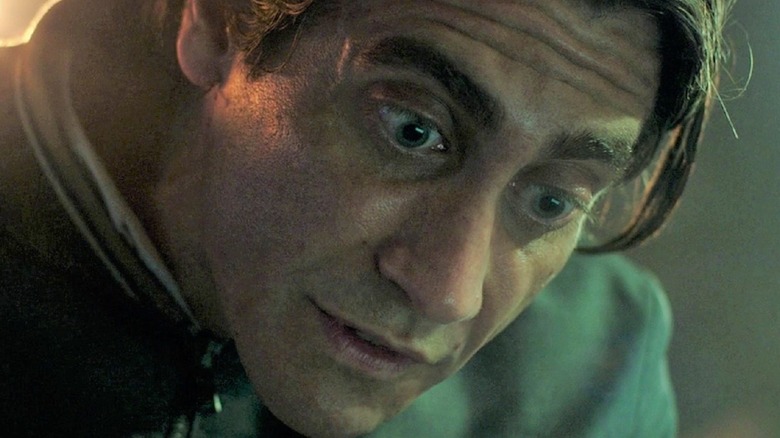 Free two-day shipping is great and all, but for movie lovers, the true allure of an Amazon Prime membership is the content offered by the company's streaming service, Prime Video. Anyone who subscribes to a Prime membership has access to all kinds of movies and TV shows, some of which you can't see anywhere else.
And as far as thrillers are concerned, Prime has a pretty great selection that gets better just about every month. You can stream everything from crime capers to classic tales of psychological suspense, or you can find something new and bizarre that you've never heard of before — stuff that's dark and disconcerting. Whether you're a thriller veteran or just looking to dip your toes into the genre, you just might find your next flick here.
Updated on February 24, 2022: Amazon Prime has an ever-evolving catalogue of films and shows, and we've updated this list to reflect the best thrillers currently offered by the streaming service. These picks will have you on the edge of your seat, and once you've been through them all, keep checking back each month to see what new thrills Prime Video has to offer.
Akilla's Escape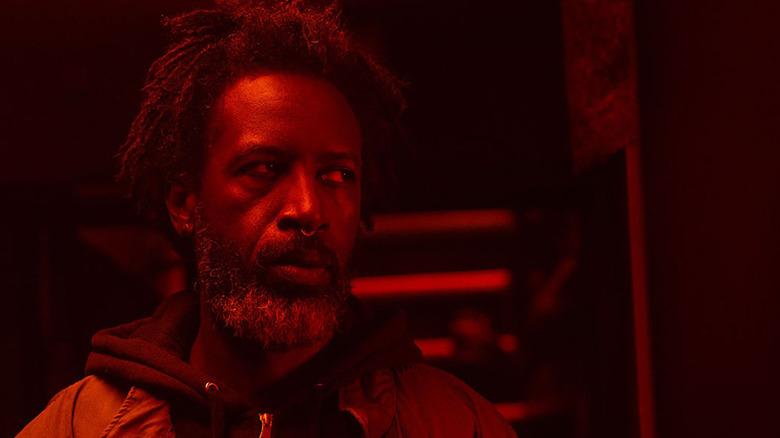 As if the high-stakes, perilous world of the gangland thriller didn't supply enough tension, "Akilla's Escape" ratchets the pressure up a notch by anchoring itself in the stoicism of its core character — a world-weary Akilla (Saul Williams) who knows this dangerous world all too intimately and is trying to prevent a young boy from getting too acquainted with it himself. Everything about this film, from the creative choices to the music (which Williams also helped compose), serves the personal and sociopolitical tension between the past, the present, and the choices that move us between them. (Coming October 15.)
Starring: Saul Williams, Thamela Mpumlwana, Vic Mensa

Director: Charles Officer

Year: 2020

Runtime: 90 minutes

Rating: Not Rated
The Boondock Saints
"The Boondock Saints" lived up to the original hype of its unique script, but it took a convoluted path to get there. In fact, its success looks unlike what anyone involved might've expected. Critics hated it upon release, possibly in part because that release was rife with controversy and studio politics and was limited to just a few theaters. Nonetheless, the film went on to gross an impressive deal in video sales, and it's a cult favorite among audiences.
The film has earned its place in pop culture due to actors like Norman Reedus and Willem Dafoe. Plus, it has a compelling story that weaves together themes of family and justice as a pair of twin brothers become vigilantes and fight Russian mobsters, all while fleeing the dogged pursuit of an FBI agent.
Starring: Willem Dafoe, Sean Patrick Flanery, Norman Reedus

Director: Troy Duffy

Year: 1999

Runtime: 108 minutes

Rating: R
Burning
While "Parasite" was the first South Korean film to receive Oscar recognition (and so much more), "Burning" had made strides in the right direction the year prior. Though it wasn't ultimately selected as a contender for Best Foreign Language Film, it was the first from South Korea to make the nine-film shortlist for the category.
And it's easy to see why. The plot follows a love triangle between three young people, one that might be headed in a very dark direction. The performances are gritty and gripping, and the tension is impeccably crafted. You'll feel uneasy the whole way through, and that's by design. There's desire and jealousy, suspicion, and delusion — but the wait for this kindling to start burning is excruciatingly, captivatingly slow.
Starring: Yoo Ah-in, Steven Yeun, Jeon Jong-seo

Director: Lee Chang-dong

Year: 2018

Runtime: 148 minutes

Rating: Not Rated
The Courier
"The Courier" is a bit of a history class, just a lot better at holding its audience's attention. It revolves around an actual infiltration of the Soviet Union's nuclear program that was critical to ending the Cuban Missile Crisis. With a haunting Benedict Cumberbatch in the lead role playing a British businessman turned spy, the ominous tones and real-world stakes make the suspense feel all too tangible.
Starring: Benedict Cumberbatch, Merab Ninidze, Rachel Brosnahan

Director: Dominic Cooke

Year: 2020

Runtime: 111 minutes

Rating: PG-13
Fight Club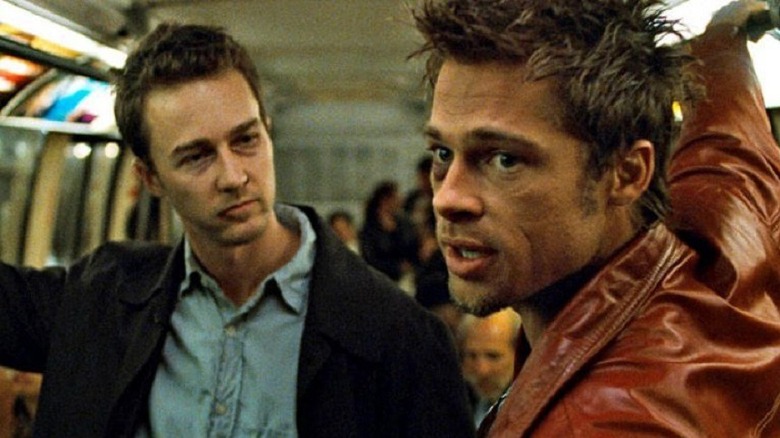 We're going to have to break an important rule to discuss one of the best thrillers on Amazon Prime. When we talk about "Fight Club," we're talking about one of the most quotable, critically controversial, and culturally significant films of its time. The plot finds a disillusioned white-collar worker who meets the dynamic, volatile Tyler Durden and is inspired to start a "fight club" where he can take out his aggression. However, this dark hobby soon becomes something truly dangerous. The film has got everything you could want in a thriller — violence, intrigue, counterculture, psychological breakdowns, and one of the most iconic twists in the history of filming. It's so much more than the story of dudes beating each other to a pulp.
Starring: Brad Pitt, Edward Norton, Helena Bonham Carter

Director: David Fincher

Year: 1999

Runtime: 139 minutes

Rating: R
The Handmaiden
In terms of unlikely pairings, the team of con man and young pickpocket in "The Handmaiden" is an absurdly satisfying one. This psychological thriller begins with this team's efforts to defraud a naïve heiress named Hideko, as the pickpocket, Sook-hee, convinces her to marry the con man, who goes by the name Count Fujiwara. Of course, this is only the beginning of this South Korean thriller. Betrayal and eroticism intertwine with sharply executed psychological thrills to make "The Handmaiden" not only gripping but genuinely entertaining.
Starring: Kim Min-hee, Kim Tae-ri, Ha Jung-woo

Director: Park Chan-wook

Year: 2016

Runtime: 145 minutes

Rating: NR
I See You
The thriller genre is interesting because it can encompass so many other film styles. There are political thrillers, sci-fi thrillers, crime thrillers, and historical thrillers, among many others. The best ones have some element of psychological unrest to them, perhaps even verging on horror. "I See You" is one of those uniquely unsettling pieces, a stalker-meets-poltergeist terror that takes your worst nightmare and plants it right outside your suburban door, complete with creepy masks, child abductions, and all sorts of mysterious events that just might be supernatural.
Starring: Helen Hunt, Jon Tenney, Owen Teague

Director: Adam Randall

Year: 2019

Runtime: 96 minutes

Rating: R
Nightcrawler
Jake Gyllenhaal truly shines when he's playing weirdos, and he's at the top of his form in "Nightcrawler." As the psychopathic Lou Bloom, we watch an emaciated Gyllenhaal comb the dark streets of Los Angeles, searching for car wrecks and break-ins that he can capture on film. The more sensational the crime, the bigger the paycheck he'll get from a less-than-ethical local news station. But as his newfound career becomes more and more successful, we watch an already disturbed Bloom sink to new levels of depravity, all in search of the perfect shot and a headline-grabbing story.
Cast: Jake Gyllenhaal, Rene Russo, Riz Ahmed

Director: Dan Gilroy

Year: 2014

Runtime: 117 minutes

Rating: R
The Prestige
Christopher Nolan has always been a cerebral filmmaker. His storylines are often nonlinear and explore themes of human psychology, reality, time, and existence. But "The Prestige" does the doubly nerdy duty of highlighting one of the unsung moments of modern science: The bitterly escalating battle between two magicians mirrors — and intertwines with — the rivalry between Nikola Tesla and Thomas Edison. Obsession, betrayal, and the unique world of the 1890s magic scene elevate this Nolan piece as it twists and turns toward its shocking reveal.
Starring: Hugh Jackman, Christian Bale, Scarlett Johansson

Director: Christopher Nolan

Year: 2006

Runtime: 130 minutes

Rating: PG-13
Ronin
Heist films are a lot of fun on their own, even if they aren't always candidates for Best Picture. But "Ronin" raises the stakes by undermining the trust between its disparate team at every turn. With compelling performances from a seasoned cast, the tension is palpable as each member of the team tries to work out who can be trusted and who can't — all while attempting to complete a mysterious mission. Plus, it has one of the very best car chase scenes in cinematic history.
Starring: Robert De Niro, Jean Reno, Natascha McElhone

Director: John Frankenheimer

Year: 1998

Runtime: 118 minutes

Rating: R
A Taxi Driver
South Korean cinema is responsible for some of the best films you've never seen, and this is especially true in regards to thrillers. It was hard to miss when "Parasite" broke all kinds of records at the 2020 Academy Awards, becoming the first non-English-language film to win "Best Picture" and sweeping the ceremony with no fewer than four awards. But South Korean film has been doing amazing things for a long time.
"A Taxi Driver" is a great example, and the movie shares a leading actor, Song Kang-ho, with "Parasite!" It's the riveting, emotionally resonant real-life story of a Seoul taxi driver who unwittingly becomes entangled in the events of the 1980 Gwangju Uprising, an event that involved protesters, martial law, and 2,000 deaths.
Starring: Song Kang-ho, Thomas Kretschmann, Yoo Hae-jin

Director: Jang Hoon

Year: 2017

Runtime: 137 minutes

Rating: Not Rated
The Usual Suspects
Certain movies are required viewing regardless of genre, and "The Usual Suspects" is one of those films — a movie that fits a variety of designations and delivers on every one of them. It's a thriller, a crime film, even a bit of a comedy. The neo-noir story benefits from having a questionable narrator, as the story of a massacre is told in a convoluted manner by a con man being subjected to interrogation. The story structure and narration only make it that much more titillating as we figure out what really happened behind a heist gone horribly wrong.
Starring: Kevin Spacey, Gabriel Byrne, Benicio del Toro

Director: Bryan Singer

Year: 1995

Runtime: 106 minutes

Rating: R
Vivarium
There's a fine line between thrilling and just plain uncomfortable, and "Vivarium" basically plays jump rope with that line. The film takes the innate desire of the restless soul to escape the humdrum suburban life and multiplies the intensity until you feel like you're getting cabin fever just watching it.
As for the plot, young lovers Tom and Gemma are searching for a home, but when they visit a cookie-cutter neighborhood, they suddenly find themselves unable to escape. Things get even creepier when a "kid" shows up on their doorstep, with instructions that if they care for the boy, they'll be released. Watching a couple find themselves trapped in an infinite subdivision of identical houses and forced to raise a humanoid monster as their child … well, it's not for everyone, but that's part of the unique thrill that both impressed and alienated critics and audiences.
Starring: Imogen Poots, Jesse Eisenberg, Jonathan Aris

Director: Lorcan Finnegan

Year: 2020

Runtime: 98 minutes
We Need to Talk About Kevin
Seriously, why don't the parents in this film just do what the title demands? Why don't they just talk about Kevin? Who knows how differently things might have gone if they had — though the story would almost certainly have been less thrilling.
As it stands, this is a slow-burning ride into psychopathy and family dysfunction, told through an idyllic lens of suburban life that's been shattered by an unspeakable event. It's so unspeakable that it — and the sinister dynamics that precipitated it — can only be revealed piece by ominous piece as the film goes on, examined through a mother's complicated relationship with her very disturbed son.
Starring: Tilda Swinton, John C. Reilly, Ezra Miller

Director: Lynne Ramsay

Year: 2011

Runtime: 112 minutes

Rating: R
You Were Never Really Here
If you don't have a strong stomach and mind, you might want to "not really be here" for "You Were Never Really Here," which gives us an uncompromising look at harsh topics like human trafficking and PTSD. The plot follows a guy named Joe, a deeply troubled man who's hired to rescue kidnapped girls by any means necessary. But when Joe is hired to save the abducted daughter of a New York senator, he finds himself drawn into a bloody, tangled conspiracy. Buoyed by Joaquin Phoenix's leading performance, "You Were Never Really Here" is a white-knuckle rescue ride with a gripping psychological twist.
Starring: Joaquin Phoenix, Judith Roberts, Ekaterina Samsonov

Director: Lynne Ramsay

Year: 2017

Runtime: 89 minutes

Rating: R