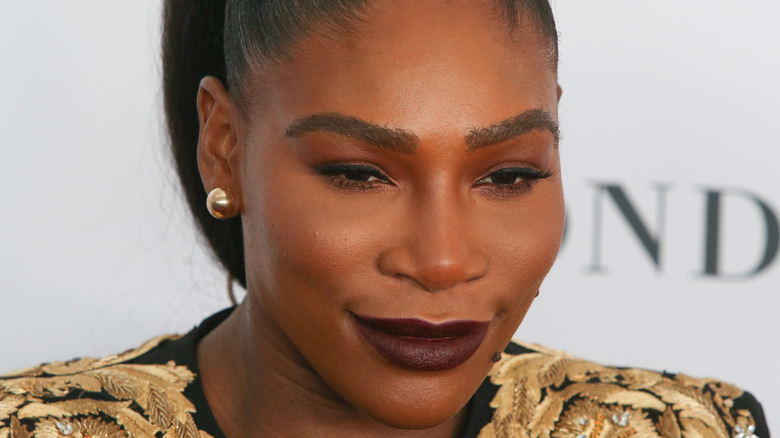 There is no denying the fact that most celebrities live lavishly and in luxury. From their massive paychecks to their sometimes overwhelming fame, it seems only fitting that these beloved entertainers, moguls, and inventors would live such an indulgent life. However, no matter how much money or stardom comes their way, some celebrities still choose to live below their means in more modest and humble homes, per CNBC.
While money can undoubtedly buy convenience and excess, making a house feel like a home does not always require an overflowing bank account. In fact, some of the most inviting of accomodations do not boast massive square footage or six-car garages, but are actually appreciated for their charming details and unassuming size. From Warren Buffett to Shaquille O'Neal, you'd be surprised to learn just how many A-listers have passed up mind-blowing mansions for more reasonable properties. That being said, here is House Digest's list of the biggest celebs who have chosen to live in more modest homes.
Warren Buffett lives in a humble Nebraska home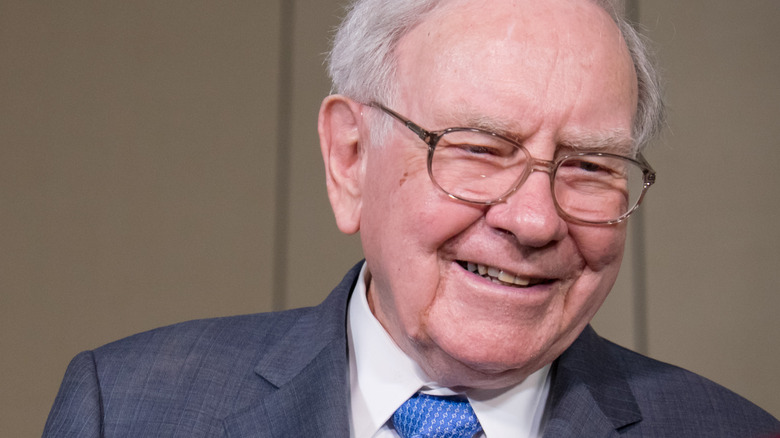 The first celebrity on our list is none other than billionaire and philanthropist, Warren Buffett. Despite having a net worth of more than $104.4 billion, Buffett has chosen to live in a house that is worth only .001% of his total wealth. After buying his humble Omaha, Nebraska home for a trifling $31,500 in 1958, Buffett has remained totally happy, feeling no pressure or desire to move. When asked why he had not chosen to upgrade to something more reflective of his bank account, Buffet told BBC (via Insider), "I'm happy there. I'd move if I thought I'd be happier someplace else." Buffett also referred to his Omaha home as the "third best investment he's ever made."
When it comes to safety, Buffett does have fences and security cameras, though the house is relatively unassuming from the outside. The square footage of Buffett's beloved five-bedroom home is just above 6,500, and there are only two full baths in the entire house along with one half-bath. Though the house is definitely far from being undesirable, there is no doubt that Buffett could be living in much more extravagant accommodations should he so choose.
Blake Lively and Ryan Reynolds lived modestly in New York
Blake Lively and Ryan Reynolds are two A-listers who had previously chosen to live more modestly than necessary. In February of 2012, Lively and Reynolds purchased a very charming three-bedroom house located about 40 miles outside of New York City in Bedford, NY, according to Velvet Ropes. Though they have since moved into a larger and pricier home, they spent only $2.3 million on this lovely abode. The house itself was under 5,000 square feet, and the home sat on nearly 2 acres of property that sat right along the Cross River Reservoir. In addition to the three bedrooms found inside the main house, the property also had another two bedrooms inside the guest suite located behind the house.
While $2.3 million is obviously a lot compared to what the average American pays for their home, Lively and Reynolds have a combined net worth of more than $90 million, meaning that they definitely could have selected a much pricier property. That being said, the famous couple did end up choosing to find some fancier digs just over a year later in May of 2013. After selling their quaint pad in Bedford for $2.495 million, Lively and Reynolds settled into a traditional, Colonial-style home near Pond Ridge, NY. Though they definitely upgraded with their current $5.7 million home, they still live only a mere four miles from their first adorable and reasonable home.
Jennifer Lawrence's Santa Monica pad was unremarkable
Jennifer Lawrence is a successful actress best known for her role as Katniss Everdeen in the popular "Hunger Games" series. In fact, the "Hunger Games" franchise was so hugely successful that it placed Lawrence at the top of the list of Hollywood's highest-paid women! Nonetheless, Lawrence lived in a very simple and basic Santa Monica townhouse for over seven years before upgrading to a more glamorous mansion in 2014 (via Variety).
Just at the start of her career in 2006, Lawrence bought her understated townhouse for less than $1 million ($879,000 to be exact). The 1,400-square-foot home had two levels and a small garden, but there truly wasn't all that much to it. In fact, the lack of furnishing and décor was what was most shocking about her modest home. The space had two bedrooms and 2.5 bathrooms, as noted by Love Property, though the most luxurious part of the townhouse was probably Lawrence's private bedroom balcony along with its high vaulted ceilings. Other than that, this home is certainly not what you would expect an A-list celebrity to live in, let alone the highest paid actress in Hollywood.
Robert Pattinson moved into a smaller house
For some reason, it doesn't seem too surprising to find Robert Pattinson on this list. This rebellious and somewhat shy Hollywood heartthrob even drives an old, beat up 1989 BMW rather than a snazzy sports car (which he could easily afford given the massive success of the "Twilight" franchise). After going through a very public breakup with "Twilight" co-star, Kristen Stewart, Pattinson gave up his Los Feliz mansion and made his way to the Hollywood Hills.
Instead of going with another massive and extravagant property, Pattinson instead settled in at a lovely, ranch-style home that is just under 2,000 square feet. When describing his previous $6.27 million home, Pattinson told the The Hollywood Reporter, "It was incredible, like Versailles. It was absolutely, completely crazy. It had this incredible garden, but you just stay in one room, anyway. I could basically live in a cell as long as I had a window." That being said, it sounds like his smaller, more secluded home in Coldwater Canyon (via Variety) actually suits the famous actor much better. Plus, with a price tag of only $2.8 million, he definitely got some bang for his buck.
Matthew McConaughey made his home on the road
While Matthew McConaughey is known for his hippie habits such as skipping showers and taking it easy, it might surprise fans to learn that for years, even after making a major name for himself as an actor, McConaughey's home had wheels. Posted up on the side of the PCH in Malibu, California, McConaughey made his cozy 28-square-foot Airstream his delightful abode, with no complaints. When pressed about this housing decision in 2008, McConaughey told Architectural Digest that he simply adored being on the open road. "Drivin' is, number one, where I get some time with myself. Number two, it's the main place I catch up on music. And number three, it's the best way to see the country," McConaughey explained.
Believe it or not, that living situation was actually an upgrade for McConaughey. "In 1996 I got a big GMC van — it's called Cosmo — and gutted it and put in a bed in the back, [and] a refrigerator and a VCR so I could watch dailies or whatever," he continued. "But still it was a pretty cramped style. So I started looking at Airstreams." While it certainly isn't the right lifestyle or living situation for everyone, McConaughey truly made the most of it and seemed to enjoy every second. Now, he lives in Austin, Texas with his wife and children in much more spacious accommodations.
Mark Zuckerberg lives in a relatively modest home
Tech mogul, Mark Zuckerberg, is not often seen as one of the most frugal or philanthropic people on the planet. However, there is no denying the fact that he has chosen to settle into a home that is far below the bar of how he could be living. Of course, Zuckerberg owns several properties. However, his main hub that he calls home is in Palo Alto, California. Having paid $7 million for the house in 2011, this property in particular is only worth .01% of Zuckerberg's total wealth. Though it does come with a sizable backyard, pool, and pristine landscaping, it is not necessarily what you would expect from one of the world's largest tech-gurus.
Along with his main humble-ish abode, Zuckerberg owns nine other houses spanning from San Francisco to Hawaii, putting his total real estate portfolio at about $320 million, per the New York Post. However, that is still barely makes a mark when compared to his $120 billion net worth.
Serena Williams' Cali home doesn't have a tennis court
As one of the most famous tennis players of all time, most would expect Serena Williams to have some majorly luxurious accommodations. After all, such a queen on the court deserves a real castle to rest and restore in. However, regardless of her impressive and hard-earned $210 million net worth (via Celebrity Net Worth), Williams chose to settle down in a beautiful yet relatively reasonable Spanish-style home in Beverly Hills.
The L.A. property stands at a nice 6,000 square feet, meaning there is plenty of room to be utilized. It also sits on a quarter-acre lot in a gated Beverly Hills community, and while there is a nice swimming pool in the backyard, there is no professional tennis court for private practice. The five-bedroom and seven-bathroom home allows for great light to come in through the windows, and the overall feel and style is very airy and light. Being that she bought the house for less than $7 million in 2017, per Mansion Global, her lovely family home only makes up about 3.8% of her total wealth.
John Krasinski had an incredibly modest bachelor pad
Before living the dream and moving into much more lavish living quarters with his A-list wife, Emily Blunt, "The Office" native, John Krasinski, lived in an incredibly modest bachelor pad (via Lonny). This two-bedroom condo cost the actor just slightly more than $1 million, per Hello! magazine, and it was located right near Sunset Boulevard in Los Angeles. This pad was so basic and non-extravagant that Jim Halpern himself would have given it two major thumbs up.
Though it was definitely nice, the best word to describe Krasinski's former home would be "sensible." He even lived in this home during the height of his success on "The Office," meaning he definitely could have traded it in for something with a bit more room and flair. Nonetheless, Krasinski chose to make this simple condo his own until he was ready to move on up in 2011. Now, he and his wife own a much snazzier $15 million home in NYC along with another house in London.
Elijah Wood lived in a relatively modest Austin home
Despite having a net worth of around $20 million (via Celebrity Net Worth), "Lord Of The Rings" star, Elijah Wood, decided to spend several years in a Victorian-style home in Austin, Texas. In fact, he loved this home so much that he actually listed it in October of 2020 after buying it back in 2012, according to Culture Map. When he purchased the home, the classic and traditional looking house was priced at only $1.075 million. While that might seem like a high price tag for an affordable state such as Texas, the 130-year-old house was pretty sizable at 3,285 square feet. It had four bedrooms, five bathrooms, and very elegant high ceilings.
Though the home was definitely a bit of a fixer-upper (after all, it was built in 1890), Wood was able to list this stunning property for $1.8 million, allowing him to potentially make a decent profit off the home. It is important to note that the location is also one of the best in Austin. Bouldin Creek is a coveted area, with some of the city's best restaurants and bars, adding even more quality to Wood's humble Victorian home.
Kiera Knightly lives modestly for her net worth
Even after becoming one of the most recognized and acclaimed actresses to come out of the United Kingdom, Kiera Knightly chose to live in a pretty standard New York City apartment for more than seven years. From Christmas-favorite "Love Actually" to the iconic "Pirates of the Caribbean" franchise, there is no question about the fact that Knightly could easily afford optimal levels of glamour and luxury should she so choose. That's why her and her former Tribeca apartment have landed on this list (via Harper's Bazaar).
On top of that, even after selling this city-centered apartment and choosing to upgrade, Knightly also purchased another more modest home in London, according to Curbed. Though it is pretty sizable with three stories and five bedrooms, it is certainly far from the magnificence that fans might expect the stunning and elegant actress to live in. However, the bohemian style and simplicity does suit Mrs. Knightly rather well.
Kesha chose to live in a humble beachy bungalow
Known for her former party girl persona, musician Kesha chose to settle down in a small Venice Beach bungalow in 2014. Though she may have been famous for making waves with her fun and intoxicating tunes and music videos, Kesha instead chose to chill out by the waves when it came to her living situation. This small-yet-adorable Spanish-style home stands at a mere 1,400 square feet, and she bought it for only $1.5 million, as noted by Realtor.
At the time of her purchase, Kesha's music career had already included three nominations for the American Music Awards and five MTV Video Music Awards. She had even won the 2010 MTV Europe Music Award for Best New Act, showing that her success seemed far beyond the limitations of her little bungalow. However, despite this house being undeniably modest, it's a totally beautiful home that really promotes the idea of quality over quantity.
Shaquille O'Neal bought a super modest home in Mt. Dora, Florida
As one of the most famous and iconic basketball players of all time, Shaquille O'Neal is expected to live a pretty luxurious and high-flying life. And while it is important to keep the fact that O'Neal is the owner of several different properties in mind, he shocked fans when he bought a Mount Dora, Florida home for just $235,000 back in 2012, per TMZ. Obviously, a home such as this one is not what you would expect from a baller like Shaq, especially since he has an estimated net worth of over $400 million (via Celebrity Net Worth).
However, for whatever reason, O'Neal chose to add this very modest and basic home to his collection. With five bedrooms and four baths, this Mount Dora home wasn't necessarily tiny, but it was far from glamorous or magnificent. The most luxurious parts of the house were perhaps the entertainment room and wet bar, but those amenities certainly don't compare to the ones found in Shaq's 70,000 square foot Orlando mansion. O'Neal sold that home in October of 2021, according to Orlando Weekly.
Zooey Deschanel had a humble home in the Hollywood Hills
Though she has since moved into a larger mansion (via Variety), Zooey Deschanel used to live in a modern yet humble home in the Hollywood Hills. Since she is known for being unbelievably quirky and unique in nearly every role that she plays on television, it might surprise fans to know that Deschanel was not living in a hipster's paradise, but rather, a very elegant and modernly decorated space. At the same time, it was not a massive nor extravagant home, but rather picturesque and sweet.
On top of that, when she bought the Hollywood Hills home, it only cost her about $1.69 million. Given the financial and success she had found due to her hit show, "New Girl," it is safe to say that Deschanel definitely could have gone a bit bigger in terms of budget. According to Curbed, the one-story home had three bedrooms that gave her and her family enough space while still maintaining that cozy feel that many homeowners crave.