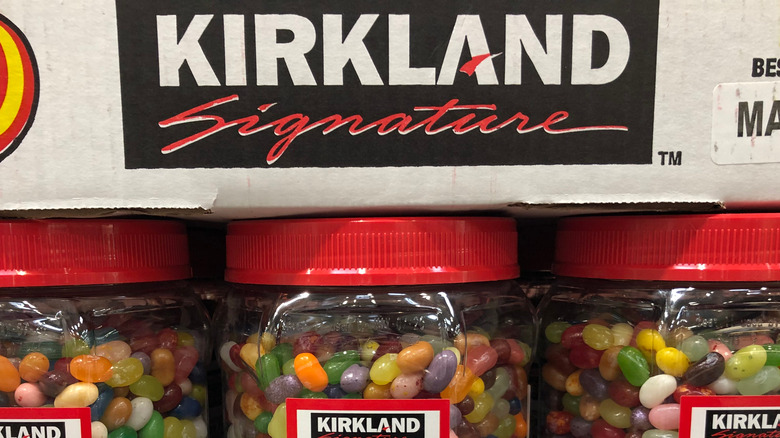 Chances are, if you love Costco, then you love Kirkland Signature. Named for Kirkland, Washington, the original home of their corporate headquarters, Costco's in-house brand Kirkland Signature is a multi-billion dollar company and their wild success has many other big box stores like Walmart feeling the pressure (via Business Insider). Kirkland's success is driven by their high-quality standards and signature low prices (or rather, Kirkland Signature low prices! Sorry. It had to be said.) In fact, CNN reports that most Kirkland Signature items sell for up to 20% less than their national brand name counterparts. Free samples and lower prices? No wonder Costco and Kirkland Signature have developed a devout cult following.
But there's so much more to the Kirkland Signature brand than just great prices on mixed nuts, razors, olive oil, wine, coffee, and … almost everything. Let's take a deep dive into the untold truths behind this beloved brand, what makes it so iconic, and how they even inspired one customer to get a Kirkland Signature tattoo (Seriously. Someone did that. Just keep reading.)
Many Kirkland Signature products are brand name products in disguise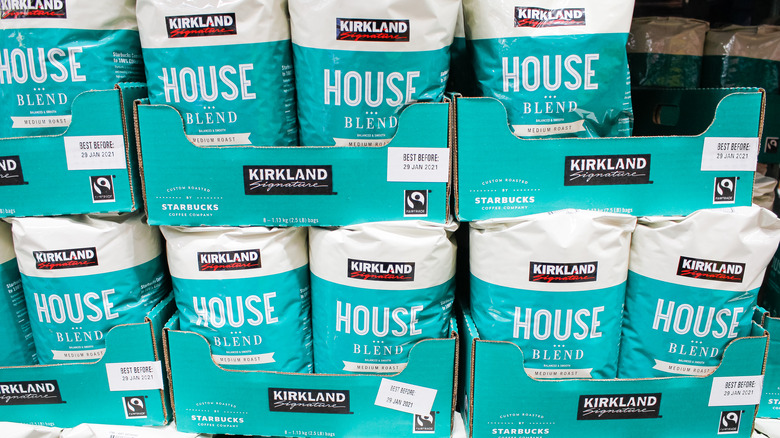 That Kirkland Signature's house blend roasted coffee sitting in your pantry right now? That's actually Starbucks! Or at least, certain blends are made by Starbucks, specifically, the bags bearing the "Custom roasted by Starbucks" stamp." Okay, so that one might be more obvious, but there are a lot of other Kirkland Signature products that are secretly manufactured by giant, well-known retailers.
According to MoneyWise, the Kirkland Signature batteries are actually manufactured by Duracell, the tuna is Bumblebee, and the diapers are made by Kimberly-Clark, the company behind Huggies diapers. Feeling deja vu when you use Kirkland Signature brand aluminum foil? That's because it's manufactured by Reynolds! So on your next trip to Costco, see if you can figure out which Kirkland products are national brands in disguise (and at that famous Kirkland Signature price point.) Low prices without substitution for brand-name quality? Yes, please.
Kirkland Signature's goal is to keep prices low
Kirkland Signature is owned by Costco, which makes it a private label. That means they control their prices by ruling out third-party distributors. The result? Prices that are typically 20% lower than traditional retail, which is part of what keeps customers coming back (via Business Insider).
But more importantly, Kirkland Signature products are actually good, which means customers trust them. The founders of Kirkland Signature have always focused not only on great prices, but on great quality. According to Richard Galanti, Costco's EVP and CFO, when setting out to create Kirkland Signature products, "We upped the quality." Who doesn't love things that are cheap AND great? High quality and low prices are two huge reasons why Kirkland Signature has become the stalwart it is. According to Karen Short, a retail analyst at Barclays, "Kirkland is a brand in its own right. It is one of the reasons people go to Costco. That's not necessarily something you can say about many private labels." (via CNN)
John Mayer is a Kirkland Signature devotee
Singer/songwriter John Mayer is not afraid to let his Kirkland Signature devotion be known. Costco famously doesn't spend money on advertising, and why would they when they can get the "Your Body is a Wonderland" crooner to do it for them for free? While not an official Kirkland Signature product, Mayer had a custom guitar pedal made with the Kirkland Signature branding and was quick to share it with his followers on Instagram, saying "Proud to endorse the Kirkland Signature guitar pedal."
Mayer even ended his post with the hashtag #KirkBoys, a nod to Kirkland Signature's ever-growing fan base. And to be clear, you don't need to be a boy to be a #KirkBoy. We're all #KirkBoys at heart. Need more proof that a Kirkland Signature cultural movement is upon us? Business Insider even reported on a fan who had the Kirkland Signature logo inked into his skin. (See? Told you to keep reading.)
The Kirkland Signature sweatshirt is a hot fashion item
Sure, Kirkland Signature is known for its grocery and household items. But could it become the next big name in fashion? The Kirkland Signature unisex logo sweatshirt has become such a hot ticket item that as of press time, it's completely sold out on the website. With Today reporting almost 1,000 reviews, some of which compare the roughly $20 sweatshirt to the pricier brand Supreme, Kirkland Signature might have more expensive streetwear companies shaking in their $400 sweatshirts. Will Kirkland be the darling of next year's New York Fashion Week? Only time will tell.
Luckily you can still get the Kirkland Signature hoodie, which inspired one enthusiastic commenter mhobb to say: "You can never go wrong with Kirkland Signature quality. Expect these to resell for 4x retail on streetwear sites." According to another commenter RayRay: "I'm a huge Kirkland fan and like to boast that I live the Costco life." That's some Kirkland Signature pride, right there. Looks like the #KirkBoys might have an official uniform!
Kirkland's low prices force other brands to lower theirs as well
According to CNN, Kirkland Signature's sales have outperformed Campbells, Hershey, and Kellogg's combined. And the brand's success has another silver lining in that it's forced other brands to lower their prices in order to compete (via Business Insider.) When Costco dropped the price on their 40-count packages of bottled Kirkland water to $2.99, it forced Poland Springs to follow suit. Even if you slept through freshman year econ class, it's easy to understand the power a brand like Kirkland can have. As retail analyst Timothy Campbell told CNN, Kirkland Signature "keeps suppliers honest."
Other big businesses are taking note of Costco's success. Walmart is investing more in their Maker's Mark private label, sold through Sam's Club. And Business Insider reports that more online bulk retailers like Boxed are finding success with their private labels like Prince & Spring. Who knows? Maybe a showdown between the #KirkBoys and the #MakersMen is imminent.
Not all Kirkland Signature products are slam dunks
Not all Kirkland Signature products are slam dunks. In the quest to expand the brand's offerings, Kirkland has had a few swings and misses. Notably, the Kirkland Signature Light Beer was such a flop it's been discontinued. According to RateBeer.com, the reviews for the calorie-light brew ranged from "absolutely awful," to "flavor is corn and honey and trash." That's tough to come back from. Even so, Kirkland Signature's light beer has still managed to develop a small but mighty following, with one man going so far as to create his own commercial for the unpopular beer. Not sure if it convinced anyone to buy it, but we gotta admire him for trying.
Other items you might want to avoid include the Kirkland Signature Environmentally Friendly Laundry Detergent. For a product that claims to be environmentally friendly, it's … not great that the Environmental Working Group gave it an F rating.
Then there's the issue of buying certain items in bulk. Most people probably won't be able to work through a pallet of eggs before they expire. And Kirkland Signature's giant, square-shaped bulk containers of milk are so clumsy to use, they've inspired an entire Reddit thread to help people figure out how to pour the milk without spilling. Might need to go back to the drawing board on this one, #KirkBoys.
Kirkland Signature's makeup line has a royal history
While only available in Canada, the Kirkland Signature by Borghese makeup line is made by Borghese Roma, a luxury Italian cosmetics line that was created by Princess Marcella Borghese. Born Marcella Fazi, she officially became a royal when she married Prince Paolo Borghese, the duke of Bomarzo. She started her line by asking her personal chemist to create a line of eight lipsticks (#RoyaltyGoals) and then had eight Italian designers create outfits to match (via LA Times.) She came to New York to launch her company as a subsidiary of Revlon, and the rest is history! The 60-year-old luxury cosmetic company even claims they were the first to create a mud mask. Canadian Costco members can enjoy all that luxurious Italian mud, as well as Borghese's makeup and skincare products at Kirkland Signature prices. That alone might be worth dusting off the ole passport.
Kirkland Signature Vodka is not Grey Goose … it's better.
There has been a rumor circulating on the internet for ages that Kirkland Signature vodka is really just Grey Goose in disguise. The truth is, Kirkland's vodka and Grey Goose are not the same. According to Grey Goose's Global Head of Education, Joe McCanta, "No, Grey Goose Vodka does not produce nor privately label Kirkland vodka." It doesn't get much clearer than that. But don't go dumping your Kirkland vodka down the drain!
According to Vice's Munchie's column, Kirkland Signature vodka scored HIGHER than Grey Goose in aggregate blind taste tests performed by liquor tasting experts (talk about a dream job). Considering the fact that a Kirkland Signature bottle maxes out at less than $20, the only real reason to shell out for Grey Goose is if your home bar is heavy on the waterbird decor. And if that's the case, no judgments. Do you.
Kirkland Signature bottles your favorite wines, but cheaper
Is it even a Costco run if you aren't filling up your cart with Kirkland Signature's reasonably priced wine? Costco sells so much wine that according to Annette Alvarez-Peters, Costco's assistant general merchandise manager for beverage alcohol, they are the biggest wine seller in the country. Being the nation's largest wine seller gives them access to some pretty fancy vintners.
And according to the New York Times, Costco maxes out their markups at 14%, which means you can get a high-end bottle of wine for a great price. Like the highly rated Châteauneuf-du-Pape Cuvée de Nalys, which could run you about $100 a bottle … unless you grab a Kirkland Signature Châteauneuf-du-Pape Cuvée de Nalys for around $20 (and why would you grab anything else?). According to Wine Spectator, Kirkland Signature also sources wines from well-known vineyards like Kunde Estate, Girard Winery, and Taylor Fladgate. Now you too can be fancy without spending all that pesky money!
Kirkland Signature's best selling item might surprise you
We were all around in 2020 when the pandemic began, so then again maybe it won't surprise you. But Costco's number one best selling item is none other than their Kirkland Signature toilet paper! Or "bath tissue" if you're trying to keep it polite. Turns out there was good reason to hoard this absorbent toiletry item long before any pandemic supply chain woes. According to CNBC, Costco sells over a billion rolls a year, to the tune of $400 million in sales. With a moneymaker like that, it's no wonder Costco employs scientists to painstakingly test their treasured TP, checking for softness, durability, and even whiteness. If "toilet paper science" isn't a major at MIT and Harvard, maybe now it will be. And thanks to these brilliant scientific minds at Kirkland, for a mere $22 — at the time of this writing – you can own 30 rolls of expertly crafted bath tissue fit for a king … and his whole court. Thirty rolls is a lot.
Kirkland Signature doesn't just make affordable groceries
While Kirkland Signature has made a name for itself by creating high-quality grocery items at great prices, they make some other pretty surprising items too. After all, they had such a successful foray into the world of fashion, why wouldn't they expand into other areas, like sporting goods and home furnishings? Next time you're ready to hit the green (is that a thing golfers say?) why not bring along your Kirkland Signature left-handed putter? That's right, Kirkland hasn't forgotten about you southpaws.
And after all that Kirkland wine, where better to rest your weary head than a Kirkland Signature by Stearns & Foster mattress? Need something firmer? Maybe this massive Kirkland Signature 72 lb wheel of Parmigiano Reggiano cheese will do the trick. Mmm, a bed you can eat. It seems like you could easily furnish your home entirely with Kirkland Signature products. Then, and only then, will you achieve true #KirkBoy status.