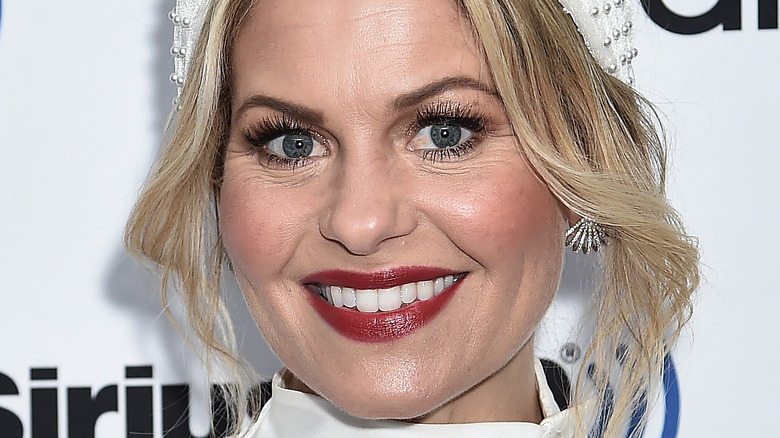 For someone who's been in the public eye for the majority of her life, Candace Cameron Bure manages to keep a fairly low profile. Most people know her as D.J. Tanner from the classic sitcom "Full House" and its Netflix reboot "Fuller House," or from the dozens of Hallmark movies she's starred in over the years. More devoted fans are sure to have read one of her many New York Times bestsellers, or have caught a few of the episodes of "The View" that she's hosted. But only the most fervent fans know anything about her life outside of Hollywood— as a mom to three kids and the wife of former NHL star Valeri Bure.
Candace Cameron Bure and Valeri Bure have been husband and wife since 1996, which is a pretty long marriage in Hollywood. The couple first met in the mid-'90s when Candace was just a teenager and Valeri newly arrived in the USA. Their first introduction was actually via the TV screen: As Candace shared on her website, Valeri, a Russian native, "learned English by watching 'Full House.'" When they finally met in person, the chemistry was obvious, and it didn't take them long to move from strangers to spouses. Below, we're taking a closer look at the couple's marriage, from their made-for-TV meet-cute to the way they've dealt with the ups and downs of married life.
They first met at a charity hockey game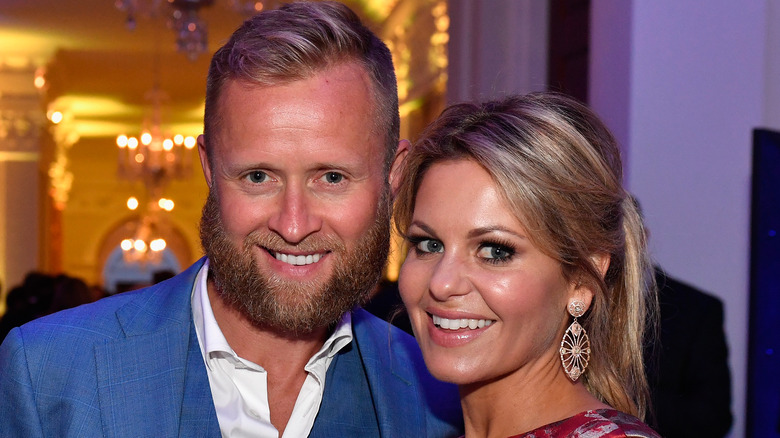 In a story that could have been ripped straight from a "Full House" script, Candace Cameron Bure, the real-life DJ Tanner, met her future husband at a charity hockey event in 1994. As she recounted on Today, while shooting the final season of her sitcom, the actor attended the celebrity game to cheer on her co-star Dave Coulier. When the match was over, she said Coulier pulled her aside and said, "I met this really cute Russian hockey player and I want to introduce you." It turns out, that really cute hockey player was the same guy Candace had been eyeing from the stands: NHL pro Valeri Bure.
The couple seem to have hit it off instantly. Coulier told People that "when Valeri first saw Candice, he just blushed," and in 2014, Candace confirmed their immediate chemistry to HuffPost Live (via Us Weekly): "We went on a date the very next day, and in less than a year we were engaged." Shortly after he popped the question, the couple was married in an over-the-top ceremony that was attended by her "Full House" family. Over two decades later, Candace was still thanking her TV family for the role they played in bringing her and Valeri together, captioning a 2021 Instagram post, "Thank you Dave Coulier for taking me to my first hockey game. Thank you Lori for being my wing woman and thank you Bob Saget for watching out for me like a dad."
Their shared faith is the backbone of their relationship
Given their wildly different backgrounds, it seems incredible that Candace Cameron Bure and Val Bure have managed to maintain such a strong relationship for as long as they have. On the surface, the couple seems to have little in common — Val is a Russian-born professional athlete while Candace is a Los Angeles-raised child actor— but when it comes to their values and worldviews, they're actually very well matched. In fact, the actor told People the couple's shared faith is the secret to their bond. She said, "The reality is the glue for us is Jesus. It's the Bible. You know when there are arguments or we're compromising and in ways, it's always like 'Well, let's just go back to the Bible.' It's the foundation for us. So it's not about winning or losing. But doing this journey together."
Cameron reiterated the importance of the couple's Christian faith in an Instagram post commemorating their 25th anniversary. Among a laundry list of elements that have contributed to their successful marriage, which included things like grace, communication, sex, and patience, she wrote, "I believe God is the secret sauce." It seems like the Bures might be on to something here— according to at least one scientific study, couples who share a faith and regularly attend religious services together have a lower risk of divorce than couples who have no religious beliefs in common.
They adhere to traditional Christian roles in marriage
It should come as no surprise, then, that Candace Cameron Bure and Valeri Bure have chosen to adhere to traditional Biblical roles in their marriage. On more than one occasion, the actor has discussed the dynamics of their relationship, and specifically why she's chosen to take on a more "submissive" role. In her book "Balancing It All," Cameron wrote, "I am not a passive person, but I chose to fall into a more submissive role in our relationship because I wanted to do everything in my power to make my marriage and family work." She continued, "Don't for a second think I get walked all over. I don't. I have always firmly voiced my opinion, but when it comes down to us ultimately not agreeing on something, I submit to his leadership."
Cameron further elaborated in her HuffPost Live interview. "The definition I'm using with the word 'submissive' is the biblical definition of that," she said. "So, it is meekness, it is not weakness. It is strength under control, it is bridled strength." As for Valeri, Cameron wrote in "Balancing It All" that her husband is "a natural-born leader" with a "take-charge personality," but not to the point of being domineering. On Christian Women Online she reiterated, "Val doesn't take advantage of me, but rather gains respect for me, and chooses to love and honor me as I do him."
They're outspoken about the need for intimacy
Considering the couple's conservative Christian values, many fans may be shocked to learn that Candace Cameron Bure is outspoken about the need to maintain a certain level of intimacy with her husband. On the podcast "Confessions of a Crappy Christian," Candace spoke at length about her thoughts surrounding sex in regards to her faith and her marriage. She said, "[Sex] is a part of what makes our marriage work. … Sex is the blessing of marriage, and I hate when Christians are like, 'No, you have to pretend you've never had sex.' … If we are to promise ourselves for one another and preach saving yourself for marriage, then sex needs to be celebrated within marriage"
And celebrate it the Bures most certainly do. On multiple occasions, Cameron has chatted openly to interviewers about the more intimate parts of the couple's marriage. For example, on an episode of Daily Blast Live, Cameron said, "I think [sex] is important. You've got to keep it up. The longer you're married, it's so easy to take each other for granted. You know each other so well that you forget, so you have to keep it spicy. … My husband and I do." In a similar vein, she told OK!, "We have sex any time of the day, even if the kids are home." We love the sex-positive attitude!
Candace Cameron Bure's marriage hasn't been all roses
No one can say that Candace Cameron Bure and Valeri Bure haven't put in the work to make their marriage thrive, but despite their best efforts, it hasn't always been smooth sailing. For example, in the first half of 2020, during the early months of the COVID-19 pandemic, they went through a bit of a rough patch. Candace told Yahoo! Life, "It got really hairy after the first few months, like bad. All the things that we have avoided for years talking about, they all surfaced and they were in our face and it was unavoidable to actually have these discussions with one another and work through the 'real deal' crap."
Thankfully, the actor told Us Weekly, she and Valeri had the example of her parents, Robert and Barbara Cameron, who have been married for more than 50 years to look up to. "I've seen [their marriage] through the tough times and when you see people that are committed to each other to stick through those tough times and be willing to grow and learn and not walk away because that could be the easier choice, I mean, it's incredibly inspirational," she said. These days, having dealt with the issues, their marriage reportedly feels effortless and easy, the way it did back when they first tied the knot.
They're big believers in communication
Having open communication is important in any successful relationship— just ask Candace Cameron Bure and Valeri Bure. The couple are big believers in open, honest, and frequent conversations about their needs, telling People they've found this method to be the best way to keep "upholding the 'give-and-take' element of a marriage." The actor further explained, "It's really about talking and listening to one another. I hate using the word compromise because I feel like it sounds like nobody wins when you compromise. It's really about looking after your spouse's needs and then looking at your needs. If you really want to honor them, you try to do what's best for them and for your whole family. It's hard to not be selfish. That's really, I think, the key to a long-lasting marriage."
Fans can see how the Bures have applied this version of compromising in their relationship in how they've taken turns having more demanding careers. In the early '90s, after "Full House" wrapped and the couple got married, Candace retired from acting, choosing instead to stay home and raise the couple's three children— Natasha, Maksim, and Lev— while Valeri continued his NHL run. Then, in the early '00s, Valeri retired from professional sports and took a turn being the stay-at-home parent while Candace returned to acting. The give-and-take allowed both Candace and Valeri to have successful careers without sacrificing their close family connections and marital relationship.
They have frequent date nights
The nature of Candace Cameron Bure and Valeri Bure's careers means they often spend a lot of time apart. In 2018, Candace quipped to Us Weekly that the secret to a happy marriage was traveling a lot, "Because, you know, being away from each other makes the heart grow fonder." But just because the couple often finds themselves in different states, or even countries, working on separate projects, that doesn't mean they don't make time to be together. In fact, intentional date nights are a big part of their marriage.
In 2020, the actor told Closer the couple has loved having "dinner once a week by ourselves" or going for a walk "just to talk." Beyond that, as she shared with E! News, they also "make a point of taking a vacation every year without the kids" because "the alone time together is far and few." Regardless of how simple or extravagant that time together is, it's sacred to the couple because it keeps things from "falling into patterns." "I think that you should keep dating your spouse," Candace told Closer, "It can get monotonous at home." This little bit of extra effort can go a long way in keeping the spark alive, especially when you've been married for a quarter of a century like the Bures.
They own a business together
Another way the couple builds their bond is by running a company together. In 2012, following Valeri Bure's retirement from professional hockey, the pair decided to try something new, and turn their love of wine into a business. So they bought a vineyard in Napa Valley, California, and began Bure Family Wines. Today, their limited production wines, which include both white and red varieties, are award winners and are almost impossible to get your hands on unless you earn a coveted spot on "the list."
While Valeri handles most of the business side of the brand, he and Candace Cameron Bure both worked on renovating the home that came with the vineyard. The three-bedroom house needed some elbow grease when they first bought it, which "was actually perfect" according to Candace, because, as she told Wine Spectator in 2017, they "had no guilt" about redoing the entire home to suit the family's tastes and needs. As Val said, the renovated end result is a family estate that is "clean," "precise," and "well-thought-out" — a place that's perfect for entertaining, for spending holidays together, and enjoying good company and excellent libations.