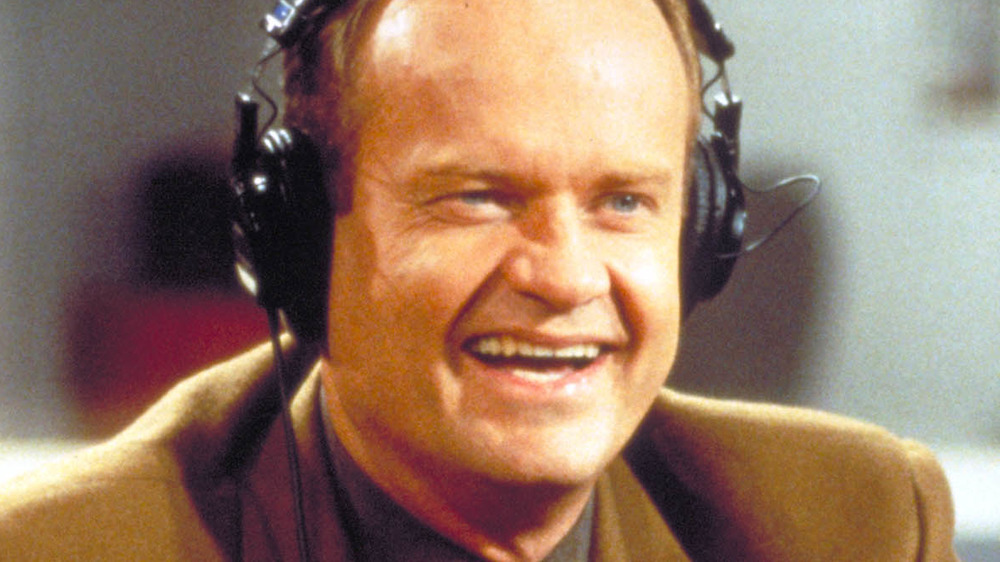 Throughout most of the 1980s and into the early '90s, the king of all sitcoms was NBC's Cheers, the ensemble comedy whose finale drew over 84 million viewers. During he course of its 11 smash-hit seasons, there'd already been one attempt to cash in on its success with a spinoff — The Tortellis, a total disaster that ended after half a season. But when Cheers ended, a trio of the series' veteran writers and one of its most popular stars teamed up to give it another try, resulting in one of the most celebrated comedies in television history.
On Frasier, Kelsey Grammer reprised his role as Dr. Frasier Crane, a psychiatrist who'd been a regular patron at Cheers' titular Boston bar for nine seasons. The spinoff sees him transplanted back to his native Seattle, where he reunites with his father (the late John Mahoney) and brother (David Hyde Pierce) and begins a new career as a radio personality. But more than that, Frasier would raise the bar for the network sitcom, simultaneously employing and mocking "highbrow" wit and sensibilities and bringing the joy of the old-school farce to modern TV.
Frasier matched its predecessor's 11-year run and remains the winningest sitcom in Emmy history, taking home 37 statues from a total of 107 nominations. And with a show this celebrated, there are so many behind-the-scenes details to explore, so let's take a look at the untold truth of Frasier and its legendary run.
Meet the writers behind Frasier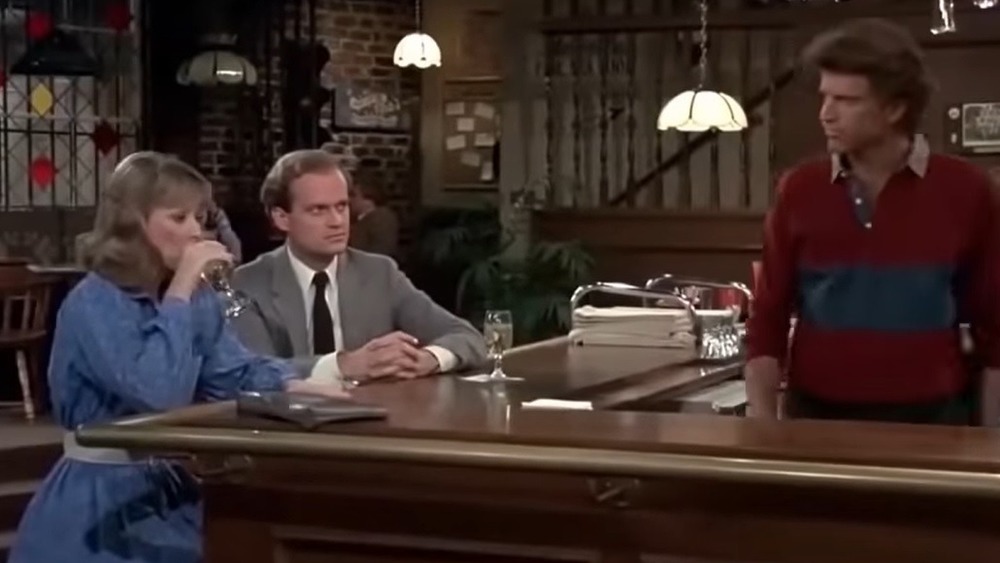 Officially, the character of Dr. Frasier Crane is the creation of Cheers executive producers Glen and Les Charles, but writers David Angell, Peter Casey, and David Lee – who would later go on to create the spinoff — played an active role in shaping the character from his infancy.
Angell's first writing credits on Cheers predate the introduction of Frasier, joining the crew during the first season in 1983. As for the duo of Casey and Lee, their first episode for Cheers (which they wrote while still under contract at The Jeffersons) was only Frasier's second appearance, written before the character even had a name or an actor cast in the role. A monologue from that script became part of the audition sides for casting Frasier, leading to Kelsey Grammer getting the part. Talking with GQ, Grammer recalled not getting a single laugh at his audition, but he must've nailed that monologue because he would end up spending the next two decades portraying Dr. Frasier Crane.
Casey and Lee received an Emmy nomination for their Cheers debut, but they couldn't join the writing staff full-time until 1985, after they completed their obligation to The Jeffersons. Eventually, Angel, Casey, and Lee left Cheers behind to create their own NBC sitcom, Wings, which debuted in 1990. And while Wings was a successful series that ran for eight seasons, fate would soon bring them back to their old friend Frasier Crane.
Frasier Crane started out as the most hated man on TV
The second season of Cheers ended with the breakup of Sam Malone (Ted Danson) and Diane Chambers (Shelley Long), the show's oil-and-water A-couple. The third season kicked off with "The Rebound," in which Diane returned to the bar sporting a new boyfriend, psychiatrist Dr. Frasier Crane. Frasier was introduced as an obstacle between Sam and Diane, the type of polished intellectual that Diane claimed to be interested in and the polar opposite of the coarse, blue-collar, wisecracking Sam with whom she was destined to return. So, despite being portrayed as a pretentious but overall pretty good guy, Frasier was, structurally, an antagonist on the show, standing in the way of the two main romantic leads getting together.
Actor Kelsey Grammer received mountains of hate mail and occasional harassment in everyday life for keeping Sam and Diane apart. Over the course of the third season, Diane and Frasier became engaged and even jetted off to Italy to get married, but Diane left Frasier at the altar, taking him out of the Sam and Diane equation. After the break-up, Frasier stuck around, took on a life of his own, and grew into one of the most popular characters on the show, remaining for the rest of the series and earning Grammer two Emmy nominations for Best Supporting Actor in a Comedy Series.
Kelsey Grammer didn't want to reprise Frasier in a spinoff
When the massively popular Cheers came to a close in 1993, NBC and studio Paramount Television wanted to replace it on Thursday nights with a show that would reliably retain Cheers' audience. A new series featuring a popular member of the Cheers ensemble in a leading role seemed like just the ticket, but Kelsey Grammer initially resisted the idea of a direct spinoff in favor of a totally new series.
Grammer had already approached former Cheers writers David Angell, Peter Casey, and David Lee about developing a new series together that, apart from its pedigree, would've had nothing to do with Cheers. They came to Paramount Television with an original and bizarre sitcom pitch in which Grammer played a disabled media baron trying to run his empire from his bedroom. This was roundly rejected by executive John Pike, who convinced the team to expand the Cheers franchise with a Frasier spinoff.
According to Entertainment Weekly, one of Grammer's conditions for spinning off Frasier was that he didn't want it to be a family comedy with Frasier and his wife and child from Cheers. Conveniently, since Cheers had ended with Frasier's relationship with his wife, Dr. Lilith Sternin (Bebe Neuwirth) in a precarious place, this was easily achievable. Lilith and their son, Frederick (Trevor Einhorn), would occasionally appear on the spinoff, but those relationships wouldn't be the center of the show.
The creators tried to distance the show from Cheers
Frasier co-creators David Angell, Peter Casey, and David Lee didn't want Frasier's status as a spinoff to become an excuse to play it safe, and they made efforts to distance their new show from Cheers. This included placing as much literal distance between Frasier and the cast of Cheers as possible.
The new series was originally going to be set in Denver, Colorado, far enough from Boston as to dismiss any demands from the studio to have characters from Cheers drop in for a visit. But after the state of Colorado passed some harshly anti-gay legislation, the producers decided not to bring their business to Denver and settled on Seattle, Washington. Seattle was a city largely unexplored as a setting on television and was a growing center of culture that offered story opportunities for the cultured psychiatrist, with the added advantage of being an additional 1,000 miles from Sam Malone.
The creators didn't only want to be different geographically from Cheers. David Lee said (via the Television Academy Foundation) that their goal would be to re-examine every convention of the sitcom and use only what they thought worked. They eschewed long-held sitcom structural standards such as exterior establishing shots and theme music between scenes, using plain white-on-black title cards over silence, instead. Responding against what they saw as a shortening television attention span, they also tried to keep scenes running for as long as they could remain funny, sometimes spanning an entire act.
Frasier's father-son story was inspired by the writers' experiences
Making Dr. Frasier Crane the host of a talk radio show was an idea that had been considered as an episode pitch during the run of Cheers, but it never came to fruition. This quickly became the core premise for the spinoff, with the writers gaining insight into the radio workplace from a visit to KABC's Dr. David Viscott's show in Los Angeles. But the emotional core of the series was born when series co-creator David Lee's father suffered a stroke, leaving Lee to realize that he may soon become caretaker to his parent. And co-creator Peter Casey's father had been a San Francisco police officer, so the two figures were combined to become Frasier's stubborn dad, Martin Crane.
From here, the rest of the show began to take shape. Since the radio workplace element was still going to be part of the show, Frasier would need a hand taking care of Martin, thus full-time health care worker Daphne Moon (Jane Leeves) joined the story. Like David Lee, Frasier would originally have been an only child, until casting assistant Sheila Guthrie gave the creators a photo of actor David Hyde Pierce and suggested he'd play well as Frasier's younger brother. The creators became interested in the idea of having a younger foil for Frasier, essentially serving as the person Frasier would've become if he'd never come to Cheers, and the character of Niles Crane was created for David Hyde Pierce.
Lisa Kudrow very nearly played Roz Doyle
Casting most of the regulars for Frasier was a breeze, as NBC happily pre-approved John Mahoney (Martin), David Hyde Pierce (Niles), and Jane Leeves (Daphne) before they were even certain the actors were available. The most difficult role to cast turned out to be Frasier's workplace foil, radio producer Roz Doyle. Co-creator David Lee has recounted that they weren't certain what they wanted from the character, and they brought in a wide variety of actresses to audition for the part and to see what they brought to it.
Eventually, the role was won by Lisa Kudrow, who'd done a string of guest spots on other sitcoms in the early '90s. Frasier's producers loved Kudrow's quirky persona and began to shape the character around her, but they found during the first week of rehearsals that Roz was losing her edge as a character and could no longer go toe-to-toe with Frasier. They called back to offer the role to their other favorite auditioner, Peri Gilpin, who happily accepted. These things happen in Hollywood, and Gilpin said (via Vanity Fair) there were no hurt feelings between the two actresses. Everything worked out just fine for Kudrow, of course, who would soon end up in the even more iconic sitcom role of Phoebe Buffay on Friends.
Production on the fourth season was suspended while Kelsey Grammer went to rehab
While reportedly a reliable professional on set, Frasier star Kelsey Grammer's personal story is punctuated by one tragic or unsettling incident after another. By the age of 25, he'd lost the grandfather who raised him to cancer, his father and younger sister to two separate grisly murders, and his two half-brothers to a scuba diving accident. Fueled by this shocking string of family tragedies, Kelsey Grammer has had a decades-long struggle with alcohol and cocaine.
Grammer's substance abuse finally became impossible to ignore early in the production of Frasier's fourth season in September 1996. Grammer was in a single-car accident while driving under the influence of alcohol, leading his friends in the cast to hold an intervention. They successfully convinced Grammer to enter rehab at the Betty Ford Center, where he stayed for a month.
In 2016, Grammer announced himself as "a reformed alcoholic" who drinks regularly in moderation, but he says he's given up cocaine for good.
Eddie was the diva on set
Speaking to the Television Academy Foundation, series co-creator David Lee recalls the cast of Frasier getting along exceptionally well, with relatively little conflict between the actors. Even during Kelsey Grammer's struggle with addiction, his professional and personal relationships among the cast have been described as mostly stable and amicable.
The real prima donna in the cast was Moose, the Jack Russell Terrier who played Martin's beloved pet, Eddie. While Eddie is sweet and benign, Moose was described in a 1994 Washington Post article as "unfriendly and businesslike." In the DVD featurette "Behind the Couch," Martin Crane actor John Mahoney seconded that description, adding that Moose eagerly cooperated with his trainer, Mathilde de Cagny, but had no interest in the rest of the cast. Kelsey Grammer is on the record saying that Moose also used to bite Mahoney, but then again, Grammer tends to be the one with the harshest words about his canine co-star.
Eventually, Moose began to split the role with his son, Enzo (painted to match his dad's fur), and those two didn't get along very well, either. Speaking with Vanity Fair, series co-creator Peter Casey called their relationship "one of those classic parent-child Hollywood rivalries."
The show was both less gay and more gay than people think
One reliable source of humor across Frasier's 11 seasons is the portrayal of Frasier and Niles Crane as having more in common with the stereotypes of a gay man than a straight one. Multiple episodes hinge on guest stars misreading their sexuality, leading to a series of escalating misunderstandings. But as series co-creator David Lee (himself a gay man) put it, the joke isn't that Frasier or Niles are secretly gay, as he feels some viewers have misinterpreted it. Instead, the joke is that they're straight but extremely against type. Series writer-producer Joe Keenan told The Advocate, "[Niles and Frasier] were metrosexuals a good five or six years before the term was coined."
Part of the reason why this line of humor has aged well on Frasier – where other older sitcoms doing "gay jokes" hasn't — is the influence of gay creators behind the scenes, starting at the top with David Lee and Joe Keenan. Keenan penned 24 episodes, including "The Matchmaker," a farce of sexual miscues which won an Emmy, a WGA Award, a DGA Award, and a GLAAD Media Award. And while Niles actor David Hyde Pierce's coming out and marriage to his longtime partner in 2008 is now common knowledge, fans today may not be aware that Dan Butler — who portrayed revolting, hyper-masculine sportscaster Bob "Bulldog" Briscoe throughout the series — was already out during the run of the show.