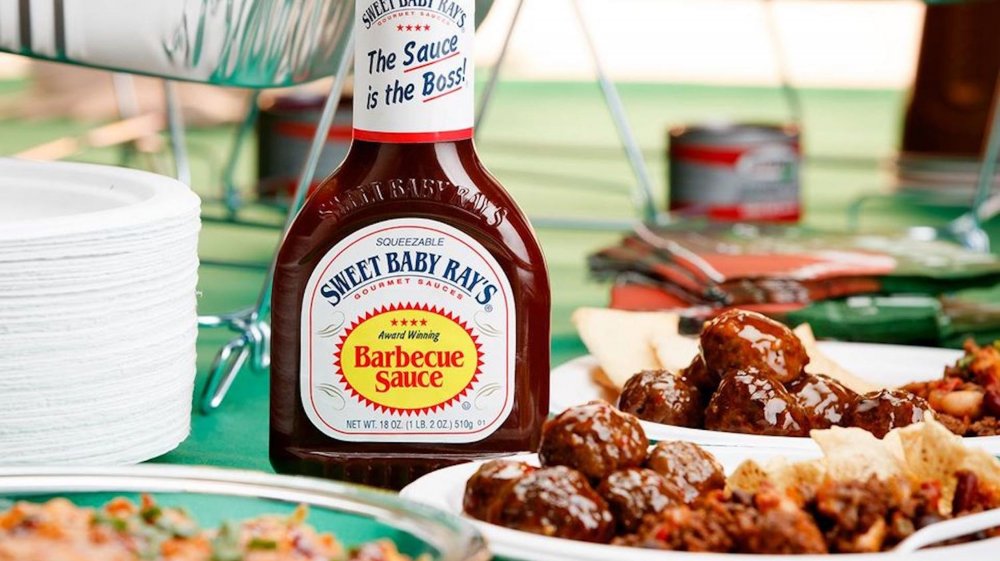 When it comes to barbecue, the sauce is one of the most important factors (unless you're at a Texas barbecue joint, but that's a whole different world of barbecue). Secret sauce recipes, commercial adaptations, and brand loyalty abound among amateur and professional pitmasters alike. Regardless of the preference, though, a vast number of barbecue fans appreciate, or have at least tried, Sweet Baby Ray's.
Sweet Baby Ray's lives by a saucy motto: "The sauce is the boss." And as one of the most recognizable names in the industry, this sauce is indeed the boss, though the sweet and tangy flavor isn't always the most appreciated. From humble barbecue beginnings to its omnipresent place on grocery store shelves, Sweet Baby Ray's has come a long way in the past three and a half decades.
Before you light up the grill and douse your meat in sauce, get the inside scoop on what makes Sweet Baby Ray's the barbecue legend that it is.
Sweet Baby Ray's got its start in a barbecue sauce competition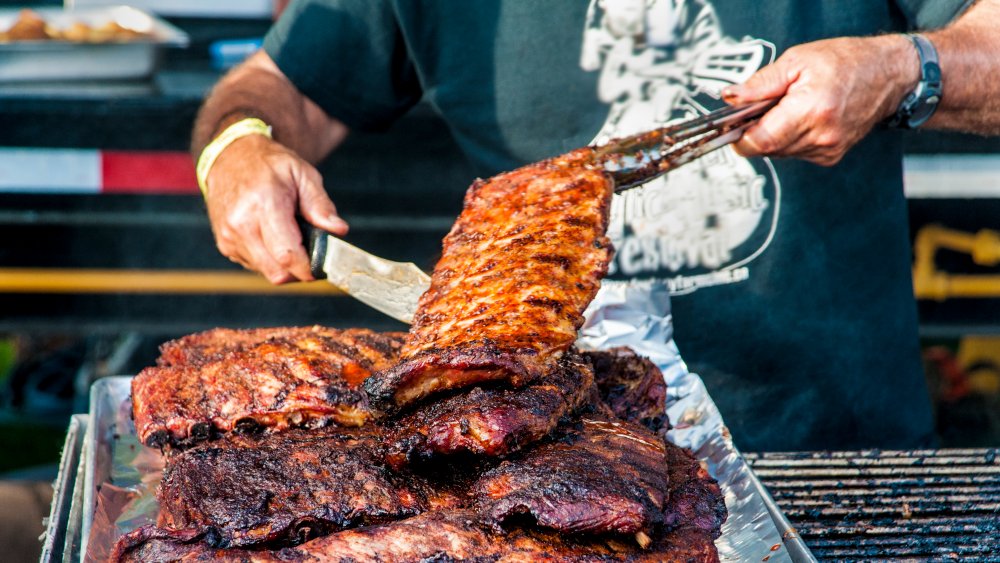 Larry Raymond was a young Chicago restaurateur before he was a barbecue sauce inventor. He did, however, have a family recipe for sweet and tangy barbecue sauce that he tinkered with starting around 1982, according to the Chicago Tribune. He had properly adjusted the recipe enough by 1985 that he decided to enter it into a local barbecue competition called the Mike Royko Rib-off. Sweet Baby Ray's company history notes that the competition was at the time the largest rib cook-off in the country.
Raymond landed in second place out of 700 contestants. A second place finish was more than enough. After all, the Rib-off had a reputation for crowning future barbecue stars. It was started by a popular Chicago columnist named Mike Royko, and in the first year of the competition in 1982, the winner out of 400 participants was Charlie Robinson. Robinson would go on to start a beloved barbecue chain of his own and sell a branded sauce within a year of winning, according to the Wisconsin State Journal.
Raymond found similarly quick success after being in the Mike Royko Rib-off. Sweet Baby Ray's barbecue sauce was incorporated by Larry, his brother Dave, and a childhood friend named Mike O'Brien a year after coming in second place.
Sweet Baby Ray's took its name from a basketball nickname
There's a story behind every beloved product name. Sometimes that story is manufactured, other times the name has an endearing history. In the case of Sweet Baby Ray's, the name came before there was even an inkling of starting a barbecue sauce company, Dave Raymond told the Chicago Tribune in 1990.
According to legend, Dave's brother Larry, named the sauce in honor of Dave's childhood nickname, Baby Ray. Dave earned the nickname while playing basketball on Chicago's west side as a kid. In a short documentary, Dave Raymond said that he grew up in a place where "you had to either kinda be in a gang or play sports" to go out, and basketball was a big part of his life. His brother was called Ray (short for their last name), so the younger Dave became Baby Ray.
One day, he told the documentarians, Dave's team was playing a bigger and older team. He made a fancy move during shooting drills, and one of the guys said, "Hey, that's sweet, Baby Ray." That stuck, and it eventually lost the pause between "sweet" and "Baby Ray". Larry went with the nickname when he entered the family's barbecue sauce into the Mike Royko Rib-off, and the rest is history. Since the early days of the company, Dave has been the face of the brand that's named after him.
There are more than 20 different Sweet Baby Ray's flavors and sauces
The brand has come a long way since that first family recipe that the Raymond brothers entered in the barbecue rib-off. Sweet Baby Ray's now has two lines of sauces, one for wings and one for barbecue. Many of the newer sauces appear to draw inspiration from all over the world. There's the Jamaican Jerk Wing Sauce, for example, and the Korean Barbecue & Wing Sauce. The brand offers the classics (and modern classics) as well, like Nashville Hot Sauce and Honey Barbecue Sauce.
In addition to barbecue sauces, Sweet Baby Ray's lends its name to a honey mustard and a creamy Buffalo dipping sauce. A teriyaki sauce is also in the lineup. Then there's Ray's Secret Sauce made with a horseradish base to go along with the original secret recipe of Sweet Baby Ray's barbecue sauce.
Despite all the options, there's a clear favorite for the brand: Original. The product description reads, "While we love every member of our family of sauces equally, the sweet, award-winning, taste of SBR Original will always have a special place in our hearts (and refrigerators)."
Sweet Baby Ray's gets its heat from the addition of Tabasco sauce
The original Sweet Baby Ray's recipe is well known for its sweetness. Some on Reddit have gone so far as to say that, "It's just sweet and that's it, no flavor besides that." Others on Reddit have compared it to corn syrup. According to the Chicago Tribune, Larry intentionally made it sweet to match with the name that had already been chosen, and because other chefs had recommended to do so. Still, there's a little kick of spice in there, too, and that originally came from McIlhenny's Tabasco from Avery Island, Louisiana.
"It is a unique blend of sweet, hot, and smoke designed to complement food flavor and not dominate it," Dave Raymond told the Chicago Tribune. "Used straight from the fridge it is spicier, but milder when heated." The addition of Tabasco gives a little acidity from the vinegar and a mid-level spicy heat from the Capsicum frutescens peppers. "Other sauces use bell peppers, curry powder or cayenne red pepper, which are cheaper ingredients without the same bite," Raymond said.
Sweet Baby Ray's creators sold the brand in 2005
Sweet Baby Ray's quickly grew from its early days of selling barbecue sauce locally around the Chicago area, and that attracted another company to buy the brand for $30 million in 2005. Duce Raymond, Larry's son, told the Chicago wedding blog Chi Thee Wed in 2019, that the buyout was the result of a success that started from the bottom. He clearly still keeps up with his father and uncle's business, telling Chi Thee Wed that Sweet Baby Ray's is the "best-selling barbecue sauce in retail history and they sell more than the next seven sauces combined."
The buyer, Ken's Foods, is a Massachusetts-based company that is best known for salad dressings. It was a win-win for anyone who wants easy access to Sweet Baby Ray's no matter where they live in the U.S. Ken's Foods has longevity (it started in 1958) and reach. According to the company, there are four manufacturing plants across the United States that put out more than one thousand types of dressings and sauces. The Sweet Baby Ray's Original, as well as its other flavors, kept the motto of "The Sauce Is The Boss."
Despite all the flavors, Sweet Baby Ray's has two main sellers
The Raymonds may have made their name and fortune in barbecue sauce, but Dave Raymond has one major piece of advice for anyone who is considering a run at doing the same: don't. Intense competition means competing for shelf space with big brands, which involves creating new flavors despite the majority of sales coming from the basic flavors.
Raymond told the Food Republic in 2012 that the only two flavors that sell well nationally are Original and Sweet & Spicy. Everything else — whether it's put out by Sweet Baby Ray's or other large producers like Kraft or KC Masterpiece — are done in an effort to take up retail shelf space. Keeping the shelf space and plotting ways to get more of it is front of mind for sauce brand owners.
The strong showing for the Original and Sweet & Spicy flavors makes sense. Sweet barbecue sauce is among the fastest-growing flavors, according to the restaurant industry magazine Restaurant Business, which analyzed mentions on restaurant menus. It landed at number seven in the fastest-growing just ahead of Alabama white sauce and behind honey barbecue flavor. The fastest-growing sauce mentioned on restaurant menus was sweet and tangy.
"If you like making sauce, don't get into the sauce business," Raymond told Food Republic. "You have to wear too many hats to actually cook anymore."
The founder went on to start another barbecue business under the Sweet Baby Ray's name
While Sweet Baby Ray the person may no longer be involved with Sweet Baby Ray's the sauce, he still can capitalize on the name recognition. As part of the terms of the sale to Ken's Foods, Raymond kept the rights to the Sweet Baby Ray's name, and he used it to start a catering company and a restaurant.
In 2005, the same year of the sale, Raymond opened a barbecue restaurant in Wood Dale, just outside of Chicago. Then he purchased True Cuisine Catering in 2010 to go along with Sweet Baby Ray's barbecue catering company. Duce Raymond, who is in business with Dave, added in his line of barbecue sauces: Duce's Wild BBQ Sauces. Combined, the businesses are called SBR Events Group, Duce Raymond explained to Chi Thee Wed.
The old and new Sweet Baby Ray's businesses are still deeply intertwined. SBR Events Group promotes its use of Sweet Baby Ray's barbecue sauce along with Duce's Wild BBQ Sauces. The restaurant in Wood Dale also has ten Sweet Baby Ray's house barbecue sauces exclusive to the location. The restaurant's website nods to Dave Raymond's former sauce business, though it leaves Larry, the original sauce recipe creator, out of it and instead mentions how Dave "and his friend and partner Mike O'Brien went on to build the most popular barbecue sauce brand in history."
Sweet Baby Ray's started with $2,000 and grew to $30 million before they sold it
Duce Raymond provided some hard numbers on the business side of Sweet Baby Ray's — both before and after the sale — when speaking with Chi Thee Wed. "They started with $2,000 and a dream," Raymond said. "In 20 years they [sold] their small sauce company to a 30 million dollar brand. About 17 years ago, we sold Sweet Baby Ray's to Ken's Foods and, since that time Sweet Baby Ray's has grown from a 30 million dollar brand to a 600 million dollar brand."
Hard data on the sales numbers are hard to come by since Sweet Baby Ray's was a private company before it sold, and its new owner, Ken's Foods, is a private company as well. Dave Raymond put the ballpark value of the Sweet Baby Ray's sauce brand in the $560 million range in a short 2016 documentary.
Sweet Baby Ray's is the best selling barbecue sauce, and has been for years
Despite a general lack of consensus on the value of the company, today Sweet Baby Ray's is one of, and at times the number one, selling barbecue sauce in the United States. In fact, it's been ahead of grocery store barbecue sauce competitors like Kraft, KC Masterpiece, and Stubb's for years.
The comparison site Statista put Sweet Baby Ray's well above the competition in 2014 with its total sales at $151 million annually. Another Statista data set from 2017 that was published in 2020 found that Sweet Baby Ray's "is the most popular barbecue sauce amongst U.S. consumers," and that more than half of the barbecue sauce purchasers in the poll bought Sweet Baby Ray's on a regular basis. Kraft Original and KC Masterpiece were tied for second, followed by Heinz barbecue sauce.
The Sweet Baby Ray dominance is no small feat, as sauce is truly big business. Statista expects retail barbecue sauce sales to bring in about $920 million in 2021.
Sweet Baby Ray's has a line of no sugar added, keto-friendly barbecue sauces
Dietary restrictions won't get in the way of eating Sweet Baby Ray's. In 2020, the brand released a low-calorie, low-carb, no sugar added version of the Original and Hickory flavored barbecue sauces. The sauce has just 1 gram of sugar and 1 carb, which caught the eyes of barbecue fans. One weight loss focused Instagram account described it as "way better than the regular, more smokey and less sweet." Sweet was built into the name to describe the flavor as well as pay homage to Dave Raymond's nickname, but this shows there's an appetite out there for something a little less saccharin as well.
If you look closely at the barbecue sauce ingredients, however, you'll notice that there is at least some presence of sweetener. Allulose, a low-calorie sugar originally from wheat, is the fourth ingredient right ahead of salt, and sucralose (Splenda) is in the category of ingredients that make up 2 percent or less of the product.
Sweet Baby Ray's makes products that keep other dietary restrictions in mind, too. According to the products page, 14 wings and barbecue sauces are gluten-free and 15 are Kosher certified out of the 20 available sauces.