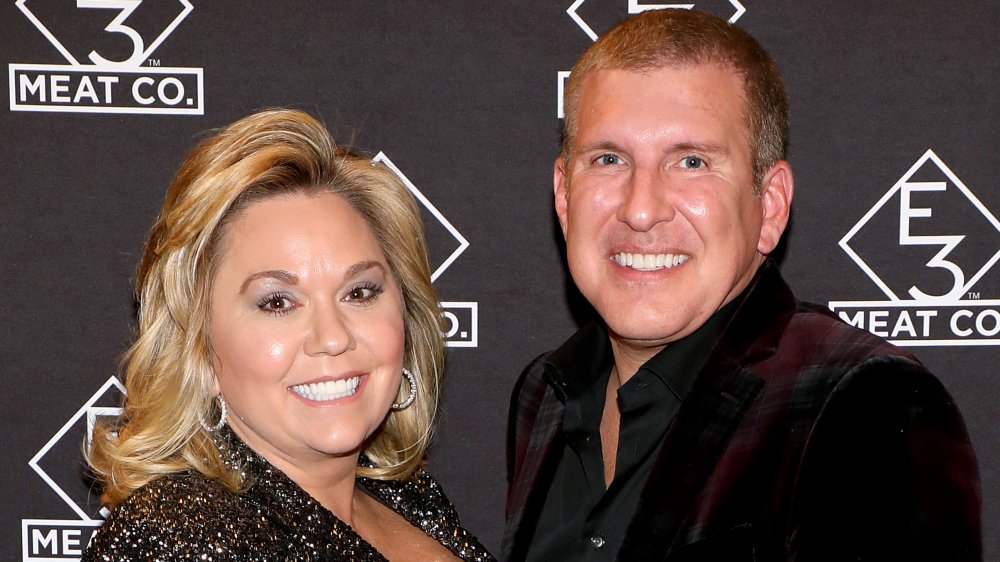 Todd and Julie Chrisley have overcome quite a lot since getting together in the '90s. From enduring health struggles to raising a blended family, not to mention the pressures of reality television, they have stood by each other for decades. If you watch their reality show, Chrisley Knows Best, the Chrisleys appear to have pretty much everything: money, a lovely home, a beautiful family, and, of course, each other. But that's just on the surface.
Reality TV can often be misleading, after all. Is the Chrisley family really as wonderful as they appear to be on television? Are the entrepreneur and his wife really as happy as they seem to be on the small screen? From their early days as a new couple to the seasoned married partners they are today here is a closer look at the facts — and drama — surrounding Todd and Julie Chrisley's relationship.
Both Todd and Julie Chrisley were married before finding each other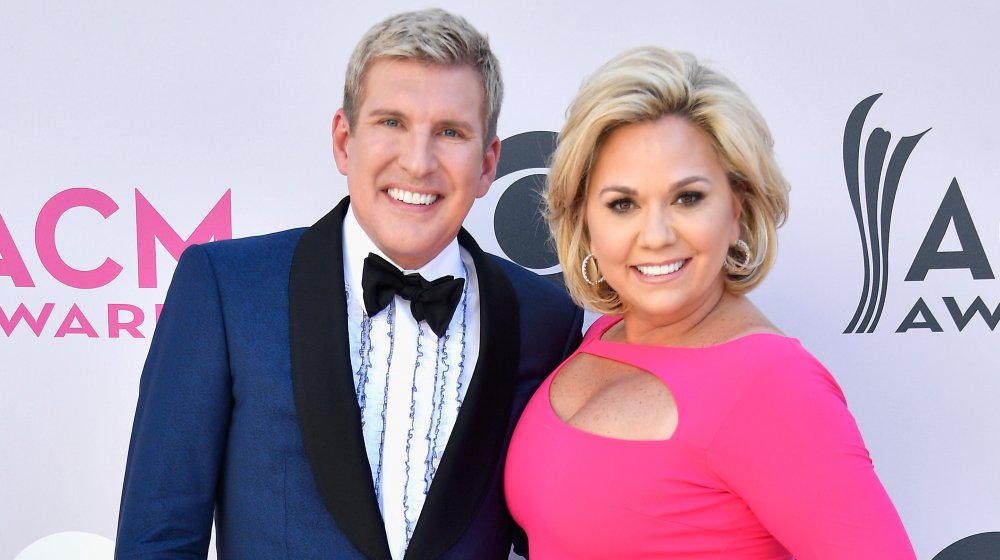 While Todd and Julie Chrisley have been together for quite a while, it's not the first serious relationship for either of them. Before finding each other, Todd and Julie were both married to other people. Todd married his high school sweetheart, Teresa Terry, when she was 19 and he was 21, the Daily Mail reported. The relationship between Todd and his first wife wasn't exactly a happy one and ended in a bitter divorce. Todd's ex-wife told to Daily Mail that the Chrisley Knows Best star was both mentally and physically abusive throughout their marriage.
Radar Online noted that Julie also married her high school sweetheart, Kenneth Wayne Childress, in 1991. She was only 18 years old at the time while her groom was 24. In 2012, long after the couple's relationship ended, Childress sadly passed away.
Julie Chrisley was allegedly still married to her first husband when she got involved with Todd
Julie Chrisley's early life has been the subject of much speculation. A source told Radar Online that Julie was never actually crowned "Miss Carolina" when she was a teenager in spite of her claims that she was a beauty queen in her younger years. The publication conducted its own investigation into the winners of both Miss North Carolina and Miss South Carolina and found no record of Julie's win. However, that's not the only murky detail from her past.
Another source told the outlet that Julie's marriage to her first husband ended in scandal. According to the reality TV star's former sister-in-law, Kellie Adair, Julie was still married to her first husband when she began seeing Todd. In fact, their relationship allegedly caused a fight between Todd and Julie's ex.
Although it's not known exactly when their relationship dissolved, it wasn't a very long marriage as Julie and Todd said "I do" in 1996. At the time, Julie was nearing her due date with the couple's first son, Chase, who ended up being born just a week after the nuptials, according to Radar Online.
Julie Chrisley legally adopted one of Todd's children from his first marriage
Combined, Julie and Todd Chrisley have five children. The couple has three children together, Chase, Savannah, and Grayson, while the two oldest Chrisley kids, Lindsie and Kyle, are from Todd's first marriage to his high school sweetheart. Nevertheless, Julie loves them the same as she does her biological children. In fact, she legally adopted Lindsie at Lindsie's request.
As Lindsie explained on the podcast Coffee Convos with Kail Lowry & Lindsie Chrisley (via PopCulture), she wanted to be adopted so that she could feel like she fit in better with the rest of the family. "I kind of felt like an outcast," Lindsie said, although she added that the family did nothing to make her feel that way. Still, the feeling of being an outsider in the Chrisley clan led to her deciding that she wanted Julie to become her legal mom.
It seems that her brother, Kyle, did not want to go through the adoption process, though, so Julie is only the legal parent of four of the five Chrisley kids.
There have been rumors that Todd and Julie Chrisley's relationship is "made for TV"
While the Chrisleys have a picture-perfect life on television, some people believe it's that and only that. Rumors have circled about Todd and Julie Chrisley's relationship for years, with some people claiming that Todd and Julie's relationship is all for show. In 2017, a source who claimed to be a USA Network employee told Radar Online that when the cameras aren't rolling, Todd and Julie live "completely separate" lives and their marriage isn't "authentic." They added that, off camera, Todd and Julie are nowhere near as affectionate with each other as they are on TV.
The source also alleged that it isn't only Todd and Julie's relationship with each other that is faked for the cameras, adding that Julie is completely different in real life and that, far from managing the Chrisley household, she and her husband "have a team of people underneath them" to handle all the household chores.
Julie Chrisley doesn't mind the rumors about Todd's sexuality
One rumor you may have heard about Todd and Julie Chrisley's relationship is that it's actually a cover for Todd's sexuality. Todd's own son, Kyle, told Life & Style (via Radar Online) in 2014 that he believes his father is gay. It's a conclusion that other people have come to over the years, including fans of Chrisley Knows Best.
Julie doesn't seem to mind the rumors, though, at least not according to Todd. Todd spoke on the Domenick Nati Show in 2017 and said that, while he is fully supportive of people who identify as gay and he believes that gay people "are the way that God has made" them, he isn't gay himself. He is, however, "flattered that people think I can get laid on both ends," adding that Julie is also flattered by the attention he gets from both men and women. Todd also said that with the number of people who find him attractive, he's "never going to have a drought."
Todd Chrisley supported Julie through her battle with cancer
Julie Chrisley is a cancer survivor and, according to Julie, it's all due to her husband Todd. Not only did Todd support his wife through her battle with cancer, but he's also the one responsible for making sure that she got her potentially life-saving diagnosis.
Julie, who underwent a double mastectomy in 2012 after being diagnosed with breast cancer, did not experience any symptoms prior to her diagnosis. And, at 39, Julie was young enough that she wasn't undergoing regular mammograms.
She only had one done because Todd, who had two friends fighting cancer, decided that he and Julie should get colonoscopies. He also encouraged Julie to get a mammogram, in spite of her age and the fact that she didn't have a family history of breast cancer. "I did it to appease him so he would shut up and leave me alone," Julie told the Tennessean. Thanks to Todd's encouragement and insistence, Julie's cancer was discovered early, possibly saving her life.
Todd and Julie Chrisley celebrated their 20th wedding anniversary in an unorthodox way
Despite all of the challenges that Todd and Julie Chrisley have faced — or perhaps because of them — their marriage has remained strong. The couple celebrated their 20th wedding anniversary in 2016. They must've went all out for their celebration, right? While you might've expected the couple to take an exotic vacation or, at the very least, throw some sort of lavish party (they are millionaires, after all), the way Todd and Julie celebrated their anniversary was surprisingly sweet and down to earth.
Todd told E! News that he and Julie "did a lot of freaky stuff" on their wedding anniversary, which, in the Chrisley household, apparently means watching Power in bed together. They also had dinner together and spent some time with their kids. It might not sound too exciting, but then, when your life is a television show, having a normal night in is probably a celebration on its own.
This is why Todd Chrisley always gives Julie jewelry
When it comes to giving gifts, it seems that Todd Chrisley opts for practical yet romantic presents. He likes to gift Julie with jewelry — and not just because it's a traditional gift or even because it's beautiful. "I always give her something she can pawn or hock, you know, if things get rough," he explained to told E! News.
It seems that Julie Chrisley has been given a lot of expensive jewelry over the years. In 2016, Julie and her company, Jubilee Investments, were ordered to pay nearly $21,000 as the result of what Scoop Nashville described as "a land-sale contract gone bad." Julie didn't pay the amount, so a judge signed an order to allow officers to enter her home and seize enough of her clothes and jewelry to pay off the debtor. While most people don't have enough jewelry on hand to pay off a debt of that amount, Julie has a sizable jewelry collection thanks to her husband. However, she ended up paying off the debt in full before her personal belongings could be seized.
Todd Chrisley said this is the secret to his relationship with Julie
Having a decades-long marriage is certainly an accomplishment, especially in the modern era when divorces are fairly common. How do Todd and Julie Chrisley keep their relationship successful? Marriage is a lot of hard work, after all, especially when you throw a blended family, running a business, and starring on a television show into the mix.
Todd told E! News the reason he and Julie have been able to weather all of their relationship's storms is their commitment to one another. It seems simple enough, but Todd swears that commitment is "the secret to any relationship," whether it's a marriage or not. Todd said that committed couples need to "be willing to get in there" and to "get your hands dirty." He also emphasized the importance of open and honest communication, as well as remaining loyal to each other. That's already a lot of excellent advice, but there's one more thing that Todd says a committed relationship needs: "a lot of sex."
Todd and Julie Chrisley worked hard to keep their kids "grounded"
When a couple has kids, their relationship ends up becoming not just about them but about their children as well. Todd and Julie Chrisley have worked hard not just on their marriage, but also at raising their family. While becoming famous figures thanks to Chrisley Knows Best certainly impacted their relationship as well as their lives, Todd and Julie wanted to ensure that things didn't change too much once their personal lives became immortalized on the screen.
In an interview with StyleBlueprint, Julie said that it was important to the Chrisleys that their kids remained "grounded" despite their new lifestyle. Accomplishing that is easier said than done, though, and Julie admitted that keeping the Chrisley kids down-to-earth "is probably one of the hardest jobs that Todd and I have." Julie added that she and Todd have always reminded their kids that Chrisley Knows Best is a great "blessing and opportunity" for the family and that they should all use their platform "for good" and to "pay it forward."
Todd Chrisley drew on his relationship with Julie to give this advice to his son
Rumors about their relationship aside, Todd Chrisley has proved his commitment to Julie. He speaks of her warmly and it's clear that he values their partnership. "There are very few Julies left in this world," he said an interview with the USA Network, adding that he was "very lucky" to find his wife.
Todd's marriage to Julie provided the foundation for the relationship advice that he later gave to his own son, Chase. Todd said that he raised his son to respect women and to remember that any potential date is also someone's loved one. He also emphasized the importance to his son of finding someone he is "evenly yoked with" because he believes that sharing the same values and having things in common is important in a relationship. At the end of the day, Todd wants his son to find someone who supports him through thick and thin, just as he and Julie support each other.
How Todd Chrisley's diagnosis impacted Julie and the rest of the family
When Todd Chrisley tested positive for coronavirus, he said the experience not only impacted his relationship with Julie, but also the rest of the Chrisley family. While the Chrisley Knows Best star made a full recovery, he did need to be hospitalized for four and a half days. In an Instagram post, Todd and Julie's daughter, Savannah, said the entire ordeal was scary and that her mother was distraught when Todd's test results came back positive.
Todd and Julie later provided fans with an update on his podcast, Chrisley Confessions (via People) and Todd went on to reveal that the entire experience was "life-altering" for not only himself but for the whole family. His health battle did seem to make him mentally stronger, though, with Todd saying that it taught him "to look around and see the things that truly, truly matter."
Todd and Julie Chrisley have stayed strong through legal struggles
Scandal erupted in March 2017 when more than $770,000 worth of liens were filed against Todd and Julie Chrisley by the Georgia Department of Revenue. The judgement was the result of an investigation by Channel 2 Action News, which reported that the Chrisleys hadn't paid state income taxes for years, with unpaid taxes dating back to 2009.
In 2019, NBC News noted that they were also indicted on 12 counts by a federal grand jury, with charges including wire fraud and conspiracy to defraud the United States. Later that year, NBC News noted that the couple had settled the tax case with the Georgia Department of Revenue, although this did not clear them of the federal charges.
The situation took a toll on the Chrisleys, but Todd and Julie presented a united front throughout the ordeal. The couple asserted that they had done nothing wrong and that all their legal troubles were due to the unscrupulous actions of a former employee. Todd explained their side of the story on Instagram in August 2019. "We have nothing to hide and have done nothing to be ashamed of," he said, in part.
Todd and Julie Chrisley live in a massive house
It's not surprising that Todd and Julie Chrisley live in a lavish home considering their celebrity status, but that doesn't make their mansion any less jaw-dropping; Julie forked over nearly $3.4 million for the 13,279 square-foot abode in April 2019. This was quite an upgrade from their previous home, which Bravo noted only set the Chrisleys back a fraction of the price at $1.6 million.
According to its listing at Zillow, the home has been put up for sale a few times since then — likely due to the couple's ongoing legal issues — but was quickly removed from the market each time.
The house, which is located in the suburbs of Nashville, boasts a number of enviable features including an indoor athletic court, two kitchens (one for caterers), and an in-ground pool. There's also plenty of private space for the large Chrisley family, as there are six bedrooms and 10 bathrooms in the house.
Todd and Julie Chrisley supported their daughter, Savannah Chrisley, through a devastating breakup
With so many kids in the family, Todd and Julie Chrisley are kept busy with parenting; while most of their kids are grown up now, they're still there to provide support. Their daughter, Savannah Chrisley, made headlines in 2020 when she called it quits with her fiancé, Nic Kerdiles.
Some people blamed Todd's overbearing personality for the split, but Savannah quickly defended her dad on the Chrisley Confessions podcast (via Life & Style). "Our relationship ended on our terms and because of us and things that we weren't giving each other," she said.
Julie publicly congratulated Savannah on making the difficult decision to call off her wedding. "I support her in whatever decision that she makes," she proclaimed on Access. "It's much easier to do it now than ten years down the road when you're married and have children… I applaud her for that."
Todd and Julie Chrisley have no contact with their daughter, Lindsie Chrisley
Todd and Julie Chrisley's relationship with Savannah Chrisley may be going well, but the same can't be said for their relationship with another daughter, Lindsie Chrisley. Things with Lindsie turned sour in 2012 when she eloped with Will Campbell. "I had a problem with the way the marriage started," Todd confessed to E! News in 2016.
Things got even messier in 2019 when Lindsie claimed her father and brother, Chase Chrisley, pressured her to lie for them. According to the police report obtained by TMZ, they allegedly threatened to release a sex tape she'd made if she didn't comply with the demands which sources claim to be related to the Chrisleys' tax fraud case. Lindsie has spoken about the estrangement, noting on the podcast Coffee Convos (via Life & Style) that she's been ignored by her parents in National Daughter's Day posts they made on social media that didn't acknowledge her.
Julie confirmed that she and Todd have no contact with Lindsie as of January 2021. "I wish her well, and, you know, that's it," Julie told Us Weekly.
Todd and Julie Chrisley are raising their granddaughter together
Todd and Julie Chrisley have also had a strained relationship with another of their kids, Kyle Chrisley. Kyle's struggle with addiction led to Todd and Julie getting custody of his daughter, Chloe Chrisley. While Todd told E! News in 2014 that he "want[s] what's best for him," Kyle claimed that Todd had a more nefarious reason for wanting custody of Chloe. "My dad showed no interest in Chloe at all until the show and until it was pointed out that having a mixed race child and getting her and all that would be good for his demographic," he told the Daily Mail.
The relationship between Todd and Kyle remained turbulent for a long time, but the two have since made up. In a 2019 Facebook post, Kyle said he hadn't "been the best dad to Chloe" and affirmed his love for Todd and Julie. "I just want to fix what I've done wrong so that I am able to forgive myself," he wrote, adding that he was sober and on good terms with his family. Kyle seems to have gotten closer to Chloe as well, and regularly posts family pictures on Instagram.
Todd and Julie Chrisley host a podcast together
Todd and Julie Chrisley may be most famous for Chrisley Knows Best, but it's not the only way they're sharing their story. The couple have also co-hosted their own podcast called Chrisley Confessions since 2018. Each episode is roughly an hour long, and a new one is released each Wednesday.
On their podcast, just as on their show, the Chrisleys don't hold back. While they do provide glimpses into their personal lives, they also give advice and explore a variety of other topics including religion, politics, and parenting.
In January 2021, it was announced that the podcast had attracted some pretty big attention, and had been picked up by podcast network PodcastOne. "Julie and I are looking forward to being part of the long tradition of outspoken and irreverent hosts in the PodcastOne family," said Todd (via Talkers). "And anyone who knows me knows that family means more to me than anything."