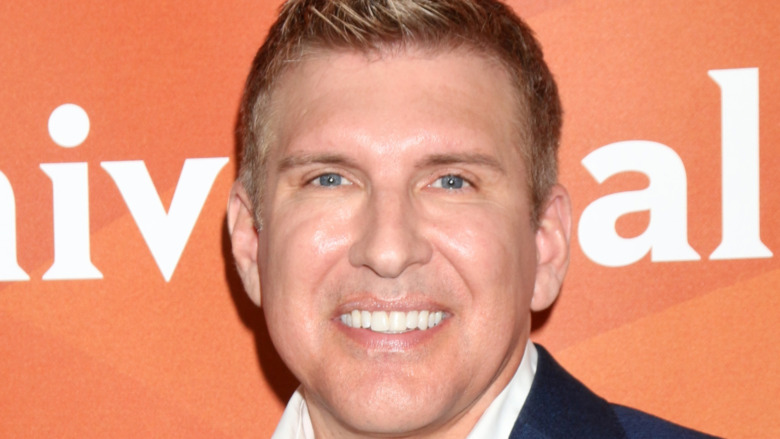 The Chrisley family first entered the reality TV world in 2014 with their hit show Chrisley Knows Best. As of this writing, the famous family has enjoyed eight seasons, and it seems like the sky is the limit in terms of potential. The show follows patriarch Todd Chrisley, and his wife Julie Chrisley, and three of their kids — Savannah, Chase, and Grayson. Todd's children from a previous marriage, Lindsie, and Kyle, have also made appearances in episodes as well, though the relationship with the two has been a rollercoaster ride (more on that later). Of course, there's also Todd's mother, the ever-so-loveable fan-favorite Nanny Faye, who everyone wishes could be their grandmother, too.
The show's success is evident, and many members of the Chrisley family boast huge Instagram followings. Todd has the most followers with 2.3 million, and Savannah is in second with 2.2 million followers on her page, while brother Chase has 1.2 million Instagram followers. The famous family began their journey in Georgia but later moved to Nashville — though their roots in Georgia still run deep.
Despite all of the successes from the show, it hasn't always been an easy road for one of America's favorite families. Keep scrolling to find tragic details about the Chrisleys.
Todd and Julie Chrisley's tax evasion drama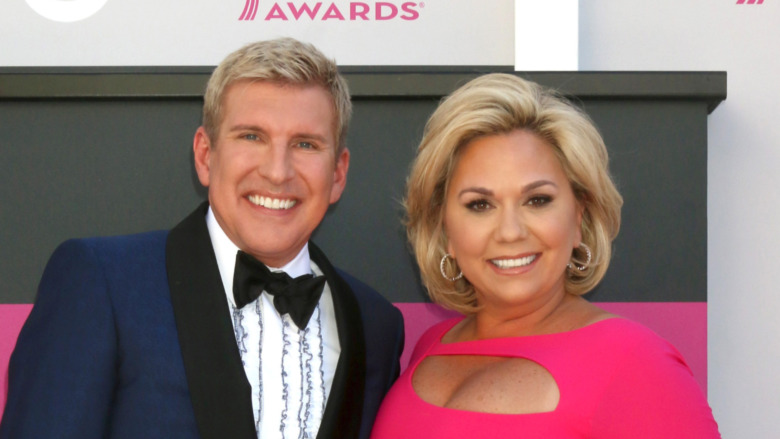 Todd Chrisley and his wife Julie Chrisley were once at the center of a huge tax evasion scandal that made headlines worldwide. According to 11 Alive, the Georgia Department of Revenue accused the pair of evading state taxes from 2008-2016. The state resolved its case with the Chrisleys in October 2019 after Todd and Julie paid $147,944.75 as part of a settlement. They were also refunded $66,000.
Todd has always been vocal about denying the allegations against them. In March 2021, the reality star spoke about the legal woes that he and his wife were at the center of on his podcast, Chrisley Confessions. The reality star shared that he would update further in April 2021 but did admit that there was "lying, cheating, stealing, [and] manipulating" going on with the Georgia Department of Revenue. "We have made the decision that we're going to sit back now, now that the work is done," he shared. "We have the things that we believe will shed so much light on that situation."
According to Distractify, the pair still faces federal charges brought to light in August 2019. The charges include "commit bank fraud, bank fraud, wire fraud conspiracy, wire fraud, conspiracy to defraud the United States, and tax evasion." According to the report, they failed to file income taxes in 2009, 2011, and 2012 and the IRS alleged that they submitted false financial statements to banks to receive millions in loans for their own personal benefit.
Todd's relationship with son Kyle Chrisley
Todd Chrisley's relationship with his son, Kyle Chrisley, has been a tumultuous one. As fans know, Kyle appeared in the first season of the series, but he became estranged from his family after that. In 2013, when Kyle was under the influence of drugs, he threatened to kill his father (per Radar). "I asked him what he had taken, and he said that he had smoked 'crack' the night before," the report from a responding officer read. "He later stated he spent $100 on 8grams of crack." When Todd arrived, Kyle shouted, "I'll kill you motherf***er."
In 2014, Kyle spoke to the Daily Mail about his relationship with his father, who gained custody of his daughter, Chloe Chrisley. "My dad showed no interest in Chloe at all until the show and until it was pointed out that having a mixed-race child and getting her and all that would be good for his demographic," he claimed. "He didn't want to see her before then. He said he wanted nothing to do with her." Kyle also stated that the show "ruined" him.
Luckily, the father and son duo seem to be on better terms as of late. In 2019, Kyle shared a lengthy post on Facebook to support his father amid the tax evasion scandal while revealing that the two were finally in a better place. In April 2021, he also shared a sweet Instagram post to wish Todd a happy birthday.
Julie Chrisley cancer diagnosis was a hard pill to swallow
Julie Chrisley was diagnosed with cancer in 2012, and at the time, it was a rough stretch for the family. Julie told The Tennessean that she got a mammogram at age 39 after husband Todd Chrisley had been bugging her to do so. Doctors found a lump in her breast and did a biopsy, and the results came back as cancer. The same year, she got a double mastectomy. Luckily, the doctors checked to see if the cancer spread, and it had not, so Julie didn't need to undergo chemotherapy. After her surgery, the matriarch said that's when she felt the most vulnerable following her diagnosis, but she said Todd was terrific when she took the bandages off her in the shower. "I truly believe that moment took our relationship to a whole new level."
The diagnosis was tough on the entire clan, and in October 2021, Savannah Chrisley shared a sweet post to honor her mother. "This woman…she's a superhero…my superhero! And I get to call her mama," she wrote before going into more detail. "During her battle with breast cancer, I NEVER ONCE saw her complain when she had every reason to," she continued. "This woman…she's a Proverbs 31 woman and she is MY MAMA! With the help of the good Lord above and the amazing team of doctors at Johns Hopkins my mama kicked cancers butt!! " We're so glad that Julie is okay!
Kyle Chrisley and drama with his exes
Just like Kyle Chrisley, Chloe Chrisley's mom, Angela Johnson, has a rough past. According to The Sun, authorities arrested Kyle and Johnson when Chloe was only one year old. When police arrested Kyle for assault, they also arrested Johnson for trying to defraud Medicaid and food stamps by claiming her daughter as a dependent. Johnson also accused Kyle of being abusive several times during their relationship and alleged that Kyle threatened to stab her when she was pregnant.
According to Radar, the court granted both parties a restraining order from one another in 2013. Kyle, Julie Chrisley, and Todd Chrisley also filed a legitimation suit against Johnson in 2013. The legitimation suit aims at establishing rights for the father (such as child support and visitation). According to The Sun, Kyle's other ex, Alexus Whilby Chrisley, also shared a tumultuous relationship with the reality star. Kyle reportedly made death threats against her, and there was an outstanding warrant for his arrest in Dekalb County, Georgia.
Kyle appears to be in a good place as of this writing, and on April 9, 2021, he announced that he and his girlfriend Ashley Nelson were married. "I've always known from the beginning that Kyle is who I would marry," Nelson told People. "To know the Chrisleys is to love them, and Kyle is no different." How sweet!
Savannah Chrisley's broken engagement
Savannah Chrisley's dating history has been a big storyline on the show, but it seemed like she finally found true love with NHL player Nic Kerdiles. The couple first met over Instagram in 2017, and the following year, they were engaged. In the summer of 2020, they announced that they would be postponing their engagement, and that same September, Savannah announced on Instagram that she and Kerdiles had called it quits for good (via Us Weekly), but there was no love lost between them. "There's no hatred between the two of us… and in all honesty… that makes saying goodbye even harder. We have nothing but love, respect, and admiration for one another, but it's time for us to move forward individually," she wrote on the since-deleted post. "These past 3 years have been some of the best years of my life… but I have to trust that God has a far greater purpose for my life… I believe that He will take this hardship and make something beautiful out of it. Now please be kind with this news that I am sharing."
In November 2020, Savannah spoke with Us Weekly about a potential reunion, and she didn't seem to close the door completely. "We're both so young and ambitious, and you know, we're trying to find our way in life," she shared. "No decision is ever permanent, so you never know what can happen. We have the rest of our lives to figure things out."
The tragic death of Julie Chrisley's brother
The following article contains mentions of suicide.
Long before fame and fortune, Julie Chrisley went through the traumatic experience of losing her beloved brother. Julie and Todd Chrisley sat down on an episode of Hollywood Medium with Tyler Henry when Henry said that he was getting a read on electricity. Julie linked it to her late brother, Trey. She shared that her father Harvey and brother were working on some power lines near a lake, and that was the last thing that they ever did together before Trey died in 2002 by suicide. Henry also got a read on Trey's thoughts regarding the situation. "He comes through very, very peaceful, but he is making a very profound connection to your dad, but the feeling is that dad never recovers or gets over this," he told Todd and Julie. "The reference is, 'When I died, dad … was never able to come back.' It's almost like your dad's life ended when your brother's did."
Julie was clearly overcome by emotion, but she seemed to be relieved at the reading that Henry had given her. "People that have met my dad after my brother passed, I'm like, 'But you don't know him before," she recalled. "He was so different before.' So, to hear Tyler say that 'When your brother died, he did, too' — There's so much truth to that. I'm very grateful for that."
If you or someone you know is having suicidal thoughts, please call the National Suicide Prevention Lifeline at 1-800-273-TALK (8255) or text HOME to the Crisis Text Line at 741741.
Todd Chrisley and Lindsie Chrisley's falling out
Kyle Chrisley is not the only member of the famous family who had a falling out. Todd Chrisley and his daughter, Lindsie Chrisley, also had a very public feud. It all started in 2019 when Lindsie sat down on Dr. Phil and alleged that her father and brother, Chase Chrisley, blackmailed her with a sex tape if she did not lie amid the tax evasion drama. Chase denied the claims in a statement to People. "I love my sister, and I don't understand why she's doing this to our family. Not only am I heartbroken over these false allegations by my sister — and they are totally false — but so are my parents and the rest of our family." Todd echoed his son's sentiments, saying that what Lindsie said: "was a complete lie, and now she's telling more lies about me." Todd also made claims that Lindsie had an affair with former members of The Bachelorette, Josh Murray, and Robby Hayes.
In April 2020, Rumors swirled that Lindsie was happy when her father got COVID-19 in April 2020, but she took to Instagram stories (via Life & Style) to deny those claims. "This is disgusting. My inbox is flooding with similar messages & I'm not here for it. Get right or get off my page," she wrote. The same year, she snubbed her father on Father's Day and didn't include him in her Instagram post. In January 2021, Julie Chrisley told Us Weekly that Lindsie was still estranged.
Kyle Chrisley's scary hospitalization
The following article contains mentions of suicide and substance abuse.
As if there wasn't enough drama that the Chrisley family has already gone through, go ahead and add in a hospitalization. In August 2019, Todd Chrisley shared a photo of the entire family (minus Lindsie Chrisley) surrounding Kyle Chrisley's hospital bed. "NOT TODAY SATAN, NOT TODAY… God shows up and shows out , now won't he do it? Kyle is great and we are back to the grind," he wrote in the post. In September 2019, Kyle opened up about the reasoning behind his hospital stay on an episode of Chrisley Confessions. "I take medication, and I had a bad side effect to it, and I tried to take my own life," he revealed. "With the meds, I got all kinds of crazy thinking going on." "Well, I think some of the medications they put you on — that you had not been on — one of the side effects is suicidal tendencies, and we're now off of that," Todd added, and Kyle agreed.
Luckily, he seems to be getting along with his famous family these days. As of this writing, Kyle has a relationship with both his father and step-mother, Julie Chrisley, and wrote a sweet Instagram post to honor her on her birthday in January 2021. "Happy Birthday to the mother I don't deserve @juliechrisley I could never repay you for everything you've done for me," he wrote. "I love you so much and hope you've had the best day!"
If you or someone you know is having suicidal thoughts, please call the National Suicide Prevention Lifeline at 1-800-273-TALK (8255) or text HOME to the Crisis Text Line at 741741.
The Chrisley stalker
With money and fame can come some scary situations, like stalkers and crazed fans. On an episode of his podcast, Chrisley Confessions, on March 31, 2021, Todd Chrisley opened up about a frightening ordeal that he and his family dealt with. "We've been dealing with this stalker situation, and it has now gone to another level," Todd revealed to fans. "I mean to where we have 24-hour security. He has been arrested multiple times… He's gone to jail, I mean … you name it, he's done it."
Todd also revealed that the stalker has an infatuation with his daughter, Savannah Chrisley, and he even purchased her phone number so he could call her. "It's to the point now… where none of us get any sleep because we're worried," Todd shared, "even though we've got security guards outside of our home walking the perimeter of the property doing everything they need to do." Julie also shared that she doesn't go anywhere without extra security with her. Todd also touched on the topic of a stalker in an Instagram post in March 2018, revealing a similar situation. "There was a man trying to abduct [daughter] Savannah from her college," he wrote. "Police have had to get involved for stalking." How terrifying.
Todd Chrisley's ex-wife, Teresa Terry, doesn't have nice things to say about him
It's hard to believe that Todd Chrisley was married before Julie Chrisley, because, let's be honest, those two lovebirds just seem like they were made for one another. Todd and his first wife, Teresa Terry, have two children together — Kyle and Lindsie Chrisley. The couple first met in high school and they were married for seven years. In 2014, Terry sat down with the Daily Mail, claiming that Todd is nothing like the man that everyone sees on television. In court documents that were obtained by the outlet, Terry accused Todd of a laundry list of things including a "campaign of mental and physical abuse" and she also claimed that he threatened to kill her.
She also shared a surprising revelation about their marriage. "Most likely we wouldn't have married if I hadn't been pregnant but we did and it was a big deal," she told the outlet. "There were six attendants on both sides and even though the town where we lived wasn't big the church was full." She revealed that Todd's need for everything to be perfect irked her. "I like to put on a ball cap, put my hair in a ponytail and go out. But with him your hair always had to be fixed and you had to be dressed to the tens," she dished. "I grew tired of being constantly corrected and I would run my mouth." Yikes.