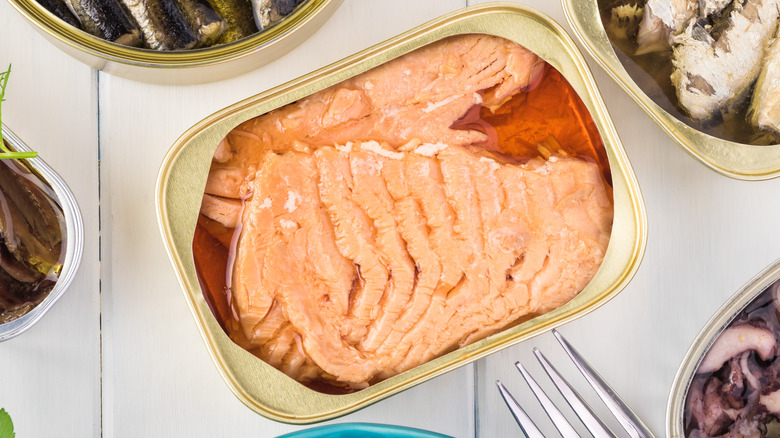 We may receive a commission on purchases made from links.
If you're looking for a food that's nutritious, convenient, and affordable, look no further than canned salmon. While it certainly doesn't sound exciting, what other food provides all of the above, as well as unmatched versatility? Canned salmon can be eaten directly out of the can, but you can also throw together a salmon salad to spread on crackers, make it into salmon patties or add it to pasta, pizzas, quiches, and wraps. Another bonus? It's not nearly as fishy as canned tuna.
As if all of that wasn't thrilling enough, canned salmon is also rather nutritious. It's got vitamin D, omega-3 fats, and great levels of protein (via Unlocked Food). Some brands of canned salmon are cooked so that the bones are edible and if that's the case, it'll also contain calcium.
There are plenty of brands of canned salmon out there. Some are produced by big canned fish brands, and some are a bit more independent. Some are farmed sustainably, others aren't. We sorted through the variety of options, so keep reading to see our pick of canned salmon brands ranked from worst to best.
Kirkland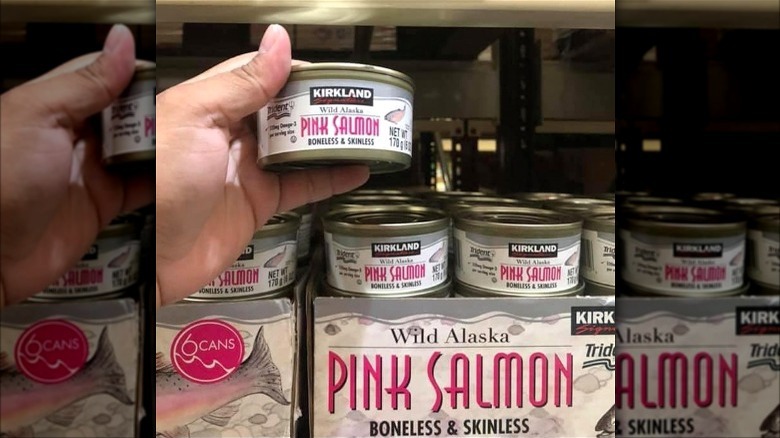 As Costco's house brand, Kirkland has plenty of experience with making budget-friendly versions of some pretty standard consumer goods. It tries its hand at a range of products, often successfully, but its Wild Alaska Pink Salmon has yielded some pretty mediocre results.
Said one Amazon reviewer, "The problem I have with it is that it is very gritty. There may not be any skin or bones that are obvious, but there are hard pieces of bone throughout the salmon. It was like eating tiny pieces of gravel."
If you're lucky enough to not have any hard pieces in your can, then you may actually notice an overall mushy texture that isn't too pleasing. Also, while the salmon is wild-caught and has a "Certified Responsible Fisheries" badge on the package, there isn't any other information about the source of Kirkland's salmon, which gives us some hesitation. It's not absolutely horrible, but pretty much any other brand would be better.
Chicken of the Sea
While Chicken of the Sea does offer a version of canned salmon with skin and bones, we're taking a look at its chunk style pink salmon that is both skinless and boneless. One Walmart reviewer said, "Not impressed with this stuff at all. Bland little bits of almost mush. Doesn't seem like salmon at all." It's as though Chicken of the Sea wanted to replicate its famous tuna and made a salmon in that same style. That's not the texture we want in salmon.
Unfortunately, this product lacks flavor and is overall very forgettable. It's not that it's terrible; this salmon would certainly work in a recipe if you had no other options. But canned salmon can be a wonderful way to impart flavor into a meal, and this just isn't it.
While this may be one of the cans you're most likely to spot in a supermarket, you're better off skipping this one.
Bumble Bee
Bumble Bee is another big name in the canned fish market. The brand actually dates back to 1899 when it was founded by a group of seven professional fishermen in Oregon, according to Funding Universe.
Today Bumble Bee markets its seafood as the original superfood that's more nutritious and convenient than protein powders and granola bars. And while that's an exciting proposition, how good is the salmon?
Well, this particular can of salmon includes skin and bones, which adds more nutrients. The flavor of the salmon is pretty standard — nothing remarkable, but it does have a nice, pure salmon flavor. The only problem with Bumble Bee is that even though the skin and bones are expected, there's other stuff in the can as well including scales and who knows what else. One Target reviewer said, "Expected skin and bones. That is standard. Did NOT expect scales and whatever else that mess was. Gross. VERY disappointed."
Maybe you'll have better luck with your can of Bumble Bee but with the hit-or-miss nature of this manufacturer, it's better to go with a brand that can promise more consistency.
StarKist
With just one taste of StarKist's skinless boneless wild pink salmon, it's clear that the brand is a mega-producer of canned fish. That's because its jumbo lump salmon tastes eerily similar to its signature product — tuna.
StarKist, founded in 1917, was originally named the French Sardine Company (via StarKist). Today it is one of the leading brands of tuna but how does its salmon stack up? Well, it's unfortunately not pink as its name suggests. And instead of having a rich salmon flavor, it is just far too close to tuna fish to be enjoyable as salmon. One Amazon reviewer also wasn't convinced and said, "to me it was tuna. the color. the taste and smell were all tuna." Because the salmon is packed in water, it's flaky and broken up into chunks, which is yet another way in which it's all too reminiscent of tuna.
There are plenty of other canned salmons that bring flavor and just the right amount of salmon essence. If you see this in the canned fish aisle, you can keep moving.
365 Everyday Value
Whole Foods' proprietary brand 365 promises to deliver ingredients of the highest quality at affordable prices (via Whole Foods). The brand offers everything from jellies, desserts, bread, sauces, and vitamins. But 365's salmon is particularly interesting because "Non BPA lining" is printed on the can, which indicates that there was no bisphenol A used in the lining of the can. This is important because studies have linked BPA to a number of health issues, though more research is necessary to fully understand its effects.
We can get behind the BPA-free cans, but this salmon is just too dry to be enjoyable. This is particularly odd because this variety does include bones and skins, which usually impart a certain amount of delicious oil. Perhaps Whole Foods is overselling the quality of its 365 products because although this canned salmon isn't bad, it's not as good as you would hope. An Amazon reviewer agreed: "Not completely inedible, but not something I would buy again."
Trader Joe's
If you're a die-hard Trader Joe's lover, you likely see the store's products through rose-colored glasses. The store normally puts out some fantastic goods across a wide range of categories — from household cleaner to frozen meals. Unfortunately, this canned Trader Joe's Sockeye Salmon is not one of them.
There are skin and bones in this can of salmon, which works well here. But what doesn't work is the overall flavor and texture. Perhaps it's because the other Trader Joe's products have set the bar super high, but this canned salmon is disappointing and unremarkable. Yes, you can doctor it up by adding spices, but for those who want a straight-from-the-can snack, this canned salmon is not the best option.
Canned salmon is an exciting dining possibility because of its convenience, but that doesn't mean you have to sacrifice on flavor. Trader Joe's reviewer Everything Joe's said, "A bit dry, not all that flavorful, slightly bitter … Just … blah … that's all I can say." Still, blah is better than bad, so this can ranks around the middle of our list.
Vital Choice
By packing its salmon in a small 3.75-ounce can, Vital Choice is fully prepared to have its wild red sockeye salmon gobbled up straight out of the can. (most other cans of salmon on this list are 7.5 ounces).
A Vital Choice reviewer was a fan of both the bones and the serving size: "Once you try this it will be hard to go back to any other canned salmon. The tender bones are a bonus and packed with extra nutrients. Also, the size is a perfect single serving — often cans come in awkward portions — too much for one serving but not enough for two."
Vital Choice says that it's committed to only canning sustainable salmon, and the company also touts the health benefits of wild Alaskan salmon. The company's fish is bright pink in color and has a rich delicious flavor. This looks like high-quality salmon and has a taste to match.
Pure Alaska Salmon Co. Redhead
Whether or not to get a version of canned salmon with bones and skin seems to be a contentious topic. The canning process softens the bones and skins making them completely edible, according to Science Direct, so there's no need to pick them out.
Whether you can get past the texture and appearance of bones and skin is another question. If it's possible for you to get past the visual, you're in for a treat because Redhead Wild Sockeye Salmon from Alaska is a high-quality canned salmon that's full of flavor. It's rich and tasty and when you mash it up with a fork to incorporate the skin and bones, it's delicious directly out of the can.
It is around $6.50 per 7.5 oz can, making it an expensive canned salmon (via Amazon). The pricing simply isn't attainable for every budget and for that reason it didn't come in higher on the list. But if you are looking for high-quality, flavorful salmon from a company that stands behind its product, this won't disappoint. We also love that there's a level of transparency about the harvesting process that isn't available from some of the larger canned salmon brands.
Rubinstein's
Trident Foods has several lines of canned and prepared seafood under it, including Rubinstein's. The company is proud to partner with thousands of independent Alaskan fishing families to provide fresh fish for its canning operation, according to its website. It feels nice to support a seafood brand with initiatives like that in place.
Rubinstein's is a smooth and pure tasting salmon, so you know you're getting high-quality product. That makes sense because red salmon is known for being fattier and richer than pink salmon (via Dr. Gourmet). Although both red and pink salmon are generally equal in health benefits, pink salmon has a lighter flavor profile.
One Trident reviewer appreciated the flavor: "It is the tastiest canned salmon I've found and I've tried quite a few. I made a salmon salad sandwich added cut-up celery and some mayo to it — put it on some bread with lettuce. It is delicious."
Double Q
Double "Q" is a brand that sits under the umbrella of Peter Pan Seafood. For $4.37 per 14 3/4-ounce can at Walmart, it's a good value for canned salmon.
What we appreciate most about this brand is that it's moist straight out of the can. The trick to making the perfect salmon patty that won't fall apart is to have a good amount of moisture in your mix. That's why Double "Q" is the perfect salmon to use to make that ideal salmon patty. And while you will still need to add some mayonnaise or mustard and egg to bind the patty, the salmon is a great start. Conveniently, Double "Q" also includes its very own recipe for salmon patties right on the can.
Overall, Double "Q" delivers solid taste and texture for a good price. It drives home the fact that you can indeed have quality for a good value.
Crown Prince
Crown Prince has an informative website that gives the sources of each of its lines of seafood. The sardines, for example, are from the Northern Coast of Scotland and the salmon is wild-caught in Alaska (via Crown Prince). If you're someone who likes to know more about the origins of your food, you may find some peace of mind in knowing that Crown Prince has you covered.
It's important to know that Crown Prince wild-caught pink salmon includes skin and bones. There are actual chunks and filets of fish in the can as well as some water. It's nice and dense salmon that tastes almost like it's fresh. There's also no salt added so you can go in and adjust the salt level in your recipes to your exact wishes.
We like one Amazon reviewer's idea of keeping a few cans in the pantry to make an easy dish for unexpected guests. They said, "I mash-in the soft bones with the fish in a bowl, use some dill for flavoring and a bit of light mayo and, just with my fork, I can make up a batch of salmon pate which tastes like restaurant quality!"
Safe Catch
Salmon is generally considered to be lower in mercury than other seafood options. Mercury levels in salmon are on average about .022 ppm, which is lower than other fish like swordfish and orange roughy (via Better Health).
But there's still a hierarchy of mercury content among salmon brands. California-based canned fish producer Safe Catch claims to have the lowest mercury content of any brand. It also cans sustainable seafood that is wild-caught.
Safe Catch proudly uses BPA-free cans, as well. But all that means nothing if the salmon isn't delicious. The good news is that the salmon is delicious. It has a true salmon flavor and because Safe Catch doesn't add water or oil (or anything else besides salt, for that matter) all that's in each can is salmon and its natural oils. It's dryer than some other brands but will work well in recipes like sushi rolls. This can is also skinless and boneless, which will be much easier to manage for those who prefer to eat it that way.
Wild Planet
Rating canned salmon is pretty straightforward. It should taste like salmon, of course, but that's easier said than done. Some brands are too fishy, while others don't taste enough like salmon. For something that is in the sweet spot — fresh-tasting but fishy where it counts — there's Wild Planet.
Wild Planet is another company that's totally transparent about its fishing practices. For example, the canned salmon's fishing method is listed as "Single-species drift and set net. Fish Aggregating Devices (FADs) are never used." And the brand even includes a harvest location on its website.
"I asked a lifelong friend who grew up in Alaska and retired to Florida about this salmon. She said this is the real deal to have in the pantry for the months when you cannot get fresh wild-caught Alaskan. I was also advised to avoid Atlantic since much of it is farmed," said one Target reviewer.
Wild Planet's salmon does contain some sea salt but other than that, Wild Planet's skinless and boneless salmon checks all the boxes for the salmon of our dreams. Wild Planet salmon is for when you want the world's easiest meal — just dump a can of salmon in a bowl, mix with some mayo, spread on a cracker, and enjoy.