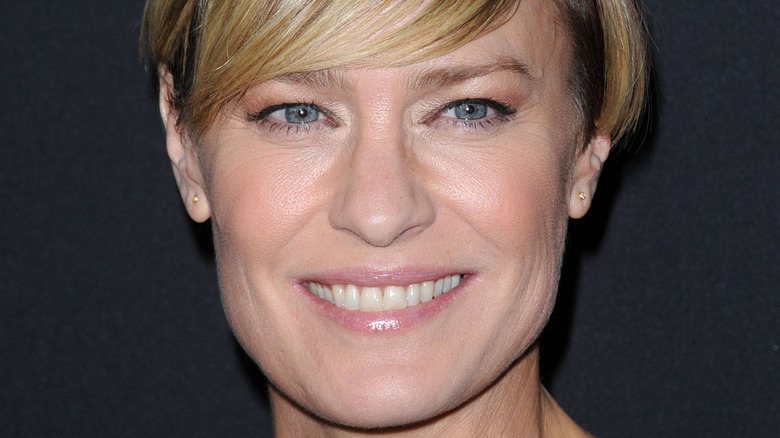 Robin Wright and Sean Penn are both heavyweights in Hollywood in their own right. Combine the two and you've got some impressive superstar forces at work, but a union between them wasn't destined to last.
Wright kicked off her career with TV work, playing Barbara Sue Anderson in the series "The Yellow Rose" from 1983 to 1984 and in the soap opera "Santa Barbara." As fate would have it, she was cast shortly after to play Princess Buttercup in the 1987 cult classic "The Princess Bride." Love for this film stood the test of time, especially for Wright. "I loved that it was about true love and that she would never give up and nor would Westley," Wright told Entertainment Weekly in 2021. "You always dream about as a little girl but I never stopped dreaming about that." A very fitting statement for a look at one of her most notable relationships!
Penn was a little farther along in his career when he met Wright. He started off his career, like Wright, in a TV series, playing Kid in "The Little House on the Prairie" from 1974 to 1975. Things kicked off for him with movie roles in the early '80s like "Fast Times at Ridgemont High," and they didn't slow down. "I got the part and had a blast," Penn told GQ of his time playing Jeff Spicoli. Their lives changed when both stars were cast in "State of Grace." A headline-making romance took off from there, but here's what we know about Sean Penn and Robin Wright's divorce.
Robin Wright and Sean Penn were both married before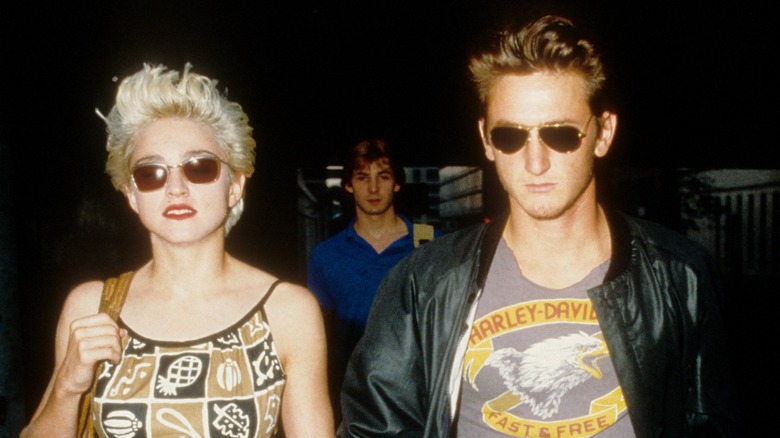 Both Sean Penn and Robin Wright had been married before they met each other. Wright had tied the knot with Dane Witherspoon, her co-star on the soap "Santa Barbara." They wed in 1986, according to the Daily Mail, but split up two years later. Witherspoon sadly died in 2014 at the age of 56.
Penn was married to Madonna from 1985 to 1989. While together, she released her record "True Blue. It was dedicated to Penn, whom she called "the coolest guy in the universe" in the album notes, People reports. Even though they divorced, Penn and Madonna stayed connected for years. In 2015, she performed at Madison Square Garden in New York City, and Penn was in the front row. That same year, the Queen of Pop posted a throwback photo of the couple together on Instagram taken by Herb Ritts. While Penn and Madonna have stayed friendly, their divorce was acrimonious, and it was hot on the heels of this separation that Penn first met Wright.
They met on set of the 1990 crime drama "State of Grace," as previously mentioned, and fell in love quickly — and the relationship offered a form of growth for both of them. Wright told Vanity Fair in 2015: "I grew up very fast as a young girl, but I grew slowly into my womanhood. We were learning as we were going along." And learn they did, as Wright and Penn welcomed two children.
Having children impacted their lives
Robin Wright and Sean Penn had their first child, a daughter named Dylan, in 1991, and in 1993, they welcomed their son, Hopper, per People. They had their children first, before marriage. "I was pregnant and ostensibly married at 24," Wright told Vanity Fair. The star chose to go by Wright Penn at this time, explaining, "I did it [changed my name] really for my children because we'd had kids before we married, and I thought that we should all have the same name. That's traditional."
They were very deliberate about the ways in which they raised their kids. The couple moved to northern California, leaving Los Angeles, to give them a more bucolic childhood. But this decision impacted Wright's career, especially. "We agreed as parents that we'd not work at the same time, so that one of us was always with the kids," she said. "He was making more money than I was at the time, so it was a simple decision: 'You go work — I'll stay with the kids.'"
Part of this impact was also Wright's reticence in the face of fame, especially compared to Penn's massive success. She told Net-A-Porter in 2017 that she found fame "daunting" and said, "I didn't know what to do with it. I turned down doing the cover of 'Vanity Fair' because I was so petrified of sharing myself. I was married to Sean Penn at the time, and I knew that all they wanted to know was what color underwear he wore."
What's Jewel got to do with it?
Robin Wright and Sean Penn had a lot of strengths as a couple, especially when it came to their mutual art. "We got along great as creative people," Wright told Vanity Fair in 2015. "Acting together, him directing me [in 'The Crossing Guard' in 1995] — that was great."
Despite this common ground, the couple went through several breakups along the way. They had their children before they were married, as previously mentioned, and prior to tying the knot, Penn and Wright split briefly. During this time, he set his sights on singer-songwriter Jewel after seeing her on "Late Night with Conan O'Brien." In her book "Never Broken: Songs are Only Half the Story," Jewel explained how she was with her father in Alaska when Penn called their home until he got through to her. Fun fact: the musician's dad thought they were prank calls at first from a fan. "He … was working on a movie he'd written called 'The Crossing Guard,'" Jewel wrote. "He wanted me to compose a song for it."
While Jewel did this, Penn also started to pursue her romantically. "He began to court me in earnest, following me around on tour, acting as my de facto roadie," she wrote. Jewel said that Penn told her "it would be impossible not to fall in love with [her]." Despite the intensity of this romance, it blew over within a year, and Penn got back together with Wright. It was at this point that they got married.
They broke up and got back together for their children
After marrying in 1996, Robin Wright and Sean Penn went through an on-again, off-again relationship, and the reconciliations were for their children. They filed for divorce in 2007, but according to The Telegraph, opted against it and got back together. In 2009, it was Penn who filed this time but changed his mind again.
Both Wright and Penn have been reluctant to talk too much about the ins and outs of their turbulent relationship. When Vanity Fair first asked Wright if she would be willing to discuss Penn in her 2015 interview, she initially wrote back an email that read: "I'm not in the business of talking about what 'isn't.'" Wright went on, "My eyes are set forward and I've never been happier. I have too much respect for Sean and our two extraordinary children to sell our past joys and woes for public consumption and fodder."
It's clear that the common joy between the two came from Dylan and Hopper, and Wright elaborated for Net-A-Porter how this twist of choosing marriage and motherhood also meant professional setbacks. "It affected my career," she said. "If you don't play the game your notoriety doesn't go up and then people don't want to hire you. And it was twofold, because I was raising my kids, but I was also not getting parts. As a mother, I would never take that decision back, because I loved being there with my babies. But I knew I had missed out." Thankfully, things changed later in Wright's career.
Sean Penn and Petra Nemcova get together during a brief split
When Sean Penn and Robin Wright briefly split in 2008, Penn began a romance with supermodel Petra Nemcova. The model had gone through a harrowing experience when she lost her boyfriend, photographer Simon Atlee, due to the deadly 2004 tsunami that hit Thailand while they were there on vacation. The wave pulled them out of their vacation home, and Nemcova managed to survive by holding onto a palm tree. She suffered a broken pelvis, according to Vanity Fair, but Atlee tragically didn't survive.
"Sleeping under the stars — it was just so, so beautiful," Nemcova said of their trip, explaining that Thailand was her treat to her boyfriend. "Simon was so happy. It's just strange how, in a split of second, everything can change so much."
Four years after this loss, Nemcova and Penn started a relationship. It didn't last long in 2008, as Penn and Wright ended up getting back together again shortly after. However, in 2012, after Penn and Wright's divorce was finalized, he was spotted again with Nemcova after she canceled her nuptials to English actor Jamie Belman, per the Daily Mail. She and Penn got cuddly in New York City and in Cannes. However, this reunion was also short-lived.
He left Robin Wright out of an acceptance speech
Those darn acceptance speeches can get celebs into trouble, especially when they forget their significant other. When Sean Penn won an Academy Award in 2003 for "Mystic River," he made reference to his family. "My daughter Dylan and son Hopper find it presumptuous and embarrassing to write a speech, and so I'm gonna give it a go without," Penn said. He then thanked Robin Wright. "Robin, for being an undying emotional inspiration on this roller coaster I'm learning to enjoy," he said in gratitude.
However, in 2008, when Penn won for "Milk," he omitted Wright from his speech. It's worth noting that the speech was quite lovely in and of itself. "We've got to have equal rights for everyone," Penn said. "And there are, and there are these last two things. I'm very, very proud to live in a country that is willing to elect an elegant man president and a country who, for all its toughness, creates courageous artists." For the record, President Barack Obama had just been elected.
It was not lost on anyone that Penn left Wright out of this second speech. Following the Oscars ceremony, when Penn was with Wright, Access Hollywood asked him why he omitted her. "She knows," he replied, while Wright explained that there simply wasn't "enough time." When they parted from the interviewer, Penn said again, "She knows." As The Hollywood Reporter notes, statistics show that when a partner gets cut from an acceptance speech, it usually means a split is on the horizon.
Inside their 'devastating' divorce
After several attempts at working things out, Robin Wright and Sean Penn got divorced in August 2009, and it was finalized the following year, according to Closer Weekly. Despite the many breakups along the way, it was a harrowing experience. Wright told The Telegraph: "Divorce in and of itself, and with children, is devastating. Worse than that. One of the reasons why we got back together and broke up so much was trying to keep the family together. If you've got kids, it's a family, and you try again, and you try again. We did that for a long time."
To make matters worse, their son, Hopper, suffered a life-threatening accident while skateboarding while they were going through the proceedings. "It had already been eight months of divorce and s**t, and raising a kid that's going through the divorce himself, and then this f**king thing happens. … It was a tough, tough time," Penn told Esquire in 2012, speaking about how his son "almost died."
For Wright, while the divorce was challenging, she saw the silver lining in the whole thing. "I believe we were together not only to have our beautiful children but to learn how to love … for the next time around, the right way," she told Vanity Fair. "And then, what I'm looking for in people now is kindness." Yikes, sounds like a little dig at Penn.
Sean Penn said he was never really 'loved'
Sean Penn had some tough things to say about his divorce from Robin Wright and their relationship in general. In his candid interview with Esquire, he said: "There is no shame in my saying that we all want to be loved by someone. As I look back over my life in romance, I don't feel I've ever had that." (Sounds like that could be a dig at Madonna, too.)
While Penn was evasive about the details of his divorce, he spoke of some major problems. "I have been the only one that was unaware of the fraud in a few of these circumstances blindly. When you get divorced, all the truths that come out, you sit there and you go, What the f**k was I doing? What was I doing believing that this person was invested in this way?" Penn called it a "fantastically strong humiliation," but added that he didn't let it harden him from the possibility of something in the future.
For Wright, she told More magazine (via Access Hollywood) what led her to the divorce. "I hit that crossroad a while ago — for Robin, the 'I know what I don't want' was flashing neon lights," Wright explained. "I have no regrets. I, we, have two amazing children we raised together." For both Wright and Penn, their children are the lasting joy of a long and rocky marriage.
They don't 'share the same ethical views' on co-parenting
Sean Penn has discussed the nuances of co-parenting his children, Dylan and Hopper, with ex-wife Robin Wright, stressing that they do it in their own ways. "We don't not get along," Penn told Marc Maron in March 2018 on the "WTF" podcast (via People). "We have very separate relationships with our kids at this point and it seems to work better that way because they are making their own decisions." Penn added, "As it turned out she and I did not share the same ethical views on parenting, including the continuing parenting of adult children."
One thing they do seem to agree on? Their kids' paths into showbiz. When Penn directed and starred in the 2021 film "Flag Day," he decided that Dylan was the perfect person to work with. "Within a very short page count of reading it, there was a face embedded into one of the characters (for me) and it was my daughter's," he told USA Today. Son Hopper also appears in the film. As Dylan explained, she wanted to get into directing right away, but Wright and Penn advised against this as the first move. When she was 18, she said, "Both my parents on separate occasions told me that to step foot on set as a director without knowing what it's like to be an actor is a bad idea." Working as an actor on "Flag Day," then, was the perfect opportunity.
Sean Penn and Robin Wright's post-divorce relationships
After their divorce, Robin Wright began dating fellow actor Ben Foster after meeting in 2011 on the set of "Rampart." When he made the first move, Wright said that she was shocked. "I'd never, ever been asked out on a date before," she told People. "Never. I was frickin' married my whole life, and even before that I hadn't been asked out." After Wright and Foster called off their engagement in 2015, she began dating Clement Giraudet, a fashion relations manager who is almost 20 years her junior, in 2017. They married in 2018, according to Page Six.
Meanwhile, Penn briefly dated Scarlett Johansson in 2011 and later moved on with Charlize Theron, according to People. Despite the many engagement rumors, Theron later spoke to Howard Stern in 2020 and said (via Vanity Fair), "It was a relationship, for sure. We were definitely exclusive, but it was for barely a year." She added, "We never moved in. I was never going to marry him."
Penn then married Australian actor Leila George in 2020 in a COVID-19 pandemic wedding, with only a few relatives present, per People. They had been going out on and off since 2016, and when they split, Penn was reportedly devastated. "They got together and then they broke up, and Sean won her back," an insider explained following their quarantine nuptials. "He realized he had made a mistake and when he felt he might lose her, he worked hard to get her back." Penn and George divorced one year later in October 2021.