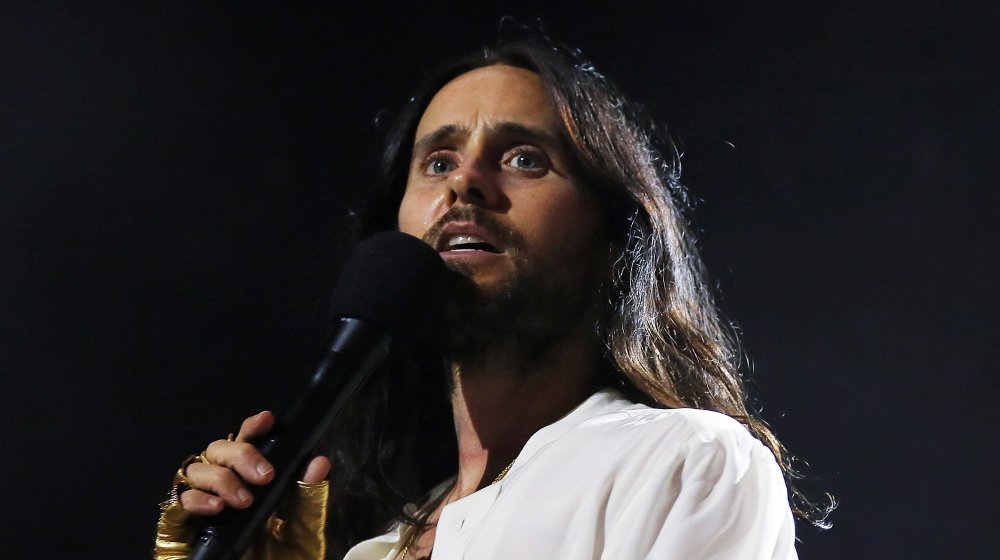 Ah, the titillating enigma that is Jared Leto. Some of us think of him fondly as teen stud Jordan Catalano on the popular '90s TV show My So-Called Life. Others became fans of his band, Thirty Seconds to Mars. He has many titles: actor, rock star, conceptual artist, fashion connoisseur, property developer, tech investor, rock climber, cult leader, and provocateur. In other words, Jared Leto is obviously a pretty busy dude.
Perhaps his pluralistic lifestyle can be explained by delving into his fascinating, and at times troubling, past. He's done some questionable things that most of us would never do, like sending a dead rat to a fellow actor during filming or coming down with a nasty case of gout. (Yes, people still get gout.) No matter what he ventures out to accomplish, he commands the public's attention. One thing is certain when it comes to Mr. Leto: Nobody puts Jared in a corner.
Jared Leto's father left when he was a baby
Jared Leto was born in 1971 in Bossier City, a small town near Shreveport in northwestern Louisiana. His dad, Tony Bryant, abandoned his family when Jared was too young enough to remember, and he spent a chunk of his childhood without a father. It's not something he tends to bring up much, for obvious reasons.
According to Newshub, Jared made an exception during a press conference at Cannes in 2014 while promoting Dallas Buyers Club. His memories are few, but Jared made a snide remark, telling a reporter that his father's last words to him were, "I'll see you kid, just going to the store to get a carton of milk," while flicking a cigarette. It's not likely his father actually said this, as Jared was just a baby when his father left the picture, but that's a hell of a line to spout on his behalf.
Jared Leto would never see his father again. When he was eight years old, his father committed suicide for reasons unknown. Jared, his brother, Shannon, and their mother, Constance, moved in with her parents temporarily. Jared's grandfather served in the military, so Jared moved to multiple locations throughout the United States during his childhood, per ESME. Constance eventually married Carl Leto, who adopted Jared and his brother.
If you or anyone you know is having suicidal thoughts, please call the National Suicide Prevention Lifeline at 1-800-273-TALK (8255).
Jared Leto credits his mom for his creativity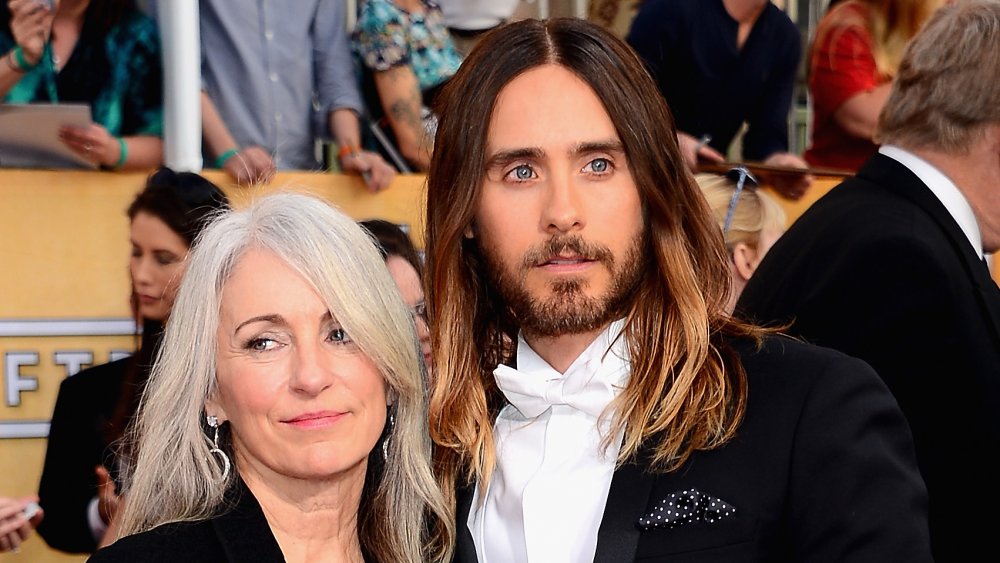 Constance was a single mom for much of Jared's youth, and they often had to rely on food stamps. Jared's respect and admiration for his hard-working mother was on full display during his heartfelt 2014 Oscars acceptance speech. Constance never finished high school and grew up poor. Jared had a wild child upbringing, foraging in forests and traipsing around the world with his mom and brother. This experience gave him new perspectives, allowing him to think outside the box. He's quoted as saying, "Just having the art-communal hippie experience as a child, there wasn't a clear line that was drawn. … We didn't try and curtail it and stunt any of that kind of growth."
The Leto family bond is prominent in many of Jared and Shannon's songs performed in their band, Thirty Seconds to Mars. According to ESME, one song ends with a music box playing Tchaikovsky's Swan Lake — an ode to their mother, who used to put the boys to sleep by playing that same music box. He has also credited his mom with helping him kick his drug habit.
But Jared Leto's Oscars speech was the biggest homage of all. "She was a high school dropout and a single mom, but somehow she managed to make a better life for herself and her children," Jared said at the 2014 Academy Awards. "She encouraged her kids to be creative, to work hard, and to do something special. … I love you, Mom. Thank you for teaching me to dream." Cue millions of women's hearts a-fluttering across the globe.
Jared Leto is a recovering drug addict
By the age of 16, Jared had very little direction, and thought for a time that he might become a drug dealer. He delved deep into the seedy underbelly of the drug scene as a teenager and dabbled in petty theft, but he eventually came to a fork in the road. "There was a moment, involving a gun and some cocaine, that may have been a turning point for me. I knew it wasn't good," Jared Leto told Big Issue.
Jared managed to get his life under control, however. He initially moved to Los Angeles soon after a stint in art school at age 19 to pursue directing, where he quickly crossed over into acting. At 22, he landed his breakout role as Jordan Catalano in My-So-Called-Life, becoming a teen heartthrob overnight.
According to an interview with The Independent, he is "essentially straight-edge" now and refrains from drinking or drugs. "The opportunity cost is too high," he said. "Some drugs are incredible, but the risk versus reward is out of line. I just saw too many examples of what not to do."
Jared Leto's band Thirty Seconds to Mars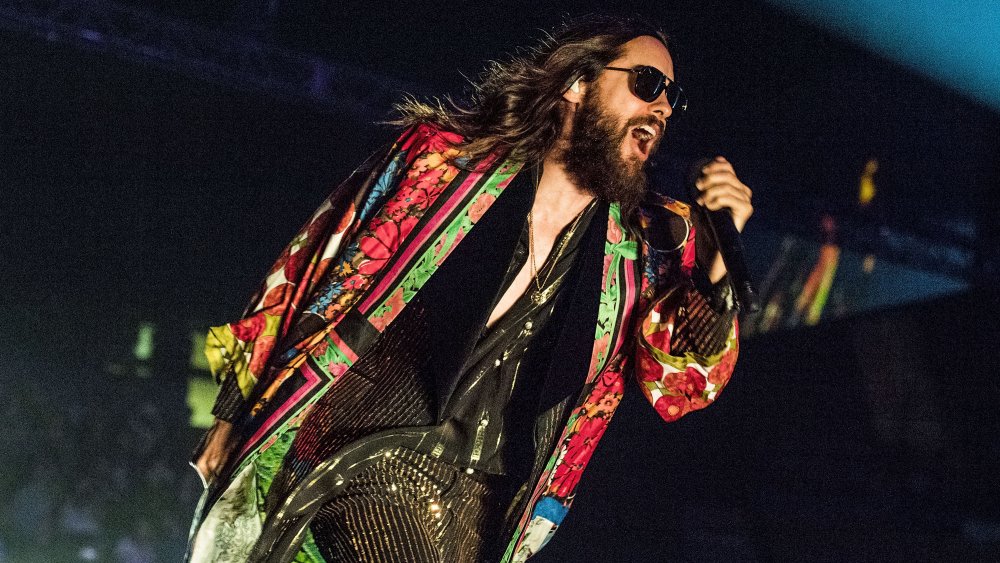 Jared Leto and his brother, Shannon, have played together in Thirty Seconds to Mars, a controversial arena-rock band, since 1998. Jared never had any specific ambitions to become any kind of celebrity or rock star. In an interview with Rolling Stone, he stated that he thought musicians and actors were like magic: "It was royalty or you were born into it, or it was some stroke of luck or genius."
Jared is a bit believer in the power of music to bring people together. "There are chemicals released [in the brain] when people sing together that are similar to the chemicals that are released when people are in love," he told Magazine C. The band set a Guinness World Record for most live shows during a single album cycle in 2011, with 309 concerts. Jared made a documentary about their complicated, headline-grabbing journey entitled Artifact.
The film culminated after over 40,000 hours of footage and took almost four years to finish. It covers everything from an ugly $30 million lawsuit to an overlying message about the dangers of corporate greed in the industry. "This was not a fight against a record company, but against corruption," Jared Leto told The Hollywood Reporter. "A record company can be a beneficial thing — but a corporation that engages artists with these convoluted contracts that leaves them in a state of terminal debt? Just because you can get away with something doesn't mean it's okay to do."
Jared Leto's extreme method acting begins
Jared Leto seems to have a thing for choosing roles that sometimes require risky physical and psychological transformation — or at least he steps up the intensity half a dozen notches. His first notable extreme role was playing a heroin junkie in 2000's Requiem for a Dream. He decided that in order to be true to the role, he had to lose a ton of weight and hang out with junkies on the mean streets of New York. "Every night was an adventure whether it was someone missing the vein in their arm and their hand fills up with poison, or they overdose, or you're hanging out and it's like, 'remember that girl we were hanging out with last night? Well she's dead!'" Jared told Al Bawaba. "I got robbed one night but I just tried to become one of the group."
How did Jared Leto drop 25 pounds seemingly overnight? Basically, he didn't eat. And he admitted that it was really hard to start eating again after the experience was over. He also experienced health complications, including bone marrow loss and liver damage. According to an interview with Movieline, Jared was left so traumatized by the end of the film that he fled to an old monastery for a while and fed on plain fish and potatoes. He also became celibate for the role.
More method acting led to gout and a wheelchair
Apparently, Jared Leto's strange, existential journey of getting into character for his role in Requiem for a Dream didn't deter him from taking on even more challenging, and dangerous, acting roles. Jared swiftly gained a whopping 65 pounds, the equivalent of a large dog, for his role as John Lennon's assassin, Mark Chapman, for the film Chapter 27.
How did he gain that much weight so quickly? He literally chugged pints of microwaved chocolate Häagen-Dazs ice cream twice a day. It's surprising he could gain weight this way, because the average person who did that would be vomiting their calories on the regular. Jared ended up confined to a wheelchair because simply walking became painful, according to DigitalSpy. The experience left Jared doubting if his body would ever get back to where it was prior to the shoot.
Jared ultimately regretted the experience. "Really, it's a stupid thing to do," he told The Guardian. "I got gout, and my cholesterol went up so fast in such a short time that my doctors wanted to put me on Lipitor, which is for much, much older people. Again, though, a fascinating journey." Ever the optimist, Jared Leto saw a diamond among the coal. But did he learn his lesson? Not really.
Jared Leto's drastic transformation for Dallas Buyers Club
Not to be outdone by his previous performances, Jared Leto dropped to a measly 116 pounds for his award-winning turn as transgender character, Rayon, in Dallas Buyers Club. "The No. 1 rule is you have to stop eating. The No. 2 rule is you have to stop eating," he said in a New York Times interview. He would sometimes eat only half a cucumber for an entire day. "Sometimes you just want to chew on something so you find something that has a lot of empty calories," Leto told Entertainment Weekly. "I basically was chewing on shoe-leather, anything that would satiate the hunger a little bit."
Jared also shaved his eyebrows and assumed the form of a woman's body as best as humanly possible without undergoing surgery. He refused to break character on set, wearing his high heels everywhere. But hey, he won an Oscar, so who's gonna argue with his method?
Jared Leto's upsetting short film Hurricane was banned
By now, it's safe to assume that when Jared Leto commits to an idea, he goes all in. But when it comes to video directing, he'd rather his audience forget that he's the one behind the camera, so he created the pseudonym Bartholomew Cubbins. Naturally. "It's one of my favorite Dr. Seuss characters. I wanted not to have any of the distractions that may come along with putting my name on a video that I was starring in," Jared told The New York Times.
Jared Leto, or Cubbins, became the subject of taboo when he directed a 13-minute short film for Thirty Seconds to Mars' song "Hurricane," which was banned from television around the world for its sexual, violent and nightmarish imagery. According to MTV, channels sent long lists of what was required to be censored in order to secure airtime. While MTV never banned the video, they did remove it from their rotation.
So what was so crazy about this video that no one wanted to air it? Here's an excerpt detailing the video's contents: "A creepy gimp wearing a black suit and leather mask and toting a sledgehammer bursts into the room, sending Leto flying out of a 40-story window to the street below." And that's just the beginning. Later, a rabbi, priest, and imam appear, and toss their holy books into a bonfire. And these are merely two examples from 13 minutes of all-out strangeness. Cubbins sure is an incendiary fellow.
Jared Leto takes on the Joker
Jared Leto's take on the Joker was controversial. It still is, in fact. Neither Warner Brothers, nor the public, were too thrilled of his interpretation of the infamous DC comics villain in 2016's Suicide Squad. He's been cited as blaming the film's editing by being recut from more dramatic to comedic in its final post phase. Sure maybe.
What we know is that Leto terrorized his castmates during production to no end, and true to his method form, he never broke character. This included the time where he sent Margot Robbie (who played love interest Harley Quinn) a love letter in a black box accompanied by a … live rat inside. He sent bullets to Will Smith, and the cast received a dead pig for their first table read. Charming.
During an E! News interview, Jared shared that he sent the cast used condoms and adult toys. "I did a lot of things to create a dynamic, to create an element of surprise, of spontaneity, and to really break down any kind of walls that may be there," Jared mused. "The Joker is somebody who doesn't really respect things like personal space or boundaries." And that's really all you need to know about how that film shoot went down. Hey, it sure made for an entertaining press tour.
Jared Leto's Joker was shunned by Hollywood
In the end, Jared Leto's performance equated to about ten minutes of screen time in the final cut of Suicide Squad. To make things extra awkward, Jared had originally been billed as a lead, and of course, he didn't let that slide when it came time to promote the film. While studio execs were less than thrilled with Jared's strange antics, and even after negative reviews of his heavily cut-down performance in Suicide Squad, there was still talk of a Joker and Harley Quinn spinoff in development at Warner Brothers. But then Jared Leto decided to ruffle a few more feathers.
According to The Hollywood Reporter, he tried to halt production of Todd Phillips' Joker starring Joaquin Phoenix, who won Best Actor in 2019 for his noticeably different interpretation of the supervillain. This tiff also endangered his relationship with the Creative Artists Agency. So when it came time to make the spinoff, the studio decided to make a film about Harley Quinn in 2020's Birds of Prey. Leto was not invited to participate, nor was the Joker even written into the script. Maybe Jared just forgot to break character?
Jared Leto called himself a cult leader
Describing Jared Leto as having a cult following isn't just a play on his rock star persona, complete with flowy Jesus hair for deserving of its own Pantene commercial. It's unclear what Jared's religious background is — in a 2016 interview with GQ, he told the publication, "I don't believe in a God who sits in conscious judgment of the actions of humanity." Religion aside, Jared's band has an extremely devout following. His fans (mostly young women) are known as The Echelon and follow him wherever he goes. But he's taken it to the extreme. He now encourages his "fans" to join him on an island he calls "Marslsland."
"I hate the word 'fan,'" he told The New York Times when questioned about the cult rumors. "It just seems so dismissive. Because we have this cult, this family, these believers who understand, it seems fitting that there was a name to reference them." When asked if The Echelon have to take classes or embark upon any E-meter auditioning to be a member, Jared Leto answered, "Yes. Of course you do. You have to dance under the full moon and drink the freshly sacrificed blood of a human baby."
That's probably a joke.