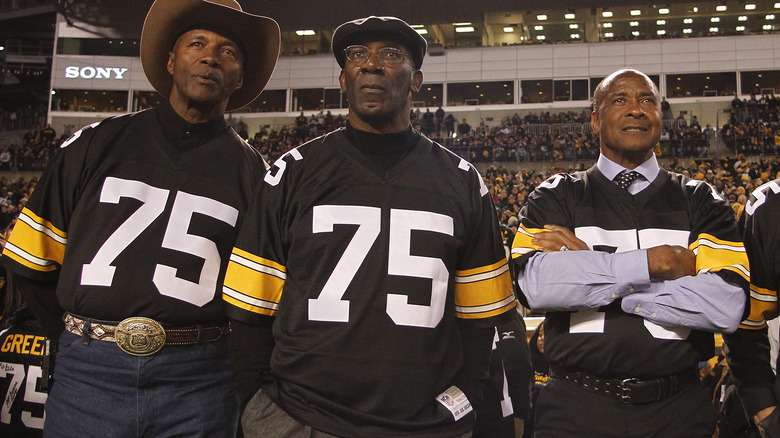 There have been a lot of great football teams in the decades since the NFL was born, but it's the 1975 Steelers that was not only the best team Pittsburgh ever saw, but when it comes to teams across the league, they're up there. ESPN uses words like "dynasty" to describe them. At the time, football was heavy on the rushing game, and there's nothing wrong with that. Still, Steelers quarterback Terry Bradshaw led them to back-to-back Super Bowls — the first Steeler team to do it — by earning his nickname the "Blonde Bomber."
But football is, of course, a team sport, and even the best quarterback is useless when he doesn't have people around him he can count on — and it's all of those people together that made the '75 Steelers one of the best teams in NFL history. From Bradshaw and his fleet-footed receivers to the infamous Steel Curtain that made sure the opposing team wasn't going anywhere, it all came together to form poetry on the gridiron.
And that brings up a question: What happened to these guys, and where are they now?
Terry Bradshaw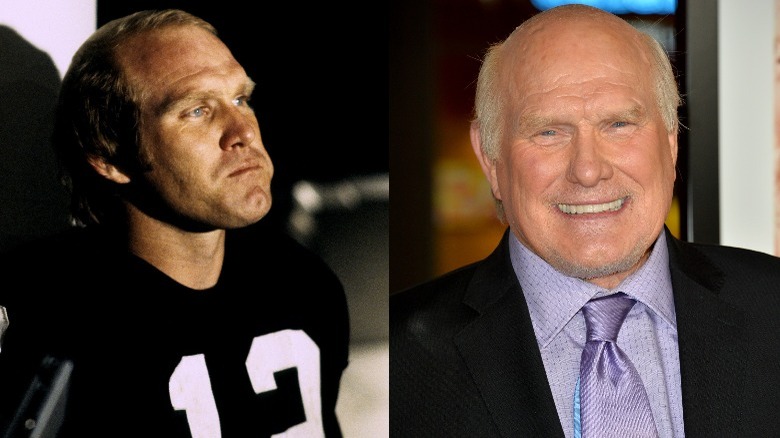 In 1975, quarterback Terry Bradshaw was on top of the world. Nothing lasts forever, though, and by 1983, an arm injury saw him sidelined. He told the NFL that he couldn't even go to the games — not when someone else was in his place. That led to a very public feud with head coach Chuck Noll, and a re-injury. He retired at 35 years old, later saying, "When I retired, I was relieved … I don't miss it at all. I never want to be serious again for the rest of my life."
One thing that he couldn't do was turn his back on the game, and in 1984, he started as a CBS game analyst. Then, in 1994, Bradshaw became one of the founding members of Fox's NFL Sunday, and in 2019, he was inducted into the National Association of Broadcasters Broadcasting Hall of Fame. He kicked off an acting career, too, starting out in 1978 alongside Burt Reynolds in "Hooper," and then, in "Smokey and the Bandit II." More recently, he's popped up in 2017's "Father Figures," and was on "The Masked Singer" in 2019 (via Parade).
Fast forward again a bit, to a world mid-COVID. Bradshaw showed few signs of slowing down in 2021, when Sports Illustrated reported on his strongly-worded condemnation of anti-vaxxer and Ivermectin user Aaron Rodgers. Bradshaw told him, "It would've been nice if he could've come to the Naval Academy and … learned not to lie."
Lynn Swann
Lynn Swann retired with a whopping four Super Bowl wins, along with more than 5,000 yards receiving, 336 receptions, and 51 touchdowns (via the Pro Football Hall of Fame). Post-retirement, he waded into the world of broadcasting, joining ABC Sports. In 2002, George W. Bush selected him to be a Member of the President's Council on Physical Fitness and Sports, and according to the Los Angeles Times, that was followed by a bid for governor of Pennsylvania, as the Republican candidate. (CNN says he lost to the incumbent Democrat.)
In 2016, he returned to his old love: football. That, reported the Los Angeles Times, was when USC announced Swann would be stepping in as the university's athletic director: They wrote that he would "bring the heart and soul of a Trojan to his position."
Swann stepped down as AD in 2019, and more recently, Swann has been speaking out about his experiences not only in the sport but as a Black man playing in the 1970s. In 2021, he sat down with the National Football Foundation to talk about how things had and hadn't changed. He shared a story about how he, his brothers, and cousin went out to dinner in San Francisco to celebrate the day he was drafted by the Steelers. It ended with them all in jail (and according to Steelers Now, they would eventually win $40,000 each in a civil lawsuit.) Explaining how he moved past that, he said, "I let who I was as a person speak."
Rocky Bleier
Rocky Bleier was drafted by the Steelers in 1968, and then he was drafted again in 1969 — by the Army. Before he would return to the team, he served a tour in Vietnam, was wounded, received both a Purple Heart and a Bronze Star, and sustained injuries that included shrapnel in his leg and the loss of part of his right foot (via the U.S. Army War College). He went through hell again — in physical rehabilitation — before stepping back into his position as running back (via the Pittsburgh Steelers).
Bleier, says Bleacher Report, was ready to quit in 1974. He returned, though, and inspired football fans across the nation. He retired at 34 years old, and after his final, 1980 season, he embarked on a career as a motivational speaker, touring and telling the country — especially students — that ordinary people can overcome extraordinary things.
All those details about his time in Vietnam have recently come full circle. In August of 2019 — for the 50th anniversary of the combat injury that threatened to derail his entire life — Bleier returned to the same valley in Vietnam where he had been injured. His return was filmed for an ESPN special called "The Return," where he talks about not only the ambush that he and his fellow soldiers walked into that day but how he was determined not to let it dictate his life's path.
Joe Greene
"Mean" Joe Greene got his nickname well before he got his NFL career, says Pittsburgh Magazine, and it wasn't until he filmed that iconic Coca-Cola commercial that the world realized he was only mean on the field. He's often lauded as one of the best players to ever take the field, and he was part of the Steelers' infamous Steel Curtain.
Decades after his retirement, he's still recognized as the guy from that commercial. He told Coca-Cola that people who had once been afraid of him would now come up to him on the street, and offer him Coke and a hug. "It transformed my personal life in terms of how people looked at me. … It means a great deal to me and to my family." Greene went on to hold a handful of coaching jobs in his retirement in 1981, including defensive line coach for the Cardinals and the Dolphins. Sports Illustrated says the 2003 season was his last as a coach, when he retired and returned to the Steelers for the next nine years, as a special assistant.
Tragically, Greene's post-retirement life has been marked with loss. In 2015, his wife Agnes passed away from breast cancer. The two had met while they were college students at the University of North Texas, and to honor her memory, Greene established the Agnes Lucille Craft Greene Memorial Scholarship, for students who had either been diagnosed with breast cancer, or had a parent or guardian with breast cancer.
Jack Ham
Of Jack Ham's 12 seasons in the NFL, he went to the Pro Bowl a seriously impressive — and consecutive — 8 times, says the Pro Football Hall of Fame — all while working a regular job on the side. He formed one link in the chain that was the Steelers' nearly impenetrable defense, alongside L.C. Greenwood and "Mean" Joe Greene. (Greenwood, reported The New York Times, died of kidney failure in 2013.)
Since his retirement in 1982, Ham has kept his toe in the game, too. The 2020 football season saw Ham and co-broadcaster Steve Jones start their 21st season calling the football games for Penn State (via State College). He's also a minority owner of the junior ice hockey team the Johnstown Tomahawks, and most recently, he's lent his voice, support, and business acumen to another venture: medical marijuana.
For Ham, it was never just about allowing access to medical marijuana (which Pennsylvania legalized in 2016), it was about stopping the opioid crisis. He had known countless players who were addicted to opiate-based painkillers, and told Politico, "There's got to be a better way. And I just knew half the medication that these guys were on." Ham put his money where his mouth was, too, and invested in Agrimed, a medical marijuana company he says he was happy to lend his name, image, and support to.
Jack Lambert
Linebacker Jack Lambert once said, "We're the Pittsburgh Steelers. We're supposed to be the intimidators." And intimidate, he did — with his missing front teeth and angry snarl, it's safe to say he was the guy that no one wanted to line up against. And he backed it up, once body-slamming a Cowboy's safety for taunting one of his teammates, and making John Elway rethink his career choice. (Elway once said, "He had no teeth, and he was slobbering all over himself. I'm thinking, 'You can have your money back, just get me out of here.'")
He retired in 1984 after suffering a major injury, and while it might seem like that might translate to a wild, post-retirement life, the truth is the exact opposite. Lambert, says TribLive, has spent his retirement years with his wife and children, living on their 125-acre piece of property not far from where Three Rivers Stadium once stood. Initially spending his time as a volunteer deputy wildlife officer, he became known around town as their go-to coach for youth sports, and the guy who made sure all the playing fields were always in tip-top shape.
When Lambert made an appearance at a 2019 memorabilia signing, Steel City Insider reported that it was an incredibly rare thing. For the most part, he shuns the public spotlight and prefers the quiet life.
Franco Harris
Running back Franco Harris danced his way right into football history when he was part of one of the most famous plays in history: the Immaculate Reception. (In 2020, it was voted the Greatest Moment in NFL History in a verdict announced at the Super Bowl's pregame show.) His career with the Steelers lasted 12 seasons, and at the end, he said that donning his Hall of Fame jacket "was the greatest moment of all time." Since his retirement, he's been incredibly busy.
When he talked to Forbes, he was pretty upfront about finances, saying "When I played, everyone knew football wouldn't take care of you forever. We didn't make that much money, so it kept things in perspective." So, he immediately jumped feet-first into a business, starting with his post-retirement Super Bakery, and the development of a nutritious doughnut. After another business failed — Harris said that he had the "first license for player-name shirts," he also failed in an attempt to save a popular Baltimore sausage business.
He didn't give up, though, and in 2014 he was getting Silversport off the ground, selling antimicrobial sports gear. Then, in 2017, Mary reported that he was getting involved with Laurel Green Medical, LLC., a company growing and processing medical marijuana. He's been busy doing other things, too: In 2020, WTAE reported that he was one of the speakers at a Get Out the Vote event, encouraging everyone to get to the polls, vote, and make their voices heard.
John Stallworth
John Stallworth arrived in Pittsburgh in 1974, and quickly became one of their most invaluable wide receivers — he would be one of the first class inaugurated into the team's Hall of Fame. He had come a long way: According to Sports Illustrated, he had contracted a viral infection as a child, and it had left him paralyzed. It led to him having a late start in football, playing in high school and then being ignored by college teams. He's said that it "brought out a motivation in me to really extend myself," and he's continued to do that after his retirement.
Stallworth continues to put his Alabama A&M degree to good work, and as of 2022, he's one of the members of the Steelers' ownership group. He's also been wildly successful in developing his own business ventures, founding the Madison Research Corporation in 1986. (The company develops software and hardware, contracting with the U.S. government and places like the Space and Missile Defense Command's Simulation Center.) He's since sold the company (for a cool $69 million), and currently focuses on his work through the John Stallworth Foundation.
In addition to supporting various business ventures and providing scholarships to Alabama college students, he serves on the board of directors of organizations including the Crestwood Medical Center, the Alabama Sports Hall of Fame. J.F. Drake Technical College, and the Huntsville Botanical Garden Foundation.
Jon Kolb
When team owner Art Rooney called Jon Kolb to congratulate him on being drafted by the Steelers, Kolb thought it was a joke. He scoffed, laughed, and Rooney hung up — and it was only later that night that he saw the news, and realized he really had been drafted. He told TribLive that he was still apologizing — and Rooney was still laughing — 14 years later, after he'd stopped playing for them and started coaching.
Kolb retired after the 1981 season with a fistful of Super Bowl rings, and afterwards, he headed back to school. Getting his Master's in kinesiology and exercise science, he went on to found a non-profit organization called Adventures in Training with a Purpose. In addition to offering physical training, they also have a staff psychologist who helps their target clients — which include military veterans and first responders — deal with things like post-traumatic stress disorder.
As of 2022, Kolb still serves as the Director of Physical Training. He's also published papers on his research into the impact of exercise on illnesses like diabetes, and is proud to say that while they have to "hustle to pay the bills," they also never turn anyone away. His family is also involved in the business — which is supported with fundraisers spearheaded by many of his former Steelers teammates — and even his downtime is hardcore: In 2020, the 73-year-old climbed Mount Kilimanjaro.
Mel Blount
Mel Blount, says CBS, was the "prototype" for the perfect cornerback, and adds that if he were to take the field against today's players, he would still dominate — even more so, according to what he had to say in 2021. Originally going undrafted, he rose to become of the best to ever play his position, even though he was also the reason for a new rule that made contact between receivers and defensive backs illegal. Blount retired in 1983, and that same year — prior to his retirement — he had already laid the groundwork for his post-NFL life with the founding of the Mel Blount Youth Home in Vidalia, Georgia.
Over the years, Blount has continued to expand his Mel Blount Youth Leadership Initiative, and it hasn't always been easy. When he first announced he was going to establish a youth center in Pennsylvania, he got the attention of the Ku Klux Klan. (It was officially opened a year later.) The camp has partnered with the Steelers for events like hosting an all-day training camp, and in 2012, they launched a girls' equestrian program.
Today's Pittsburgh Steelers are still very much involved with the program: In 2020, it was announced (via Steelers Depot) that Blount's leadership organization was going to be the recipient of grants through the team's Social Justice Grant Program. Blount remarked: "It's a tremendous honor … [and] even more importantly, it shows how strong the Steelers family is."
Donnie Shell
Donnie Shell went from an undrafted rookie to becoming a 2020 inductee into the Pro Football Hall of Fame, and would go on to start for 11 seasons after starting his career as one of the infamous Steel Curtain.
Shell retired in 1987, and after he stopped playing, he started giving back to other players who were in the same situation he was. Football is all-consuming, and Shell spent 15 years as the Carolina Panthers' director of player development. What's that? That's a position that allowed him to help prepare players for moving on in the "real" world after their careers in the NFL came to an end, and he established an award-winning program to do it. He was given his own award, too: The NFL hands out an annual award to the best program in the league, and it's named after him. Shell retired from that position in 2009, and then went on to partner with the Johnson C. Smith University to become an advisor for their spiritual center, the Center for Spiritual Life, and to help develop programs for their crisis response facilities.
In 2020, he added another line to his long resume, when it was announced (via SC State University) he would be joining Dedication To Community as an executive advisor. The group — which acts to bridge the gap between communities and law enforcement — is a multi-state endeavor partnering with multiple cities and professional sports teams across the country.
In Memoriam: Mike Webster
This one's a little different, because "Iron" Mike Webster — the player that The Atlantic calls the best center in the NFL — died in 2002. He's still being talked about in 2021, though, and here's why he's still incredibly relevant and still anchoring an offensive line.
His post-retirement years were a slow, downward spiral, and by the time he died at the age of 50, things were so bad that he needed to use a taser on himself to fall asleep. At the time of his autopsy, pathologist Bennet Omalu already suspected they were going to find something that had been previously called "punch-drunk syndrome" when it was seen in boxers that suffered the symptoms of severe dementia after being hit so many times. No one thought it could be seen in football players, too… until Webster's untimely autopsy.
When Omalu analyzed slices of Webster's brain, he found proof of the sort of brain damage players were at risk of, and it was the kind that couldn't be seen with the naked eye. It was only diagnosed by a pathologist intrigued by Webster's bizarre behavior leading up to his death: super-gluing his teeth back in, wrapping his hands with duct tape, tasing himself into unconsciousness. Today, it's called chronic traumatic encephalopathy, and in 2021, The New York Times reported that since Webster's autopsy, more than 315 players were diagnosed (all posthumously) with the condition — and it's been leading to a major conversation about the NFL and traumatic brain injuries.