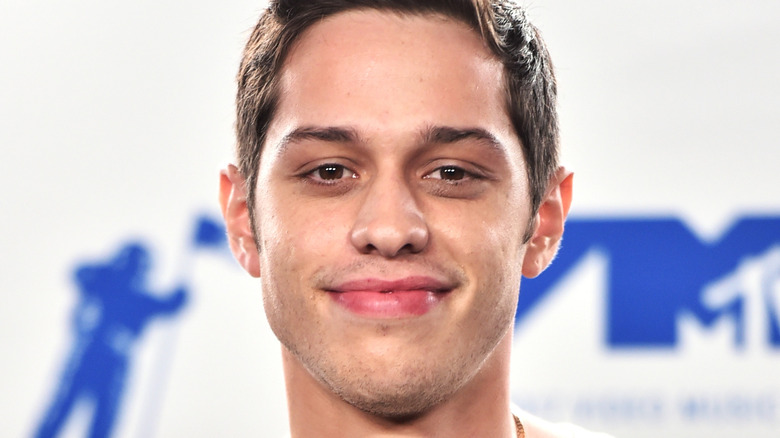 Pete Davidson, the "Saturday Night Live" star who won our hearts with his quirky sense of humor, has had quite the journey through the years. A Staten Island native, Davidson's rise to fame is heartwarming and even more inspiring. Not without his own personal struggles, the famous comic has jumped every hurdle and is now one of the most successful "Saturday Night Live" stars of all time.
Off-camera, Davidson has raised eyebrows, thanks in large to his relationship with Kim Kardashian. Thanks to this romance, the comic is in the news every other week. There is, however, much more to Davidson than being just an "SNL" cast member and boyfriend to Hollywood's most famous reality star. With this guy, there is simply a lot to unpack. From getting through a rough childhood to living with an autoimmune disease, Davidson has gone through a lot of transformations over time. With all that being said, sit back, relax and enjoy this deep dive into Pete Davidson's evolution through the years.
Pete Davidson experienced tragedy as a child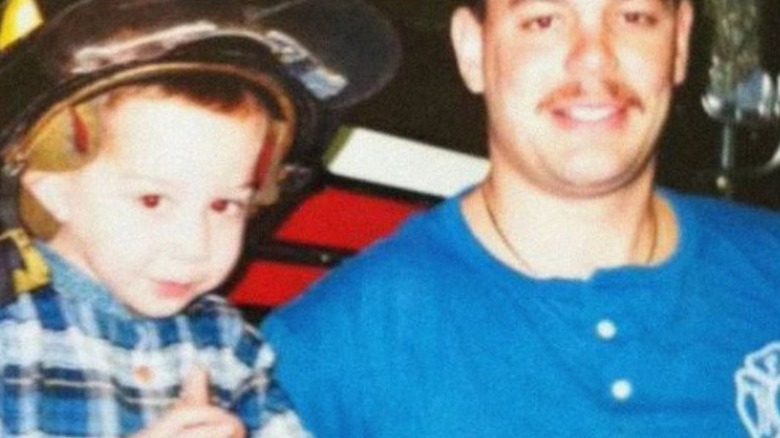 Pete Davidson first knew tragedy as a little boy. His father, Scott Davidson, who was until his death, a firefighter, was killed in the 9/11 attacks in 2001. According to The Sun, Scott was last seen alive bolting into the Marriott World Trade Center hotel, minutes before the second Twin Tower collapsed. At the time of Scott's death, Pete was only 7 and expectedly, the loss left a huge vacuum in Pete's life — one that the comic struggled with even after many years. "When my dad died, I had to go to therapy," he confessed to Interview in 2015.
Pete would later mirror his struggle with grief in the 2020 film, "King of Staten Island," where he acted as Scott, a young adult trying to come to terms with his father's death. For the comic, this semi-autobiographical flick was not just another movie, it was also the beginning of a lifelong healing process. He admitted to Sky News in June 2020 that making the film "allowed me to grow more as a person," while his mom, Amy also confirmed to People that "It was really so hard for him to recover," and it is only recently that "he's finding his way and being okay."
He started comedy as a teenager
Started from a dare, now he's here! Even though Pete Davidson has always had a special affinity for comedy, his first stand-up performance was actually a dare. The comic, only 16 at the time, was hanging out with some friends at a bowling alley when they dared him to get on stage and perform. He told SFG in 2015: "They knew I always wanted to do it," adding that he "smoked a joint" before going on stage." Davidson would later admit on The Howard Stern Show that his first stand up "went okay" and this prompted him to keep it.
However, despite this very early first attempt, it was not years later — seven years to be precise — in 2016 — that Davidson filmed his first standup special, "Pete Davidson: SMD." He has since appeared in several stand-ups and has effortlessly continued to impress fans with his style of comedy. Even more, he is now proving to us all that he might just be one of the best comics of his time.
Comedy was an escape for him
Given the tragedy he experienced as a child, Pete Davidson needed an escape and he found just about the perfect one — comedy. Growing up, the comic realized that telling jokes eased his mind, and decided it was something he wanted to do long term. Now, not only has this chosen career made him famous, but it has also helped to ease his childhood trauma. "Comedy is a beautiful escape," Davidson told NPR in 2020. "It really just frees my mind from focusing on things that might be upsetting to me … And I'm really grateful for comedy and having it in my life."
The comic also later revealed in a candid interview with Charlamagne Tha God that work is, indeed, his best outlet. "It's the only thing [that helps]," he said. "I love it. I love writing, I love hanging with my friends, they're all really funny and cool," adding, "It's the ultimate distraction."
Pete Davidson was diagnosed with Crohn's disease as a teenager
When Pete Davidson was only a teenager, doctors diagnosed him with Crohn's disease, a chronic autoimmune disorder that attacks the lining of the digestive tract. According to Healthline, one of the major symptoms associated with this disease is poor appetite — something that Davidson struggles with.
In a candid interview with High Times, Davidson admitted to using medical marijuana as an appetite booster. "I got Crohn's disease when I was 17 or 18," he said. "And I found that the medicines that the doctors were prescribing me and seeing all these doctors and trying new things, weed would be the only thing that would help me eat."
In addition to the loss of appetite, Davidson also struggles with intense abdominal pain — another common symptom of Crohn's disease. And once again, marijuana seems to come to the comic's rescue. In his interview with High Times, Davidson credited his longevity on "SNL" to marijuana, noting that it is the reason he is able to get anything done. "My stomach would be in pain all day and I wouldn't be able to eat, but then I'd smoke and I can eat and do my shows," he explained. "I wouldn't be able to do "SNL" if I didn't smoke weed. I wouldn't be able to do anything, really."
Pete Davidson got his first tattoo at 17
Pete Davidson, like many other Hollywood stars, loves getting inked. But while many keep their tattoos minimal, Davidson is not afraid to go overboard. The comic has an impressive ink collection — totaling over 100 in number. And while some of these tattoos are somewhat a visual representation of his life, a good number have not-so-serious meanings attached to them. The comic recounted to Variety in a 2018 interview how at 17, he got a "swerve life" tattoo with his friend Ricky after listening to Big Sean's "Mercy." "It says 'swerve life' because the Big Sean song had 'Swerve!' in it, and we were like 'That's gonna last forever!" he told the outlet.
The comic has since gotten many more tattoos including his late father's badge number, "8418" inked on his left forearm. He also has a few random tattoos paying homage to political and cultural icons like Hilary Clinton and Ruth Bader Ginsburg. Additionally, Davidson is famous for getting tattoos associated with his love interest. During his relationship with former girlfriend Cazzie David, the comic had her name inked on his finger and a caricature of her face on his arm. Similarly, he got a few more while dating Ariana Grande but has since covered them all up, per MTV.
These days, Davidson is seemingly still living up to his reputation as the internet is abuzz with claims that he has included a tattoo of Kim Kardashian to his collection (via "The Ellen Show").
He came on SNL in 2014 and made history
When Pete Davidson joined 'SNL' in 2014, he was only 20 years old, making him one of the youngest cast members to ever come on the show. Additionally, he made history as the first '90s kid to become a cast member. But even though Davidson had always wanted to be a comic, he never really thought Saturday Night Live would be his golden ticket to fame — mostly because he didn't know it still existed. He told CBS: "I didn't know it was still around. I mean, when you're 16, you're not watching political midnight shows."
Given Davidson's age when he came on the show, it was only normal that he was surrounded by older and more experienced cast members at the time. "I was like 10, 12 years younger than everybody else, so it felt like it was a joke," he admitted. "It felt very Make a Wish-y. It felt like charity for sure." The comic would later admit to NPR that cast members Kenan Thompson and Kate McKinnon and 'SNL' producer Lorne Michaels were "sensitive to my age and the position I was in." He added, "And everybody really made it really comfortable for me and a very easy transition to the cast," noting that, "I felt like family immediately, and they do a really good job over there at that."
Pete Davidson has told some really daring jokes
Known for his crude and rather vulgar sense of humor, Pete Davidson has had his fair share of controversies in the past. Expectedly, this put him on the radar of critics who have come for him many times. In 2018, the comic sparked outrage after making jokes about Ariana Grande's 2017 Manchester concert where, per BBC, a terrorist attack left over 20 people dead and over 800 people injured. According to The Mirror, Davidson was branded "disgusting" and "outrageous" after saying that Grande "must have realized how famous she had become" since "Britney Spears didn't have a terrorist attack at her concert."
Later that year, Davidson got in trouble yet again after making jokes about congressman Dan Crenshaw's eye patch during a segment on "Saturday Night Live." "This guy is kinda cool, Dan Crenshaw," Davidson said. "You may be surprised to hear he's a congressional candidate from Texas and not a hitman in [an adult] movie." The joke was, however, not received well, as many accused him of mocking a war hero. "SNL" invited Crenshaw, who lost his right eye in a bomb explosion during an Afghanistan tour, to the show where Davidson publicly apologized (via ABC News).
Pete Davidson has also tried his hands at acting
Comedy might be his first love, but Pete Davidson is not about to put himself in a box. The comic has long added actor to his résumé and has appeared in a number of movies over the years. The comic made his onscreen debut in 2013 when he appeared on "Brooklyn Nine-Nine." The following year, Davidson made another appearance in "School Dance," a musical comedy produced by Nick Cannon. Then, in 2015, he landed a minor role in Amy Schumer's "Trainwreck," which turned out to be his big break. According to Vulture, it was this small part that eventually led to a phone call from "Saturday Night Live" creator Lorne Michaels.
Since getting on "SNL," Davidson has continued to make strides in his acting career, appearing in movies like "King of Staten Island," "Big Time Adolescence" and "The Suicide Squad." As of this writing, Davidson is set to take a lead role in the upcoming romantic comedy, "Meet Cute" (per Variety). He will also appear alongside longtime pal Machine Gun Kelly in the 2022 film, "Good Mourning With a U." To you, he might just be the guy from "SNL," but Pete Davidson seems just about ready for a proper take over.
Pete Davidson has some mental health struggles
Like many other celebrities who have mental health struggles, Pete Davidson has been very open about his journey so far. In 2017, the comic revealed that he had been diagnosed with Borderline Personality Disorder. In a 2021 interview with Glenn Close for Variety, Davidson recalled feeling relieved upon his diagnosis, after years of dealing with the symptoms and not knowing what was wrong. "I was always just so confused all the time, and just thought something was wrong, and didn't know how to deal with it," Davidson recalled. "Then, when somebody finally tells you, the weight of the world feels lifted off your shoulders. You feel so much better."
Davidson also suffers from anxiety and depression, and has in the past sparked worry over the state of his mental health. In 2018, the comic took to Instagram, sharing a post where he hinted at suicide. "I really don't want to be on this earth anymore," he wrote at the time, via Variety. "I'm doing my best to stay here for you but I actually don't know how much longer I can last." Davidson would later admit to CBS in 2020, that he got as "close as you can get," but things eventually became better for him when he "met the right treatments" and "the right doctors."
If you or someone you know is struggling with mental health, please contact the Crisis Text Line by texting HOME to 741741, call the National Alliance on Mental Illness helpline at 1-800-950-NAMI (6264), or visit the National Institute of Mental Health website.
Pete Davidson's whirlwind romance with Ariana Grande
We are no strangers to celebrities having short-lived relationships, yet nonetheless, Pete Davidson's whirlwind romance with Ariana Grande will always be one to remember. The two were first linked together in May 2018 when US Weekly confirmed that "Ariana and Pete are dating and it's casual," with People adding that the singer "seemed quite smitten."
Less than a month after their relationship was confirmed, the couple got engaged, with Davidson telling Jimmy Fallon: "I feel like I won a contest, it's so sick." But, as with most whirlwind relationships in Hollywood, everything soon fell apart. In October 2018 — five months after they were first linked together — TMZ reported that Davidson and Grande had broken up, with Davidson acknowledging that it was "not the right time for their relationship to take off," per US Weekly. The two have since moved on, with Pete having links to actors Kate Beckinsale and Phoebe Dynevor of the "Bridgerton" fame. As for Grande, she tied the knot with beau Dalton Gomez in May 2021.
His relationship with Kim Kardashian has made him more famous
When Kim Kardashian hosted "Saturday Night Live" and shared a kiss with Pete Davidson during their Aladdin and Jasmine sketch, little did we know that it was the start of one of Hollywood's most unlikely relationships — ever. A few weeks after the episode aired, the pair made headlines after they were spotted holding hands at Knott's Scary Farm. "It's just friends hanging out," a source told People at the time. Things, however, took a different turn when ET confirmed that Kim and Pete are indeed "dating and having a great time together."
But even though Davidson has only been with the reality star for a few months (as of this writing), it is safe to say she has greatly influenced his popularity. He went from being just the guy on "SNL" — who so happened to be engaged to Ariana Grande for a while — to being Kim Kardashian's boyfriend. If that is not what Hollywood dreams are made of, we don't know what is.
Of course, we can't talk about Davidson's new relationship without mentioning his one-sided feud with Kanye West, which recently went up a notch. But according to US Weekly, Davidson is simply "not worried." Instead, the couple is now Instagram official and look just about ready to rock our worlds with their steamy romance.