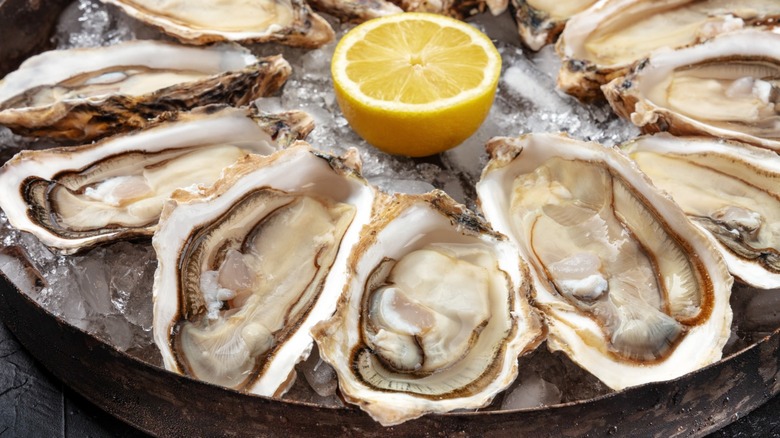 Oysters are known for creating hesitation in some diners. Not everyone wants to try slurping these sea creatures straight out of their shells. But for others, oysters are nature's best culinary creations. Oysters — which are a kind of bivalve mollusk in the same family as clams, scallops, and mussels — are on the menu at some of the world's best restaurants. Also, they famously contain aphrodisiac properties. What's not to like?
France usually claims to have some of the best oysters in the world. But in the United States, certain parts of the country have become known for theirs, as well. According to Matador Network, most of the oyster hot spots are in states like Washington, Maine, California, Massachusetts, Texas, and other places. Rand McNally reports that waterways all over the U.S., like the Gulf Coast, Chesapeake Bay, Narragansett Bay, and Puget Sound, are responsible for providing some of the best American bivalves.
The U.S. is home to five different types. Per The Spruce Eats, there are Atlantic (Or Eastern) Oysters, Pacific Oysters, Olympia Oysters, and Kumamoto Oysters. European Flats (or Belons) are also commonly found in the states, but they are typically grown overseas. These oysters are what you'll usually find at some of the best seafood restaurants and oyster bars in the country. And what are those places, you may ask? Read on to learn about where to get the best oysters in the U.S.
Grand Central Oyster Bar, New York City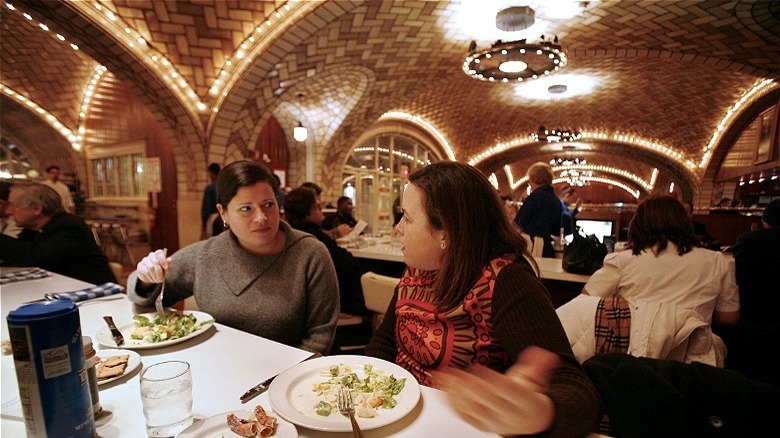 Grand Central Oyster Bar is one of New York City's most historic establishments. It opened in 1913, and as the name indicates, the restaurant is located in Grand Central Terminal on Manhattan (via Eater). Per Grand Central, the oyster bar is the oldest restaurant in the station. The eatery is also known for having an iconic interior design that is built out of the recognizable Grand Central ceiling arches. This architecture earned the restaurant a 2017 "Design Icon Award" from the James Beard Foundation.
The oyster bar is known for consistently serving fresh seafood. The restaurant boasts over 25 different types of shellfish, oysters, and fish. The menu changes daily, but on any given day you're likely to see around a dozen different oysters. On February 15, 2022 (for example) all of the oysters were from North America, either the United States or Canada. You can try Cape May Salts from New Jersey or Queens Cup oysters from Prince Edward Island. If neither of those sound good, there are plenty of others to choose from. Also, they're typically under $4 each.
Food television host Alton Brown defended this popular tourist attraction against those who say the menu prices are too high. Others continue to support it as well. The Infatuation called it "A one-of-a-kind, beautifully tiled space that might well have served bivalves to your grandparents parents back in the day." A Tripadvisor review said, "Come for the history, the fresh oysters, and experience and you'll be very happy!"
L&E Oyster Bar, Los Angeles
L&E Oyster Bar is a Los Angeles restaurant that's one of the best places you can eat the bivalves in the U.S. The establishment has a commitment to freshness that won't leave you hanging. L&E claims that "Each day oyster farmers harvest, pack, and ship us the best oysters available in North America." What's ending up on customers' plates doesn't seem to be disappointing them, at all.
The Los Angeles Times called L&E "Oyster nirvana." The Infatuation described the place's oysters as "creamy and briny in a way that makes you think they were hand-delivered from the ocean that morning." One review on OpenTable called it the "best place in LA for oysters."
This oyster bar is located in the hip Silver Lake neighborhood of Los Angeles. According to the menu, oyster selections change daily, and there's also a fried oyster entrée. Other seafood entrees include crab cakes, moules frites (a.k.a. mussels and fries, via Food Network), lobster mac and cheese, and fish and chips.
Hog Island Oyster Bar, San Fransisco
Hog Island Oyster is one of the most famous names in the mollusk game. Part of that is likely because this California institution has its own oyster nursery and farm. Per the oyster bar, Hog Island Oyster runs a 160-acre farm located in Tomales Bay, a waterway on the coast of Northern California, as well as a hatchery and nursery in nearby Humboldt Bay. These places are the primary part of the company's business. But Hog Island also runs several restaurants throughout the state, with locations in Marshall, San Francisco, and Napa, California.
The company harvests several of those most popular American oysters — Atlantics, Kumamotos, Olympias, and French Hogs (aka European Flats or Belons) — as well as more rare varieties like Earthquake Bays. Hog Island's signature oysters are called Sweetwaters. These are harvested year-round, whereas the rest are harvested seasonally.
Although Hog Island has two San Francisco restaurants, the one located inside of the Ferry Building Marketplace is the one with the Michelin guide's attention. Even though Hog Island doesn't have any stars — Michelin says it has "some of the sweetest, freshest bivalves on the West Coast." On Tripadvisor, reviews attest that the Ferry building's long lines, amazing views, and good oysters make it worth a trip.
The Walrus and the Carpenter, Seattle
Seattle is a sort of hub for seafood restaurants. But even in a city full of oyster bars, The Walrus and the Carpenter still stands out. The restaurant opened in 2010 and is located in the Seattle neighborhood of Ballard. According to Bon Appétit, the oyster bar is a "raw bar with French nostalgia and low-key American funk." Seattle Magazine also gave props to chef Renee Erickson and the menu, calling the fried oysters "superb."
On the menu, there are over five different types of oysters. Next to the type of oyster, you'll conveniently find the name of the farm where each bivalve was harvested. There are Olympia Wild oysters from Olympic Oyster Company. There are Calm Cove and Pickering Passage oysters from Hama Hama Oyster Company. There are even Canadian oysters, "Fanny Bays," from nearby Vancouver's PNW Shellfish Company. The menu also boasts vegetables, meats, cheeses, wines, and beloved bread to pair with those savory mollusks.
Oyster House, Philadelphia
Oyster House is the spot for getting mollusks in Philly. The seafood restaurant is located in Center City — the neighborhood in the heart of Philadelphia. That convenient destination, along with Oyster House's reputation for excellent food, is probably what has allowed the business to stay open for more than 40 years.
The restaurant serves lunch and dinner. It updates menus daily, so we can't say for sure what it will be offering, as it changes from day to day. But a sample dinner menu on the website details potential offerings from its famous raw bar, — including Sweet Amalia oysters from nearby New Jersey, Mystic oysters from Connecticut, Pink Moon oysters from Canada, and Wellfleet oysters from Cape Cod. These last bivalves are well-known in the U.S. According to Chefs Resources, they taste especially mild, sweet, and briny, compared to other oyster varieties.
Philly's Oyster House is a special spot loved by the local community. South Philly Review called the food "immaculately fresh." The local publication even went so far as to write, "There is not a seafood restaurant in town to match The Oyster House. This is why it has been a staple in Philadelphia since 1976."
Neptune Oyster, Boston
There's not a shortage of oysters in New England, especially in Massachusetts. As such, you'll find plenty of seafood restaurants and oyster bars to visit in Boston. But among many well-known names — including that of the now-closed Island Creek Oyster Bar — Neptune Oyster still stands out.
Neptune Oyster is located in the North End, a Boston neighborhood known for its culinary talents, especially Italian ones, according to Boston.com. The place's raw bar is open for lunch and dinner daily. On the menu, it doesn't reveal what oysters specifically will be offered, but explain that East Coast and West Coast varieties are provided. The eatery's Instagram reveals that the restaurant at one point served Kumamotos, which per Oyster Guide taste super sweet and fruity, with melon flavor.
According to reviews, this is a "refined" oyster bar, where skilled oyster shuckers service a packed house full of classy diners all the time (via Condé Nast Traveler). Other assessments note that the space is small — so maybe it's not that hard to fill up (via Fodor's Travel). But with over 5,000 reviews averaging nearly 5 stars on Yelp, Neptune Oyster has clearly served its share of satisfied customers.
Thames Street Oyster House, Baltimore
The city of Baltimore has plenty of access to fresh oysters. The Maryland metropolis falls along the seafood hub of the Chesapeake Bay, which is known for its oysters, blue crabs, and rockfish (per Talbot County). Blue crabs and oysters in particular are popular summer snacking for Baltimore natives, according to Costas Inn. And the place they're likely to be enjoying these foods is at Baltimore's Thames Street Oyster House.
This oyster bar and seafood eatery is located in Charm City's historic and happening Fell's Point neighborhood. It describes its offerings as "traditional mid-Atlantic seafood" on the restaurant website, where it cites accolades such as a Tripadvisor "Certificate of Excellence," a spot on the Baltimore Sun's "Top Ten Outdoor Dining Spaces 2013," and another as part of Zagat's "Eight Must-Try Restaurants in Baltimore 2017."
Thames Street Oyster House's menu includes a raw bar section offering oysters from "Chesapeake, Mid-Atlantic, New England, Canadian, west coast, & beyond." A Baltimore Magazine review complimented the restaurant's Kumamotos as well as its oysters Rockefeller, a dish of cooked oysters topped with breadcrumbs, spinach, butter, and sometimes cheese.
GT Fish & Oyster, Chicago
While Lake Michigan is home to many bivalves, there aren't any oysters in that massive body of water. As such, Chicago restaurants have to source mollusks from the West and East Coasts (which the midwestern city isn't particularly close to), as Eater explains. Despite this distance, some Chicago natives still have their oysters cravings. The spot many will use to satisfy them is GT Fish & Oyster, a seafood restaurant with a renowned raw bar. The menu is seasonal, but you can expect to find a variety of oysters there year-round. There are Big Cove oysters from Washington and Malpeque oysters from Prince Edward Island. GT offers Pink Moon oysters, which are known for — in addition to their mildly salty flavor — having beautiful shells and consistent shapes. There are also Fanny Bays on the menu, which will please diners looking for mineral flavors in their mollusks.
Reviews of this Chicago restaurant's raw food offerings say it has a good selection (via The Infatuation) full of "delicious" oysters (via OpenTable). GT Fish & Oyster is a higher-end restaurant, and its even gotten the attention of the Michelin Guide. Michelin said the "communal table by the raw bar makes a perfect perch for slurping oysters."
Maison Premiere, New York City
Brooklyn's Maison Premiere is an oyster bar that makes mollusks the star. According to the menu, it might have one of the wildest selections of oysters available. Oysters are sourced all over North America, including bivalve hubs like California, Washington, Rhode Island, Virginia, Massachusetts, Maine, and multiple parts of Canada. Try the Belons (aka European Flats), if you're looking to sample a powerful, metallic-tasting oyster.
This oyster restaurant boasts a James Beard Award, but says that's just one of many accolades it has earned. But it's not a stuffy place to win over the establishment and forget about its customers: Maison Premiere has excellent online user reviews. On Tripadvisor, the majority of ratings are five stars.
On OpenTable, it has even more excellent reviews. A lot of them are focused on Maison Premiere's interior design and atmosphere. The vibe is noticeably old-fashioned. Per New York Magazine, it's inspired by a restaurant called Old Absinthe House in New Orleans, which has stood since the beginning of the 19th century. Basically, not only are the oysters at this Brooklyn restaurant memorable, but the vintage feel is as well.
Eventide Oyster Co., Portland, Maine
Eventide Oyster Co. is a Portland seafood restaurant that's become one of the most famous spots of its kind in the country. The business now has a smaller Boston location — but the original Maine one has by far remained the most well-known. Looking at the numbers gives you a clue at why: Nearly 60,000 people have checked in there on Facebook, there are over 3,000 reviews on Yelp, plus 2,000 more on Tripadvisor. This place has a lot of foot traffic.
The Infatuation said Eventide's lobster rolls shine, but so do the over 20 different types of oysters on the menu. Condé Nast Traveler also pointed to the spot's toppings, like its cocktail sauce, red-wine mignonette, and flavored ices. These come in tabasco, kimchi, pickled red onion, and horseradish options, according to the menu.
As for the oysters themselves, the majority are from Maine. Basket Islands, Winter Point Selects, and Pemaquids, some of the top Maine oysters highlighted by Saveur, are also available at Eventide. All of the oysters — and many others on this list — will be served "on the half shell." This expression simply means the oyster has been opened, one shell is discarded, and (usually) the meat on the remaining shell has been cut. The oyster is no longer connected to its shell, but rests on top, allowing you to slide the whole thing into your mouth.
Oyster Club, Mystic, Connecticut
Oyster Club is another New England seafood restaurant that's made a name for its bivalves. Founder Dan Meiser opened the Mystic, Connecticut spot in 2011 after working for years as a classically trained chef, according to the restaurant. He created Oyster Club with a focus on the local food movement and sustainability, with seasonal menus and "local farmers, fisherman and artisans" at the center of its mission.
You can see this mission carry through on the menu. Most of the oysters are from New England, and each has a unique flavor to offer. There are creamy Ninigret oysters from Rhode Island, as well as briny Sixpenny and buttery Niantic oysters from Connecticut. Like other restaurants with raw bars, you can start with oysters before moving on to larger seafood plates, such as pan-roasted halibut and native skate.
Critics and customers love Oyster Club. CTbites called dining there an "extraordinary" experience. Fodor's complimented not only the food but the "rustic" interior design and ambiance. The place's Tripadvisor page is full of encouragements to visit the restaurant, including one review that says "Couldn't have been better, both the service and the food."
Row 34, Boston
Row 34 is another outpost of the seafood scene in New England. The restaurant known for its oysters has three locations: one in Portsmouth, New Hampshire, one in Burlington, Massachusetts, and one in Boston. There's also a fourth location opening in Cambridge in fall 2022, according to Eater. While all the spots are bound to be great, we'll focus on Boston, since it's the home of the original Row 34, located in the Seaport District and South Boston Waterfront area (via Tripadvisor).
The restaurant has been described by Bon Appétit as the best place to get Island Creek oysters, a Massachusetts variety grown at a nearby farm in Duxbury. That's probably because Row 34 was created by the same founders of Island Creek Oyster bar, a former Kenmore Square seafood restaurant which closed its doors in February 2021. But you can get Island Creek oysters, which are said to taste briny, on Row 34's menu. If you're looking to try something else, there are around ten other oyster varieties available. Those include familiar names like Ichabod Flats, Wellfleets, and Hama Hamas.
If you want to venture into other raw bar options, you can do that at Row 34. There are clams like Littlenecks (known for being small, sweet, and tender), and Jonah crab claws (said to taste sweeter and less meaty than other crabs) as well. But if you have some money burning a hole in your pocket, you could go for $105 shellfish tower.
Clark's Oyster Bar, Austin
In Austin, Clark's Oyster Bar is one of the top spots. The restaurant is located in the Clarksville neighborhood in West Austin and is run by chefs Larry McGuire & Tom Moorman, according to the restaurant's website. Clark's also has another restaurant of the same name located in Aspen, Colorado, which opened in 2018. But the Austin restaurant is more established: It started slinging mollusks back in 2012. Even since the early days, it's been a respected restaurant recommended by outlets such as The Austin Chronicle.
Clark's serves lunch, dinner, brunch, and — like many places with raw bars — has popular happy hour offerings. The current dinner menu includes 12 different types of oysters. Perhaps surprisingly, there aren't any Texas oysters on the menu, but instead Royal Canadians, Eel Lakes, and Egg Islands, all from the East Coast. The "Cold Bar" section of Clark's menu features prepared versions of raw seafood. You'll find familiar favorites like Shrimp or Crab Louie, both seafood salads known for using hardboiled eggs and iceberg lettuce. There's also a Jumbo Shrimp Cocktail (another crowd-pleasing raw seafood staple), which comes with horseradish and saltines.
The Marshall Store, Marshall, California
The Marshall Store is a California oyster restaurant that serves fresh mollusks straight from the Marshall family farm: the Tomales Bay Oyster Company. The restaurant and farm are both located in Marin County, which is part of the San Francisco Bay Area in Northern California. Humboldt and Tomales Bay (the latter of which Marshall is a part of) remain the two top producing spots in the state for oysters. Tomales Bay is even home to an actual city named "Bivalve."
On days with good weather, you can get lunch at The Marshall Store. You can get a plate of six oysters on the half shell for $22. There are also other menu options of oysters prepared in different ways. You'll find Oysters Rockefeller, BBQ oysters, Kilpatrick oysters (a traditional Australian recipe featuring Worcestershire sauce and bacon), or smoked oysters served on toast with cheese from Cowgirl Creamery (a celebrated California artisanal cheese company).
Other seafood items on the menu include New England Clam Chowder (the one without tomato), ceviche tostadas, fish tacos, and trout salad. Per Yelp, The Marshall Store is a great place to stop for oysters while on road trips up and down the West Coast.
Taylor Oyster Bar, Seattle
Taylor Shellfish Farms is an especially historic oyster farming company. According to the website, the Taylor family has been farming oysters from the Pacific Northwest's Puget Sound since the 19th century. In addition to shellfish farms, the company also owns seafood restaurants in the state of Washington. We'll be talking about its Seattle oyster bar located in Pioneer Square.
Offerings are focused on bivalves from the region. On the menu, you'll find a variety of Washington oysters: Shigoku oysters from Nachotta, Kumamotos from Oakland Bay, and Olympias from Totten Inlet. All of these places are in Washington.
Shigokus were first introduced to the oyster world in 2009 as an invention of Taylor Shellfish Farms themselves (via Tampa Bay Times). The company tumbles the oysters to strengthen the creature's muscles, thus producing a meaty mollusk with a deep cup when the sea creatures finally end up on your table, explains Taylor Shellfish. It's this creativity that shows going to a Taylor Oyster Bar is sure to expose you to some of the best Pacific oysters in America.
Swan Oyster Depot, San Francisco
Swan Oyster Depot is a San Francisco institution. The casual counter-service seafood restaurant opened in 1912 (via Condé Nast Traveler), and is known for having been one of Anthony Bourdain's favorite SF eateries (via Eater). But the late culinary television personality wasn't the only one to take notice of it.
Condé Nast Traveler has called Swan Oyster Depot "everything a seafood lover could want," with fresh oysters served on ice just as delicious as the popular seafood salads. Bon Appétit called the restaurant worth the long wait it tends to have. However, the magazine also warned that the "no-frills" atmosphere doesn't exactly match the higher prices.
Oysters at Swan Depot come from both the East and West Coasts. Specific offerings rotate daily, according to The Infatuation. At one point, the place was serving Shigokus, Bluepoint Virginicas, and Kumamoto oysters (via SF Gate). All of them you can get with a chili-based house mignonette, which is popular among the restaurant's many loyal fans.
The Original Oyster House, Gulf Shores, Alabama
The Original Oyster House is a casual seafood joint located on the coast of Alabama, another part of the U.S. where oysters are plentiful. The eatery has been serving the Gulf Shores community delicious oysters since 1983. According to the restaurant's website, that loyal fan base has allowed the Original Oyster House to expand to a size that fits 300 people. The company has also opened another location, in Mobile, Alabama.
This place is as family-friendly as oyster houses can get. While the kids can sample the popcorn shrimp, adults can order a variety of cooked oysters. The Original Oyster House has Oysters Rockefeller, parmesan garlic oysters, "Joe and Dave's Favorite Oysters" (baked mollusks with garlic cocktail sauce, bacon, and cheese), and the "Shell-Shocked Oyster Sampler" (a few different baked oyster dishes combined).
These options are certainly more indulgent than you'll find at the average raw bar, but you'll still get a healthy dose of zinc by eating the nutrient-rich oysters at the base of every dish. If these more savory options don't entice you, you can always get oysters on the half shell.
Matunuck Oyster Bar, South Kingstown, Rhode Island
Back in New England, Matunuck Oyster Bar continues to uphold its reputation as an excellent raw bar and seafood restaurant with an amazing view (via Home Is A Kitchen). The spot is the customer-facing arm of Matunuck Oyster Farm, which is located on Potter Pond in South Kingstown, Rhode Island. After starting the farm in 2002, founder Perry Raso opened the waterfront restaurant in 2008. There's a reason the Boston Globe continues to call it "one of the most famous restaurants in Rhode Island."
On Matunuck's menu, there are only two categories of oysters: those from the Matunuck farm, and those from other local Rhode Island oyster farmers. The eatery also offers different kinds of prepared bivalves, such as passion fruit oysters (local ones topped with cucumber gazpacho and salmon roe). Other mollusks, like littleneck clams and cherrystones, are also available, either by themselves or as part of one the restaurant's seafood towers. Fodor's recommends heading here at sunset to take in the beautiful coast at the same time as your meal.
Pearl Dive Oyster Palace, Washington, D.C.
Pearl Dive Oyster Palace is a Washington D.C. eatery that's been a part of the capital city's food scene for the better part of the last decade. Unlike other American oyster spots, this place is known for fried chicken and pies as much as its seafood, according to the Washingtonian. The restaurant mainly serves happy hour and dinner on weekdays, but on the weekends it stays open for the town's many government workers to indulge in brunch.
There are several hot oyster plates on the dinner menu. These include items like Oysters Rockefeller and "Angels On Horseback," a classic recipe featuring grilled oysters wrapped in bacon, then doused with balsamic vinegar. The oyster choices themselves are "local." The Michelin Guide seems to think these dishes are worth the trip — Pearl Dive Oyster Palace is a "Bib Gourmand," winner. Restaurants with this designation don't have a star, but serve good food at an affordable price.
The Ordinary, Charleston
The Ordinary is a Charleston, South Carolina restaurant where you're bound to get some top-dollar seafood. You'll get to enjoy some of the best oysters in the country — all while sitting in a gorgeous dining room. The restaurant isn't flying under the radar. It's been voted one of the ten best eateries in Charleston by USA Today, which has called the food "adventurous," the ingredients "fresh," and the building "grand." Bon Appétit calls the raw bar "the most elegant" of any in the city. That helps narrow down the choices, as there are quite a few in town.
Bivalves available at The Ordinary include Dixon Point oysters from New Brunswick, Canada, as well as Capers Blades and Steamboat Creeks — both oysters from South Carolina, according to the menu. The best time of year to taste these local ones might be September through April, which is oyster season in the state (via Discover South Carolina).
Casamento's, New Orleans
Casamento's is another historic restaurant — it's been slinging oysters since 1919. But luckily, while the eatery is old, the oysters are not. The Infatuation says the bivalves are still the best thing on the menu. Even over 100 years since opening, Casamento's still has a reputation for serving some of the freshest-tasting seafood in the country.
There are both raw and cooked oysters on the menu. In addition to these classic categories, there's also oyster stew. Gayot describes this option as a "New Orleans-style" stew, filled with mollusks submerged in a dairy-driven liquid. Casamento's is also known for its fried oyster loaf, a unique sandwich made with white bread, hot sauce, and lemon squeezed onto the bivalves. Saveur called this the heart of the "Creole Italian" menu.
This place is legendary for its oysters, but it's clearly not the restaurant to just get oysters on the half shell. Indulge in this more unique soup and sandwich while at Casamento's.
Merroir, Topping, Virginia
According to Rappahannock Oyster Company, Virginia is one of the largest oyster producers on the East Coast. Growth within the state's seafood industry occurred largely within the last two decades. During this blooming period, Rappahannock opened five restaurants located throughout the country. Although the restaurant group is appreciated in the culinary world, the Merroir Tasting Room in Topping, Virginia, is the original spot.
The name "Merroir" itself is a popular term in the oyster world. It is a play on the word "terroir," a French word that indicates how a wine has been impacted by its natural environment. "Merroir" is supposed to be a combination of "mer" (meaning "sea" in French) and terroir (via The New York Times). As another waterfront seafood restaurant — one located not far from the oyster farms providing the restaurant's dishes — it's not hard to forget where your seafood is coming from at Merroir.
As for oysters on the menu, Merroir serves raw Rappahannock oysters, roasted oysters, and a "Rockefeller dip," inspired by the flavors and ingredients of Oysters Rockefeller. Virginia's River Realm called the menu "ever-changing," so don't expect to see the same offerings every time.
Gilhooley's Raw Bar, San Leon, Texas
Texas' Gulf Coast provides the entire state with some great fresh seafood. Most of the oysters come from Matagorda, Galveston, or San Antonio Bay, all of which are located on that Southeastern part of the Texas coastline. Since Austin, Houston, and San Antonio — some of the largest cities in the state — are located not far from the Gulf, these metropolises are usually stocked with fresh bivalves.
San Leon is another Texas city located along the oyster hub of Galveston Bay. This particular spot on the Gulf Coast is a casual seafood restaurant. That means it's more well-known for its fried mollusks than it's oysters on the half shell. It's also definitely not family friendly: Houston Press warns that kids are not allowed, possibly due to "risqué" artwork decorating the eatery's interior.
On the menu, there are of course raw oysters from Galveston Bay. But you'll also be able to get oysters picante (topped with salsa and melted Colby jack cheese) or oysters Gilhooley (grilled and topped with garlic butter and parmesan cheese). Shrimp can be added to each of these options, on top of each half shell. Further down the offerings, there are even more oyster options. Gilhooley's serves fried oysters as well "everyday gumbo," which has four different kinds of protein — one of them being the beloved bivalves.
Peche, New Orleans
Peche is a New Orleans seafood restaurant that differs largely from the vibe of Creole Italian Casamento's located in the same city. Where Casamento's atmosphere is vintage, Peche's is contemporary. What makes them alike is that Peche also carries its share of overseas influences. The restaurant of course mentions the Gulf Coast influence, but also says it's inspired by the cooking of South America and Spain.
The James Beard Foundation honored Peche twice in 2014, for "Best New Restaurant in America" and "Best New Chef: South." The second award went to Peche's lead cook Ryan Prewitt. GQ, Vogue, Condé Nast Traveler, Bon Appétit, and many more publications have had nice things to say about Peche, according to the eatery. With so many satisfied critics, it's hard not to find a reason to go here. Indeed, there's at least one person on the NOLA tourism website attesting to the delicious flavor of the local Louisiana mollusks served at Peche. As one Tripadvisor review said "It's worth it! Great fish, oysters, gumbo and desserts."