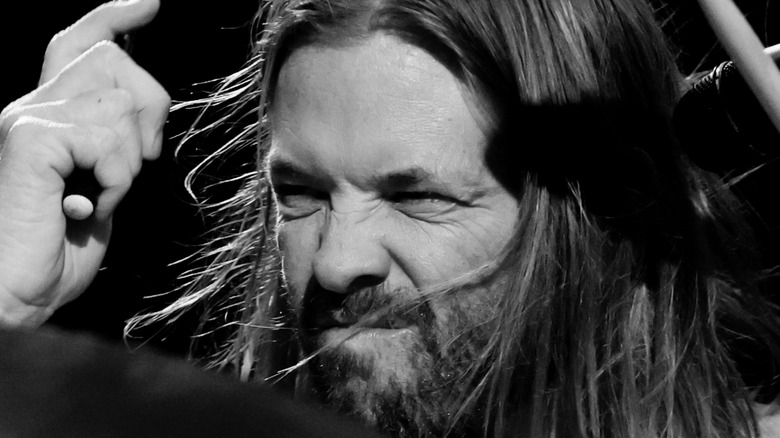 Foo Fighters drummer Taylor Hawkins' untimely death at a hotel in Bogota, Colombia was a tragic end to the over two decades the seemingly perpetually upbeat musician spent with one of the biggest bands in rock history. Hawkins joined the Foo Fighters in 1997 with the band in need of a new drummer following the release of the band's second album "The Colour and The Shape" (via AllMusic). He made his studio debut with the band on 1999's "There Is Nothing Left To Lose" and from there the band's reputation only grew, with Hawkins being a major factor given his undeniable talents and charisma on stage.
While in retrospect joining forces with Dave Grohl and company on a career that eventually led to being enshrined in the Rock & Roll Hall of Fame seems like a no-brainer, to do it required a considerable leap of faith, as it meant that Hawkins had to leave a comfortable gig with one of the 1990s biggest stars: Alanis Morrisette.
Taylor Hawkins' early life and influences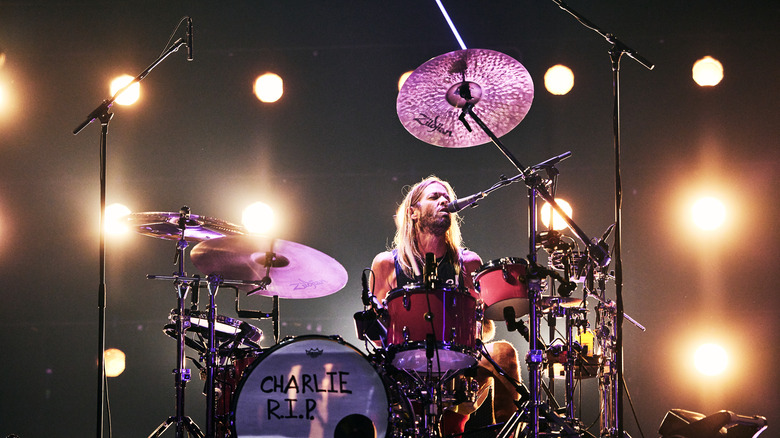 According to AllMusic, Oliver Taylor Hawkins (as his name is listed in the Rock & Roll Hall of Fame) was born on February 17, 1972, in Dallas, Texas, but he grew up in Southern, California the backdrop upon which he developed the laidback surfers' sensibility that became one of his trademarks. One of Hawkins' biggest influences early on was Stewart Copeland, drummer for the English rock band The Police. Copeland's jazzy, progressive style of drumming rubbed off on Hawkins and put those skills to use behind the drumkit with the experimental rock band Sylvia.
According to CNN, another big influence on Hawkins was Queen and not just drummer Roger Taylor. Foo Fighters' live shows often featured the band playing cover songs with Queen tunes frequently in the rotation. Grohl and Hawkins would typically swap places with the Grohl jumping behind the drums and Hawkins taking over frontman duties and managing the notoriously difficult vocals made famous by Queen's Freddie Mercury.
Hawkins joins Alanis Morrisette
Taylor Hawkins' first major break in the music industry came when he was tapped to be the touring drummer for Alanis Morrisette. This also came at the peak of Morrisette's fame, as Hawkins was hired to perform on the tour for the Canadian singer's mammoth, multi-multi platinum album, "Jagged Little Pill."
"It was so much fun. I joined Alanis' band and the single ('You Oughta Know') came out and it just went f****** nuclear. Next thing you know, I'm in a video that's on MTV every hour. That tour was very special, and I owe her a lot of gratitude," he said during an appearance on shock-rock legend Alice Cooper's radio show "Nights with Alice Cooper."
"She gave me a lot of space to do what I wanted. It was probably the biggest album of the year, and there was a lot of pressure on her," Hawkins said. "She was having to learn to be this leader on the job, which isn't easy. But it was really one of the most fun times of my life."
The beginnings of Foo Fighters'
While Hawkins was playing with Alanis Morrissette, the Foo Fighters were still beginning their ascension to rock greatness. The band was formed by Dave Grohl, who himself had gained a reputation as one of rock's greatest drummers having been behind the drum kit for Nirvana, a band that changed almost everything in the early 1990s; rock music and otherwise.
Following Nirvana frontman Kurt Cobain's death in 1994, Grohl was at a crossroads both musically and personally. According to NPR, Grohl found it difficult to continue on as a drummer following Cobain's death. "Honestly, after Nirvana ended, I was asked to join a few other bands as the drummer. And I didn't really want to just sit back down on the drum stool because I thought it would remind me too much of losing Kurt and losing Nirvana," he said.
So, Grohl decided to record some songs and release them under the pseudonym "Foo FIghters" — a World War II-era term for UFOs — despite it being a solo effort. The eponymous debut album led to live shows, but Grohl traded the drums for a guitar and microphone. He enlisted the help of former Nirvana touring guitarist Pat Smear and recruited the rhythm section from the then-recently-disbanded Seattle emo band Sunny Day Real Estate, bassist Nate Mendel and drummer William Goldsmith.
The Foos needed a new drummer in 1997
Foo Fighters' original drummer found himself having to play drums in a band fronted by one of the best drummers in the world, an unenviable position. While recording the band's sophomore effort 1997's "The Colour And The Shape" Grohl, who had very strong opinions on the album's drum parts and how they should be played, scrapped all of Goldsmith's tracks and re-recorded them himself, per Kerrang. Goldsmith wasn't happy with this and left the band despite offers to continue playing with Foo Fighters on tour.
Tayor told Entertainment Weekly he'd met the Foo Fighters while on tour with Alanis Morissette. He was a fan of their album at the time, 1995's self-titled LP, but said, "I didn't really ever think there was going to be an opening. Never. Nor did I necessarily think I was the right drummer. But I did love the music so much."
Taylor said Morrissett's music was going in a "slightly less aggressive direction," so when he heard the Foo Fighters were looking for a new drummer he called Grohl and said, "Hey, I heard you guys are out of a drummer right now." Grohl replied, "Yeah. Do you have any good recommendations?" Taylor said, "Well how about me you a******?"
Grohl told Entertainment Weekly he'd been trying to reach Hawkins to see if he could recommend a drummer, thinking he'd not want to leave Morrisette's stadium packing tour. Grohl said, "And what, he's going to jump in our red Dodge van and play the f****** Viper Room again?"
Grohl and Hawkins had a close personal relationship
Hawkins was, in fact, ready to jump in that red Dodge van. Grohl told Entertainment Weekly, "I went over to his little house in Topanga Canyon, he sat down and played for three seconds, and the first time he hit a snare drum, I knew it. I swear to God. I was like, 'That's all I need to f****** hear. I love you as a person. You've just given me hearing damage for the rest of my life in three seconds. You have to be in the band.'"
According to Bloomberg, In his 2021 book, "The Storyteller," Grohl described Hawkins as his "brother from another mother, my best friend, a man for whom I would take a bullet." The two were very close personally and it allowed for a solid working relationship to boot. Hawkins' talent also helped propel the band to new heights, with Hawkins first appearing on tour with the band to promote "The Colour And The Shape" then in the studio on every single one of the band's albums starting with "There Is Nothing Left To Lose."
His relationship with Grohl is the reason Hawkins decided to give it a go with Foo Fighters. "I think it had more to do with our personal relationship than anything musical," Grohl said in an interview with KLOS's Matt Pinfield. "To be honest, it still does. Our musical relationship — the foundation of that is our friendship, and that's why when we jump up onstage and play, we're so connected because we're like best friends."