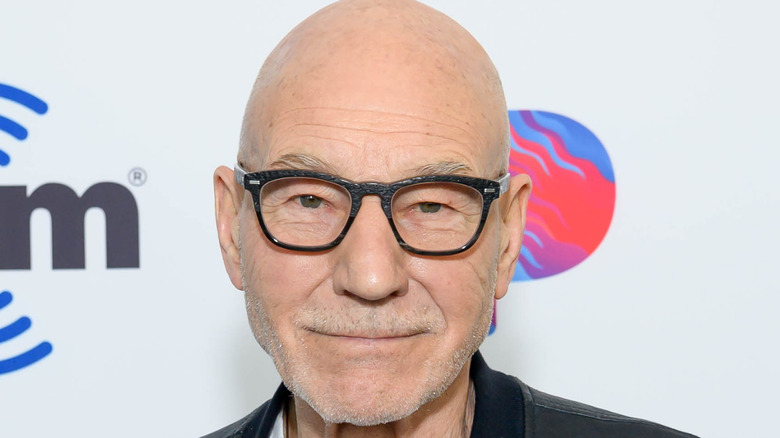 Even if young Patrick Stewart would have chosen a completely different path and never appeared in front of a camera, there's an excellent chance that he'd still have managed to build a very impressive acting career. After all, the roles that turned him into a household name and a beloved A-lister — Captain Jean-Luc Picard of "Star Trek: The Next Generation" fame, and "X-Men" leader Charles Xavier — are but a fraction of his illustrious résumé. Per London Theatre, Stewart's stage credits date all the way back to 1952, when he started performing at the tender age of 12. In 1966, he started a 16-year tenure with the prestigious Royal Shakespeare Company, and after wrapping theater-loving Britons around his finger, he took his talents Stateside and did the same to Broadway audiences.
Combine his incredibly successful theater and onscreen careers with the friendly and affable way he carries himself in interviews and public appearances, and it's easy to think that Stewart doesn't have a care in the world. Still, even his seemingly charmed life has featured its share of setbacks and unfortunate events. Here is a look at the tragic real-life story of Patrick Stewart.
Patrick Stewart had a traumatic childhood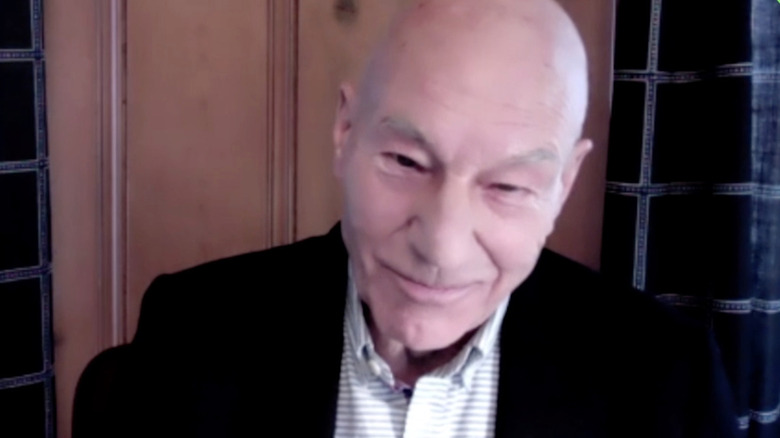 Patrick Stewart's unhappy experiences in life started early — far earlier than any person should go through such traumatizing events (per The Independent). The future superstar's father was a World War II veteran who was often violent toward Stewart's mother, leading in situations where the future superstar had to brace himself to intervene with the violence when he was only 5 years old, according to The Guardian. As the Express tells us, these harrowing early age experiences affected Stewart's acting career in a massive way. He was drawn to the stage because it gave him a refuge from his troubling home life, but it also took him a long time to be able to truly cut loose onstage because he tried to lock so much of the pain inside.
The actor has also noted that his early life has left its mark on his personal life, as well. "Such experiences are destructive," Stewart has said. "In my adult life, I have struggled to overcome the bad lessons of my father's behavior, this corrosive example of male irresponsibility."
The actor hasn't been burying his past experiences. He started facing his trauma with therapy when he was playing Captain Picard, and he's been involved with the domestic violence charity organization Refuge since 2006.
If you or someone you know is dealing with domestic abuse, you can call the National Domestic Violence Hotline at 1−800−799−7233. You can also find more information, resources, and support at their website.
He lost his hair at an extremely early age
It's almost impossible to picture Patrick Stewart with a full head of hair. After all, by the time he was cast as Captain Picard, he already sported his signature, hairless look. However, according to The Hollywood Reporter, he's actually rocked a chrome dome much longer than you might assume … and far, far longer than he would have preferred as a young man.
Stewart, you see, was only 19 when his hair started to part ways with his scalp. As he's been quick to admit, he didn't take the situation well, and in a prolonged bout of insecurity, chose to fight the cruel twist of genetic fate with an ever-escalating series of combover hairstyles, hats, and even the occasional hairpiece. In an interview with the BBC's "Parkinson" (via YouTube), Stewart revealed that his friends finally put a stop to such antics.
"There was a man who had been at drama school with me," Stewart said. "He was a good, loyal friend to me. He was also a judo black belt. Very strong, very powerful. He and his wife invited me for lunch one day. We had lunch, it was very nice, bottle of wine. And the two of them got up after lunch, I thought they were going to make coffee or something, and all of a sudden, I was grabbed from behind." One forced haircut later, Stewart had found his iconic look.
Patrick Stewart became typecast in Hollywood
With his extensive theater experience and iconic film roles, few people could deny that Patrick Stewart is a master thespian. Nevertheless, a look at his IMDb page soon reveals that, aside from a number of prolific voice roles, the vast majority of his best-known film and TV credits have centered around his two most famous roles: Jean-Luc Picard in the "Star Trek" franchise and Charles Xavier in the "X-Men" film series.
In a 2009 interview with The Independent, Stewart lived in Hollywood for around 17 years, and while his famous roles certainly made him a superstar, they also somewhat clipped his wings as an actor. "I had come to the point when I realized it was unlikely that my film career was going to move beyond a certain level of role," Stewart said. "And I was -– because I had graphic instances of it -– handicapped by the success of Star Trek. A director would say, 'I don't want Jean-Luc Picard in my movie' –- and this was compounded by X-Men as well."
A return to the stage in 2003 finally made Stewart fully realize his frustration with Hollywood typecasting, and he's been much more involved with theater ever since. Stewart's most recent straight play was in 2016, when the then-76-year-old teamed up with "X-Men" co-star Ian McKellen in a production of "No Man's Land" to rave reviews (per The Guardian).
Patrick Stewart was a school dropout
In many of his roles and public appearances, Patrick Stewart's looks and voice exude the kind of assured confidence that's easy to associate with higher education. However, as it turns out, the man is a very capable actor. As the Independent tells us, Stewart's educational background is actually surprisingly austere, and he left school behind at the young age of 15.
In a 2022 interview with The Guardian, the actor noted that his good friend and fellow actor, Cambridge University graduate Ian McKellen, has pointed out that Stewart is somewhat insecure about his educational background. "[McKellen] won a scholarship to go to Cambridge, and I left school at 15 and two days," Stewart said. "I was at a secondary modern school, where a great English teacher first put Shakespeare into my hands and asked me to read it aloud. But I feel a sense of intimidation at Ian's level of education. Although I now understand he spent most of his time at Cambridge acting rather than studying."
Of course, there are several different educational routes one can take, and what Stewart might lack in early academic laurels he's more than made up over the course of his highly respected acting career. Despite dropping out of school, he eventually become a scholarship student at Bristol Old Vic theater school (via The Guardian). He's also an honorary graduate of the University of Huddersfield, served as the school's Chancellor between 2004 and 2015, and remains their Emeritus Chancellor.
Gene Roddenberry didn't like Patrick Stewart's casting as Captain Picard
Jean-Luc Picard is arguably the greatest "Star Trek" captain to ever command the Enterprise, and so iconic that he remains the only one to receive a spin-off bearing his name (eat that, James T. Kirk). Patrick Stewart, of course, has been integral in making the character stand out in a franchise full of memorable characters. It's difficult to imagine any other actor with the ability to deliver such a commanding performance while also pulling off what's effectively a skin-tight black-and-red leotard, but Stewart masterfully owns both sides of the performance.
With that in mind, it's slightly surprising to find out that the creator of the show was staunchly against Stewart's casting. In a 2017 appearance at a "Star Trek" panel in Las Vegas, Nevada (via Trek Movie), the actor himself told that Gene Roddenberry disliked the idea of Stewart as Picard. "Gene and I did not have a close relationship," the actor said. "We had a respectful relationship. Gene had very strongly felt that I was wrong for the role … I am told, and I don't know the details, but there was a lot of warfare that went on in the producers offices about that."
Fortunately, Roddenberry eventually came around to see what the actor brought to the role, even though Stewart clearly didn't fit his personal vision of Picard. "I got the feeling that he was ultimately kind of satisfied with how it turned out," Stewart said.
Patrick Stewart had a controversial stance on a high-profile discrimination case
In 2014, a bakery in Belfast, Northern Ireland became the subject of controversy when it refused to bake a custom cake featuring two "Sesame Street" characters with the text "Support Gay Marriage," and specifically quoted the slogan as the grounds for refusal (per the BBC). This became a high-profile discrimination case that the customer took all the way to the European Court of Human Rights, where it was dismissed in 2022 due to technical issues that rendered it inadmissible.
In 2015, Patrick Stewart weighed in on the conversation, and his stance was not what many apparently expected (per the Belfast Telegraph). Though Stewart has been a vocal LGBTQ+ advocate (via Salon), he announced during an appearance on "Newsnight" that he actually thought that the bakery was correct. The actor's comments drew a notable social media backlash, and ultimately caused the actor to take to Facebook to further explain his logic (via Pink News).
"In my view, this particular matter was not about discrimination, but rather personal freedoms and what constitutes them, including the freedom to object," Stewart opined. He went on to note that while his stance could be seen as controversial, it's absolutely not a bigoted sentiment. "What I cannot respect is that some have conflated my position on this single matter to assume I'm anti-equality or that I share the personal beliefs of the bakers," he wrote. "Nothing, absolutely nothing, could be further from the truth."
Patrick Stewart had an extremely public row with James Corden
Patrick Stewart seems like a jovial fellow. James Corden, as a late night host, can seemingly get along with everyone. As such, they should get along like a house on fire — but during a nasty onstage encounter at the 2010 Glamour Awards (via YouTube), both men tried to chuck each other in the roaring inferno.
As the pair started to present an award together, Stewart unexpectedly called Corden out on what he perceived as a disrespectful and disinterested attitude. The visibly flustered and surprised Corden responded with a quick, polite apology of the "I'm sorry you feel that way" variety, and told Stewart to avoid straying on the subject while presenting an award. Stewart countered by launching into multiple underhanded jokes about Corden's weight, which Corden — rightfully, one might argue — pointed out were painfully unfunny as he tried in vain to get things back on track. Things got so bad that the recipient of the award actually sided with Corden in her speech, as the two men continued their embarrassing back-and-forth on the background.
Per Classic FM (via Express), Stewart later apologized for his actions and admitted that he was somewhat worse for wear during the incident. "My part of the evening came late and it was alcohol, I'm afraid," Stewart said. "I went too far, I was somewhat out of control. I have nothing but admiration for Mr. Corden. I still blush in remembrance of it."
His busy schedule made him an absent father
Impressive as Patrick Stewart is as an actor, it can be hard to imagine someone with his sheer gravitas as a family man. Yet, he does have a family. Per Heavy, Stewart has two children from his first marriage. So, how did he fit the whole fatherhood thing into his busy acting schedule?
As Stewart himself noted in a 2015 interview with the New York Daily News, for a long time he simply … didn't. A hard-working man since his youth, his theater engagements caused him to be a fairly absent father, which he later came to regret. "When I got married and I had children, I missed huge amounts of [family] time," the actor said. "I would see my kids on Sundays if I was lucky. It was hard on my kids."
Still, it seems that love for acting runs in the family, and Stewart's absence did little to extinguish the flame. His son, Daniel Stewart, is an actor himself, and the father-son duo has even appeared in multiple projects together. Per USA Today, the younger Stewart fully recognizes the absurdity of the situation, and confirmed that growing up at the Stewart household was indeed pretty different from what one might consider a normal childhood. "My upbringing wasn't a typical one in that my mum and dad came home at 5 and dinner was on the table at 6," Daniel said.
Patrick Stewart had two divorces
Celebrity marriages aren't exactly the strongest thing in the known universe, and like many other A-listers, Patrick Stewart's had his share of divorces. According to the Independent, though, the actor's first marriage did actually reach a fairly respectable age before it dissolved. He married choreographer Sheila Falconer in the 1960s, and the couple stayed together until 1990. Stewart has two children, Daniel and Sophia, from this 24-year marriage.
Stewart's second marriage resulted from his time on "Star Trek: The Next Generation," as the woman he married, Wendy Neuss, was actually a producer for the show. Per Express, however, their marriage lasted for only three years, and they divorced in 2003.
Fortunately for Stewart, his third marriage to singer Sunny Ozell seems to be made of sturdier stuff. The pair met in 2008 at a restaurant where Ozell was working as a waitress, and they eventually married in 2013. As Stewart told People in 2022, the pair continues to do just fine. "I've never met anyone like her before," the actor said. "She is so smart and so informed. And her intellectual accomplishments are extraordinary. She remembers everything."
He went to some pretty dark places while performing Macbeth
Patrick Stewart might be a stone-cold theater professional, but even he has found the physically and emotionally demanding artform overwhelming in certain parts of his career. In a 2022 interview with The Guardian, the actor admitted that he had a tough time during his year-long stint of performing "Macbeth" between 2007 and 2008. Stewart, who was in his late 60s at the time, devoted his life to nothing but "Macbeth" for an entire year, and recounts a particularly challenging time that had him cope with the stress of the performance in some pretty unhealthy ways.
"I had difficult patches and there was a period when we were in New York that performing that play took everything I had," he said. "I would end the show emotionally exhausted, go straight home, and drink alcohol until I passed out. I'd sleep for a good many hours and then find that, by about four in the afternoon, there were little stirrings of, 'You're going to play this great role again in a few hours.' And I'd know it would end with me being f***** in a few hours. But it was the only way I could find to do it."
In hindsight, he seems to feel that the year was professionally a fairly solid success, but not necessarily solid enough to repeat the bleakest parts of the experience. "I know now that I have to stop and take a break," he noted.