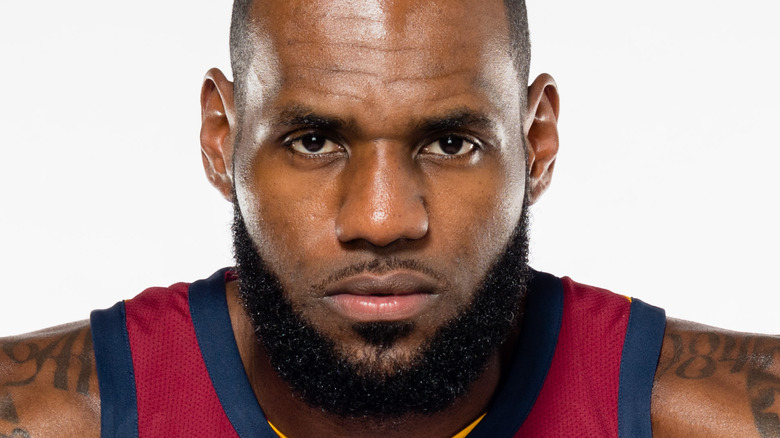 The debate of whether LeBron James has surpassed Michael Jordan as the greatest basketball player of all time is a staple in sports circles around the country. Regardless of where one stands in the discussion, the simple fact that this is up for debate makes James a cultural icon set to outlive him and all of us. James's name is stamped all over NBA's record books across pretty much every category.
James seems to never tire of making history. After winning the Championship with the L.A. Lakers in 2020, he became the only player to win NBA Finals MVP with three different teams, adding to the previous awards with the Cleveland Cavaliers and Miami Heat, per NBA. Among his other accomplishments are four Championship titles and holding the record for all-time playoffs points, according to Basketball Reference.
But James's cultural relevance goes beyond the basketball court. James doesn't hold back when it comes to speaking out, which makes him stand out in the eyes of many fans and experts alike. "This is why I think LeBron James is the greatest of all time… LeBron stands up and speaks out on the injustices that are happening in the world," former basketball player and sports analyst Jay Williams said on ESPN. James has been playing professionally for nearly two decades, and he is still going strong. While he has no plans to retire, a lot has happened in his journey so far. Keep reading to check out his transformation over the years.
LeBron James's skills were noticed amid his childhood's hardships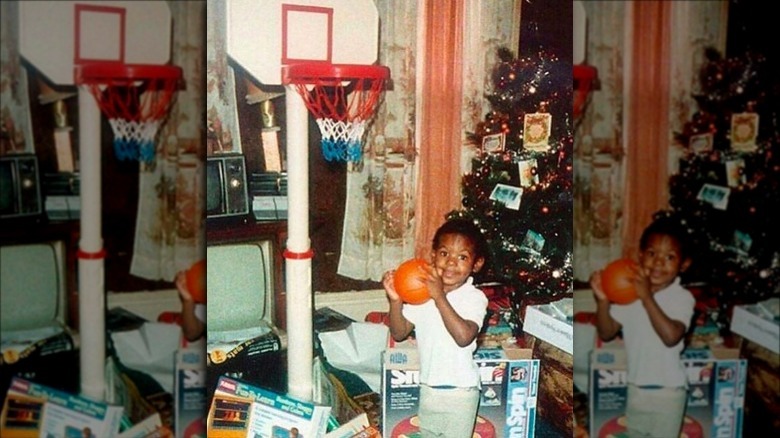 "The Kid From Akron," as LeBron James often calls himself, grew up in the small Ohio town alongside his mother, Gloria James, who had him when she was just 16, per The Guardian. LeBron's father, Anthony McClelland, had a long criminal record and wasn't around, evidenced by the fact that LeBron doesn't carry his name. This experience inspired LeBron to give his son his full name, a decision he now regrets, LeBron said on HBO's "The Shop: Uninterrupted." "I still regret giving my 14-year-old my name. When I was younger, obviously, I didn't have a dad. My whole thing was, whenever I have a kid, not only is he gonna be a junior, but I'm gonna do everything this man didn't do."
A year after giving birth to LeBron, Gloria's grandmother died, followed by her mother just six months after, per The Guardian. LeBron had very little consistency in his life. "I saw drugs, guns, killings; it was crazy," an 18-year-old LeBron told The Guardian. Of his school's 162 days, he missed 100. Around that time, LeBron's sport wasn't basketball, but football, which he played in school.
It was his coach, Frank Walker, who offered him and Gloria a break when he asked her if the boy could live with him. Gloria knew what was best for her only child. "My life changed. I had shelter and food," LeBron said of Walker, whom he credits with introducing him to basketball.
LeBron James was the most talked-about high school player
With consistency and routine of life with Frank Walker and his family, fifth-grader LeBron James thrived. That's when he started playing basketball, he told ESPN. "I'll never forget what the Walkers did for me, especially Frank. He doesn't get the recognition he deserves because he's real quiet but he was the first one to give me a basketball and the first one to show a real interest," James told The Guardian in 2003. Walker didn't need a lot of time to notice that James had talent. "His gift is that you can teach him something and he catches on real quick," Walker said.
James started attending St. Vincent-St. Mary High School, a private Catholic school, along with four basketball teammates from Akron, a group they dubbed the "Fab 5," per Cleveland.Com. Together, they led the school team to three state championships, per the NBA. All eyes were on James. At 15, he was already compared to Jimmy Jackson and Clark Kellogg, the Akron Beacon Journal pointed out in 2000. In 2002, he became the first high school junior to grace the cover of Sports Illustrated.
"Trying to identify [the] Golden Child from an army of 375,000 teenagers is like counting every grain in a handful of sand… Until this year. This year any idiot with cable TV and a subscription to Sports Illustrated magazine knows the name of basketball's Golden Child. His name is LeBron James," The Guardian noted in 2003.
LeBron James was also a beast on the football field
LeBron James has enough physical skills to make up for the rest of us — and then some. While he outshined pretty much every other high school basketball player in the country (heck, in the world), James was also a rising star in the football world. He was so good that he could probably have played in the NFL, many have argued, including Dallas Cowboy's Dez Bryant, according to ESPN.
Former football player and current CEO for the Green Bay Packers Mark Murphy also puts James right at the top, per ESPN. "I've been around a lot of great receivers. I tell people that I rate my top receivers — coaching, playing or watching — as James Lofton, Jerry Rice, Steve Largent and LeBron James," Murphy said.
James played on the St. Vincent-St. Mary football High School team up until his junior year, though he would have liked to play during his last year, he explained in an Instagram post. According to James, his fellow members of the "Fab 5" and other buddies convinced — ahem, threatened — him to quit football and focus on basketball. "They said if I tried to step on a football field my senior year they would jump (kick my a**) me every day of practice until I had enough! Think I made a smart decision! Ha!" James wrote in the caption accompanying the newspaper clip that described him as the No. 1 "football prospect in the state of Ohio."
LeBron James proved right away he wouldn't disappoint basketball fans
Starting one's professional career with such expectations can be a curse. Sports Illustrated has admittedly predicted the "next big thing" in sports by putting an athlete on its cover only to see them disappear the following years. But LeBron James proved that the burden wasn't too much for him to carry almost right away. He was the first overall pick of the 2003 NBA draft when he joined his hometown's Cleveland Cavaliers. He started his NBA career by setting a record the very first time he walked onto the court, ESPN reported. In 2006, James led the Cavs to their first playoffs since 1998, Bleacher Report noted.
He continued to make history locally, snagging award after award, until he decided to become an unrestricted free agent on July 1, 2010. A week later, he controversially announced he had signed with the Miami Heat during an ESPN broadcast titled "The Decision." Amid the controversy and criticism, James initially struggled to lead the Heat to victory.
"Going through my first seven years in the NBA, I was always the 'liked one' and to be on the other side… it was definitely challenging for myself," he told ESPN. James was fiercely criticized after being defeated by Dallas Mavericks in the 2011 finals, but he eventually turned things around. He won his first championship in 2012 and again in 2013, per NBA. In 2014, he became a free agent again and signed with the Cavs.
LeBron James is nowhere near the end of his career
LeBron James had previously led the Cleveland Cavaliers to success, but he failed to snag a championship final with his hometown team. But that changed in 2016, when the Cavs beat the Golden State Warriors after winning the series' last three games, becoming the first franchise to rally from a 3-1 deficit in the finals, Bleacher Report pointed out.
In July 2018, James announced he would sign with the Los Angeles Lakers, with which he won his fourth championship in 2020. "In 2010, when he went to Miami, it was about championships. In 2014, when he went back to Cleveland, it was about delivering on a promise. In 2018, it was just about doing what he wants to do," his agent Rich Paul told Sports Illustrated at the time. His accolades and out-of-this-world skills have rightfully earned him the nickname "King James." And James is nowhere near the end. "I have not put a cap on it. I know I got a lot of years left, and what that looks like, how many years that looks like, I'm not sure. I know I can continue to play at a high level," James said on NBA TV's "Game Time" (via Sports Casting).
In addition to playing basketball, James has to divide his time with his wife and three children and his social activism, including the "I Promise School" he helped launch with his foundation in his native Akron, USA Today detailed.