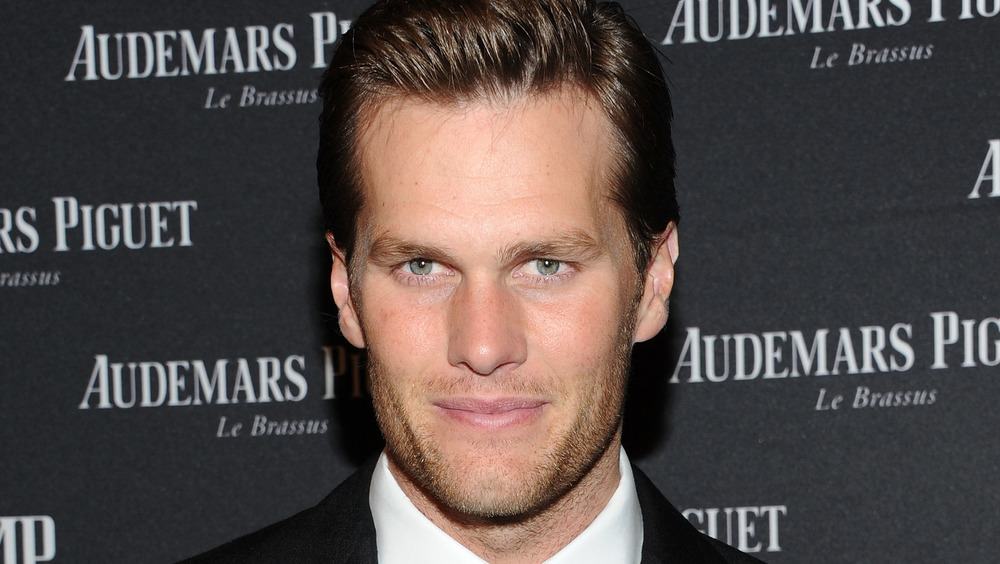 On Feb. 7, 2020, at the age of 43, Tom Brady and the Tampa Bay Buccaneers will take the field against the Kansas City Chiefs for his record tenth Super Bowl after nine appearances with the New England Patriots. And if the living legend is able to pull out a win against Patrick Mahomes (who was born while Brady was a freshman at the University of Michigan) and the high-powered Chiefs offense, Brady will hoist his seventh Lombardi Trophy — giving him more Super Bowl wins than any team in NFL history.
"You saw what he's done this year," Tampa Bay coach Bruce Arians said a week prior to the big game (via the New York Post). "You saw what he's done his whole career. You saw what he did in Green Bay [to win the NFC Championship]. What more can I add to that?" What more, indeed. Having already achieved GOAT status by his peers and NFL journalists alike, Brady truly has nothing more to prove on the football field.
But the skinny kid who was picked in the 6th round of the 2000 NFL Draft always has more to prove. After all, in spite of his undeniable talent, Brady consistently lands on lists of reviled NFL players. So before kickoff under the bright lights, let's take a look at the transformation of Tom Brady from high school/pop warner to NFL superstar.
A young Tom Brady idolized Joe Montana and Steve Young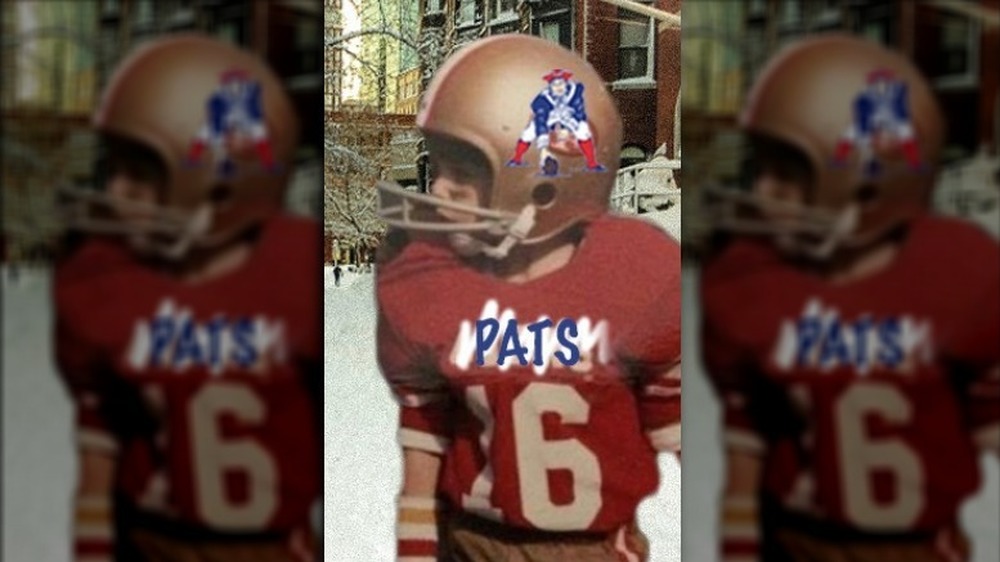 Prior to a 2016 game against the San Francisco 49ers, Tom Brady Photoshopped his Pop Warner self, transporting him from the west coast to a snowy cityscape and replacing the 49ers' iconic colors of red and gold with the New England Patriots logo. This was Brady's way of paying tribute to his California roots — and his obsession with the 49ers and their legendary quarterbacks Joe Montana and Steve Young as a kid. Attending countless 49ers games with his family, Brady was in the stands to witness "The Catch," the iconic moment that sealed the win for the 49ers against the Dallas Cowboys in the 1982 NFC Championship Game.
When ESPN unearthed a photo of Brady's mother holding a sour-faced four-year old Brady in the stands of the now-defunct Candlestick Park, Tom Brady Sr. mused, "It's just funny to have caught that picture. As joyous of a moment that was, the whole first half of the game Tommy wanted one of those foam fingers, and I'm thinking, 'This is just a waste.' He finally stopped crying when he got it."
Of the foam finger, the legendary QB added, "My dad bought me one to shut me up for the entire second half." Brady also revealed that his return to the Bay Area as a pro (he grew up in San Mateo, Calif.) resulted in the most ticket requests he's ever received for a game.
High school Tom Brady could have went pro… in baseball
Tom Brady attended Junípero Serra High School (which inducted him into its Hall of Fame in 2004) where he played football, basketball, and baseball. The multi-sport athlete didn't become the starting quarterback of the varsity football team until his junior year, and without heavy interest from college teams, he started making highlight tapes to send to collegiate coaches (via NSCA).
"We had some game tapes and collated them to his abilities, and then we had it verified by his quarterback guru," Brady's father told Bleacher Report in 2015. "Then we sat down and decided what schools he would even consider. We sent the tapes out to those schools. I think there were around 54 schools." One of Brady's high school teammates admitted that the future NFL Pro Bowler was getting more interest from colleges to play baseball and that he was "drafted by the Montreal Expos" his senior year. But Brady had his heart set on football. "We did more than just discourage the baseball people," Brady's father said.
Speaking with Howard Stern in April 2020 the notoriously clean-living Brady confessed (via Patriots Wire) that even though he was already being eyed as a top-level athlete as a teenager, his high school days included dabbling in "drinking" and "smoking weed." He ultimately abstained, however, because he "felt like [he] was letting [his] dad down."
Tom Brady's career at Michigan left the NFL unimpressed
Tom Brady eventually settled on the University of Michigan in 1996, where he mostly watched from the sidelines as his teammate and future NFL quarterback, Brian Griese, led the Wolverines to an undefeated season and 1997 national championship. During his first two seasons at Michigan, Brady only appeared in six games and completed only 15 passes. His first collegiate pass was intercepted and returned for a touchdown. Not exactly GOAT status.
However, by 1998 he was the full time starter. As time progressed, the legend of Tom Brady grew as his knack for comebacks gave fans a glimpse into his NFL future. Despite his success at Michigan, NFL scouts weren't exactly salivating to recruit Brady. He entered the 2000 NFL Draft anyway and had a woeful performance at the yearly NFL Scouting Combine.
In 2017, Brady posted a photo on Instagram to offer encouragement to collegians who would be attending the Combine. "This is what they said about me then….. poor build, skinny, lacks great physical stature and strength, Lacks mobility and ability to avoid the rush, lacks a really strong arm, can't drive the ball downfield, does not throw a really tight spiral, system-type player who can get exposed if forced to ad lib, gets knocked down easily," he captioned the pic, adding, "You can prove em right or you can prove em wrong!"
Leading the Patriots, Tom Brady became a legend
The New England Patriots took a chance on Tom Brady by selecting him in the sixth round of the 2000 NFL Draft after six quarterbacks were drafted ahead of him. SIX. "Finally when the Patriots called I was so excited, you know?" a tearful Brady told NFL Films, adding, "I was like, 'I don't have to be an insurance salesman!'" Brady started his career as the backup to Drew Bledsoe, but after Bledsoe went down with an injury in 2001, Brady took the reins and never looked back.
That year, despite being the backup when the season started, Brady led the Patriots all the way to Super Bowl XXXVI (shown above) where they entered the game as 14 point underdogs. They won 20-17 and Brady became the youngest quarterback to win a Super Bowl at the time. The Patriots dynasty began that day and the team had an unprecedented 19 years of continued success that might never be replicated.
But what can be said about Brady's time in New England that hasn't been said a thousand times already? We'll let Bleacher Report give you the highlights: "6x Super Bowl champ, 4x Super Bowl MVP, 9x conference champ, 3x NFL MVP, 14x Pro Bowler, 17 division titles, 58 game-winning drives."
Of course, Brady and the Patriots parted ways prior to the 2020 season, but leave it to Tom Brady to instantly find success elsewhere.