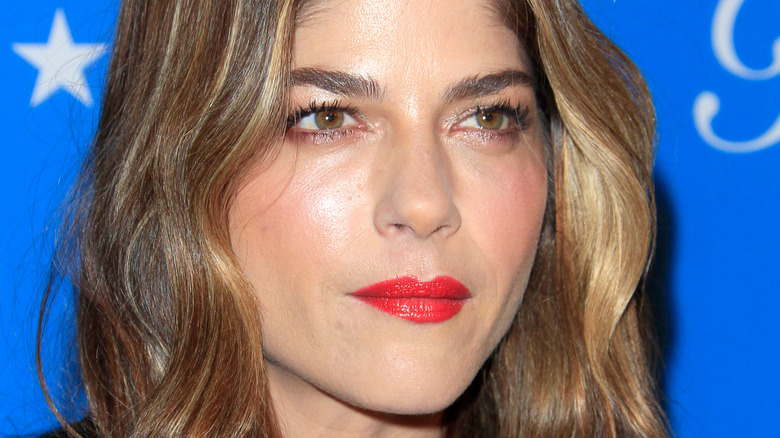 The following article contains mentions of sexual assault, domestic abuse, and substance abuse.
While we tend to view celebrities as leading charmed lives, fame and fortune don't inoculate anyone against suffering. Actor Selma Blair has shown her resilience time and time again.
Blair's acting career started in the mid-'90s with a small part on the Nickelodeon series "The Adventures of Pete & Pete." However, her breakout role came in 1999 when she appeared in "Cruel Intentions" alongside Ryan Phillippe, Joshua Jackson, and Reese Witherspoon, who would later play her romantic rival in the comedy "Legally Blonde." But it was her co-star Sarah Michelle Gellar who would help Blair create one of the most memorable scenes in "Cruel Intentions": a kiss that won an MTV Movie Award. Blair and Gellar recreated the liplock for the 2020 MTV Movie & TV Awards but gave it a coronavirus-era spin by placing a protective plexiglass barrier between them.
While Blair was able to have a little fun during a difficult time, she was dealing with health issues that made navigating life in a pandemic even harder for her, and a devastating diagnosis isn't the only tragic event she has had to grapple with in her life.
Selma Blair thought she would die young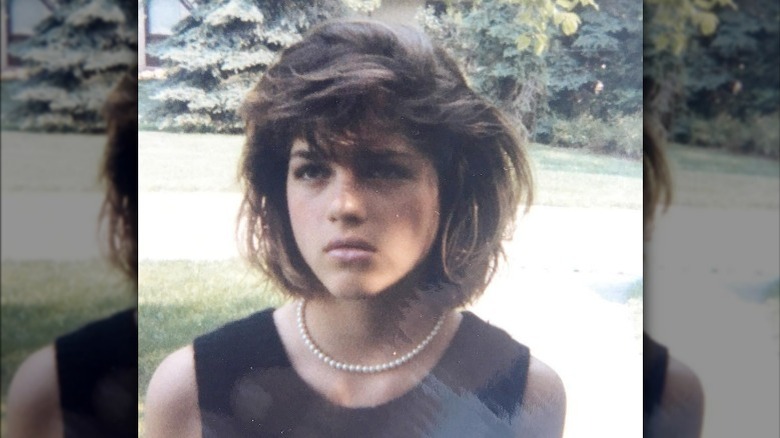 In a 2008 interview with the Los Angeles Times, Selma Blair described herself as "self-destructive" growing up, and she also had an early habit of alienating others. In a December 2021 Instagram post, she described "how the older neighborhood kids" would flee from her home because she was such "a mean baby." "I was proud I could send older kids scrambling never to visit again," she wrote.
While Blair sounded like one tough toddler, she told the Los Angeles Times that she once had a bleak forecast for her future. "I thought I'd die tragically young and it'd be over," she said. But instead of perishing as a teen as she predicted, Blair went on to play high school-aged kids long after celebrating her sweet 16. When she starred in "Cruel Intentions," her character was supposed to be a 14-year-old student, but Blair was in her mid-20s at the time. "I played teen roles until high definition came out," she joked to The Guardian.
Unfortunately, Blair's uncanny ability to look over a decade younger didn't help her score two plum, pre-HD parts that produced a pair of future A-listers: She missed out on the role of Joey Potter in "Dawson's Creek" and Buffy Summers in "Buffy the Vampire Slayer." But in a 2018 Instagram post, Blair praised her former competition, writing that she "loved watching [Katie Holmes] from the start" and found a "friend for life" in Sarah Michelle Gellar.
Charlie Sheen got Selma Blair fired
After almost a decade starring on the popular sitcom "Two and a Half Men," Charlie Sheen moved on to another television project in 2012. In the series "Anger Management," he played a character struggling to get his bad behavior under control. Per ABC News, the man who once roared about "tiger blood" coursing through his veins was the subject of numerous negative headlines at the time, but while speaking to The Guardian in June 2012, Blair defended her co-star by suggesting that "stresses" in Sheen's life were to blame for his bizarre conduct. "I do think he's a great actor," she said. "And he's very present in this — he's been incredibly on it. He's kind and affable and loyal to the people in his life."
But one year later, Blair and Sheen's relationship had soured to the point that Sheen no longer wanted to work with the "Hellboy" actor. Blair had reportedly complained about his behavior, and he retaliated by telling producers that he would quit if they didn't fire Blair. Per TMZ, Sheen got his way.
Deadline reported that Sheen himself did the firing — via a vulgar text message in which he allegedly used the c-word to describe Blair. While ranking some of his former co-stars in a 2017 "Watch What Happens Live" interview, Sheen revealed that he still bore Blair ill will, saying he'd like to "kick [her and Jenny McCarthy] to the curb."
She accused a director of sexual assault
At the height of the Me Too movement in 2017, Selma Blair made the brave decision to tell her own story, joining hundreds of other women who accused director James Toback of sexual harassment. She remained anonymous in a Los Angeles Times exposé about Toback, alleging that he sexually assaulted her and threatened her life, but she later identified herself as one of his victims in an interview with Vanity Fair.
Blair alleged Toback coaxed her into a hotel room and convinced her to take off her top under the guise of wanting to see "how comfortable" she was "with [her] body." She said he "blocked the door" when she tried to leave, and his actions just got worse from there. Blair told the publication she remained silent about the incident for years out of fear after Toback described what would happen to another of his victims if she ever spoke about what he did. "I have people who will pull up in a car, kidnap her, and throw her in the Hudson River with cement blocks on her feet," Blair recalled him saying. She later appeared on "The Talk" and claimed that Toback had also threatened to "gouge my eyes out with a Bic pen if I ever told anybody," per The Hollywood Reporter.
After Toback denied any wrongdoing, Blair was ready to face her fears. "I just felt rage and an obligation to speak publicly now," she told Vanity Fair.
If you or anyone you know has been a victim of sexual assault, help is available. Visit the Rape, Abuse & Incest National Network website or contact RAINN's National Helpline at 1-800-656-HOPE (4673).
Inside Selma Blair's multiple sclerosis diagnosis
In October 2018, Selma Blair took to Instagram to share some devastating news with her followers: One month earlier, she'd been diagnosed with multiple sclerosis, an incurable and "potentially disabling disease of the brain and spinal cord," per Mayo Clinic. Blair described some of her early symptoms, writing, "I am disabled. I fall sometimes. I drop things. My memory is foggy." From that point on, she used social media to document her experiences with the disease, as well as her treatment. "I hope to give some hope to others," she wrote.
The actor revealed that she'd likely had MS for well over a decade, and she thanked "Saved by the Bell" star Elizabeth Berkley for convincing her to get checked out by Berkley's brother, a doctor who made the diagnosis. Years later, in another Instagram post, Blair recalled that the first time she experienced numbness in one of her legs was after walking the runway in Christian Siriano's New York Fashion Week show in 2018.
Blair gave her fans an even more intimate look at her life with MS by starring in the 2021 documentary "Introducing, Selma Blair." The actor told Vanity Fair, "I hope the film shows that M.S. varies. That people's strengths and weaknesses vary. All the emotions of life make healing variable too." Blair bares all in the film, from her feelings about death to the symptoms she struggles with, which include difficulty speaking and walking.
Her mom called her 'difficult' after 'psychotic blackout'
Long before she announced her MS diagnosis, Selma Blair spent some time in the headlines for another health scare. In June 2016, People reported that the actor had to be removed from a plane on a stretcher. Witnesses later told TMZ that she was crying and recalled her saying, "He burns my private parts. … He beats me. He's going to kill me." In a statement to Vanity Fair, Blair explained what happened, writing that she had "mixed alcohol with medication, and that caused me to black out and led me to say and do things that I deeply regret." She apologized to her fellow passengers on the plane and expressed relief that her son, who had been with her at the time, was blissfully unaware of what she was yelling because he was sleeping and wearing headphones.
Blair described the incident as "a psychotic blackout" while discussing it on "The Talk," per E! News. "I was going through something. I had a glass of wine, someone gave me a pill that I thought was something that I had taken before … It was something completely different," she recounted. Blair deemed the outburst "so out of character" for her and said that she swore off alcohol afterward.
Unfortunately, Blair's own mother, Molly Cooke, helped keep the incident in the tabloids. While speaking to Radar, Cooke complained about Blair being "quite difficult," adding, "She gets me upset when these things happen."
She struggled with alcoholism
In a February 2019 Vanity Fair profile, Selma Blair revealed that she was just 7 years old when she first started drinking, explaining that her "history of sadness" made alcohol alluring to her. After the birth of her son, Arthur Saint, in 2011, Blair said that her drinking became a struggle. She and Arthur's father, Jason Bleick, broke up a little over a year after welcoming their son, and sharing custody was difficult for the new mom. "I started drinking because of the pain, one, of [Arthur] not being with me, and two, my physical pain was so extreme that I would drink by myself," Blair said. "I was self-medicating."
In 2007, the National Enquirer (via Celebitchy) reported that Blair spent 30 days in rehab, with insiders claiming that the actor's divorce from musician Ahmet Zappa had exacerbated her "substance abuse problem." But Blair said that her 2016 outburst on an airplane was a true wakeup call, and she quit "cold-turkey" afterward, per Vanity Fair. She celebrated two years of sobriety in 2018, describing herself as "a living miracle" in an Instagram post marking the occasion.
Blair later said that her past struggles with alcohol use played a role in her decision to share her MS diagnosis with the world. "I didn't want people to think I was drunk because I have a history of … that," she quipped at the 2019 TIME 100 Health Summit, per InStyle. "And I'm sober. And I'm so proud of it."
If you or anyone you know is struggling with addiction issues, help is available. Visit the Substance Abuse and Mental Health Services Administration website or contact SAMHSA's National Helpline at 1-800-662-HELP (4357).
Motherhood hasn't always been easy for Selma Blair
According to The Guardian, Selma Blair endured "a bad, induced labor" when her son was born in 2011, with the Evening Standard noting that Arthur kept his mom waiting to meet him a whopping 18 days after her due date. Blair told The Guardian she believed that "she became malnourished" after giving birth, which made an already difficult situation much worse. At the time, she was stretched thin with work obligations and adjusting to life as a mom. "I had just had my son and I was exhausted," she told Yahoo! Style while discussing her role in the film "Sex, Death and Bowling." "I was a hyper attendant mom, my son was having some problems."
In a candid, since-deleted 2018 Instagram post, Blair revealed that she spent the first four years of her new life as a mom struggling with postpartum depression and other issues. "Crippling anxiety. I fell apart. The last moment being very public," she wrote (via InStyle), seemingly referencing her 2016 inflight incident that got so much tabloid attention.
Blair found herself navigating parenthood alone in 2012 after she and Jason Bleick called it quits, and the adjustment was not an easy one. "I did not have a support system. I was an older, tired, single mom," Blair told Us Weekly. "I kind of hit rock bottom." Luckily, after she opened herself up to allowing others to give her a helping hand, life got a bit easier.
Selma Blair took the deaths of beloved pets hard
Take a quick scroll through Selma Blair's Instagram, and you'll quickly realize that the actor is an avid animal lover. She enjoys riding horses, and after she bought one of her own, she described the steed — a gorgeous gray named Nibbles — as "my biggest investment in myself." Sadly, her MS made riding an impossibility for a while, but the determined equestrian eventually got back in the saddle.
Blair has also mothered some much smaller fur babies, and she took the losses of two of her beloved pets extremely hard. She's shared multiple Instagram tributes to her late rescue dog Wink, whose name was seemingly inspired by the canine's missing eye. In one post, Blair revealed that she was pregnant with her son when her beloved pooch "died suddenly." "I think of her everyday and feel so damn lucky I had her as company for the years I did," she wrote.
Sadly, Blair found herself mourning the loss of another pet in 2017 when her Chihuahua-pug mix, Ducky, suffered what she described as a "terrible accident." Blair recounted how she rushed the little dog to the vet, who "recommended ending her suffering." But a tail wag convinced Blair that they had to try to save Ducky. When the efforts failed, Blair shared the tragic news with her Instagram followers, writing, "We miss you so much. So much, sweet girl. Please send us our next dog. With the spirit of you and wink."
Her heartbreaking remarks about her mother's death
Like many who lose loved ones, Selma Blair had some regrets about her relationship with her late mother, Molly Cooke. In her Discovery+ documentary, Blair painted a picture of what Cooke was like, recalling how her mother reacted to one of her magazine covers by saying that Blair looked "so unimportant," per the New York Post. Blair also suggested that her mom wouldn't have been bursting with pride if she had lived to see her daughter's real, raw film about her experience with MS. "My beloved mother would be horrified how I let myself go in front of the camera. 'Abhorrent!' she would say," Blair told Vanity Fair.
Cooke died near the beginning of the COVID-19 pandemic. Blair said in Variety that her mom had cancer and was unaware of it because she didn't trust doctors, and Blair doesn't know if COVID played a role in her death. "I couldn't be there to make her beautiful for when the coroner came," she said. "That was my greatest feeling of failure as a daughter. To protect her from any judgment."
On Instagram, Blair revealed that Cooke hadn't spent much time with her grandson before she died, and she shared that her first Christmas without her mom was really hard. Blair told Purist that she wished she would have shared more happy moments with her parent, saying, "I feel like the only things we ever talked about were how unwell I felt my whole life."
She was devastated by Carrie Fisher's death
Selma Blair was once such good pals with Carrie Fisher that she got married at the "Star Wars" actor's house, per People, and when Fisher died in 2016, Blair was overcome with grief. "The world lost its color today. I am heartbroken," she wrote on Instagram, adding that she was deeply saddened that she and her pal would never again share "a cuddle and a laugh and a cry." In another post, she refused to say farewell to Fisher.
Blair told Variety that she and Fisher struck up a friendship after the late icon approached her at an event and invited her to a party. Blair felt like a fish out of water at the time because she was constantly being cast alongside actors who were much younger, so she was ecstatic about a star from an older generation expressing interest in her. "She's just so much like my family at home," Blair said of Fisher. "And she latched onto me, and changed me in the way that she could talk about with humor about her condition of misery."
Sadly, the two women weren't as close as they once were when Fisher died, but the force was so strong in the late "Return of the Jedi" actor that she continued to shape Blair's life long after she was gone. "I pray to her at night and say, 'Give me a little bit of your attitude.' And she does," Blair told Vanity Fair.
Selma Blair's chemotherapy symptoms were scary
After being diagnosed with multiple sclerosis, Selma Blair made a risky decision: She underwent an experimental procedure to treat it. In a "Nightline" interview, she recalled hearing about a woman who died from a fungal infection after trying the same treatment, which included a stem cell transplant and rounds of chemotherapy. However, Blair felt like it was pretty much her only option left.
Blair's son was concerned about one of the side effects of the chemotherapy. "He said, 'I don't want you to lose your hair,'" Blair recalled in "Introducing, Selma Blair." To make him feel better, she let him help her shave it off before she began the treatments.
Blair confessed that she was "mortally afraid of chemo" to ABC's Robin Roberts, and on social media, she shared some of the alarming side effects of the brutal treatments. "Since chemotherapy and high doses of prednisone I have lost any ability to focus with my eyes," she wrote on Instagram. The actor added that what was really frightening about the symptom was not knowing whether it would turn out to be something she would have to live with forever. "Panic sets in. … How will I work and write when I can't see and it's so painful?" she wrote. She told Purist that the chemo also left her with "neurological damage," but she's thankful that it was effective. "I'm still wonky and discombobulated in a lot of ways, but I make a lot of gains," she said.
The actor's ex-boyfriend allegedly attacked her
Sadly, Selma Blair has been unlucky in love. After she and Ahmet Zappa divorced in 2006, she placed a lot of blame on herself for the breakdown of their marriage. "It felt like failure, as if I hadn't thought things through. And I honestly didn't try very hard to make it work," she told The Guardian. Her split from her son Arthur's dad was also tough. "Since then, I've just fallen apart," she told TV Week (via the Daily Mail) after they called it quits in 2012. Thankfully, they were able to maintain an amicable co-parenting relationship, per People.
But Blair's seven-year relationship with actor/producer Ronald Carlson did not end on good terms. According to People, Blair was granted a restraining order after she accused Carlson of physically and verbally attacking her in February 2022. She alleged that her ex became incensed when she told him she wasn't feeling so great after one of her MS treatments. She said Carlson called her "useless," and she passed out briefly after she tried to fight back when he violently shook her and "strangled her" on the couch.
Carlson was arrested, but he claimed that Blair physically attacked him first, hitting one of his eyes and scratching his face, per TMZ. He also filed a temporary restraining order, which was granted. The situation was likely heartbreaking for the former couple's kids — Blair once told Us Weekly that her son and Carlson's daughter were "best friends."
If you or someone you know is dealing with domestic abuse, you can call the National Domestic Violence Hotline at 1−800−799−7233. You can also find more information, resources, and support at their website.
One of her former co-stars was also diagnosed with MS
Selma Blair told Variety that she's definitely a "loner" who doesn't necessarily enjoy being taken care of, but while learning to live with multiple sclerosis, the fiercely independent actor has also discovered the importance of having a strong, loving support system. "People can show you goodness," she admitted. She revealed that some of her famous friends, including Reese Witherspoon and Sarah Michelle Gellar, were among those who showed her that accepting help isn't so bad.
Blair was able to put the lessons she's learned through her experiences to use when she found herself playing the role of supportive friend. In August 2021, her "The Sweetest Thing" co-star Christina Applegate revealed that she also had MS. "It's been a strange journey. But I have been so supported by people that I know who also have this condition," Applegate tweeted.
Blair responded to her friend by writing, "Loving you always. Always here. As are our kids. Beating us up with love." Like Blair, Applegate has decided to occasionally share her thoughts and feelings about living with MS on social media. Sometimes, they can be heart-wrenching; when a fan asked her, "How fun was it making The Sweetest Thing?" Applegate replied, "So fun. Sad both of us have Ms." But just like Blair, Applegate seems determined to maintain some sense of normalcy in her life. In February 2022, she resumed shooting her Netflix series "Dead to Me," per the Daily Mail.
How Selma Blair's MS affected her son
Selma Blair told People that her son, Arthur, has "had to endure a lot" and has "seen a lot," but he's "proud" of her bravery. When he was just 8 years old, he was forced to think about what life without his mom might be like, and he and Blair even discussed what would happen to her body if she didn't survive her stem cell transplant. "You kind of make your plans for death. I told my son I'm doing this you know and he would like me cremated," she said at the Time 100 Health Summit in 2019, per USA Today.
Blair and Arthur had to spend a lot of time apart when she underwent treatment in Chicago, and the mom came up with a creative way to give herself some modicum of comfort: She had a Frowny Face doll designed to look like her son, she revealed on Instagram. While speaking to Vanity Fair in 2019, Blair made an observation about how her son's behavior changed after her diagnosis. "He wants to be closer to my body more, and I can tell he wants to make sure I'm still here inside," she said. "I used to be so athletic with him. Now I fall in front of him."
But according to Blair, Arthur doesn't pity her, and he loves it when she comes to his school and answers his classmates' questions about her MS symptoms. "He says, 'Mommy's not sick. Mommy's brave,'" Blair told People.
Why she was 'reluctant to talk about' being in remission
Selma Blair's MS might be incurable, but she received some wonderful news after her stem cell treatment: It was a success, and her MS was in remission. "My prognosis is great," she said during the Discovery+ TCA panel in 2021, per People. "It took about a year after stem cell for the inflammation and lesions to really go down."
Blair explained that she was initially "reluctant to talk about" the positive update because she "felt this need to be more healed and more fixed." She had a great support system to help her get to that place, including her son, Arthur, and a new furry addition to their family: a very sturdy-looking service dog named Scout, whose job is to help Blair with her "mobility" and "some personal stumbling blocks," she revealed on Instagram. In a January 2022 update, Blair let her fans know that she was "doing well" and "feeling much better."
Blair received more good news when "Introducing, Selma Blair" won The Hollywood Reporter's Raising Our Voices award for outstanding achievement in documentary filmmaking, and she revealed that she's not done sharing her story when she announced that she would be releasing her memoir, "Mean Baby," in April 2022. "With fresh marrow recolonizing my cells, I have been given a new life," she wrote on Instagram. "This is the maiden voyage for me. … Thank you for being on this journey with me."