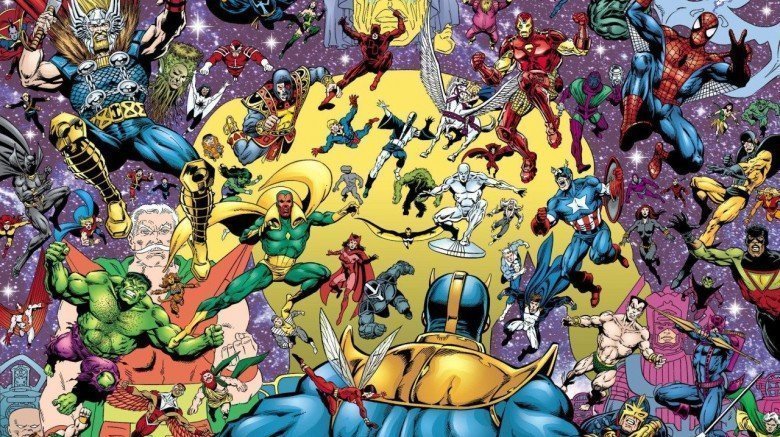 If it seems like there's a new Marvel film or television project coming at you roughly every couple of hours or so, it's only because the House of Ideas has become an absolutely dominant force in pop culture. Thanks largely to the Marvel Cinematic Universe — the highest-grossing franchise in film history by about six miles — characters who were once relegated to the C-list in the pages of Marvel Comics have become household names, once-obscure properties are launching multi-billion dollar franchises, and movie and television executives who had never heard the term "shared universe" a decade ago are scrambling to copy Mighty Marvel's business model.
Even though the film and TV assets of Fox — a studio which, up until very recently, was playing keepaway with the rights to more than a few of Marvel's characters — were recently absorbed by Marvel Studios parent company Disney, the wealth of Marvel properties being thrust into the spotlight across a ton of different platforms can still get a little confusing. Fortunately, we're here to sort it all out for you with this handy guide to every Marvel movie and TV show on the horizon for the foreseeable future. As a great man once said, hold on to your hats, true believers!
Updated on March 16, 2022: Marvel heroes are flying into theaters and showing up on streaming services on a pretty regular basis. So to keep current on all things Peter Parker, Wanda Maximoff, and Eddie Brock, we've updated this list to show the latest developments in the Marvel universe. From release dates to cast and crew announcements, these are the upcoming Marvel projects that will get you pumped.
Moon Knight — March 30, 2022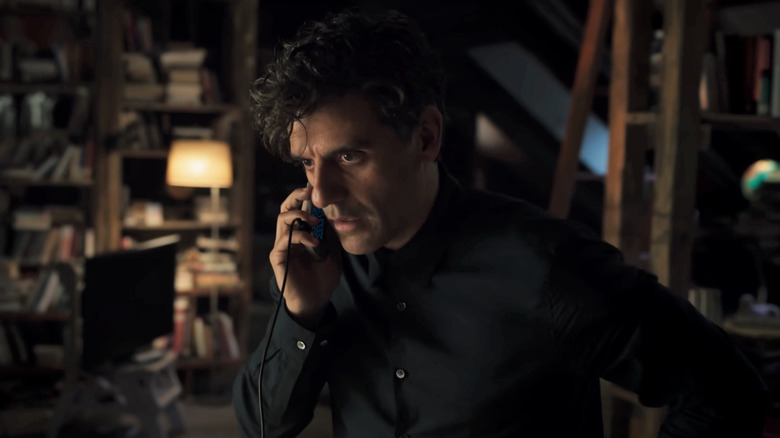 Marvel fans have been waiting for years, and it's finally happening: the cloaked vigilante Moon Knight is getting his own Disney+ limited series. Helmed by Egyptian filmmaker Mohamed Diab, along with indie filmmaking team Justin Benson and Aaron Moorhead, "Moon Knight" will follow Marc Spector, a former Marine and mercenary who, while on a covert mission in Egypt, is nearly killed. He is spared by the Egyptian god Khonshu, in exchange for Spector becoming his earthly avatar of justice.
Considered by some to be Marvel's answer to Batman, there's one distinct facet of the character that sets him apart from DC's Dark Knight: his struggle with (and reliance on) Dissociative Identity Disorder. Moon Knight employs a number of his multiple personalities to assist him in his crime-fighting activities, and recent comic runs have even suggested that his powers don't derive from any ancient Egyptian deity at all — that they are, in effect, all in his head.
Stepping into the role of Marc Spector will be Disney veteran Oscar Isaac, fresh off of his three-film stint as Poe Dameron in the recently concluded "Star Wars" trilogy. Joining Isaac in undisclosed roles will be "Ramy" star May Calamawy and Oscar-nominated actor Ethan Hawke. Speaking to The Wrap about his work on "Moon Knight," Hawke said, "I'm really fortunate because we're dealing with a story that doesn't have a lot of ancillary baggage." As opposed to more well-known characters like Spider-Man or Batman, Hawke explained, "With 'Moon Knight,' people don't know much about it. It doesn't have a lot of baggage. Oscar [Isaac] is giving an absolutely phenomenal performance, and it feels exciting to be a part of it with him." We'll learn just how Hawke fits into the world of "Moon Knight" when the first episode hits Disney+ on March 30, 2022.
Morbius — April 1, 2022
Although Spider-Man has been on loan to the MCU for several years, the web-slinger is still officially owned by Sony Pictures, along with his comics' ancillary characters. So while Peter Parker has been swinging around the MCU, Sony has been working on their own interlocking cinematic universe of "Spider-Man" characters, which kicked off with 2018's "Venom."
Now, joining Tom Hardy's Eddie Brock in the Sony Spider-verse will be Morbius, based on the "living vampire" and frequent Spider-Man nemesis who first appeared in the pages of Marvel comics in 1971. "Morbius" will star Jared Leto as Dr. Michael Morbius, a brilliant biochemist whose attempts to cure his own potentially fatal blood disease with an experimental treatment — involving the blood of vampire bats — go predictably awry, transforming him into a superpowered ghoul who must consume human blood to survive. Joining Leto in the film will be Adria Arjona as Martine, the female lead of the film, while "Doctor Who" star Matt Smith will be serving as the main antagonist, Loxias Crown (aka Hunger).
Also appearing in "Morbius" will be Jared Harris, Al Madrigal, Tyrese Gibson, and a surprising appearance from Michael Keaton, most likely reprising his role as Adrien Toomes (aka the Vulture) from "Spider-Man: Homecoming," which is a significant crossover between the MCU and Sony's Spidey films. Daniel Espinosa ("Life") will direct from a script by "Lost in Space" co-creators Matt Sazama and Burk Sharpless, and the film will hit theaters on April 1, 2022.
Doctor Strange in the Multiverse of Madness — May 6, 2022
The sequel to 2016's "Doctor Strange" has been in development since before that flick even hit theaters, and in 2019, we learned that the film would be titled "Doctor Strange in the Multiverse of Madness." The sequel will co-star Elizabeth Olsen as Wanda Maximoff, and it will be directly influenced by the weird events of "WandaVision." Plus, it will pick up after Strange's multiverse-bending adventures in "Spider-Man: No Way Home." The official synopsis reads, "In Marvel Studios' 'Doctor Strange in the Multiverse of Madness,' the MCU unlocks the Multiverse and pushes its boundaries further than ever before. Journey into the unknown with Doctor Strange, who, with the help of mystical allies both old and new, traverses the mind-bending and dangerous alternate realities of the Multiverse to confront a mysterious new adversary."
Joining the cast of "Doctor Strange in the Multiverse of Madness" is "Baby-Sitters Club" star Xochitl Gomez as America Chavez, also known in the comics as Miss America. In addition to being a member of the Young Avengers (and from another dimension, an interesting origin story that could factor into the "Strange" sequel's multi-universal plot), Chavez is notable for being Marvel's first Latin-American LGBTQ+ character. Rounding out the cast will be returning "Doctor Strange" actors Rachel McAdams as Dr. Christine Palmer, Benedict Wong as the sorcerer Wong, and Chiwetel Ejiofor as Mordo, who served as Strange's friend and ally before taking a dark turn at the end of the first film, suggesting he may serve as an outright villain in the second.
The creative team for the second "Strange" film is changing in two big ways, with "Spider-Man" trilogy director Sam Raimi stepping in for original director Scott Derrickson and reuniting with composer Danny Elfman, who's taking over scoring duties from "Doctor Strange" composer Michael Giacchino. Although Raimi already seemed like a perfect fit for the MCU thanks to his previous Marvel experience, the director appears to be an even more ideal choice after "Spider-Man: No Way Home," which brought several iconic Raimi-verse characters into the MCU.
Ms. Marvel — June 8, 2022
Marvel's first Muslim superhero will be getting a spotlight on Disney+, as it was revealed at D23 that Kamala Khan, aka Ms. Marvel, will be the star of her own limited series. The announcement delighted fans who have enjoyed the character's dry wit and unique power set since her introduction in the pages of Marvel comics in 2013.
In the comics, Khan is part-Inhuman and is able to alter her form in virtually any way she chooses, including shapeshifting and altering the size of her body. She also has the interesting ability to share her mass with different versions of herself throughout time. However, the first trailer for the series shows that Kamala's powers may differ a bit for the show, with her also seeming to possess the ability to create force fields, in addition to her other powers, possibly thanks to the use of Nega-Bands. Portraying the teen superhero will be newcomer Iman Vellani, and the trailer shows that the series will lean more into her character's comic book roots than any other Disney+ series so far, including speech bubbles and doodles that appear on the screen when Kamala interacts with other characters. Directing episodes of the series will be "Bad Boys for Life" directors Adil El Arbi and Bilall Fallah, Oscar-winning documentary short director Sharmeen Obaid-Chinoy, and Meera Menon, who's directed episodes of "The Walking Dead" and "The Punisher."
Joining Vellani in Ms. Marvel will be Matt Lintz of "The Walking Dead" as Kamala's best friend, Bruno Carrelli, as well as relative Hollywood newcomer Laurel Marsden as Kamala's best frenemy, Zoe Zimmer. Plus, we'll get Aramis Knight as Red Dagger, Saagar Shaikh as Kamala's brother Amir, and Yasmeen Fletcher as Kamala's friend, Nakia Bahadir. We'll also see Zenobia Shroff as Kamala's mother Muneeba, Mohan Kapur as Kamala's father Yusuf, and Rish Shah as Kamran, Kamala's comic book love interest and fellow Inhuman (in the source material anyway). Also joining the cast are Laith Naki, Azhar Usman, Travina Springer, Nimra Bucha, and Fawad Khan. Although Marvel hasn't yet officially confirmed who they will be playing, credible rumors suggest that Naki will portray Sheikh Abdullah, the imam of the Islamic masjid of Jersey City. "Ms. Marvel" is set to premiere on Disney+ on June 8, 2022.
Thor: Love and Thunder — July 8, 2022
Given his fantastic character arc over his last several appearances, it came as little surprise that Thor would be the first Avenger to receive a fourth solo film. Taika Waititi of "Thor: Ragnarok" will be returning to direct (as well as to voice the loveable rock alien Korg), but at 2019's San Diego Comic-Con, further details were announced that shocked those in attendance.
Specifically, the "Ragnarok" sequel — now officially titled "Thor: Love and Thunder" — will see the return of Natalie Portman's Jane Foster, who'll follow in her character's recent comic book footsteps by picking up Mjolnir to become Thor herself. Also returning are Jaimie Alexander as Lady Sif, who was similarly missing from "Thor: Ragnarok," and Tessa Thompson as Valkyrie. Kevin Feige has confirmed that this time around, it will be made explicit that Thompson's character is bisexual — a first for a major character in an MCU film.
Additionally, Chris Pratt will also be joining the cast as Star-Lord, which makes sense, considering Thor was last seen joining the Guardians — whom he cheekily renamed the Asgardians of the Galaxy — at the end of "Avengers: Endgame." Other Guardians reporting to the Australian set of "Thor: Love and Thunder" include Dave Bautista, Karen Gillan, and Pom Klementieff (Drax, Nebula, and Mantis, respectively). Plus, Sean Gunn, who provides the motion-capture performance for Rocket Raccoon, was noticed posting to social media from Australia during filming. And considering Vin Diesel was the first one to spill the beans about any Guardians showing up in the next "Thor" film, an appearance from Groot seems like a pretty safe bet.
Serving as the antagonist for "Love and Thunder" will be Christian Bale as Gorr the God Butcher, a character who, in the comics, is obsessed with killing gods and absorbing their power. Other actors confirmed for "Love and Thunder" include — spoiler alert for what are likely to be hilarious cameos — Matt Damon, Sam Neill, and Luke Hemsworth, who appeared as an Asgardian theatrical troupe in "Ragnarok." And they'll be joined by Melissa McCarthy and Russell Crowe, with the comedian appearing as another Asgardian actor and the Oscar-winning star playing the Greek god Zeus.
How it will all come together will be revealed when "Thor: Love and Thunder" hits theaters on July 8, 2022.
Spider-Man: Across the Spider-Verse (Part One) – October 7, 2022
Winner of the Academy Award for Best Animated Feature of 2018, "Spider-Man: Into the Spider-Verse" is considered by some to be among the greatest — if not the greatest — superhero films ever made, with its supremely innovative animation style and focus on its eclectic cast of alternate-universe Spider-People (and, um, one pig). It's so singular a cinematic achievement that it seems like its success would be impossible to duplicate — but darned if Sony isn't going to try.
From directors Joaquim Dos Santos, Kemp Powers, and Justin K. Thompson, the "Spider-Verse" sequel — titled "Across the Spider-Verse" — will center on the burgeoning romantic relationship between Miles Morales (Shameik Moore) and Gwen Stacy, aka Spider-Gwen (Hailee Steinfeld), and will take place two years after the events of the first film. The official synopsis for "Across the Spider-Verse" tells us that the film "will transport Brooklyn's full-time, friendly neighborhood Spider-Man across the Multiverse to join forces with Gwen Stacy and a new team of Spider-People to face off with a villain more powerful than anything they have ever encountered."
Joining Miles and Gwen for the sequel will be Spider-Man 2099 hero Miguel O'Hara, voiced by "Moon Knight" star Oscar Isaac, and Jessica Drew, aka Spider-Woman, who will be voiced by "Insecure" star Issa Rae. "Across the Spider-Verse" will be split into two parts, with "Part One" hitting theaters on October 7, 2022.
Black Panther: Wakanda Forever — November 11, 2022
After the tremendous success of 2018's "Black Panther" — the first MCU film to earn an Oscar nomination for Best Picture and the first MCU film to win an Oscar (actually, it won three, for Best Original Score, Best Costume Design, and Best Production Design) — a sequel seemed like a foregone conclusion. Sure enough, in the fall of 2018, The Hollywood Reporter announced that "Black Panther 2" was officially happening, with original writer-director Ryan Coogler returning to write and direct the sequel, and celebrated star Chadwick Boseman expected to reprise his role as T'Challa, the king of the fictional country of Wakanda.
Tragically, in August of 2020, Boseman passed away following a four-year struggle with cancer. The news came as a shock to Boseman's fans and colleagues alike, as the actor had kept his condition and treatment quiet, even as he continued to work. While Marvel declined to comment on the future of "Black Panther" immediately following Boseman's death, allowing his castmates and fans time to grieve, "Black Panther: Wakanda Forever" is now confirmed to be moving forward, with a release date of November 11, 2022.
Executive producer Victoria Alonso has confirmed that "Wakanda Forever" will not be using a digital double to stand in for Boseman, leading many to speculate that his on-screen sister, Shuri (Letitia Wright), may take up the Black Panther mantle as she does in the comics. Also expected to return for "Wakanda Forever" are original film stars Lupita Nyong'o, Dana Gurira, Winston Duke, Angela Bassett, and Martin Freeman. They'll be joined by Marvel newcomer Tenoch Huerta, who will be playing one of the film's antagonists, and Emmy-nominated "I May Destroy You" star Michaela Coel in an undisclosed role. Additionally, "Black Panther: Wakanda Forever" will serve as the introduction to the character of Riri Williams, aka Ironheart, played by Dominique Thorne, who will later be headlining her own self-titled Disney+ series.
Although details for "Wakanda Forever" are still scarce, one thing we can be sure of is that whenever the "Black Panther" sequel does make its way to the screen, the story and the characters will find some way to honor their king.
The Guardians of the Galaxy Holiday Special — Christmas 2022
While most of the other MCU titles for Disney+ seem intended to further the overarching, interconnected plot for Phase Four and beyond, Marvel announced one title during Disney's 2020 Investor Day event that doesn't seem interested in epic battles or sprawling narratives and is much more concerned with being jolly and bright. That's right — "The Guardians of the Galaxy Holiday Special" is coming to Disney+ in 2022.
What can we expect from a holiday-themed MCU space special? One may need to look no further than the much-maligned "Star Wars Holiday Special", which "Guardians" writer and director James Gunn says he "unironically loved" as a kid. Gunn, who has written and directed every "Guardians of the Galaxy" film, including the upcoming "Vol. 3," says he's had the idea for a "Guardians" holiday special for years, and that it's "one of [his] favorite stories ever."
While he hasn't given us any clues about what this story actually looks like, Gunn assured fans that "The Guardians of the Galaxy Holiday Special" will be "as crazy and fun as can be," as well as clarifying that it will be live-action and will bring back all of the main Guardians cast. Gunn also confirmed that the special will be considered MCU canon, and it will be set between the events of "Thor: Love and Thunder" and "Guardians of the Galaxy Vol. 3." Not only will it be considered canon, but it will apparently be required viewing rather than one-off bonus material, with Gunn saying that the special will include "stuff that you need to learn before Volume 3."
Further, Gunn claimed in a tweet that the special will be "​​introducing one of the greatest MCU characters of all time," although who that could be remains anyone's guess. Given all that information, it's hard to picture exactly what to expect from the holiday special, but we'll find out in late 2022.
She-Hulk — 2022
The third Disney+ limited series announcement fans were treated to at D23 may turn out to be the streamer's craziest Marvel offering: "She-Hulk," based upon the character first introduced in the comics in 1980. When promising young attorney Jennifer Walters was shot and grievously injured by a vengeful mobster, she received a blood transfusion from the only match available: her cousin, Bruce Banner. His gamma-irradiated blood had a predictable effect, but as She-Hulk, Walters — unlike most depictions of Banner — retains her personality and lawyerly intellect.
The series pilot will be directed by Kat Coiro, who will also direct several other episodes and serve as executive producer. Coiro's past projects include episodes of Netflix's "Dead to Me," Showtime's "Shameless," and FX's "It's Always Sunny in Philadelphia," along with several other acclaimed comedies. Jessica Gao, best known for her work on "Rick and Morty," will be heading up the writers room.
Starring as Jennifer Walters will be "Orphan Black" star Tatiana Maslany, whose casting was confirmed (after some initial uncertainty) during Disney's 2020 Investor Day event. Joining Maslany in "She-Hulk" will be original Avenger Mark Ruffalo, reprising his role as Bruce Banner, along with Tim Roth, who played Emil Blonsky (who transforms into the Hulk-like antagonist Abomination) in 2008's "The Incredible Hulk." That film starred Edward Norton as Bruce before he was recast with Ruffalo in 2012's "The Avengers," making "She-Hulk" the first time Ruffalo's Banner will meet Roth's Abomination on screen.
We also know that Jameela Jamil of "The Good Place" will be starring as the villainous Titania. On top of all that, Ginger Gonzaga will be playing She-Hulk's best friend, and Renee Elise Goldsberry of "Hamilton" fame will be playing a character named Amelia. According to The Hollywood Reporter, expect to see this new Marvel series in 2022.
Kraven the Hunter — January 13, 2023
Among the more interesting projects Sony has planned for their Spidey-centric universe is a solo vehicle starring the classic villain Sergei Kravinoff, aka Kraven the Hunter. Descended from an aristocratic Russian bloodline, Kravinoff has dedicated his life to becoming the world's greatest hunter, and no quarry has ever stoked his obsession quite like Spider-Man.
While we're unsure of the plot, we know the screenplay will be penned by "The Equalizer 2" scribe Richard Wenk and screenwriting duo Art Marcum and Matt Holloway ("Transformers: The Last Knight"). Interestingly, back in 2018 — before Marcum and Holloway came aboard — Wenk had some interesting ideas about the project. In an interview with Discussing Film, the writer said, "It's an interesting world. A great character. It's going to adhere very closely to the lore of Kraven the Hunter. And he is going to come face to face with Spider-Man."
Now, that was before Disney and Sony split up, before they got back together, and before "Far From Home" and "No Way Home" hit theaters, so who knows if that's actually going to happen. However, we do know who will be playing Kraven — MCU veteran Aaron Taylor-Johnson, who portrayed the ill-fated Quicksilver in "Avengers: Age of Ultron." In addition to the solo film, Taylor-Johnson reportedly signed on for appearances in multiple other movies as well, indicating that the Kraven film is likely to be just the beginning of the character's arc in the Sony Spider-verse.
Joining Taylor-Johnson in "Kraven the Hunter" will be Oscar nominee Ariana DeBose as the voodoo priestess (and possible Kraven love interest) Calypso, Fred Hechinger as Kraven's half-brother Chameleon, and Christopher Abbott as the mercenary assassin the Foreigner, who will act as the film's villain. Oscar winner Russell Crowe, who will soon make his MCU debut as Zeus in "Thor: Love and Thunder," will also be appearing in the film in an undisclosed role. "Kraven the Hunter" will be helmed by "Triple Frontier" director J.C. Chandor, and it's scheduled to hit theaters January 13, 2023.
The Marvels — February 17, 2023
While Marvel is keeping quiet so far about what Carol Danvers (Brie Larson) will be up to the next time we see her, we do know that she won't be alone. The film that was originally presented as a sequel to 2019's "Captain Marvel" was revealed in 2021 to actually be a team-up feature titled "The Marvels." Brie Larson will be returning as Carol Danvers, aka Captain Marvel, the titular star of the first film, but joining her this time around will be Teyonah Parris, who was introduced in "WandaVision" as a grown-up version of Monica Rambeau, and Iman Vellani, who will be appearing in her own Disney+ series as Carol Danvers' #1 fangirl, Kamala Khan, aka Ms. Marvel.
Monica Rambeau was first introduced in the 1990s timeline of "Captain Marvel" as a young girl played by Akira Akbar. In "WandaVision," the adult Monica plays a key role as a SWORD agent determined to get to the bottom of Wanda's mysterious Hex, who winds up gaining superpowers in the process. The title of "The Marvels" suggests that the film will see her fully embracing her identity as a superhero, which has seen her take a number of names in the comics, including Photon (notably her mother's military call sign in the first "Captain Marvel"), Spectrum, and even Captain Marvel.
Meanwhile, in the comics, Kamala Khan is an Inhuman who originally models her superhero persona after her idol, Carol Danvers, and later adopts the name Ms. Marvel as an homage to her inspiration. Although no plot details have yet been revealed for "The Marvels," the title suggests that the three heroes will be featured with equal prominence in the film, rather than Monica and Kamala serving as supporting players in a Carol Danvers solo venture, as was initially assumed. Zawe Ashton will co-star as the film's as-yet unnamed villain.
While the first "Captain Marvel" was co-written by directors Anna Boden and Ryan Fleck — along with Geneva Robertson-Dworet, Nicole Perlman, and Meg LeFauve — solo scripting duties for "The Marvels" have been handed to Megan McDonnell, a staff writer on "WandaVision." Boden and Fleck will also not be returning to direct, although Marvel is reportedly considering them for other projects. Instead, "The Marvels" will be helmed by "Candyman" director Nia DaCosta, and it will be soaring into theaters on February 17, 2023.
Guardians of the Galaxy Vol. 3 — May 5, 2023
After a dramatic months-long controversy surrounding "Guardians of the Galaxy" and "Guardians of the Galaxy Vol. 2" director James Gunn — in which he was fired and subsequently re-hired to helm "Vol. 3" — the third installment in the quirky MCU series finally started to take shape, booking a release date of May 5, 2023. While we assume the film will have something to do with the Guardians searching for Gamora following the events of "Avengers: Endgame," Gunn has not yet revealed any specifics about the plot of his script.
However, we do know that Rocket Raccoon will be a major player, as Gunn explained on Twitter that, "Rocket is a big part of what's happening in the future — and a lot of this stuff (like the scars we're about to see on his back) sets up what I've been planning for Rocket all along." We also know, thanks to an Instagram post, that Sylvester Stallone will be back as Ravager captain Stakar Ogord.
We learned in October 2021 that the film will officially introduce Adam Warlock, played by Will Poulter, who was first teased in a post-credits scene in "Guardians of the Galaxy Vol. 2." In the comics, Adam Warlock was brought to life by Earth scientists using the Soul Stone and serves as a protector of the universe. However, in the Marvel Cinematic Universe, he was created by the Sovereign to help destroy the Guardians of the Galaxy. So whether he'll fight for or against the heroes of the MCU remains to be seen.
"Guardians of the Galaxy Vol 3." will also feature "Peacemaker" actor Chukwudi Iwuji in an undisclosed role. While Iwuji can't say who he's playing, he has offered some tantalizing hints, calling him "deeply complex and deeply powerful, and I hope intriguing," and telling The Hollywood Reporter that he is "certainly one of, if not the most complex characters we've seen in the freaking Marvel universe." Adding fuel to the speculation fire, Gunn said on Twitter that the role Iwuji will be playing is "the role most every big name actor in Hollywood wanted," indicating it's likely an existing Marvel character and not one unique to the film.
Gunn has also told the Hero Nation Podcast that this will be the last time we see this particular line-up of the Guardians and that the movie will be "so big and dark and different from what people might be expecting it to be."
Ant-Man and the Wasp: Quantumania — July 28, 2023
After playing a key role in saving the entire universe during the events of "Avengers: Endgame," Ant-Man will return for a third headlining feature, following 2015's "Ant-Man" and 2018's "Ant-Man and the Wasp." Returning to the director's chair is Peyton Reed, making one of only three MCU directors so far to helm an entire solo trilogy (the others being James Gunn with "Guardians of the Galaxy" and Jon Watts with the "Spider-Man" films). Of the threequel, Reed promised, "The third 'Ant-Man' movie is going to be a much bigger, more sprawling movie than the first two. It's going to have a very different visual template."
Returning for "Ant-Man and the Wasp: Quantumania" are franchise stars Paul Rudd as Scott Lang and Evangeline Lilly as Hope Van Dyne, along with Hope's father and Scott's mentor Hank Pym (Michael Douglas) and the long-lost wife he recently rescued from the Quantum Realm, Janet Van Dyne (Michelle Pfeiffer). Joining the cast will be Kathryn Newton as the teenage version of Scott's daughter, Cassie, who was briefly played by Emma Fuhrmann in "Avengers: Endgame." In the comics, Cassie becomes the superhero Stature, one of the early members of the Young Avengers.
Plus, "Lovecraft Country" star Jonathan Majors will be playing iconic Marvel baddie Kang the Conqueror. This could potentially kick off the start of a longer arc in the MCU for Majors, since Kang is one of Marvel's most notorious and powerful villains. Intriguingly, joining Majors as one of the film's villains will be comedic legend Bill Murray, although he hasn't offered any hints on who he's playing other than that he's "a bad guy." We'll find out how Murray fits into the MCU when our heroes battle their new foes on July 28, 2023.
X-Men '97 – 2023
For many Marvel fans who grew up in the '80s and '90s, 1992's "X-Men: The Animated Series" was likely one of their first opportunities to see their favorite Marvel Comics superheroes come to life on screen, and it's still widely regarded as one of the best X-Men adaptations of all time. Now, Marvel Studios is bringing the animated X-Men to a whole new generation with "X-Men '97," which is set to premiere on Disney+ in 2023. Serving as head writer and executive producer on the series is Beau DeMayo, while "X-Men: The Animated Series" showrunners Eric and Julia Lewald, along with original series director Larry Houston, will all serve as consultants.
According to the official Marvel site, the new "X-Men" series will pick up where the old one left off, with many of the original voice cast returning to the series. The original animated series cast included Cal Dodd as Wolverine, Lenore Zann as Rogue, George Buza as Beast, Alison Sealy-Smith as Storm, Chris Potter as Gambit, Catherine Disher as Jean Grey, Adrian Hough as Nightcrawler, and Christopher Britton as Mr. Sinister, all of whom will be returning for "X-Men '97," although some will be voicing different characters this time around. They will be joined by the voices of Jennifer Hale, Anniwaa Buachie, Ray Chase, Matthew Waterson, JP Karliak, Holly Chou, Jeff Bennett, and AJ LoCascio.
"As an animated show, the original X-Men was the forerunner to some amazing action series," says Dana Vasquez-Eberhardt, VP of Animation at Marvel Studios. "Everyone that is making 'X-Men '97,' top down, is a fan. On this project, instinctually, we knew exactly what this is. To bring this series forward and pick up that baton and not just keep running at the same pace but to really elevate. That's the responsibility." The first season of "X-Men '97" will consist of 10 episodes and will premiere sometime in mid-2023.
Ryan Coogler's Wakanda/Okoye series — TBA
After the tragic and shocking death of Chadwick Boseman in 2020, the future of Black Panther and his beloved kingdom of Wakanda in the MCU was left up in the air. While Marvel made it clear that the characters and storylines introduced in 2018's "Black Panther" would indeed continue, with the film's planned sequel still moving forward, the studio remained mostly mum on how it intended to reimagine the franchise without its leading man, other than to clarify that there was no plan to recast Boseman as King T'Challa.
In February of 2021, we got a glimpse of what lies in store for Wakanda with the announcement that "Black Panther" director Ryan Coogler had inked a five-year overall television deal with the Walt Disney Company, including a dramatic series for Disney+ set in the kingdom of Wakanda. The TV division of Coogler's production company, including the Wakanda series, will be overseen by Kalia Booker King, who has previously helped develop widely acclaimed shows such as "Lovecraft Country" and "Mr. Robot."
Later in May of 2021, The Hollywood Reporter ran a profile of top entertainment attorneys that included the tidbit that one of the people on their list "brokered a deal for actress Danai Gurira to not only reprise her role as Okoye in the upcoming 'Black Panther' sequel but also in an origin spinoff series for Disney+." This Okoye origin series and Coogler's Wakanda series could very possibly be one and the same, implying that the series will be set before the events of "Black Panther," which introduced Okoye to the MCU. However, no further information has been revealed about the series (if indeed it is just one series and not two), including which, if any, of Gurira's "Black Panther" costars will be joining her in her MCU spinoff series.
Deadpool 3 — TBA
In a piece of surprising yet welcome news, it looks like Disney is going ahead with "Deadpool 3" following the studio's acquisition of Fox, which produced the first two wildly successful "Deadpool" films. The threequel will bring back Ryan Reynolds as the foul-mouthed, irreverent superhero, whose mutant healing ability allows him to bounce back from even the grisliest of injuries. "Deadpool 3" is the first confirmed vehicle to bring mutants into the MCU, an event Marvel fans have been anxiously anticipating ever since Disney acquired Fox, which previously held the rights to Marvel's popular "X-Men" characters, including even the mention of the word "mutants."
Deadpool and his R-rated antics will be an interesting addition to the family-friendly MCU and will possibly open the door to more adult-oriented adventures set within Marvel's cinematic multiverse in the future. Although Reynolds is the only actor from Fox's X-verse to seem primed to make the crossover to the MCU, his jump from one franchise to another could potentially open the door for others to follow in his footsteps. On the other hand, Phase 4's strong hints that a multiverse will soon be unspooling within the MCU also lays the groundwork for Marvel to recast some of its most popular mutant characters.
Following a treatment from "Bob's Burgers" scribes Wendy Molyneux and Lizzie Molyneux-Logelin, the "Deadpool 3" script is now in the hands of Rhett Reese and Paul Wernick, who also wrote the first two "Deadpool" films. Stepping into the director's chair for "Deadpool 3" is frequent Reynolds collaborator Shawn Levy, replacing David Leitch, who directed the first two "Deadpool" films. Levy previously worked with Reynolds on "Free Guy" and "The Adam Project." While no production start date has been announced for "Deadpool 3," we anticipate an in-character Reynolds to make the most of his time as he awaits his grand introduction into the MCU.
Ironheart — TBA
Alongside revealing exciting new details for a number of highly anticipated Marvel shows and movies during Disney's Investor Day event in December 2020, the studio also announced several new projects within the MCU, providing an unexpected treat for Marvel fans. One of the most thrilling surprises of the event was the announcement of a live-action "Ironheart" series on Disney+, starring Dominique Thorne as teenage inventor Riri Williams.
Thorne made her film debut in 2018's "If Beale Street Could Talk," which also costarred Teyonah Parris, who will be playing Monica Rambeau in "WandaVision" and "Captain Marvel 2." Thorne also starred in "Judas and the Black Messiah," alongside Daniel Kaluuya of "Black Panther." In the comics, Thorne's character, Riri Williams, is a teenage genius who builds her own Iron Man suit and eventually takes over for Tony Stark. That could easily be the path the "Ironheart" series takes, considering the series takes place in the wake of the death of Iron Man at the end of "Avengers: Endgame."
Starring alongside Thorne will be "In the Heights" star Anthony Ramos in an undisclosed but "key" role, one that's rumored to be the show's villain. Thorne will also be joined by "This Is Us" actress Lyric Ross, who will play Riri's best friend. The show's head writer will be Chinaka Hodge (via Variety), the screenwriter and playwright behind series such as Apple's "Amazing Stories" and TNT's "Snowpiercer."
Fantastic Four — TBA
After years of anticipation, Marvel announced during Disney's 2020 Investor Day event that the first family of Marvel comics is finally coming to the MCU in a "Fantastic Four" film. Until 2019, the rights to the Fantastic Four were held by 20th Century Fox, the studio that produced three films about the super group, with 2005's "Fantastic Four" and 2007's "Fantastic Four: Rise of the Silver Surfer" (both starring the MCU's Chris Evans as Johnny Storm) and then the rebooted 2015 version (with Michael B. Jordan of "Black Panther" as Johnny Storm). None of the existing "Fantastic Four" films were met with much regard from critics or fans, but Marvel is hoping to finally do the iconic family of superheroes justice by folding them into the MCU.
Directing "Fantastic Four" will be "Spider-Man: Homecoming" and "Spider-Man: Far From Home" director Jon Watts, who will also be helming the third "Spider-Man" MCU film. While no casting has yet been announced for "Fantastic Four," expect whoever gets cast as Reed Richards/Mr. Fantastic, Sue Storm/Invisible Woman, Johnny Storm/Human Torch, and Ben Grimm/The Thing to immediately get crowned as MCU royalty. In the comics, Reed is the leader of the group, a scientific genius who can stretch his body into any number of bizarre permutations. He's romantically involved with Sue Storm, who can turn herself and others invisible. Sue's brother is Johnny, who can control fire (and often coats his whole body in flames) and also fly. And Ben is Reed's best friend, who's basically a giant humanoid rock and possesses superhuman strength.
Blade — TBA
While nearly all of the upcoming projects presented at San Diego Comic-Con 2019 had either long been rumored or actually confirmed, there was a single outlier that came as a complete shock to the crowd. To conclude the panel, Feige presented two-time Academy Award winning actor Mahershala Ali, whose scintillating performance as the villain Cottonmouth was the best part of the Marvel Netflix series "Luke Cage." Feige then announced that Ali would star in the title role in an MCU incarnation of "Blade" — and jaws throughout Hall H could be heard hitting the floor as far away as L.A.
The first movie adaptation of "Blade," released in 1998 and starring Wesley Snipes as the half-human/half-vampire hero, is sometimes considered to be the first modern superhero film. Ali's version of Blade technically made his MCU debut as the "Daywalker" in one of the end credits scenes of "Eternals," appearing to Kit Harington's Dane Whitman, although audiences only heard his voice. Ali will be joined in his solo film by Delroy Lindo in an undisclosed role, who recently received acclaim for his performance alongside the MCU's Chadwick Boseman in Spike Lee's war drama "Da 5 Bloods." Also appearing in "Blade" will be Aaron Pierre, who was recently seen as the rapper Mid-Sized Sedan in M. Night Shyamalan's "Old." As with Lindo, Pierre's role is being kept under wraps.
"Blade" will be helmed by "Mogul Mowgli" director Bassam Tariq, who will be working from a script by "Watchmen" scribe Stacy Osei-Kuffour. Although "Blade" is set to begin shooting in late summer 2022, Feige has confirmed that "Blade" will not hit screens until the commencement of the MCU's Phase 5.
Captain America 4 – TBA
Mere hours after the final episode of "The Falcon and the Winter Soldier" dropped on Disney+, in which Sam Wilson (Anthony Mackie) made his debut as the new Captain America, The Hollywood Reporter announced that a new "Captain America" film was in the works for the MCU. While the concept of mantle-passing isn't new to the MCU, with Scott Lang (Paul Rudd) taking over the Ant-Man title from Hank Pym (Michael Douglas) or the Black Panther mantle passing through the Wakandan lines of succession, it is the first time a character has taken over another's established franchise. And if "The Falcon and the Winter Soldier" is any indication, "Captain America 4" will feel very different from the previous three "Captain America" films.
While Sam Wilson remained Falcon for much of the series, he finally took on the title of Cap in the show's sixth episode, after spending much of the season wrestling with what it meant for a Black man to carry the star-spangled shield. Steve Rogers' (Chris Evans) take on Captain America was always strongly infused with the patriotism and nostalgia of his World War II-era origins, but Sam Wilson's will need to balance love of country with the lived experience of being a Black man in the modern United States. "The Falcon and the Winter Soldier" didn't shy away from the tension between Sam's identity and the role he plays, and all signs point to the film tackling similar themes.
It's been reported that Malcolm Spellman, the head writer and creator of the series, will also be penning the script for the film, along with co-writer Dalan Musson. No director or additional casting has yet been announced, but we expect "Captain America 4" to pick up around where the show left off, sometime after the closing title card which read, "Captain America and the Winter Soldier."
Armor Wars — TBA
One of two Disney+ series to explicitly address the legacy and absence of Tony Stark, "Armor Wars" will follow Tony's best friend and frequent partner in heroism, James Rhodes/War Machine as he ventures out as a solo superhero for the first time following Tony's death in "Avengers: Endgame." "Armor Wars" was announced as part of Disney's 2020 Investor Day event, including confirmation that Don Cheadle will be reprising his role as Rhodey from the MCU.
Although Terrence Howard starred alongside Robert Downey Jr. as James Rhodes in 2008's "Iron Man," he was replaced by Cheadle in "Iron Man 2," who's been playing the character ever since. Cheadle's Rhodey has been a mainstay of the MCU since Phase One, playing significant supporting roles in "Iron Man 2" and "Iron Man 3," "Captain America: Civil War," and three "Avengers" movies. However, "Armor Wars" will mark the first time Rhodes will take the spotlight, as the series addresses what would happen if Tony Stark's tech falls into the wrong hands.
Rhodey will be one of very few disabled superheroes to headline a title in the MCU, having lost the use of his legs due to an injury in "Captain America: Civil War." Stark then crafted leg braces to enable Rhodey to walk again. Other disabled MCU heroes include Bucky Barnes, Stephen Strange, and Thor, although it's worth noting that Rhodey is the only one whose disability hasn't led directly to some sort of superpowered enhancement.
Loki Season 2 – TBA
Marvel's Disney+ series "Loki" was full of surprises, not the least of which was that the show will be getting a second season. The first season of "Loki" saw the trickster god apprehended by the Time Variance Authority thanks to his actions in "Avengers: Endgame," where he deviated from the original timeline by stealing the Tesseract and escaping instead of being transported back to Asgard to be tried for his crimes. Once at the TVA, he teamed up with Agent Mobius (Owen Wilson) and another Loki variant named Sylvie (Sophia Di Martino) to uncover the secrets behind the time-controlling agency.
The first season ended with the introduction of He Who Remains/Kang (Jonathan Majors), who will be serving as the antagonist of "Ant-Man and the Wasp: Quantumania" (or more likely, a variant version of the character will be showing up). The finale also stranded Loki in an alternate dimension TVA where no one knew him, followed by the announcement that the show will be getting another season. While we don't yet know exactly when we can expect Season 2, filming is set to commence in the summer of 2022, pointing to a likely release date sometime in 2023. Plus, Owen Wilson and Gugu Mbatha-Raw will be reprising their characters from Season 1.
However, whenever "Loki" does return, it will be in the hands of new directors. While Season 1 director Kate Herron has said that she loves the character of Loki and enjoyed her experience on the show, the second season will see Justin Benson and Aaron Moorhead taking over directorial duties. In addition to critically acclaimed films like "Spring," "The Endless," and "Synchronic," the duo has previously worked on spooky series "The Twilight Zone" and "Archive 81" and will also be heading up a couple episodes of "Moon Knight," the latter of which is what reportedly landed them the "Loki" gig.
I Am Groot — TBA
After stealing the show in "Guardians of the Galaxy Vol. 2," Baby Groot is finally taking center stage in his own Disney+ series, "I Am Groot." Revealed by Kevin Feige during Disney's 2020 Investor Day, "I Am Groot" will consist of a series of shorts all featuring the MCU's spunkiest little superhero, along with "several new and unusual characters."
It's worth noting that the Groot seen in "Avengers: Infinity War" and "Avengers: Endgame" (voiced, as always, by Vin Diesel) had graduated from babyhood, and was more fittingly described in both appearance and mood as Teen Groot. However, the "I Am Groot" announcement specifically said that the series would star Baby Groot, who was first glimpsed at the end of "Guardians of the Galaxy" (after the first Groot nobly sacrificed himself to save his friends) and then played a significant role in "Guardians of the Galaxy Vol. 2." Does this mean that "I Am Groot" will take place sometime between "Vol 2." and "Infinity War," or that it will be set either outside the MCU or in an alternate reality? We don't know yet, but we'll find out when "I Am Groot" hits Disney+.
Untitled All-Female Spider-Verse Spin-Off — TBA
Spider-Woman (also known to comic fans as Spider-Gwen or Ghost Spider) was a revelation in "Into the Spider-Verse," bolstered by strong writing and a fantastic voice performance from Hailee Steinfeld. While it's no surprise that the character will essentially share top billing in "Spider-Verse 2," credit Sony for knowing an icon in the making when they see one. After the sequel, Gwen is set to headline her own, as-yet-untitled animated feature which will potentially open up a whole new universe of kick-ass Spider-Women.
Speaking with Vanity Fair in late 2018, Pascal confirmed that Aussie scribe Bek Smith (who worked on the CBS drama series "Zoo") has been tapped to pen the script for the spin-off, and The Hollywood Reporter has said that Lauren Montgomery (co-showrunner of "Voltron: Legendary Defender") is in talks to direct. As for the plot, we already know at least two of the additional characters it will involve: Jessica Drew (the classic Spider-Woman who debuted in the pages of Marvel comics in 1977) and Cindy Moon (aka Silk, a Korean Spidey who debuted in 2014 and was created by venerated Marvel writer Dan Slott). Interestingly, Issa Rae has been cast as Jessica Drew in the "Spider-Verse" sequel, so it's a safe bet she'll reprise the role here.
Said Pascal of the project, "I think it's great that we're going to be able to [make] movies about female superheroes in this realm … because I believe that there are going to be characters that really resonate for people. They're funny and quirky and different, and heroic in all kinds of different ways that only animation allows you to do."
Madame Web – TBA
As Sony continues to pile Marvel movies onto its plate, it's added one from longtime TV director S.J. Clarkson, who's signed on to develop a film centered around Madame Web, the studio's first female-centric movie from its collection of Marvel characters. Previously, Clarkson has worked on a wide range of television series, including episodes of the Marvel shows "Jessica Jones" and "The Defenders." Clarkson's "Madame Web" film will mark her feature film directorial debut, although she has previously directed several TV movies.
In the comics, Madame Web is an elderly woman with a medical condition that requires her to remain hooked up to a life support system resembling a spider's web. She's a mutant with powers of telepathy, clairvoyance, and prescience, and she's assisted a number of familiar heroes, including Spider-Man, Spider-Woman, and Jessica Jones. However, it looks like the character will be significantly reimagined for the movie, as evidenced by the rumored casting of Dakota Johnson in the titular role. Obviously, Johnson is much younger than her comics counterpart, indicating that we may see a totally revamped version of the character for the movie. Clarkson will be directing from a script by Matt Sazama and Burk Sharpless, working off of an earlier draft by Kerem Sanga. And Deadline has reported that Sydney Sweeney of "Euphoria" and "The White Lotus" fame has been cast in the film, although we don't know who she's playing at this time.
Secret Invasion — TBA
Just when we thought that the MCU's upcoming slate of Disney+ series couldn't get any more exciting, Variety reported that the MCU's main mastermind will also be getting his own series. No, we don't mean Kevin Feige, but rather Nick Fury, who made his first iconic appearance (played by the equally iconic Samuel L. Jackson) all the way back in 2008's Iron Man when he showed up in a post-credits scene to invite Tony Stark to join something called the "Avengers Initiative." Since then, Nick Fury has been a constant thread tying the many separate MCU storylines together, playing major roles in a number of films from "Captain America: The Winter Soldier" to "Spider-Man: Far From Home" to "Captain Marvel."
In December of 2020, Disney announced at their Investor Day event that the Nick Fury series will actually be an adaptation of the popular "Secret Invasion" storyline from the comics. "Secret Invasion" is set to be a crossover event, bringing together characters from across numerous MCU properties. The storyline in the comics centers around the Kree-Skrull war, which in the MCU has already been given a surprising twist when the canonically villainous Skrulls turned out in "Captain Marvel" to be the victims and the Kree the oppressors.
In the comics, the shape-shifting Skrulls have secretly invaded Earth, taking the place of some of Marvel's heroes, which was nodded to at the end of "Spider-Man: Far From Home" when it was revealed that the "Nick Fury" on Earth is actually the Skrull, Talos, and the actual Nick Fury is on a Skrull ship somewhere in outer space. Jackson is set to reprise his role as Fury in "Secret Invasion," along with Cobie Smulders as Maria Hill, Martin Freeman as CIA operative Everett K. Ross, and Ben Mendelsohn returning as Talos, his character from "Captain Marvel." "One Night in Miami" star Kingsley-Ben Adir will be joining the show as the unidentified lead villain, and Emilia Clarke, Killian Scott, Olivia Colman, and Christopher McDonald will also be part of the cast in undisclosed roles, with McDonald's part rumored to be a new character created just for the MCU rather than a familiar name from the comics.
As for the behind-the-scenes talent, Kyle Bradstreet — who's best known for his work on the Emmy-winning series "Mr. Robot" — will serve as writer and executive producer. And the dynamic duo of Thomas Bezucha ("Let Him Go") and Ali Selim ("The Looming Tower") will serve as co-directors.
Marvel Halloween Special – TBA
In addition to being able to explore and introduce individual characters in much more depth than the MCU films allow, the incorporation of Disney+ into Marvel's storytelling has enabled the studio to also do holiday specials that are much better suited to the small screen than the big one. In addition to the "Guardians of the Galaxy Holiday Special," Marvel will also be producing a Halloween special to be released on the streaming service.
Little is known about the as-yet untitled special, other than that Marvel Studios has cast Gael Garcia Bernal, who became famous in films like "The Motorcycle Diaries" and "Y tu mamá también" and has kept busy these days with projects like "Coco" and "Old." So who will be playing? Well, rumor has it that the special will be based around the comics character Werewolf by Night, an alias that's been held by two different characters over the years. The original Werewolf by Night, Jack Russell, is a descendant of a family of lycanthropes, who transform from humans into wolves. The second, Jake Gomez, is a newer character introduced in 2020, who's of Hopi heritage and has inherited the curse of lycanthropy. Which, if either, version of Werewolf by Night will appear is still unknown.
Joining Garcia Bernal will be "The Nevers" star Laura Donnelly, whose role in the series has not yet been confirmed but who could be playing Jack Russell's niece, Nina Price, aka Vampire by Night. The one-hour special is set to begin production in early 2022, and will be directed by composer Michael Giacchino, whose musical contributions to the Marvel Cinematic Universe have included the scores to "Doctor Strange," all three "Spider-Man" films, and the upcoming "Thor: Love and Thunder." While a release date for the Halloween special hasn't yet been announced, we can probably expect it to drop on Disney+ in the fall of either 2022 or 2023.
Echo – TBA
As the casts for the various Disney+ MCU shows continue to be fleshed out, doors are opening for other series featuring some of these new characters. Such is the case with a newly announced series centered around the character of Echo, who was introduced in 2021's "Hawkeye." In the comics, Maya Lopez, aka Echo, is a deaf Native American woman who's raised by the villainous Kingpin after he kills her father. Echo has the ability to perfectly mimic other people's movements (a similar skill to Taskmaster, who will appear in the "Black Widow" movie). She's also an accomplished athlete and acrobat, as well as an expert markswoman. In "Hawkeye," Echo is played by newcomer Alaqua Cox, where she's a high-ranking member of the Tracksuit Mafia seeking vengeance against Clint Barton's alter ego, Ronin.
In "Hawkeye," Echo's backstory remained largely the same as in the comics, including her close relationship with Vincent D'Onofrio's Kingpin, who was first introduced to audiences in Netflix's "Daredevil" series. Although Echo appeared to have killed Kingpin in the final episode of "Hawkeye," we know better than to assume any deaths are certain without seeing a body. So it's always possible Kingpin could return in "Echo." This also leaves the door open for Daredevil — another close associate of Maya's in the comics — to appear in the series, perhaps portrayed once again by Charlie Cox following his cameo in "Spider-Man: No Way Home." Also rumored to be joining Alaqua Cox in an undisclosed role in "Echo" is celebrated actor Graham Greene, who received an Academy Award nomination for his performance in "Dances with Wolves" and previously starred alongside MCU actors Jeremy Renner and Elizabeth Olsen in 2017's "Wind River."
Echo's comics storylines also significantly intersect with Moon Knight's, who will get his own upcoming Disney+ series. Additionally, in the comics, Echo was the first person to carry the mantle of Ronin before Clint Barton took it over, although in the MCU, Barton was the original vigilante, whose actions directly impacted Maya Lopez's life. The "Echo" series will be written by husband and wife team Etan and Emily Cohen, who will also act as executive producers.
Agatha: House of Harkness – TBA
In a surprising and delightful announcement in October 2021, Marvel revealed that a "WandaVision" spinoff starring Kathryn Hahn's witchy Agatha Harkness was in the works for Disney+. In "WandaVision," Hahn spent the first half of the series playing Wanda and Vision's nosy neighbor Agnes, who played along splendidly with Wanda's sitcom scenarios. However, it was ultimately revealed that Agnes was actually a centuries-old witch named Agatha Harkness who'd secretly been pulling strings behind the scenes of Wanda's picture-perfect, TV-ready town of Westview all along.
While in the comics, Agatha was a wise, elderly witch who even served as a magical mentor to Wanda for a time, in the MCU, Agatha is an ambitious and power-hungry villain who absorbed the power of her coven and has used it to sustain herself for centuries. After a sizzling, sky-high showdown with Wanda in the "WandaVision" finale, Agatha was ultimately trapped by the Scarlet Witch inside Westview, her mind altered to lock her in her Agnes persona, even as Wanda released the rest of the town's residents. Marvel hasn't yet announced whether the Agatha series (which has a theme song already set and ready to go, should Marvel decide to use it) will take place prior to Agatha's adventures in Westview or pick up sometime later, presumably after she's managed to shake off Wanda's enchantment and regain her powers. Whatever route "Agatha: House of Harkness" takes, though, we know it will be full of entertaining and delightful surprises.
What If…? Season 2 – TBA
After a mind- and reality-bending first season, Marvel Studios confirmed in their 2021 Disney+ Day Special that the animated superhero series "What If…?" will indeed be returning for a second season. While the first season of the series initially seemed like a self-contained anthology series, with each episode exploring a unique story that played out in an isolated branch of the multiverse, it gradually became apparent that there was in fact a season-long arc. By the end of the season, Uatu the Watcher (Jeffrey Wright) decided to break his vow to only ever observe the multiverse, rather than interact with it, when Ultron used the Infinity Stones to threaten every universe in existence.
At the end of Season 1, the Watcher recruited characters from each of the episodes prior to create the Guardians of the Multiverse, a team of alternate versions of MCU heroes who worked together to stop Infinity Ultron. Season 2 of the series will continue the Watcher's story, although whether it will bring its episodes together in a similar multiverse-spanning conflict or keep them separate has yet to be revealed. The official synopsis reads, "After enlisting the Guardians of the Multiverse to stop Infinity Ultron, the Watcher returns in Season 2 of 'What If…?' to meet new heroes and explore more strange new worlds in the MCU's ever-expanding multiverse." Presumably, Wright will return to the role of Uatu for Season 2, with the other various MCU characters once again being played by a mixture of established MCU actors and convincing voice doubles. Series writer A.C. Bradley confirmed on Twitter that "What If…?" Season 2 is set to premiere on Disney+ sometime in 2022.
Spider-Man: Freshman Year – TBA
For anyone who first met the MCU's version of Peter Parker (Tom Holland) in "Captain America: Civil War" and was sad that the film jumped straight into Peter teaming up with the Avengers and skipped over the radioactive spider bite, Uncle Ben, and all of the friendly neighborhood superheroing, your time has come. Coming soon to Disney+, the animated series "Spider-Man: Freshman Year" will give viewers a look at Peter Parker's MCU backstory, before he was ever visited by Tony Stark.
The official synopsis from Marvel's website reads, "The animated series follows Peter Parker on his way to becoming Spider-Man in the MCU, with a journey unlike we've ever seen and a style that celebrates the character's early comic book roots." We don't yet know whether Tom Holland will lend his voice talents to the animated version of his character nor do we have confirmation about whether any other cast members of the live-action "Spider-Man" film will be reprising their roles for the series. Notably, in the "What If…?" animated series, Hudson Thames voiced the webslinger rather than Holland, although "Freshman Year" would put Spidey front and center rather than as part of a broad ensemble.
Marvel Zombies – TBA
For fans left wanting more of the fifth episode of "What If…?" — which imagined a universe in which a zombie plague wiped out most of humanity (along with a fair chunk of the Avengers) — good news. You're about to get an entire series. "Marvel Zombies" is an animated series coming soon to Disney+, and it will be written by Zeb Wells and directed by Bryan Andrews, both of whom will also be serving as executive producers. The studio synopsis reads, "The animated series from Marvel Studios reimagines the Marvel Universe as a new generation of heroes battle against an ever-spreading zombie scourge."
What's unclear is whether "Marvel Zombies" will feature the same zombie universe that was featured in "What If…?" or if it will introduce viewers to a new animated zombie world. In "What If…?" Season 1, primary Avengers such as Tony Stark and Steve Rogers fell early to the zombie virus, leaving a team that included Peter Parker, Bucky Barnes, Hope Van Dyne, T'Challa, Okoye, Bruce Banner, and the disembodied head of Scott Lang as all that stood between humanity and a world populated entirely by the undead. Perhaps "Marvel Zombies" will continue their story, or it could lay out a whole new one. We'll find out when "Marvel Zombies" staggers onto Disney+ sometime in the (hopefully) near future.
Shang-Chi 2 – TBA
The COVID-19 pandemic hit Hollywood and movie theaters hard, pushing back the release dates of many films, pivoting numerous movies that were previously scheduled for a theatrical release to a streaming release, and causing the films that did brave a theatrical release to underperform compared to similar titles in years past. But the pandemic curse seemed to lift with "Shang-Chi and the Legend of the Ten Rings," which became the first theatrical release since the beginning of the pandemic to earn more than $200 million in the United States. So it didn't come as a huge surprise when Deadline reported in December 2021 that a sequel had been greenlit as part of an overall deal with "Shang-Chi" director Destin Daniel Cretton.
No further information has been revealed about "Shang-Chi 2," which would presumably bring back titular star Simu Liu, who tweeted happily about the sequel announcement, alongside Cretton. Other actors likely to return for the sequel include Awkwafina, who played Shang-Chi's best friend, Katy, and Meng'er Zhang, who played his sister, Xialing. At the end of "Shang-Chi and the Legend of the Ten Rings," Shang-Chi and Katy were summoned to New York by a master of the mystic arts, Wong (Benedict Wong), who hinted that they both had a significant amount still to learn, all while Xialing took control of the Ten Rings organization following the death of her father. And, of course, the mystical land of Ta Lo still remains mostly a mystery, leaving plenty of storylines for a sequel to explore.
Destin Daniel Cretton's Disney+ series – TBA
Alongside the confirmation that Destin Daniel Cretton would be helming a cinematic sequel to "Shang-Chi and the Legend of the Ten Rings" came the announcement that his development deal also included a new Marvel Cinematic Universe series for Disney+. With the previous success of other MCU shows on Disney+ that have spun out of the movies — including "Loki," "WandaVision," "Falcon and the Winter Soldier," and "Hawkeye" — creating a series out of the lush world of "Shang-Chi" almost seems like a no-brainer.
"Destin is an amazing collaborator who brought a unique perspective and skill to 'Shang-Chi and the Legend of the Ten Rings,'" said Marvel Studios President Kevin Feige (via Deadline), speaking of the development deal. "We had a fantastic time working together on the film and he has so many intriguing ideas for stories to bring to life on Disney+, so we're thrilled to expand our relationship with him and can't wait to get started."
No details have yet been revealed for exactly which stories Cretton is looking to bring to life on Disney+, although the end of "Shang-Chi" hints at a couple possibilities. The most obvious would be a Ten Rings spinoff, focused on Xialing, who seems to have remade the former terrorist organization in her own image, recruiting mostly female fighters for her own purposes. Another option could be a spinoff focused on Ta Lo, home to Michelle Yeoh's magically gifted character, Nan. There's always the possibility it might not even be related to the world Shang-Chi, similar to how Jon Watts went from only helming to "Spider-Man" movies to directing the MCU's "Fantastic Four." Whatever Cretton has in store for Disney+ though, we're sure it will blow us away.
Nova — TBA
Of all the Phase 4 projects referred to in the infamous "Roger Wardell" leak, this one has us the most excited. James Gunn's "Guardians of the Galaxy" introduced the Nova Corps, defenders of the planet Xandar, who are powered by the cosmic "Nova Force." In the pages of Marvel comics, when that planet was destroyed, a lone survivor — Rhomann Dey, portrayed in "Guardians" by John C. Reilly — selected a random earthling, Richard Rider, to be the vessel for this force. Imbued with the collective power and knowledge of the entirety of the Xandarian race, Rider became the man called Nova — an intergalactic hero whose power level is simply off the charts.
Kevin Feige has teased that the cosmic and earthbound sides of the MCU are going to have a sharper divide in Phase 4, and Nova will fit in very nicely with the former. If he does show up, his story could possibly tie in with that of the Guardians. And dealings with Captain Marvel and the Eternals — who are similarly ridiculously powerful — are all but certain as well. All of this is assuming, of course, that the leaked info is accurate. But "Wardell" hasn't steered us wrong so far, and Marvel's brass is surely aware of the fact that fans have been clamoring for an appearance by Nova for years.
However, if Nova does show up, we do wonder if it'll actually be the Richard Rider version. After all, it could possibly be his successor, Sam Alexander. In early 2021, on ComicBook.com's "Phase Zero" podcast, Kevin Feige was asked if Nova would ever get his own movie and if the story would follow Rider or Alexander. The man's response? "Well, yes and yes." So could both heroes be showing up? In any event, Nova's introduction can't come soon enough.
Silk — TBA
Although the project was originally announced as a feature film in 2018, Sony's "Spider-Man" spinoff "Silk" will actually be a TV series. First appearing in the pages of Marvel Comics in 2014, Silk is the alter-ego of Cindy Moon, who gained her powers in the very same science experiment which created Spider-Man. Scripting the series is aptly named writer Lauren Moon, who shares the title character's Korean-American heritage and her last name. Moon's past work includes writing credits on the Freeform series "Good Trouble" and Netflix's "Atypical."
The series will be produced by former Sony Pictures Entertainment head Amy Pascal, alongside Phil Lord and Chris Miller, who also served as producers on "Spider-Man: Into the Spider-Verse." Acting as showrunner will be Tom Spezialy, who recently served as executive producer on HBO's superhero series "Watchmen." Spezialy will also reportedly be an executive producer for "Silk," alongside Lauren Moon. This comes as part of an overall deal Spezialy has inked with Amazon Studios, seeming to indicate that Amazon's talks to distribute Sony's Marvel shows must have gone well.
If the series does go forward, it's possible the series could tie into the events of "Spider-Man: Homecoming" and "Avengers: Infinity War," in which the character of Cindy Moon was played by Tiffany Espensen. Although Cindy didn't play a large role in either film, she appeared briefly in both, and while the "Silk" series may decide to recast its title character, it's always possible that Espensen could reprise her role for the small screen.
Jackpot — TBA
One of the more obscure characters to be tapped for a Sony Spider-spin-off, Jackpot first appeared during the notorious "Brand New Day" storyline, in which Peter Parker's marriage to Mary Jane Watson was wiped from the timeline. In this storyline, the Jackpot mantle was actually held by two women. The first was Oscorp geneticist Sara Ehret, whose exposure to an experimental cure for Parkinson's disease endowed her with superpowers. Later, Ehret sold her costume and identity to Alana Jobson, a non-powered crime fighter who relied on periodic injections of Mutant Growth Hormone. But when Jobson was killed in battle, Ehret was tracked down by Spider-Man and convinced to return to crime fighting.
The character hasn't been featured in Marvel comics since 2010, but that didn't stop Sony Pictures from announcing in 2020 that the studio is developing a feature film based on the 40-something crime fighting mom. The film will be penned by Marc Guggenheim, who co-wrote the "Spider-Man: Jackpot" comics series alongside Brian Reed, and has also written issues of "Aquaman, The Amazing Spider-Man" and "Superman/Batman." Guggenheim has also written for various series within the CW's Arrowverse, and was a co-creator of "Arrow" and "Legends of Tomorrow," making him no stranger to the superhero genre.
Untitled Olivia Wilde project — TBA
As Sony Pictures works to expand its universe of Marvel properties, the studio is wisely focusing on Marvel's impressive roster of female characters, and handing the reins of those films to the directors best suited to bring them to screen. News broke in August of 2020 that "Booksmart" director Olivia Wilde has been tapped to develop and direct an undisclosed Marvel film for Sony, which is widely speculated to be a Spider-Woman film. Wilde herself fanned the flames of this rumor, quote tweeting the deal announcement and adding a spider emoji.
In the comics, several characters have taken up the Spider-Woman mantle, including Gwen Stacy, Mary Jane Watson, and Jessica Drew. There's no telling which — if any — of these characters will feature into Wilde's version, but if she goes with a live-action version of Jessica Drew, we hope the door is left open for an eventual crossover with the MCU, so that we can see the films explore her close friendship with Carol Danvers. Female friendship is familiar territory for Wilde, whose feature directorial debut "Booksmart" focused on the strong relationship between a pair of overachieving high school besties.
Wilde's Marvel movie will be penned by her frequent collaborator Katie Silberman, who also worked with Wilde on "Booksmart" and the upcoming thriller "Don't Worry Darling," as well as an untitled Christmas comedy for Universal. Outside of her projects with Wilde, Silberman has shown a penchant for romantic comedies, with screenwriting credits on the films "Set It Up" and "Isn't It Romantic." It begs the question of whether Wilde's possible Spider-Woman film will wind up being a comedy, or even a romantic comedy — and if so, who her love interest might be.
Black Cat – TBA
One of the projects long said to be in development at Sony was "Silver and Black," a feature in which two iconic Spider-Man associates would team up: Felicia Hardy (aka Black Cat) and Silvija Sablinova (aka Silver Sable). The project went through a number of iterations, including the idea of doing a limited Disney+ series instead of a movie. But now, it appears that solo features may be the direction Marvel is headed.
That Hashtag Show reports that Sony has a Black Cat feature in development, this time with a script from "a small indie writer-director, who had a solid debut in 2017 and had another hit in 2019." Feel free to commence guessing as to who this unnamed writer-director could be. The feature is said to be an origin story for the character, with Chameleon as the primary antagonist. Reportedly, the role of Felicia Hardy is being written for Felicity Jones, who played the character (but not her Black Cat alter ego) in "The Amazing Spider-Man 2," although the actress is not yet officially attached to the project.
A nemesis and sometimes love interest of Peter Parker, Felicia Hardy is a master thief who at times has been depicted with the ability to affect probability fields — that is, to cause bad luck to anyone who crosses her path. Hopefully her ability won't apply to her solo film, which after so many false starts, could use all the luck it can get.
Silver Sable – TBA
After originally exploring the possibility of introducing the characters of Black Cat and Silver Sable in a team-up film, That Hashtag Show reports that Silvija Sablinova (aka Silver Sable) is now on track to receive her own solo movie, on the heels of an earlier report that Black Cat would be getting the solo film treatment as well. Both characters are associates of Spider-Man in the comics, with Silver Sable crossing paths with the web-slinger thanks to her background as a highly skilled mercenary and the founder of security firm Silver Sable International.
Very few details are known about the "Silver Sable" movie, but it will reportedly be an origin story that sets up Silvija's path to becoming a mercenary and founding Silver Sable International, as well as establishing her as the leader of the Wild Pack, a group of operatives-for-hire who work with her to apprehend criminals and recover stolen property. The villain of "Silver Sable" will reportedly be a version of the Foreigner, who in the comics is an assassin and mercenary who was at one point married to Silver Sable. In the film, That Hashtag Show reports that the Foreigner will be "a fellow mercenary who betrays Silvija," which sounds like he could be the same character who will be making his debut in "Kraven the Hunter," played by Christopher Abbott. And although Silver Sable and Black Cat are now each receiving their own separate films instead of sharing one, the two films will supposedly share a universe.
Nightwatch — TBA
Nightwatch is among the more fascinating characters in all of Marvel lore. Originally a villain known as Nighteater, Doctor Kevin Trench decided to turn over a new leaf in the most radical way imaginable. With the assistance of the magic user Doctor Druid, Trench managed to literally alter his reality, changing his history so that his villainous identity never existed. With his nanotech-powered suit endowing him with super strength and the ability to fly, he took on the heroic identity of Nightwatch — and fascinatingly, throughout the run of his '90s solo series, he encountered similarly "cloaked" villains who had altered the world's memories in order to wipe away any trace of their evil deeds.
The character debuted in 1993 in the pages of "Web of Spider-Man," and a solo feature centered on him has been in development at Sony for some time. As recently as May 2018, the flick was rumored to be directed by the great Spike Lee, with a script having been penned by former "Luke Cage" showrunner Cheo Hodari Coker — but unfortunately, the director recently shot these rumors down. It's assumed that Coker's script will still be used, but as of right now, there's a big Lee-shaped hole in the project, with no director having yet been tapped to take his place.
Nova – TBA
Following years of eager speculation after James Gunn first introduced the Nova Corps in "Guardians of the Galaxy," it looks like Nova will finally be entering the MCU. As we saw in "Guardians of the Galaxy," the Nova Corps were the defenders of the planet Xandar, which was later decimated by Thanos prior to the events of "Avengers: Infinity War." In the pages of Marvel comics, when that planet was destroyed, a lone survivor — Rhomann Dey, portrayed in "Guardians" by John C. Reilly — selected a random earthling, Richard Rider, to be the vessel for the Nova Force, which served as the energy source for Xandar. Imbued with the collective power and knowledge of the entirety of the Xandarian race, Rider became the man called Nova, an intergalactic hero whose power level is off the charts.
Deadline reported in March 2022 that a "Nova" project was in development from writer Sabir Pirzada, who's no stranger to the Marvel Cinematic Universe after recently working in the writers room for the Disney+ series "Moon Knight." For now, there's no word on whether "Nova" is being developed as a series or as a feature film, although considering that nearly all of Pirzada's previous experience is in TV, our money is on the former.
Alongside the question of which format that Nova's MCU introduction will take is the question of which version of Nova we'll get. While Rider was the original Nova, the MCU version could possibly be his successor, Sam Alexander. In early 2021, on ComicBook.com's "Phase Zero" podcast, Kevin Feige was asked if Nova would ever get his own movie and if the story would follow Rider or Alexander. The MCU mastermind's response? "Well, yes and yes," making us wonder if both iterations of the character will soon be making their MCU debuts.