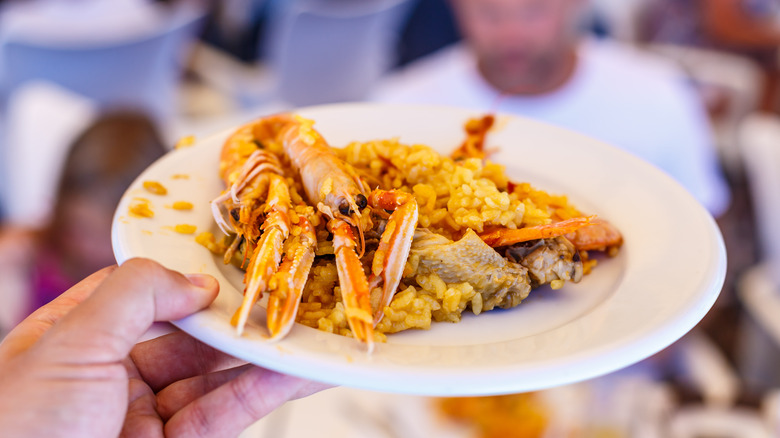 To savor the best U.S. seafood is a rewarding dining experience, allowing us to appreciate the essence of the surrounding waters. There must be something about a natural saltwater brine that triggers our subconscious to gravitate towards the food's seemingly rare and exclusive qualities. In many cases, seafood is synonymous with elegant tablescapes and high-end dining. Other magnetic seafood gatherings feature beachside clam bakes or lobster feasts — a joy only understood when you've experienced the rich flavor of crustaceans and sand between your toes at the same time.
It's no secret that Americans love seafood, and according to Seafood Source, the population consumed an average of 16.1 pounds of seafood per capita in 2018, one of the highest levels of the decade. World Atlas declares shrimp as the most widely served seafood in the U.S., with salmon and tuna are tied for second place. But seafood is incredibly varied and those popular options only skim the surface.
Today, many chefs are committed to sustainable alternatives, using their culinary creativity to redefine classic seafood dining. Whether it's flaking canned tuna into a bowl for tuna salad, scooping the flesh out of lobster claws, or slurping back freshly shucked oysters, there's something enticing about these briny feasts. If you count yourself as a seafood lover, discover our top favorite U.S. cities to visit if you're looking to indulge.
Boston, Massachusetts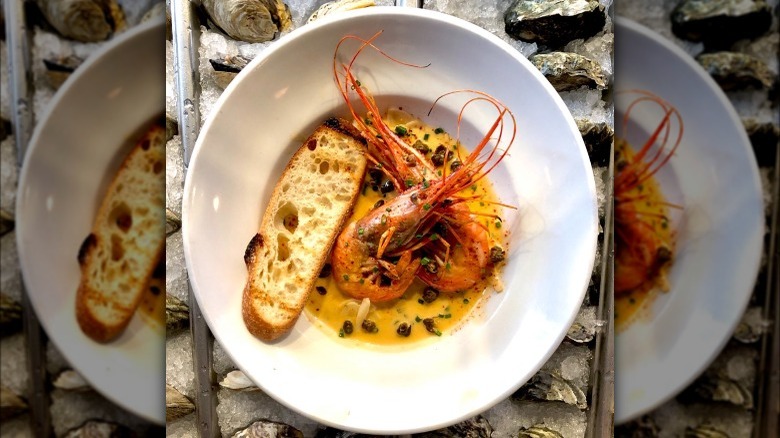 With the Boston Harbor towing the Atlantic Ocean's edge and Cape Cod delicacies only an hour drive away, rich New England seafood culture is one with the city. According to the historic Union Oyster House, oysters were all the rage in the early 1800s, with Boston boroughs home to oyster parlors, cellars, saloons, and stalls. A little over a century later, Lawrence "Chubby" Woodman invented the fried clam and sold the dish at his Main Street concession stand in nearby Essex (via The New England Historical Society).
The first-ever Legal Sea Foods restaurant opened on Cambridge soil in the 1940s, spreading nationwide and keeping a New England spirit omnipresent in all of its locations (via Mass Moments). Its enthusiastic slogan, "If it isn't fresh, it isn't legal," inspired a generation of Boston chefs to pursue the boundlessness of nearby ocean harvests. Since then, fashionable establishments with seafood attractions have lured locals and tourists into tasting iconic dishes like clam chowder, lobster rolls, fried clams, and oysters.
In recent decades, Michelin star seafood plates have joined New England comfort food classics, transforming the city of Boston into a culinary destination. With such fresh local ingredients, it's no surprise that Neptune Oyster and Row 34 are among Boston's trendiest restaurants, achieving national attention. Come August, The Boston Seafood Festival celebrates Boston's integral seafood identity, drawing upon restaurants, local businesses, and residents to converge over good food, oyster shucking contests, and chef demonstrations.
Charleston, South Carolina
Nearby coastal waters set cities up for seafood success, but Charleston doesn't take its aquatic advantage for granted. According to Charleston Seafood, a local seafood purveyor with a "Hook to Table" attitude, South Carolina waters provide some of the world's best shrimp, tuna, mahi-mahi, grouper, red snapper, and flounder.
With such fresh seafood at hand, Charleston is a hub of culinary tradition and ingenuity. Shrimp and grits permeate the American South, but according to Southern Living, the comfort food originates from the South Carolina Lowcountry. An anecdote from "Two-Hundred Years of Charleston Cooking" describes an early shrimp and hominy dish that paved the way for the classic. Meanwhile, she-crab soup, another tried-and-true Charleston classic with French and Creole influences, has unique interpretations enjoyed statewide (via Discover South Carolina).
A commitment to sustainable seafood is contagious in Charleston, and Kerry and Mark Marhefka, founders of the community-supported fishery program Abundant Seafood, give it a new meaning. Working one-on-one with local chefs, the Marhefkas put South Carolina seafood on the map in 2020 after receiving the James Beard Foundation leadership award.
As for Maggioni Oyster Company, it serves wild-harvested South Carolina oysters "tide to table" without a middle man getting in the way. Meanwhile, a meal at The Ordinary which is housed in an old 1920s bank building is a must. The restaurant earned recognition from Condé Nast Traveler for dishes like its jumbo lump crab toast, freshly shucked oysters, and crispy oyster sliders.
New Orleans, Louisiana
Tourists flock to The Big Easy for reputable beignets, permissible street drinking, and Mardi Gras celebration, so why not add superior seafood to the long list of things New Orleans does well. Cookbook author, restaurant owner, and Louisiana native Melissa Martin awards "a long legacy of culture and traditions" to the local appreciation and respect for nearby aquatic habitats (via The New York Times).
Today, Louisiana ranks second in seafood production only to Alaska, but New Orleans has a seafood history that predates America itself. The French who lived in the region in the 1600s and 1700s adored local oysters, and the first dedicated fish market opened in 1790, according to NOLA.com. By the early 1800s, local restaurants were embracing a growing affinity for seafood complete with specialized menus.
A 15-minute drive west of the city lures seafood lovers to the Westwego Shrimp Lot, a destination that Culture Trip describes temptingly as being a hotbed of seafood tradition with plenty of fresh fish. The market and others like it highlight the area's delightful assortment of seafood — the backbone of storied New Orleans dishes like gumbo and crawfish etouffee.
Beyond these deservingly emblematic dishes, seafood weaves its way into the city's culinary identity with lesser-known enactments. According to Saveur, fried oyster sandwiches — known to locals as oyster loaves — are a New Orleans delicacy at Casamento's. Pêche Seafood Grill is another favorite, considered one of the best seafood restaurants in the country.
Baltimore, Maryland
In a state that observes universal blue crab fandom, it's impossible to exclude Baltimore from the best seafood cities in the U.S. Many locals drop the blue, and consequently, the state crustacean becomes easily identifiable as Maryland Crab. Eater food critic Bill Addison paints a vivid picture of Baltimore's crab infatuation, sharing: "It remains the defining food of our collective identity. Our devotion is primal."
Crab may drive Baltimore's seafood tourism, but oysters, clams, and bass among other fish bridge the gap (via Maryland Government). Head down to Fells Point for waterfront views, brothy mussels, and seafood bites at Bertha's. Meanwhile, Dylan's Oyster Cellar in Hampden neighborhood boasts a charming ambiance and a local half-shell selection, while The Food Market is the perfect spot to imbibe in crab cakes with lobster mac and cheese. Crust by Mack is another fan favorite, contributing sell-out crab pies — forged with local Maryland crab and shatteringly flakey pie crust — to a passionate Baltimore community.
Seattle, Washington
Seattle bears flying fish credentials that define the city and echo well beyond the Northwest region for those in the know. For anyone who's unfamiliar with it, the flying fish refers to Pike Place Fish, the world-famous fish purveyor at the waterside Pike Place Market. The self-proclaimed "soul of Seattle" was founded in 1907, and today, a fish-throwing spectacle draws the most attention. According to National Geographic, massive Turbot, king salmon, or Alaskan halibut fly through the air, taking flight from one fishmonger's hands and (hopefully) landing in the other's without any slippage. While tourists come for a show, home cooks come for the selection of sustainable fresh seafood.
Salmon is treasured across Washington State, in particular from the Copper River, and Crosscut notes the city of Seattle and salmon are inseparable. Likewise, Seattle restaurants embrace the city's seafood lifestyle. The Walrus and The Carpenter is a Time Out pick that highlights Seattle's gastronomic playfulness and diverse fish and shellfish stock.
Come summertime, Puget Sound goers can shell out for freshly collected delicately sweet Dungeness crab (via Riptide Fish). Thankfully, Pike Place Fish ships both king salmon and Dungeness crab nationwide for those who don't live within a pot's distance of Seattle's Sound water.
Washington, D.C.
Washington, D.C. is a melting pot city that approaches seafood with the same inclusive and exhaustive conviction. The newly remodeled District Wharf sports elegant oyster bar havens, seafood towers, and stylist butter-drenched lobster rolls. The Municipal Fish Market along the Potomac River is over 200-years old — the oldest continuously-operating open-air fish market in the entire country. Visitors at The Wharf can knock back freshly shucked oysters, pick up a whole branzino for summer night grilling, or dive straight into a just-boiled blue crab.
There's no better city for a half-shell food crawl if you love oysters. Rappahannock Oyster Bar, Hank's Oyster Bar, Brine, The Salt Line, and Pearl Dive Oyster Palace are among many establishments that capture the hearts of locals. Meanwhile, The District Fish Wife at Union Market sells fresh, high-quality fish and shellfish for avid cooks — including wild-caught salmon, razor clams, and octopus — and throws fried seafood bits between bread for a lunchtime feast. Dinner at either Fiola Mare or Del Mar is an immersive seafood experience, providing a glimpse into celebrity chef Fabio Trabocchi's fashionable seafood point of view. Grand seafood towers, roaming icy fish carts, and Georgetown waterfront views earn Fiola Mare notable accolades from The Washington Post food critic Tom Sietsema.
Houston, Texas
Seafood is one of many reasons why renowned chefs are honoring the many culinary offerings in Houston, Texas. Texas and seafood may not be two words that naturally roll off the tongue, but it shouldn't come as a surprise with the state's proximity to the Gulf of Mexico. Houstonia Magazine, referring to the Gulf as "the best coast," praises pristine golden tilefish, crab, shrimp, and warm-water oysters. Local chef Jean-Phillipe Gaston celebrates diverse food culture and shares that "The food in Houston is so unique because it's built by immigrants" (via Food & Wine). A city built on fusion cooking transforms local ingredients — both from land and sea — into reflective global plates.
Eater Houston reiterates how the provisions of the Gulf Coast are an important aspect of the city's cuisine, and locally caught redfish, snapper, and gulf shrimp headline menus with "Gulf caught" specificity. Eugene's Gulf Coast Cuisine does so effortlessly, showcasing "Gulf Coast Dinner" specials in addition to local oyster shooters. Meanwhile, former professional hockey player Ryan Lachaine combines Gulf Coast delicacies and global influence at Riel.
Bar Harbor, Maine
Bar Harbor delivers scenic mountain views, enchanting water tides, and epic fresh seafood. Nature lovers visit nearby Acadia National Park during Maine's prime summer season. Still, local seafood and chunky lobster meat add to Bar Harbor's scenic bay outlooks. Most restaurants are only open for the summer season, so eager seafood crowds flock here for ocean edge delicacies.
Lobsters, clams, and oysters take center stage in this charming seaside town, and glowing 5-star reviews are commonplace. Rose Eden Lobster, the winner of Tripadvisor's 2021 Travelers' Choice award, leaves diners ready to hand out 6 stars, while The Travelin Lobster cherishes Yelp compliments like "The lobster was the freshest I've tasted." Happy Clam Shack also retains a 5-star Tripadvisor rating with options like lobster bisque in a bread bowl, clam chowder, and exceptional blueberry pie.
For a sit-down seafood feast, you can't go wrong with Havana (try the seafood paella), which The New York Times reports was once savored by former President Barack Obama. For a natural dining setting, Jordan Pond House in Acadia National Park serves succulent lobster salads and buttery popovers. Home and garden goddess Martha Stewart shares that she enjoys lunches at Islesford Dock Restaurant on nearby Little Cranberry Island.
Chicago, Illinois
Although Chicago is a landlocked state and expressly known for deep-dish pizzas, the midwest epicenter treasures coastal products. Fresh East and West coast seafood shipments travel to Chicago's finest seafood markets, making it to award-winning restaurant plates.
The Fishguy Market is essentially an East coast transplant seafood market selling colossal ocean-caught tiger shrimp, wild Patagonia red shrimp, Scottish smoked salmon, and even escargots for the brave. In addition, Chicago's Wixter Seafood hoists a sustainability narrative deep into midwest seafood procurement with 100% traceable prime seafood cuts.
If you're looking for a memorable meal with an intentional seafood focus, then mfk. is an easy choice. The innovative restaurant has received the Michelin bib gourmand award every year since its opening in 2016. With seafood-forward Spanish tapas that showcase traditional boquerones, bass crudo, and "pulpoguesa" sliders — a magical octopus and pork fat hamburger coalition — this spot is a must.
Honolulu, Hawaii
Home to some of the best sushi-grade fish, poke bowl tradition, and fish auction ferocity, Honolulu captures the beauty of the natural world in all its forms — from beaches and clear waters to fresh fish artistry and global influence.
Food & Wine highlights Honolulu Fish Company, which recently started shipping Hawaii's most delicate sashimi-grade fish anywhere in the country. Ahi tuna, ono, opah, and kajiki transport Hawaii's cultivated fish craft to your door, ready for homemade poke bowls and at-home sashimi preparations.
The Honolulu Fish Auction, modeled after the famous Tokyo fish market, is central to the island city's gastronomic seafood culture (via Matador Network). Fresh fish cuts from nearby waters sell to eager buyers, and intercontinental preparations take over from there. For ready-to-eat meals, Honolulu locals revere Ono Seafood for its magnificent poke bowls, with tuna slices so profoundly red they could easily be mistaken for prime steak beef cuts. The jewel-like pieces join fluffy white rice and a vibrant scallion garnish.
Juneau, Alaska
Alaska masters seafood productivity like no other state, and Juneau reaps all the prolific benefits. According to NOAA Fisheries, Alaska leads all other states in commercial fish landings, accounting for 60% of the country's total numbers. According to the Seattle Times, about 90% of peak wild salmon comes from Alaska. Executive chef Laura Cole from Denali National Park declares that salmon season "marks summer and the highlight of what Alaska has to offer."
When it comes to Juneau's edible delicacies, there are no limits. Salmon, king crab, billing, rockfish, halibut, and shellfish circulate local fish markets and restaurants, including at Tracy's King Crab Shack, a Juneau establishment honing the art of king crab leg preparation. Bon Appétit declares the Juneau shack serves "the best legs in town." When May arrives and crab shack season starts, lines grow with impatient customers ready to enjoy the coveted butter-drenched crab legs, with rich crab bisque and freshly baked garlic rolls to accompany the majestic crustacean main event.
San Diego, California
Straddling Pacific Ocean waters, San Diego is a bustling seafood city with a unique perspective, influential creativity, and ocean-bred ingredients. According to Visit The USA, raw sea urchin (aka uni) is a San Diego delicacy. Those in the know head to the Little Italy Mercato Farmer's Market for the freshest uni in town. After, a stop at the nearby Tuna Harbor Dockside Market highlights the soul of San Diego in open-air market form.
Following a stroll through San Diego's port and a fresh uni tasting, pop into Ironside Fish & Oyster for innovative oyster flights or visit Herb & Sea for raw bar samplings, seafood mains, and inspired pasta plates. Eater San Diego spotlights the airy and bright dining hall space and the culinary collaborations that place seafood at the forefront. A wood fire oven chars pizza crust edges, while bright swordfish and salmon mains hone the grill's seductive smoky outpost.
Miami, Florida
No premier seafood list would be complete without Florida representation, and Miami has it all. Florida fishers have two bodies of water to choose from, the Gulf of Mexico to the west and the Atlantic Ocean to the east. Upwards of 80 types of seafood are harvested throughout the year, including alligator, blue crab, bluefish, clams, oyster, and mahi-mahi (via Florida Department of Agriculture and Consumer Services). Most importantly, stone crab is considered a Florida delicacy, harvested only from October to May for its large claws full of sweet and succulent meat (via The New York Times).
Miami's restaurant scene does the coastal bounty proud. Joe's Stone Crab is a Miami treasure, and the large crab claws draw in 14,000 people a week to eat stone crab. Meanwhile, the South Beach Seafood Festival echoes local stone crab and seafood enthusiasm in late October, bringing the city's best chefs and diners to one food-crazed huddle.
Philadelphia, Pennsylvania
Philadelphia's passionate seafood community is dynamic, teeming with nods to tradition. Come December 23rd and 24th, Philadelphians run to the closest monger for fresh fish to celebrate a Feast of Seven Fishes (via Billy Penn). For Anthony D'Angelo, owner of Ippolito's Seafood in South Philly, business nearly doubles on the days leading up to Christmas Eve. The tradition doesn't entail seven types of fish but instead, refers to a period of fasting prior to Christmas (yes, apparently fish counts as fasting).
Philly's fine dining restaurants are also putting on an aquatic show. Little Fish, a seafood tribute to Pennsylvania's coastal waters, was named Best Seafood Restaurant in 2018 by Philadelphia Magazine, curating an a la carte feast of scallop toast, grilled octopus, and roasted grouper. Beyond fine dining, seafood culture and community are one in Philly. Fishadelphia, a community seafood program, seeks to connect Philly communities while supporting sustainable fisheries and ensuring everyone has access to affordable and delicious local seafood products.
San Francisco, California
San Francisco's restaurant appeal is the perfect way to savor the country's seafood dedication. The term sea to table takes a new meaning at San Francisco hot spot Angler. The restaurant transforms fresh California seafood into bites that don't stray far from their natural seafood state (via San Francisco Weekly). Other San Francisco chefs challenge the status quo, pushing back on regal seafood towers and crab cake patties and embracing the ocean's lesser-known treasures. Commis, a nearby Oakland restaurant adds edible seaweed to fine-dining plates (via The New York Times).
Angler chef Joshua Skenes is involved in remedying the hassle of ensuring fish shipments from other countries arrive in peak state. Instead, he turns to his California backyard for nearby discoveries, recasting typical seafood fare with raw jellyfish and sea cucumber culinary transformations (via NYT). Seafood fanatics can now turn to San Francisco, not only for some of the best classics in the U.S. but also for its visionary seafood deviations.