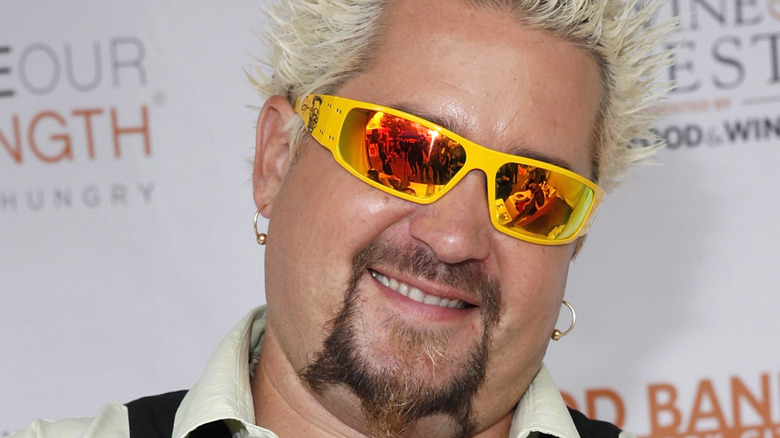 We may receive a commission on purchases made from links.
What can you say about Guy Fieri that hasn't already been said by someone else, or even by Fieri himself? Some revere him as down-to-earth cook happy to serve you a heaping plate of nachos or have no shame as the juice of a cheeseburger drips down his face on television. Others see him as a punch line, with his wild shirts, spiked hair, less-than-refined culinary style, and bold personality.
Either way, we can all agree that Fieri is a character worth watching. After all, how many television personalities can say they were the inspiration for an iconic movie character, the way Fieri was for actress Melissa McCarthy's role as Megan in the hit film "Bridesmaids" (via Vulture). McCarthy's outlandish performance would likely have been a little different if her inspiration was Rachel Ray or Bobby Flay.
But behind the character — the platinum blonde hair, flame shirts, and "Flavortown" catchphrase — is a man whose life journey went from the Midwest to pretzel carts to competition shows to, eventually, dozens of restaurants, millions of dollars, and hours upon hours of air time. Let's take a look back at Guy Fieri's head-turning transformation.
Guy Fieri was born Guy Ferry in 1968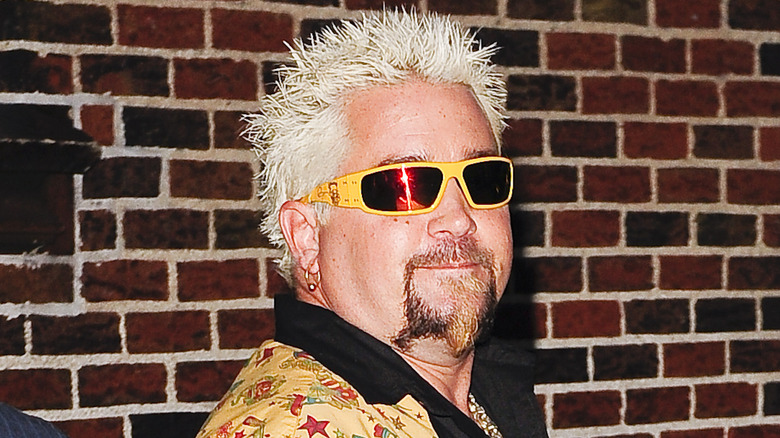 Guy Fieri was born in Columbus, Ohio in 1968 (per Biography). But when he came into this world, the name "Fieri" was not listed on his birth certificate. Instead, it was "Ferry," which was his family's surname. Fast forward to the 1990s, long before he became famous, when Fieri changed his last name. It turns out, "Fieri" was the actual name of his grandfather when he left Italy and immigrated to America. The chef changed his name in order to honor his family.
As for his childhood, Fieri didn't spend much time in Ohio; his family moved to Northern California shortly after he was born. Nevertheless, his hometown has not forgotten their native son. In 2020, thousands of people signed a Change.org petition to rename Columbus to Flavortown, one of Fieri's trademark sayings. "Why not rename the city Flavortown?" the petition asks. "The new name is twofold. For one, it honors Central Ohio's proud heritage as a culinary crossroads and one of the nation's largest test markets for the food industry. Secondly, cheflebrity Guy Fieri was born in Columbus, so naming the city in honor of him (he's such a good dude, really) would be superior to its current nomenclature." As of June 2021, the petition had more than 130,000 signatures. Yet, for now, you still won't find Flavortown on the map.
Guy Fieri had a successful pretzel business as a kid
Guy Fieri didn't waste much time getting into the food service business. At the ripe old age of 10 he opened his own pretzel stand. How did this entrepreneurial venture come about? According to Fieri, it all started during a family ski trip. After a day on the slopes, Fieri told Today that he came home and raved to his dad about the delicious soft pretzel he had for lunch. By the end of the trip, Fieri's father suggested his son start his own pretzel business. Young Fieri went back to the vendor, waited until the pretzel seller threw out his box of goods, then went dumpster diving in order to retrieve the address of the pretzel manufacturer.
Equipped with a stash of soft pretzels and a homemade pretzel cart built by he and his dad, Fieri started peddling pretzels in the 5th grade — and he didn't stop until he was a sophomore in high school. Fieri used his pretzel money to fund a year living abroad in Chantilly, France. It was here where Fieri truly fell in love with food and never looked back. "The click went off, and I said, 'That's it, I'm a food person,'" Fieri recalled on The Moment podcast. "That's what I want to be — I want to own my own restaurant."
Guy Fieri opened his first restaurant when he was still in his twenties
After being fully dazzled by the culinary scene in France, Guy Fieri's future was set and he quickly went to work learning everything there is to know about the restaurant business. He enrolled at the University of Nevada, Las Vegas to study hospitality management, as noted by Biography. During this time Fieri worked several different restaurant jobs, including flambé captain. After graduating, Fieri climbed his way up the career ladder, with a stint at a Stouffer's restaurant before being named a district manager for Louise's Trattoria.
Fieri's career took a big step forward in 1996 when he and his business partner, Steve Gruber, opened their own restaurant. Johnny Garlic's was an Italian eatery located in Santa Rosa, California. Although Fieri had yet to turn 30 years old, he clearly knew what he was doing. Johnny Garlic's proved to be such a success that the pair opened two more locations. Before he even knew it, Fieri's culinary career was off and running.
Guy Fieri started his television career by winning Next Food Network Star
You wouldn't be out of line thinking Guy Fieri has been on television forever. In fact, it's difficult remembering the culinary television landscape sans the mayor of Flavortown. But every great character has an origin story and for Fieri, it all started by winning a competition show on the network that would become his home for many, many years.
In 2006, Fieri was crowned champion of Food Network's "Next Food Network Star." What was the prize for winning the competition? His own show on Food Network, of course; "Guy's Big Bite" premiered later that year. But all this almost never happened. On The Moment podcast, Fieri explained that it was his buddies who pushed him to audition, so he finally gave in and sent in a tape. When the network watched the audition, their first words were, according to Fieri, "Call him. Get him on the phone now."
The rest is television history as Fieri has been a mainstay on Food Network ever since — and that won't be changing any time soon. In May of 2020, Fieri signed a new three-year deal with Food Network that will pay him $80 million, according to Forbes. It makes him the top paid chef on television.
Guy Fieri been married for nearly 30 years
Throughout Guy Fieri's climb to fame and his many years in the spotlight, he's been accompanied by his wife of nearly 30 years, Lori Fieri. By all accounts, they have a healthy, loving relationship, which makes it seem like they were destined to be together. But that's not how it appeared when they first met.
It turns out, Guy and Lori met under some uncomfortable circumstances. The chef was running a restaurant in California when one day, a recently fired employee walked in with her friend. "They weren't supposed to be there," Fieri told Delish. "I was talking to [Lori's] friend and saying 'Hey, listen, wait a few weeks before you come in,' and standing behind her is this blue-eyed, blonde girl giving me this mean mug." Coming to her friend's defense, Lori refused to leave. Guy acquiesced and the rest is history.
Lori, a Rhode Island native, was in town as part of her cross-country move to Southern California. "She never made it to San Diego," Guy joked. Kidding aside, the television host gives his better half a great deal of credit for accompanying him on his crazy life journey. "To get here, you have to be willing to adapt and understand," Fieri continued. "It's all compromise and understanding." It's a good thing Guy wasn't intimated by Lori's mean first glare. "I knew as soon as I saw her," he added. "I just knew." Maybe it was destined to be after all.
Guy Fieri's iconic hairstyle wasn't planned
Guy Fieri's look is as bold as his flavors, and that includes his platinum blonde spiked hair. In fact, Fieri's locks may just be what he is most known for. But believe it or not, his hairstyle was not preplanned. Instead, it was a spur of the moment choice by his friend and hairdresser Christina Jones. "I was just kind of having one of those moods one day, and said, 'Just do whatever you want.' She goes, 'Whatever I want?' 'Whatever you want,'" Fieri told People. "I get done and I'm like, 'You gonna wash that out, that shampoo?' She goes, 'No, that's your hair color.' I'm like, 'My what!'" While Fieri wasn't happy with the look, he had to get to work, so he donned a hat and went about his evening.
While the new hairdo has become Fieri's signature look, not everyone is crazy about it. "I always say, 'When are you going to change your haircut?'" Fieri's wife, Lori Fieri, told the magazine. "But it stuck and it's him … I tease him every once in a while." She added that sometimes she wishes he would change his hairstyle, and compared it to dying her hair black, something she wouldn't do for her husband.
Guy Fieri lost his sister to cancer in 2011
Guy Fieri suffered a tragic loss in his family in 2011 when his sister, Morgan Fieri, succumbed to cancer and died at the age of 39, as noted by Delish. She previously was diagnosed with metastatic melanoma as a child but was able to beat it then.
According to her obituary, Morgan, a vegetarian, contributed to her bother's cookbook and was the founding director of Guy's foundation, The Guy Fieri Foundation for Inspiration and Imagination. Even after her death, Guy continues to be inspired by his sister. After Morgan's death, Fieri got involved with the Make-A-Wish foundation and has been a strong advocate every since. It's a little known fact that Fieri invites a Make-A-Wish child and their family to every taping of "Diners, Drive-Ins, and Dives." "I know what the family is going through, to some degree," he revealed. "I know that heartache and I see that, and if there's anything I can do to help enlighten or empower those kids, I want to do it."
Guy Fieri has built a culinary empire
For as much of a television star as Guy Fieri is, his TV shows are just one component of his culinary empire, which includes a number of business lines. First are his restaurants. Since opening his first eatery in 1996, Fieri has built a portfolio of dozens of restaurants (per Food Network). His flagship outlet, Guy's Fieri's American Kitchen & Bar, currently has 12 locations across the country and overseas, with more on the way. Some of his other notable restaurants include Guy Fieri's Smokehouse, Guy's Pig & Anchor Bar-B-Que, and El Burro Borracho. Fieri even has a restaurant, Guy's Pig & Anchor Bar-B-Que Smokehouse, located on several of Carnival Cruise Line's ships.
But that's not all Fieri has been working on, as he has published six different books since 2008, according to Amazon. Three of them are based off his popular Food Network show "Diners, Drive-ins, and Dives," while the remaining three are original cookbooks. If that wasn't enough, Fieri also has his own line of barbecue sauces and salsas, and his Flavortown food line that includes frozen and refrigerated products.
Last but not least is the winery. That's right — Fieri owns the Hunt & Ryde winery in California's Sonoma County, as noted by GQ. It is named after Fieri's two sons, Hunter and Ryder Fieri.
Guy Fieri is a full-blown television star
Guy Fieri kicked off his television career by winning Food Network's competition show "The Next Food Network Star," as noted by Biography. However, neither Fieri nor the network could have possibly imagined the success that would ensue. In the years since his 2006 victory, Fieri has hosted more shows on the channel than one can count. A short list includes "Guy's Big Bite," "Guy's Ranch Kitchen," "Guy's Big Project," "Guy's Family Road Trip," and "Guy's Grocery Games." Fieri's most successful series, however, has been "Diners, Drive-ins and Dives." The show follows Fieri traveling around the country sampling dishes from popular local restaurants. It has aired more than 500 episodes and is still going strong.
But Fieri also branched out from his home network — and the kitchen — when he hosted two seasons of NBC's game show Minute to Win It – and that's not all. The chef has been a guest on more shows than you can imagine, including "Rachel Ray," "The Chew," "Ace of Cakes," "Jay Leno's Garage," "Hot Ones," and "Shark Week," to name a few. Just turn on your television and Fieri is never more than a few channels away.
Guy Fieri has his own star on the Hollywood Walk of Fame
For someone who has been on television as much as Guy Fieri, it's only right to have has place in entertainment cemented — literally. That occurred in 2019, when the TV personality got his star on the Hollywood Walk of Fame, according to the Food Network. In doing so, Guy became just the third chef to be bestowed the honor, joining Bobby Flay and Wolfgang Puck.
The ceremony featured a speech from Guy's oldest son, Hunter Fieri, who referred to his father as, "my best friend, my mentor and my idol … Thank you for being the only star we ever need to meet." Also on hand was Matthew McConaughey — it turns out the Academy Award-winning actor and celeb chef are longtime friends. In his speech, McConaughey praised Guy's authenticity. "He didn't have to play a part," the actor told the crowd. "He was the character. You really haven't changed who you are. Authenticity. In a business where you can be anyone you want to, you've been you."
Guy, who claimed that the thought of having his own star on the Hollywood Walk of Fame "wasn't even in the dream world," made sure to give credit for his success to the friends and people around him and, of course, the residents of Flavortown.
Guy Fieri has gotten his share of negative press
It hasn't always been a smooth ride to Flavortown for Guy Fieri — there have been some notable bumps in the road. One of the most serious came in 2011 when Fieri's former television producer, David Page, sued Food Network for breach of contract (via The Hollywood Reporter). Minneapolis-St. Paul's City Pages then published a story in which Page leveled some serious accusations against Fieri, including that he was "weirded out" by gay people, has roaming eyes and a dirty mind, and, just for good measure, wears sunglasses indoors (per Chowhound). Page too was accused of inappropriate behavior; the parties eventually settled the case.
Fieri got a different sort of bad review courtesy of The New York Times. The newspaper published a brutal review of his Manhattan restaurant, Guy's American Kitchen and Bar. In it, critic Pete Wells described a particular drink as a "combination of radiator fluid and formaldehyde," the roasted-garlic mayonnaise as "Miracle Whip with minced raw garlic," and the nachos as "deeply unlovable." Needless to say, the piece got headlines. Fieri, though, didn't back down. "I thought it was ridiculous," he told Today (via Yahoo! Entertainment). "It really seemed like there was another agenda." Then Fieri gave his own review of Wells' work. "It's a great way to make a name for yourself — go after a celebrity chef that's not a New Yorker that's doing big concept in his second month … I stand by my food."
Guy Fieri has helped restaurants and their employees get through the pandemic
The coronavirus pandemic has taken a dire toll on nearly every industry, but few have suffered as much as restaurants and their employees. And while countless individuals have pitched in to provide assistance, few, if any, have done as much as Guy Fieri.
On March 27, 2020, Fieri started the Restaurant Employee Relief Fund (RERF) to provide financial assistance to food service workers in need, as noted by Newsweek. The well-connected chef began by reaching out to his sponsors. "I started sending out personal video messages to all the CEOs that had any connection to the restaurant association: Pepsi, Coke, Cargill, Keurig, Dr. Pepper, you name it," he told CBS News. "The next morning we have a conference call. And they said, 'Pepsi just sent us a million bucks.' I'm not kiddin' ya, I had to pull over to the side of the road!"
Aided by additional donations from more than 50 companies and organizations and 15,000 individuals, the RERF raised a staggering $21.5 million in just a few short weeks. The Fund, which provides restaurant workers with one-time $500 grants, has helped more than 43,000 employees.
Guy Fieri's list of charitable work is second to none
With his platinum blonde, spiky hair, outrageous fashion choices, and lowbrow catchphrases, it's easy to dismiss Guy Fieri as not much more than a goofball — the kind of person that would be parodied on "Saturday Night Live." But for all his silliness, you'll be hard-pressed to find an individual who has done more to support their community and other charitable efforts.
Fieri's work to help food workers during the coronavirus pandemic is well documented, but his philanthropic worked started long before 2020. As per Eater, a short list of his notable generosity includes founding Cooking With Kids, which funds programs that teach kids to cook, raising money for intellectually-disabled children, receiving the Make a Wish Foundation's highest honor, and, in honor of his late sister who was a lesbian, serving as an officiant for the nuptials of 101 same-sex couples at a massive wedding ceremony.
One of Fieri's most notable ongoing charitable deeds began more recently. In 2017, as wildfires ravaged Northern California, Fieri and his team created a makeshift barbecue mess hall to feed roughly 5,000 evacuees, first responders, and military personnel per day. The following year, he was at it again, teaming up with chef Jose Andrés' World Central Kitchen to provide 2,000 meals. And in 2020, Fieri stepped up once more, cooking up 2,000 meals of penne pasta, salad, and garlic bread to first responders battling wildfires (via Food & Wine).