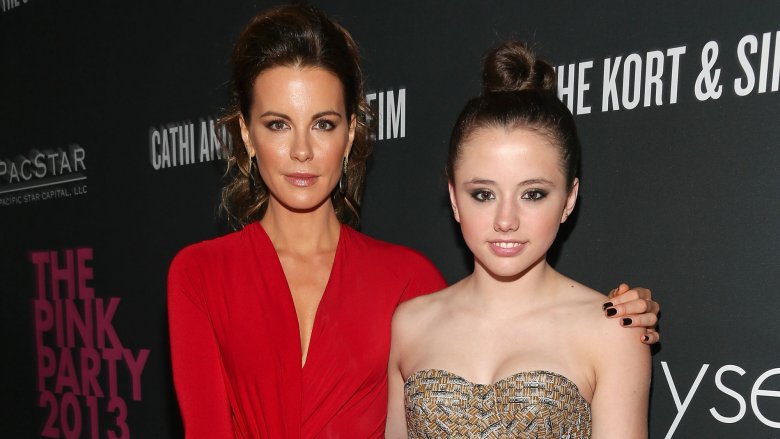 When you're the offspring of Underworld's Kate Beckinsale, the odds are good you're going to get passed some pretty stellar genes. And, well, the apple certainly didn't fall from the tree with Beckinsale's daughter Lily Sheen. Not only is the brunette beauty her movie star mom's mini-me, but she also scored Beckinsale's sharp wit and quirky sense of humor. Seriously, go spend some time on both of their Instagram feeds — you won't regret it.
However, Sheen has also accomplished a tricky feat in Hollywood: setting herself apart from her glamorous mom. While the super-tight mother-daughter duo still squeeze in tons of quality time together (including red carpet appearances), Sheen has branched out and is living her best life in the Big Apple.
From hanging out on movie sets with her thespian parents to getting accepted into the university of her choice, Beckinsale's little girl has grown up to be a well-rounded young woman.
A starlet is born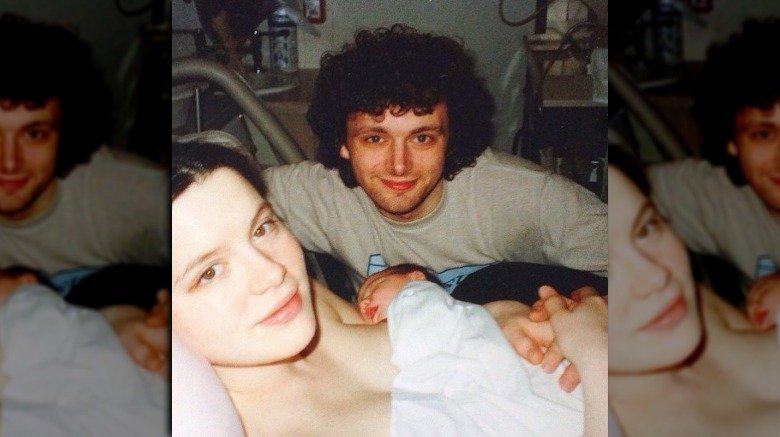 Lily Sheen's story starts much like any good Hollywood fairytale — two actors met, fell in love and welcomed the star of their own little universe into the world. The date was Jan. 31, 1999 and that little starlet belonged to Kate Beckinsale and Michael Sheen. At the time, Beckinsale's first big film, Brokedown Palace, had been released only a few months prior. Sheen had just starred in the TV movie Doomwatch: Winter Angel. Only a few years later, in 2003, the then-couple decided to go their separate ways.
However, they committed themselves to amicably co-parenting their daughter. "I'd love to say we're just terribly evolved, amazing, marvelous people, but actually we've just been really lucky," Beckinsale told Elle in 2017. "We really like each other. He would be a friend of mine, whatever the situations. We just really love each other."
It shows, too! Hilariously, the three came together in 2016 to recreate an iconic 1999 photo taken at the hospital shortly after baby Sheen was born.
When your mom's Kate Beckinsale
Sheen wasn't your typical tot. Unlike other kids her age, she spent copious amounts of time with her famous parents on movie sets — a fact Beckinsale now jokes about. "It was quite common for @lily_beckinsale to have drawn-on nose whiskers while I was covered in blood. If she has grown up weird I blame Michael," the star captioned a throwback photo with her adorable baby girl.
The funny photo isn't the first time Beckinsale has touched on Sheen's unique upbringing. During an interview with IGN in 2003, the actress revealed that her daughter was often on the set of the movie Underworld. Noting that little Sheen was there when the film was shot, Beckinsale said, "She's aware that Daddy goes to work and sometimes gets covered in jam, which is the blood, and she understands about that."
On the plus side, being Beckinsale's baby girl also entailed much more glamorous photo shoots for the gorgeous mother-daughter duo — no jam-blood required.
Clues of the theatrics to come?
In case you were curious, Sheen doesn't mess around when it comes to dress-up. In fact, she's apparently been nailing costumery since she was a tiny thing toddling around her mother's movie sets. From the classic choice of a fuzzy bunny to becoming the "queen of Halloween" in a Marie Antoinette-inspired ensemble, Sheen sure knows how to rock a make-believe getup.
Further proof she's always had a penchant for playing dress-up is the fact that, in her early years, she used whatever materials she had on hand to reinvent herself. Sometimes, that meant a tutu and tap shoes (accessorized with a water gun, because childhood). And other times it was merely a matter of raiding her chic mom's closet for a pair of shoes — although, in such a throwback post, it's clear Beckinsale regrets not providing her little girl with a better selection.
"We will obviously get you better shoes," the actress joked on Instagram, "those are hideous I don't know what I was thinking." Hey, they may not have been up to snuff for Marie Antoinette, but baby Sheen didn't seem to mind.
RBF runs in the family
Sheen obviously inherited her mother's superstar looks. But, as Beckinsale tells it, there's an actual look she passed down to her daughter too — a particularly stern facial expression which Sheen mastered at an early age. In one throwback photo, this led Beckinsale to remark that her mini-me has been "serving up look since 1999."
In another Instagram post, Beckinsale provided proof that Sheen came by the look honestly. "It is comforting to know that the family 'I am moments from throwing an elbow' face has been successfully passed down through the generations," Beckinsale captioned a post featuring throwback photos of both herself and Sheen as children.
However, in a 2001 interview with Cinema, the actress offered up an alternative explanation for the sour expression. "I was a horrendous baby, very grumpy, and I frowned a lot, says my mother," Beckinsale revealed. "But I have to say, I was born at the end of July, and my mum says, 'You were born frowning' but in all of the pictures that she's shown me we're standing outside in this blistering sunlight, so no wonder."
Awkward kid and "rockstar" mom is "the story of my life"
There are some things that remain universal, whether you were born into a famous family or not. At the top of that list, of course, is all the awkwardness of adolescence. No one makes it out of this period of life unscathed by embarrassing moments, and Sheen was no exception.
The starlet often shares nostalgic photos on social media making fun of that very fact, too. In one photo, young Sheen walks alongside her mom, who not surprisingly looks glamorous even in athleisure wear. In the caption, Sheen jokes that the juxtaposition of her next to her "rockstar" mother is "the story of my life." In a similar example, Sheen showcases what she calls a "toothless bohemian look" beside her impossibly poised mom.
Beckinsale insists she went through the same awkward phase as everyone else, though — and that her daughter actually handled those years pretty darn well. "I feel like I flunked at adolescence really badly. I found it really difficult. I'm very supportive of how tricky seventh and eighth grade are for girls. I think it's a very difficult time, but she's doing great," Beckinsale told Parade in 2012.
Following in her famous parents' footsteps
Given her parents' profession — or their proclivity for having her on set with them — is it any wonder Sheen possessed an early curiosity about acting? In 2006, the starlet booked her first role playing the younger version of her mother's character in Underworld: Evolution. That same year, she enjoyed a bit part on another one of her mom's movies, the Adam Sandler-fronted film Click. Sheen's most recent credit at the time of publishing was in the 2009 family drama Everything's Fine.
Although Sheen hasn't pursued acting fulltime, it's not due to lack of support from Beckinsale. "That would be like sitting there with a glass of wine and saying you can't have a drink. I can see why she wants to do it," Beckinsale told the Evening Standard in 2016. Naturally, that doesn't mean the veteran actress is without reservations entirely. She's a mom, after all. "I don't love the downside of it for my baby," she elaborated. "But it's not like she hasn't seen her parents having a real experience of what it's like."
A tale of two dads
In addition to maintaining a close friendship with Sheen's dad after their split, Beckinsale somehow also managed to make it through her 2016 divorce from director Len Wiseman with zero drama.
During an interview with Entertainment Tonight in 2016, Beckinsale revealed the secret behind such successful co-parenting with Sheen's father — and it stands to reason the actress leaned into the same feelings upon parting with Wiseman. Basically, Beckinsale explains that it all boils down to putting Sheen first. "Well one, pick well. And two, I think we both really felt like, we really agreed on what would be the right thing for Lily. And I think, you know, hating each other and fighting and all that would be awful for her," she told ET.
Accordingly, Sheen enjoys a close relationship with both of the men in her life, referring to them on Instagram as "the wildest men in town" and expressing her gratitude for having "2 male models" in her life.
The (Hollywood) high school experience
In many ways, Sheen's high school experience looked a lot like your average teenage girl's. She joined the cheerleading squad. She posed for pictures before prom and let her parents gush about how grown-up she looked: "You take my breath away, @lily_beckinsale," her movie star mom wrote on Instagram. "My Fallopian tube is like BITE ME I KILLED THIS". And, along those lines, she was often subjected to a classic high school rite of passage: being embarrassed by the people who created her.
The big difference? Unlike your typical high school teen, Sheen experienced mortification magnified by the public eye. Take, for example, Beckinsale's penchant for discussing female anatomy during interviews. "My daughter said to me, 'You know, I'd really love it if you never said the word 'vagina' in an interview again," Beckinsale told Allure in 2012, adding, "Whoops. I've just done it again."
You can practically hear the groaning (and eye-rolling that inevitably accompanied it) of then-thirteen-year-old Sheen, can't you?
Getting into college, and more parental embarassment
Getting accepted into college is a milestone moment in a young person's life and deserves to be celebrated. Lucky for Sheen, she has parents who took that responsibility very seriously. "The appropriate fatherly response when you find out your girl got into college: burst into tears, drop everything, rush over and pick up everyone even remotely involved," Beckinsale shared on Instagram of the super-sweet moment.
Although, to be fair, doing so did land the actress-slash-mum in hot water with her high school grad. "I got into a bit of trouble at home for that," Beckinsale explained to TooFab in 2016. "[Sheen] said, 'I wish you'd said I got into the college of my choice, because it sounded like you had no hope of me getting into any college anywhere, made me sound like a loser!"
All joking aside, though, it's readily apparent how proud Sheen's parents are of her. In a 2017 interview with Hello!, her dad, Michael, admitted there was "two sides" to seeing his daughter go off to college: excitement, yes, but also sadness to see her go. "She's starting a new chapter of her life," he said.
Say hello to adulthood
Just ask any parent and they'll tell you the same: "The days are long, but the years are short." The time between bringing your baby home and that baby becoming an adult speeds by in the blink of an eye. Beckinsale undoubtedly felt the dull ache of nostalgia for days gone by in January 2018, when her baby girl turned 19. Is it even possible to watch the star's precious birthday video tribute to her daughter and not tear up? Spoiler alert: it's not.
Sheen's dad isn't immune to a sentimentality over his now-adult daughter either. However, he's quick to point out that they are ultimately mostly proud as parents of the human being they helped shape. "She will plough her own path," he told Hello! in 2017. "She's very independent and she knows what she wants to do and so hopefully she'll always have our support in whatever she does, but I think she'll make her own way."