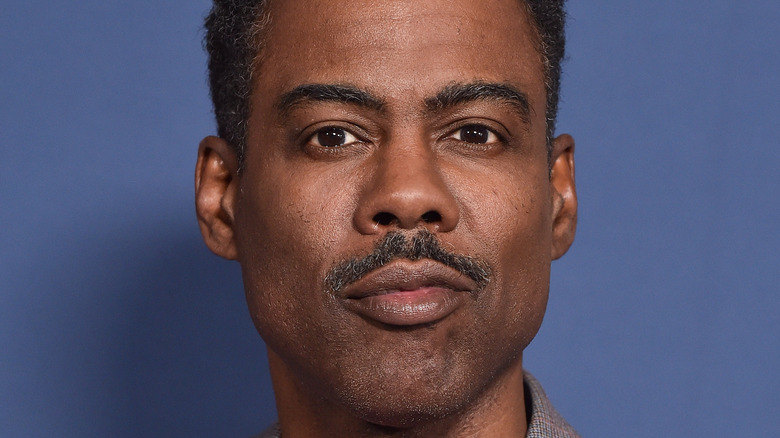 Chris Rock is one of the biggest A-List celebrities in comedy. With legendary stand-up specials, blockbuster films, and television success, Rock has changed what it means to be a thriving comedian. When you discuss some of the greats of the last two decades, you can't forget to mention his name. His brash humor and his witty political commentary helped define him as one of the bravest voices in the profession.
Throughout the '90s, he was always at the forefront of jokes that reflect the times. With all the risks he has taken over the years in comedy, there's bound to be some controversies and misfires along the way. After the 2022 Oscars controversy involving Rock, Will Smith, and a smack across the face, The Guardian posed an important question: has his schtick aged poorly? Let's take a look at the shadiest moments of Chris Rock's career. Some of these definitely haven't aged well.
His controversial moment with Louis C.K.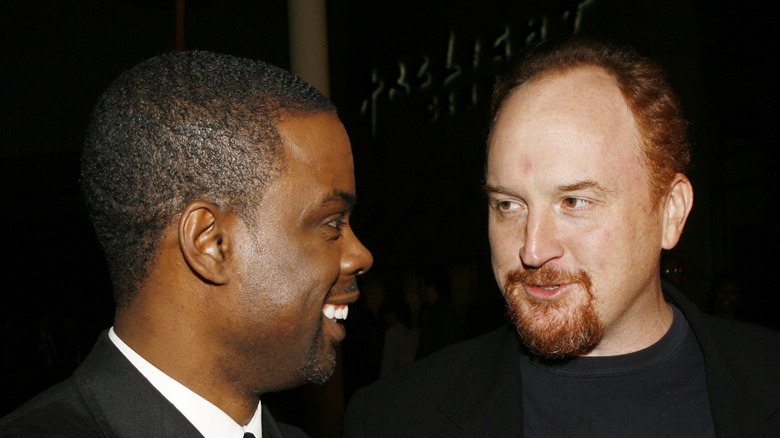 In the world of comedy, it's not a surprise that our favorite comedians sometimes take the more controversial side in debates. The stars are often pushing boundaries, but that doesn't mean their actions are always excused. In 2018, an old clip resurfaced from a 2011 HBO special titled "Talking Funny," featuring Louis C.K., Jerry Seinfeld, Chris Rock, and Rickey Gervais.
In the viral clip, Louis C.K. uses the N-word multiple times. The comedians all laugh before an awkward Seinfeld interjects and says, "I don't think he can do that." The conversation then shifts to comedians using the N-word on stage, as Louis C.K. admits to using it in both his comedy sets and personal life. Rock seems to laugh it all off while Seinfeld is adamant about not using the word at all. "You found the humor of it," he tells C.K. "I haven't found it, nor do I seek it."
When the clip went viral, people were stunned to see Rock laugh off Louis C.K. using the N-word in front of him multiple times and not push back against other white comedians comfortably using it. Some felt that this was a missed opportunity for Rock to educate others about the usage of the word and its implications. Comedian Wayne Brady expressed his thoughts to TMZ, saying, "Louis C.K. shouldn't have been saying it, Chris Rock shouldn't have signed off on it." Rock never publicly responded to the backlash.
His first controversial Oscars moment involved a racist joke
When Chris Rock hosted the Oscars in 2016, he stepped into the line of fire. At the time, the Oscars were facing intense backlash for their lack of diversity in nominations and in the voting committee. It was no surprise that the comedian didn't shy away from the conversation during his opening monologue. The audience praised him for tackling the issue with witty humor. It wasn't until later on in the ceremony that he caused controversy. He continued to riff about diversity in Hollywood, but this time, he included Asians.
Rock brought out three Asian children on stage and introduced them to the crowd as the "most dedicated, accurate, and hard-working representatives" in Oscars accounting. The audience laughed in response to the joke, but Rock knew not everyone would find it funny. He ended the skit by saying, "If anybody's upset about that joke, just tweet about it on your phone that was also made by these kids (via Vox).
The response from the Asian community was swift, with many demanding an apology. "To parade little kids on stage with no speaking lines merely to be the butt of a racist joke is reductive and gross. Antithesis of progress," tweeted actor Constance Wu (via ET). Over 25 Academy of Motion Picture Arts and Sciences members, of Asian descent, sent a letter to the Academy demanding an explanation for the culturally insensitive remarks. Rock himself did not comment on the backlash, but the Academy did release a public apology.
The Whitney Houston joke that left Bobby Brown feeling betrayed
With 5.4 million (and counting) followers on Instagram, Chris Rock is constantly sharing things with his followers that he finds funny and interesting. One post in 2019 wasn't received very well. That year, Rock shared a popular meme of Whitney Houston that said, "Me sitting in a meeting that could've been an email," with the caption, "Hurry up I got crack to smoke" (via Yahoo!). People in the comments didn't find the humor in Rock poking fun at Houston's past drug use and described it as "tasteless."
One person in particular, didn't find it funny at all — Houston's ex-husband, Bobby Brown. He commented under the post multiple times, writing, "During this time of women empowerment you chose to use your time to try and humiliate our QUEEN!!!" He also commented, "I thought you was a friend of the family," feeling betrayed by Rock's insensitivity. Rock didn't address the negative comments from fans or Bobby Brown, but it's safe to say he knew he was in the wrong, because he later deleted the post.
If you or anyone you know is struggling with addiction issues, help is available. Visit the Substance Abuse and Mental Health Services Administration website or contact SAMHSA's National Helpline at 1-800-662-HELP (4357).
He admitted to being a bad husband to his former wife
Chris Rock's 2018 "Tamborine" is his sixth stand-up comedy special and his first special with Netflix. In the special, he gets candid about his divorce after 16 years of marriage and about how it's mostly his fault. "It's my fault, because I'm a f***ing a**hole. I didn't listen. I wasn't kind," he told the audience (via Metro). He described some of the mistakes he made in his marriage, like letting his ego get the best of him. The title of the special is derived from a comparison he makes on stage between marriage and being in a band. "Sometimes you sing lead, and sometimes you're on tambourine. And if you're on tambourine, play it right. … 'Cause nobody wants to see a mad tambourine player," he joked.
Rock went further into detail about the mistakes he made in his marriage by admitting to cheating on his wife multiple times while on tour and developing a porn addiction. With all these revelations, it's no surprise that the couple divorced.
Audiences weren't too happy with this sexual harassment joke
While testing out new material, comedians often make surprise appearances at random comedy shows. In 2017, an audience at the Comedy Cellar let Chris Rock know exactly how they felt about his new material. Rock's jokes were centered around his issues with women and claims of sexual harassment, per Page Six. Rock took to the stage and joked to the audience that he won't hire women anymore because they like to "cry rape" for money. He even name-dropped Harvey Weinstein, saying, "Weinstein f***ed with me by trying to have me star in the worst movies of all time."
It was reported to the outlet that Rock bombed so terribly that no one in the audience laughed during his set. Instead, he was met with a chorus of boos, and a lot of women in the crowd called him "a sexist pig," said one audience member. Comedian Jeff Ross entered the stage after him and made note of Rock's disastrous performance by joking, "Now that we got that Chris Rock kid out of the way…"
If you or anyone you know has been a victim of sexual assault, help is available. Visit the Rape, Abuse & Incest National Network website or contact RAINN's National Helpline at 1-800-656-HOPE (4673).
His tasteless tweet about Lamar Odom
In 2015, former basketball star Lamar Odom made headlines after his near-fatal overdose at a Nevada brothel left him in a coma. Odom and his wife at the time, Khloé Kardashian, called off their divorce as he slowly recovered. When news of his condition spread, he was met with an outpouring of prayers and support — however, Chris Rock had a different approach. He posted a meme on his Twitter that read, "Here's to Lamar Odom on being the first guy in history to have coke and hookers save his marriage," and captioned it, "Stay strong Lamar."
The meme making light of a scary time for Odom left some to view the post as insensitive and shameful. It's a comedian's job to find the humor in things, but considering Odom had just gotten out of a coma and was still hospitalized, some people found it a bit too soon to joke about the matter. In 2017, when ESPN commentator Stephen A. Smith made light of Odom's addiction, Odom tweeted out a statement from his representative that made it clear that his disease should never be used "as the butt of a joke."
If you or anyone you know is struggling with addiction issues, help is available. Visit the Substance Abuse and Mental Health Services Administration website or contact SAMHSA's National Helpline at 1-800-662-HELP (4357).
Chris Rock was labeled as 'unpleasant'
With a career in Hollywood as long as Chris Rock's, it's not a surprise that he's made some enemies along the way. No one has been as outspoken about their dislike for Rock as Richard Madeley has. He first made mention of his dislike for the comedian after GQ magazine asked him about "the most unpleasant celebrity" he had to interview. After Will Smith made Oscars history by slapping Chris Rock on stage, Madeley let his feelings be known again.
On "Good Morning Britain," he told his co-host that he does not support Smith's actions, but he still doesn't like Chris Rock. "He was the most unpleasant, rude, aggressive, unlikable human being I've ever interviewed on camera, without question," he said (via The Sun). Madeley revealed that he would have forgone the interview if it had been live and not pre-recorded. Rock's attitude was allegedly so terrible that they had to edit around it.
"In my book, he's the most unpleasant celebrity I've ever had the misfortune to meet… but I wouldn't have punched him," Madeley continued. Chris Rock wasn't exaggerating when he said "Everybody Hates Chris."
His Good Hair documentary left Black women unhappy
Chris Rock's 2009 documentary "Good Hair" explored the relationship between Black women and their hair. It featured interviews with celebrities, hairstylists, and women around the world. Rock stated that the inspiration behind this documentary was his daughter. "One day, I was in the car with my daughter and her little girlfriend, who happened to be white, and she was raving about her girlfriend's hair, and she used the words 'good hair' to describe it, and it kind of made me jump a little bit," Rock told MTV.
Though the film tackled real issues, it still had a humorous tone, leaving some Black women unhappy. Some felt that he set them up to be laughed at in front of the whole world — especially by other races. While on "The Oprah Winfrey Show," Rock brushed off those criticisms.
The 2009 film began trending after Rock poked fun at Jada Pinkett Smith's hair at the Oscars in 2022. Pinkett Smith, who has alopecia, was seemingly upset when Rock made a "G.I. Jane" reference to her shaved head. Twitter users drew the comparison between the film and Rock's joke. Author Elgin Charles, who starred in "Good Hair," tweeted, "HAIR is a VERY sensitive subject for many women of color; Black women in particular. Chris Rock knows this better than most b/c he produced a documentary called #GoodHair…" Another user tweeted that "it's ironic how Chris Rock made a whole documentary about Black women called 'Good Hair' but then gets smacked for making fun of a Black woman's hair."
His feud with Will Smith started in 2016
Chris Rock poking fun at the Smiths during the Oscars didn't start in 2022. While hosting the Oscars in 2016, Rock used his monologue to poke fun at the couple for calling for a boycott of the Oscars after Will was snubbed for his performance in the film "Concussion." Rock's monologue included the jabs, "Jada boycotting the Oscars is like me boycotting Rihanna's panties — I wasn't invited," and, "It's not fair that Will was this good and didn't get nominated. It's also not fair that Will was paid $20 million for Wild Wild West." The jokes seemed to be in good fun, with the Smiths seemingly brushing it off, per ET.
However, nothing could prepare us for what would unfold between the two during the 2022 Oscars. As Rock took the stage to present the Oscar for best documentary feature, his opening jokes included the Smiths. It started off as lighthearted before he made mention of the "G.I. Jane" film — in reference to Jada's shaved head. As the audience laughed, Will stormed the stage and smacked Rock.
Audiences in the theater and at home first thought it was a planned stunt before an upset Will Smith could be heard screaming "Keep my wife's name out your f***ing mouth!" at Chris Rock. Rock looked startled, but he kept the show moving. Later on in the ceremony, Smith won best actor, emotionally apologized to the Academy, and talked about being "a fierce defender of his family," like his character Richard Williams. His acceptance speech didn't make mention of Rock, but Smith later apologized to him on Instagram.