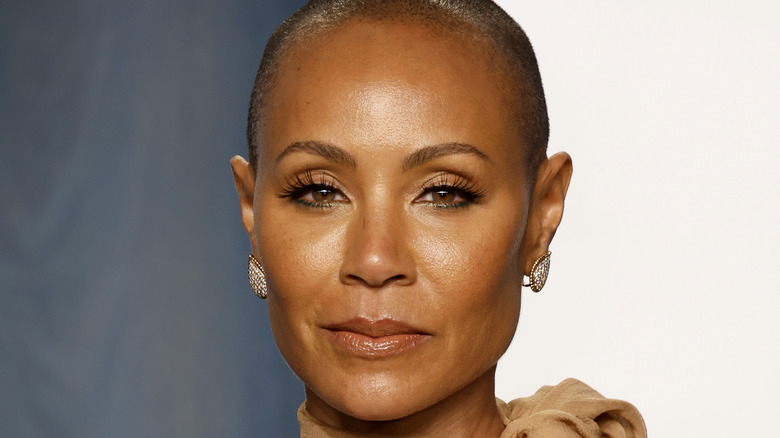 The following article mentions drug and alcohol use, pornography, and sex addiction.
Jada Pinkett Smith may be making headlines these days for her intimate and sometimes controversial revelations about her personal life on "Red Table Talk," but the Baltimore native has been a major part of Hollywood long before her sensational Facebook talk show. Per IMDb, Smith began her career as an actor back in 1990 with the TV movie "Moe's World." She then went on to appear in over 50 films and TV series throughout her three decades in show business, including fan-favorites like "Girls Trip," "The Nutty Professor" and "The Matrix Reloaded."
Smith isn't just an actor and talk show host though, she's also a singer, having fronted the heavy metal band "Wicked Wisdom." Additionally, she often serves as a producer, with several projects under her belt thanks to the production company she runs alongside her husband, Will Smith. Despite all her accomplishments, it's Smith's relationship with her also famous husband that often gets her the most attention, whether it be because of their unconventional approach to marriage, or scandals in their personal lives.
In March 2022, in particular, the Smiths caused a frenzy at the Academy Awards after Will slapped comedian Chris Rock for making a joke about his wife's bald head caused by alopecia. While Jada was an observer in this instance, it's no secret that she's been involved in other controversies over the years. In fact, you could definitely say that despite her cool girl reputation, Smith has quite the shady side. Let's break it down.
Jada Pinkett Smith's affair with August Alsina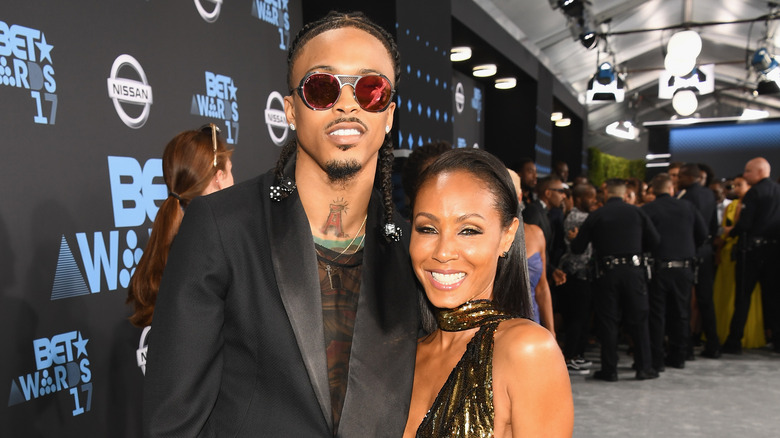 Jada Pinkett Smith and Will Smith may have been married for over 20 years, which is basically forever by Hollywood's standards, but that doesn't mean they've been faithful for all it. In fact, Jada in particular, admitted to having an affair with August Alsina but only after the rapper spilled the beans on Angela Yee's radio show. He dished, "I totally gave myself to that relationship for years of my life and I truly and really, really deeply love … her."
While Jada denied Alsina's other claims that Will gave them "his blessing," she did confess on "Red Table Talk" that what Alsina said was true but downplayed it as an "entanglement," until pushed to acknowledge that "it was a relationship." Instead of feeling ashamed though, Jada defended herself, saying, "I was in a lot of pain, I was very broken." She even suggested that her intentions with Alsina were pure in that she wanted to help him when he was struggling with addiction.
While Jada clarified that her affair happened when her and Will were taking time apart, she accepted that there still was "healing" to do because of her actions. You could also say that while Jada said she found it bizarre for Alsina to bring up their romance years after they stopped speaking, she did use it as an opportunity to bring attention to her show even if it hurt her family.
She's publicly embarrassed Will Smith
You could say that Jada Pinkett Smith has put her husband, Will Smith, in multiple embarrassing situations, which probably hasn't been good for his Hollywood image. While it's bad enough that the "Men in Black" actor had to publicly discuss his wife's romantic "entanglement" with another man, what's worse is that it resulted in the "sad Will meme" that poked fun at him being played. Will tried to brush it off to GQ , saying it was late at night. "I'm not sad. I'm f***ing exhausted."
It appears that Will is often defending their relationship and seemingly his own reputation because of questionable things Jada has said about marriage. The "Aladdin" star did infer that their open marriage was Jada's idea though, since she "never believed in conventional marriage" and "had family members that had an unconventional relationship."
It's also safe to assume that Jada discussing the downside of their sex life wasn't a good look for Will either. While talking with Gwyneth Paltrow on "Red Table Talk," Jada suggested that keeping their spark alive is "hard," adding, "The accountability part really hit for me because I think you expect your partner to know [what you need], especially when it comes to sex." Fans were quick to point out how that shamed her husband, with one person even tweeting a meme of Jada asking herself, "I wonder how I can embarrass this man this month." Another wrote (via Yahoo!), "Why she be playing with Will like this."
She used to frequently mix drugs and alcohol
Fans may be surprised to learn that Jada Pinkett Smith once had a problem with drugs and alcohol that could have ended her career back in the 1990s. The "Scream 2" actor revealed on "Red Table Talk" that at one point, drinking wine "was like Kool-aid," adding, "I could drink almost anybody under the table." While the mother-of-two admitted that her heavy drinking began as a teen, it's when she moved to Hollywood that she "was doing cocktails [of] ecstasy, alcohol, weed." While Smith said she "wasn't doing things that I thought were addictive," she realized her threshold became very high because of her frequent use.
Smith, however, only considered herself a "weekend party girl" even though she admitted that her substance use probably stemmed from mental health issues. She recalled, "In my depression, using ecstasy, drinking a whole lot, you know, and smoking a bunch of weed and trying to just find some peace in my mind." She added that deep down she realized an addiction was around the corner unless she got help.
Yet it was an incident on the set of "The Nutty Professor" that jeopardized her career that served as her wake up call. She dished, "I went to work high, and it was a bad batch of ecstasy. And I passed out and I told everybody that I must have had old medication … That was the last time."
If you or anyone you know is struggling with addiction issues, help is available. Visit the Substance Abuse and Mental Health Services Administration website or contact SAMHSA's National Helpline at 1-800-662-HELP (4357).
Jada Pinkett Smith's celebrity feuds
Jada Pinkett Smith has had beefs with other celebrities, specifically "Bring It On" star, Gabrielle Union. Smith revealed on "Red Table Talk," "Gabrielle and I were never really girlfriends. We were great associates," adding, "That dissolved. And for 17 years, we have not really spoken."
In 2018, Smith decided to end their feud on her show. Whether that was just for ratings or not, Smith confessed, "It felt so good … to even just go, 'Hey, I'm sorry that I didn't even take the time to talk to you' … And then I had to just apologize and just thinking to myself, 'Damn, Jada! That was some petty a*** s**t!'" Union later dished on the "Today" show that she wasn't even sure what led to Smith not liking her, recalling, that it was the media and various people around them who fueled the rumor. "Then it was like, 'OK, girl, bye,'" she added.
Smith may also be a factor in the feud between her husband, Will Smith, and comedian, Chris Rock. Not only did Will slap Rock for making a joke about Jada at the 2022 Academy Awards, but that apparently wasn't the first time Rock made a joke at her expense, quipping at the 2016 Oscars, "Jada boycotting the Oscars is like me boycotting Rihanna's panties. I wasn't invited." Perhaps Jada expressed to Will that she's not willing to be the butt of Rock's jokes, or perhaps the rumors that she and Rock once hooked up are true.
Jada Pinkett Smith's parenting has been questioned
Jada Pinkett Smith and her husband, Will Smith, were once investigated by the Los Angeles Department of Children & Family Services after a photo of their then 13-year-old daughter Willow Smith, in bed with a shirtless, then 20-year-old actor Moises Arias, surfaced on social media. While a source told Radar that the case was "being taken very seriously by the department," Jada herself told reporters, "There was nothing sexual about that picture or that situation."
While the Smiths were cleared of wrongdoing, Jada later said on "Red Table Talk" that "the kids got to see for the first time, why Will and I had been so protective." Yet it wasn't the only time her parenting style was under fire. She faced criticism when her husband admitted to Metro (via E!) that he and Jada, "don't do punishment," explaining that they prefer to "give them as much control over their lives as possible."
Whether or not you find the Smiths' hands-off approach sketchy, Jada dished on her show that she's been mom-shamed a lot over the years for various reasons. She revealed, "I got shamed a lot for Willow. But Jaden — that was hardcore," adding it was because "he was wearing a skirt and then he isn't what people consider your typical Black man." In terms of Willow, she recalled specifically, "The first time I got hardcore criticism, when you first cut your hair, I mean there was a firestorm."
If you or someone you know may be the victim of child abuse, please contact the Childhelp National Child Abuse Hotline at 1-800-4-A-Child (1-800-422-4453) or contact their live chat services.
She dated Will Smith when he was still married
Jada Pinkett Smith and Will Smith may have been married for over two decades but you could say it's shady that they started dating when the "Bad Boys" star was still married to his ex-wife, Sheree Zampino. Jada's mother, Adrienne Banfield-Jones, dished on "Access," "I think initially when Will first called you, I think he was still married or he was just separated … and I was like, he's not available to you." While Jada joked, "He was 'div,' — the 'orced' hadn't happened yet," she later admitted on "Red Table Talk" that at the time she "didn't understand divorce." She even told Zampino on the show that looking back it, because Will was married, she "probably" should have backed off.
With that said, it's no surprise that Jada recalled her past relationship with Zampino as being "rough" but took responsibility for it. She explained, "When I think back to where I was, some of my insensitivities, some of my inconsideration just in regards to you guys unwinding a marriage and me trying to get in there" apparently now feels wrong to her.
What made matters worse is despite placing herself in Will's first marriage, Jada admitted she never actually wanted to marry Will herself, and only did so because she got pregnant. She recalled to People, "My mother was like, 'You have to get married' – she's so old school – and Will wanted a family. So I said, 'All right, maybe it's something I should do."
She used sex for the wrong reasons
Jada Pinkett Smith has never been shy about her personal life, yet she still shocked some fans by confessing she once had a sex addiction. Smith revealed on "Red Table Talk," "When I was younger, I definitely think I had a sex addiction of some kind, yes, that everything could be fixed by sex." While she admitted that her "sort of addictions jump" to different things, she realized she needed to get to the root of her obsessions. She explained, "It's the behavior that's attached to it, because if you want to have a lot of sex, that's great, but why are you having all that sex? That's what you've got to look at."
Smith also shared that she felt she once took it too far when it came to masturbating too. She confessed that during a break from men, she was giving herself "multiple orgasms." However, she claimed, "I actually think I went through kind of an addiction, too, with it. And then one day, I was just like, 'Enough. You're having five orgasms a day.' Yeah, you get addicted."
The "Madagascar" actor even had an "unhealthy relationship" with porn as well. While at first she dished that, "Back in the day I had a little porn addiction," she later clarified she "was using 'addiction' a little lightly."
She admits to being 'vicious' at times
Jada Pinkett Smith may give off a warm and friendly vibe to fans, but the actor does apparently have a not-so-nice side that can come out sometimes. Smith even confessed on her show "Red Table Talk," "I've done some very unloving things to people that I love because of my fear and my ego." She elaborated, "Once my ego kicks in, we in trouble. That Jada, baby, she ain't cute. She's a vicious one and she's mean." The "Magic Mike XXL" actor did add that she recognizes it's a problem though, and is working on being more vulnerable.
Outside of being hard on those she loves, Smith has also confessed to being confrontational toward some of her husband's admirers when she felt they crossed the line. She explained on her show, "There was only like one or two times where I might have gotten a little hostile where I felt like people stepped over a boundary and they were disrespectful. Now we got an issue."
While it's not cool that Smith can be "vicious" or "hostile" toward others, it seems like a good sign that she at least acknowledges her questionable behaviors and has made steps to do better. All in all, Smith may have a shady side but unlike a lot of other celebrities, she definitely embraces it and isn't afraid to open up about her mistakes in hopes of helping others, even if her revelations often do make for juicy headlines.