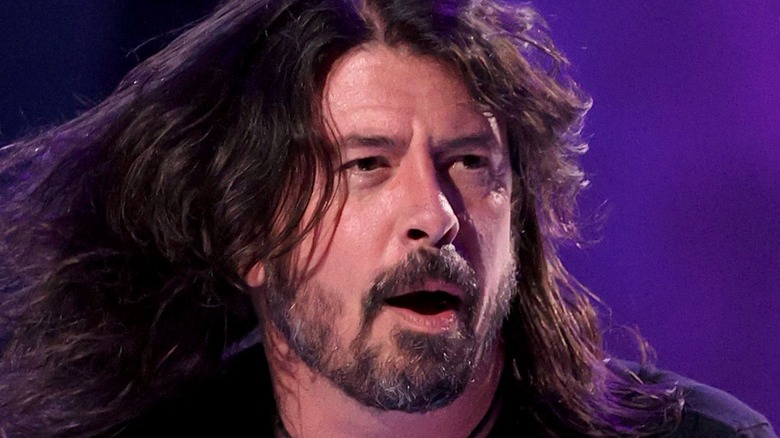 We may receive a commission on purchases made from links.
It's kind of wild that a group that began as a small, unassuming creative experiment grew to become one of the most successful, stadium-packing, longest-lasting bands in history, one that would be inducted into the Rock and Roll Hall of Fame in its first year of eligibility. That's the trajectory of Foo Fighters, the band loved and claimed by the worlds of alternative rock, hard rock, arena rock, and good old-fashioned classic rock.
Foo Fighters made their debut in 1995, a year after the death of iconic Nirvana frontman Kurt Cobain left in doubt both the state of rock and the musical future of Nirvana's drummer, Dave Grohl. He switched to guitar, recorded some songs he'd written, recruited some friends and seasoned colleagues, and a band was born, one that would churn out modern rock standards, including "I'll Stick Around," "Everlong," "My Hero," Best of You," "The Pretender," "Times Like These," and "Walk." After 25 years, the band is going strong, staging some major gigs and looking back on a storied career. Here's the inside story of Foo Fighters.
How Dave Grohl became all of Foo Fighters
After the death of Kurt Cobain in 1994, the surviving members of Nirvana dissolved the band. After playing some gigs with Tom Petty and the Heartbreakers and turning down the chance to be that band's permanent drummer, Dave Grohl turned to another instrument. According to an interview Grohl gave to Guitar World (via Foo Archive), "When Nirvana was on tour, I'd bring a guitar with me, so in hotel rooms, late at night, I'd have something to do."
The idea of presenting any of his songs to Cobain was too much for the creatively shy Grohl, but after his friend and colleague died, he started to record some of them. He made an album's worth of songs, playing nearly every instrument on every track, per Kerrang. "I went to the cassette place down the street, said, 'Could you make 100 of these,' and made a little card to go in it. And I started giving it out to people. And I called it 'Foo Fighters' 'cause I wanted people to think it was a group," Grohl told CBS News. That demo became the basis for the first Foo Fighters record, released in 1995.
And where did he get the notable but odd name "Foo Fighters?" It's military slang for unidentified flying objects, a theme Grohl continued by naming his record label Roswell Records, after the name of the town in New Mexico where a supposedly alien spacecraft crashed in 1947.
How the band got together
After the first, self-titled Foo Fighters album, Dave Grohl realized that he'd have to put together an actual band — he couldn't play all the instruments at the same time live, after all. According to Rolling Stone, Grohl briefly entertained the idea of bringing in his old Nirvana bandmate Krist Novoselic before deciding "it would have been weird." But another Nirvana veteran did become a Foo Fighter: second guitarist Pat Smear, who also played in the seminal '70s punk band the Germs. At the time, Seattle band Sunny Day Real Estate had just broken up, and Grohl recruited Nate Mendel and William Goldsmith, that band's bassist and drummer, respectively. (He utilized a personal connection — Grohl's wife was friends with Mendel's fiancée.)
After the release of the group's second album, 1997's "The Colour and the Shape," Smear quit, in part, according to The Guardian, because things had gotten weird between himself and Grohl after the frontman divorced his wife, Jennifer Youngblood, a dear friend of Smear's. (They'd eventually patch things up, and Smear returned.) In Smear's absence, Grohl brought in Franz Stahl, with whom he'd played in the 1980s hardcore band Scream. Stahl would lose his two-year-long job in Foo Fighters in 1999, just before the release of "There is Nothing Left to Lose," according to NME. After dismissing Stahl via a conference call, Grohl told Kerrang! (via Foo Archive) that he and his other bandmates "were moving in one direction and Franz wasn't."
How Foo Fighters found its forever drummer
Original Foo Fighters drummer William Goldsmith quit fighting Foo around the time of the release of "The Colour and the Shape." Recording the album was tedious and nerve-wracking for the drummer. "Dave had me do 96 takes of one song, and I had to do thirteen hours' worth of takes on another one," he told the Miami New Times. "I think that everyone at the label wanted Dave to play drums on the record." And that's eventually what happened. Grohl utilized his Nirvana-honed drum skills and ultimately re-recorded every drum part on "The Colour and the Shape." Goldsmith didn't hear about that until after the fact, and through Nate Mendel. And with that, he left the band.
Foo Fighters was then in need of a drummer. According to Entertainment Weekly (via The Brag), Taylor Hawkins, at the time playing the drums for Alanis Morissette, wanted the job. Through a mutual friend, he got Grohl's phone number. He recalled, "I said, 'Hey, I heard you guys are out of a drummer right now.' And Dave said, 'Yeah. Do you have any good recommendations?'" He did: himself. Just a few seconds into his audition, Grohl decided to offer Hawkins the position.
The band's lineup has stayed mostly and solidly the same for years. The last major change: longtime touring keyboardist Rami Jaffee was made a full member in 2017, according to Loudwire.
Dave Grohl, a former drummer, plays the guitar like it's a drum set
Foo Fighters are popular in both alternative rock and hard rock communities, and the band's sound rides the line between both of those distinct genres. The group's songs can feel like a combination of anthemic, classic arena rock and edgier, '90s-style grunge — which makes sense because singer and guitarist Dave Grohl played drums in the biggest '90s grunge band of all, Nirvana. Surprisingly, it was his time behind the kit in his old group that taught Grohl how to play guitar in his current one — and that was about all the training he ever had on the stringed instrument.
"I was never taught how to play the guitar," Grohl told Rolling Stone. "I don't know what the chords to 'Everlong' are. I only know what happens when I put the fingers there. But that riff is a good example of how I look at the guitar." Grohl approaches his instrument, and plays it, like a drum set. He even equates different strings with different percussive tools. "The low E string is the kick drum. The A and D strings are snares," he said. "So you have a kick-snare relationship in the riff. Then when the chorus comes around, you wash all the high strings as you would wash a cymbal."
There's a good reason why Foo Fighters won't play Big Me live
"Big Me" was one of Foo Fighters' first-ever singles. A jangly, catchy bit of power pop, the song came from the band's self-titled 1995 debut album and was a hit on MTV because of its memorable video. Dave Grohl and the rest of the band humorously re-created several of the corny, vaguely unsettling, ultra-upbeat mid-1990s advertisements for Mentos, the rolled European candy known as "The Freshmaker." The difference was that "Big Me" was ostensibly an ad for the non-existent product "Footos."
"Big Me" also established the band as a purveyor of funny music videos — clips for "Low," "Learn to Fly," and "Walk," for example, were also humorous. Despite all this, the group temporarily banned it from their set list. According to Gigwise, Grohl grew tired of fans pelting him with Mentos when they performed the tune. "Every time we played it, it would just start raining Mentos, and them mother f*****s hurt," Grohl said, adding that during a show in Canada, a whole pack hit him in the face. "I was so p***ed, I picked it up and said, 'It's been 10 f***ing years since that video.'"
Do not give Foo Fighters a meat-based soup
When major bands tour the world's stadiums and arenas, they and their management send out a "rider" to concert promoters, producers, and crews. It outlines the stage requirements and schedules so that the shows may be precisely and safely executed, but it also lays out a band's backstage needs — like what kind of drinks they want in their dressing room or what a pre- or post-show meal should include. Foo Fighters have made creating their rider into an art form, and they clearly have a lot of fun with the document, including jokes, Easter eggs, and silly supplemental materials. In a 2000 rider (via The Smoking Gun), the band claimed that "any misspelling or other stupid typos" in promotional materials will earn the promoter a fine of $100 "to be paid to Foo Fighter's tour manager." (That sentence included a typo — it should read "Foo Fighters'," not "Foo Fighter's.")
A 2008 rider requested a selection of boxed cereal, unopened and not leftover "from last night's Dio show," four bottles of Gatorade in "wacky colors please," a bag of Pirate Booty ("Not Johnny Depp's"), and a soup selection at lunchtime. "Please try to make it a vegetarian selection," the rider stated. "Meaty soups make roadies fart." When Foo fighters hit the road in 2011, their tour rider included coloring pages to illustrate their needs and wants.
The world's biggest rock band successfully lured Foo Fighters to Italy
In what might go down as the biggest, loudest, most rockingest event in modern history, a band called the Rockin' 1000 convened in the northern Italian city of Cesena in the summer of 2015, according to Billboard. From all over Italy, primarily, the collective's 1,000 guitarists, drummers, bassists, and singers all performed Foo Fighters' 1999 hit "Learn to Fly." It took organizer Fabio Zaffagnini a year to organize the event, and a video of the powerful moment went viral, amassing more than 50 million views. "Italy is a country where dreams cannot easily come true but it's a land of passion and creativity," Zaffagnini said of the project, which had the stated goal of luring Foo Fighters to play a concert in Cesena.
Well, it worked. In November 2015, only a few months after the Rockin' 1000 video hit the internet, Foo Fighters descended on Cesena and played a lengthy concert. At one point, singer Dave Grohl recognized a drummer from the video and brought him up onstage to play on a cover of Queen's "Under Pressure." "To see you people, singing our song for the whole f***ing world, to me, it's the greatest moment of my life," Grohl told the audience.
Foo Fighters caused a minor earthquake
In December 2011, Foo Fighters played one of the southernmost shows of its long career, bringing its worldwide concert tour in support of the album "Wasting Light" to Western Springs Stadium in Auckland, New Zealand. According to The Hollywood Reporter, about 50,000 Foo Fighters fans attended the show to get rocked by Dave Grohl and company, not expecting to help make scientific history. According to data collected at two research stations, each around a mile from Western Springs Stadium, seismic measuring equipment picked up a strong, low-grade frequency coming from the show.
"The first vibrations were recorded around 7:30pm," during Tenacious D's opening act set, "but the biggest shakes started at 8:20pm," GeoNet reported, adding that all seismic movement stopped at about 11 p.m., right when the concert ended. "The ground was shaking 3 times per record in a nice rhythmic notion," per GeoNet, which compared the level of ground shaking from the Foo Fighters show to that of a volcanic tremor.
Foo Fighters vs. the Westboro Baptist Church
The Westboro Baptist Church is a small but vocal religious group that protests military service member funerals (and other occasions) with large, blunt signs citing their belief that God hates the LGBTQ community and is punishing the United States for its acceptance of same-sex marriage (which explains why they picket funerals). In September 2011, WBC staged a protest outside Sprint Center in Kansas City, Missouri, where Foo Fighters were scheduled to play a concert that night. The counter demonstration consisted of the members of Foo Fighters riding up to the WBC protesters on the back of a flatbed truck, wearing fake beards, trucker hats, jeans, buffalo plaid, and other such working-class signifiers to disguise themselves as a country music band. From the truck, the band played, and Grohl sang a down-home ditty about how they wanted "hot man muffins."
In August 2015, Foo Fighters returned to Kansas City for a concert, and once again, the Westboro Baptist Church's members showed up ahead of time. Once more, per Billboard, Foo Fighters drove up to their opposition on a truck, but this time they "Rickrolled" the crowd, blasting Rick Astley's '80s hit "Never Gonna Give You Up."
David Letterman will love Foo Fighters 'Everlong'
Probably the best-known and arguably the most-loved song ever put out by Foo Fighters is "Everlong," the dreamy, churning, emotionally driven, up-tempo single that was all over alternative rock radio in the summer of 1997. The song has a lot of fans, and perhaps its most high-profile lover is late night talk show icon David Letterman.
As Letterman explained on his final episode of "The Late Show" in 2015, he'd endured open heart surgery and a painful recovery some 15 years earlier. "These people saved by life," he said of Foo Fighters. At the time, he was asked by a producer if he'd like to make any special arrangements on his first post-convalescence show. "There's a song of theirs I would like to hear," Letterman recalled requesting. "It's special to me, it's been meaningful through my heart recovery." Foo Fighters cancelled tour dates in South America so they could fly to New York and play "Everlong" for Letterman.
Foo Fighters came back to "The Late Show" for Letterman's final episode, serving as the final musical guest and once more playing "Everlong" over clips of Letterman's most memorable moments.
A big Foo Fighters hit is about another rock star
The propulsive, angry "I'll Stick Around" is one Foo Fighters' most memorable songs and one of its earliest — it was the act's second-ever single, released in 1995. Foo Fighters broke out just about a year after the dissolution of Nirvana following the suicide of frontman Kurt Cobain, so the wounds and issues from his old band were still relatively fresh for Dave Grohl, such as a bitter, long-standing feud with Courtney Love, the headline-grabbing wife of the late Cobain and mastermind of the band Hole.
For more than a decade, Grohl denied that "I'll Stick Around" was about Courtney Love, but in a 2009 interview with Foo Fighters biographer Paul Brannigan (via Far Out), he admitted that it was. "I don't think it's any secret that 'I'll Stick Around' is about Courtney," Grohl said. "I'm finally coming out and saying it. Just read the f***ing words." Those words are not overly kind, such as "How could it be I'm the only one who sees your rehearsed insanity" and "I've been around all the pawns you've gagged and bound, they'll come back and knock you down." Yikes.
Dave Grohl broke his leg during a Foo Fighters show
Foo Fighters' stage show hit Gothenburg, Sweden, in June 2015, and Dave Grohl may have rocked out just a little too hard. During an instrumental break on the song "Monkey Wrench" (only the second song of the set), Grohl apparently tried to jump to a ramp near the stage but fell into an open area instead. The singer then told the audience (via BBC), "I think I just broke my leg. I'm going to go to hospital. I'm going to fix my leg. And then I'm going to come back. You have my promise right now."
And with that, he sought medical attention while the rest of the band vamped, performing cover songs with drummer Taylor Hawkins on vocals. About an hour later, Grohl indeed made his triumphant return, taking the stage with the assistance of crutches. "I can still play guitar and scream," he announced (via Pitchfork).
Grohl may have been able to do the rest of that show, but his medical condition led to the cancellation of two subsequent tour stops in the Netherlands and Switzerland, only for the frontman to return to his duties for a 20th band anniversary and Fourth of July show in Washington, D.C., sitting atop a throne comprised of amps and guitars.
When Foo Fighters went 'Low' and got banned
In 2003, Foo Fighters released "Low," the hard-charging third single off of their album "One by One." For the accompanying music video, director Jesse Peretz dressed up singer Dave Grohl and actor Jack Black as a couple of macho, trucker-type guys. Then the characters head into a cheap motel room and get drunk, destroy the place, and dance around in various examples of skimpy women's underwear. There's also a fair amount of spanking, groping, and wrestling.
It's a fun and silly piece, but due to the provocative content that suggested same-sex physical activity, according to Loudwire, MTV refused to air the video. In response to the ban (and because this was before the age of YouTube), Foo Fighters' distributor RCA Records released the "Low" video direct to DVD, earning the band far more money than if it had just aired a few times on MTV.
Foo Fighters rallied behind endangered miners
In April 2006, according to Australia's ABC, Brant Webb, Todd Russell, and Larry Knight were working their usual jobs in a deep underground gold mine in Beaconsfield, Tasmania, when an earthquake hit. That triggered a cave-in, and all three miners were trapped. Knight died, while Webb and Russell had to wait in stress and horror until they could be successfully rescued. People on the surface could lower objects to the miners, and Webb had a request, per News.com.au – he wanted an iPod loaded up with Foo Fighters songs, both to cheer himself up and to overpower the sound of constant drilling as rescuers worked to free them. The iPod went down, but so did a note from Foo Fighters leader Dave Grohl, who'd learned of the miners' plight. It promised "two tickets to a Foos show, anywhere, and two cold beers waiting for you" once they got out.
Webb and Russell were successfully freed, and about six months later, when Foo Fighters played an acoustic show at Sydney Opera House, Webb and guests were in attendance. Grohl invited them backstage for some beers, according to NME. But the relationship between the Beaconsfield Miners and Foo Fighters wasn't quite over. The band's 2007 album "Echoes, Silence, Patience & Grace" included an instrumental track called "Ballad of the Beaconsfield Miners."