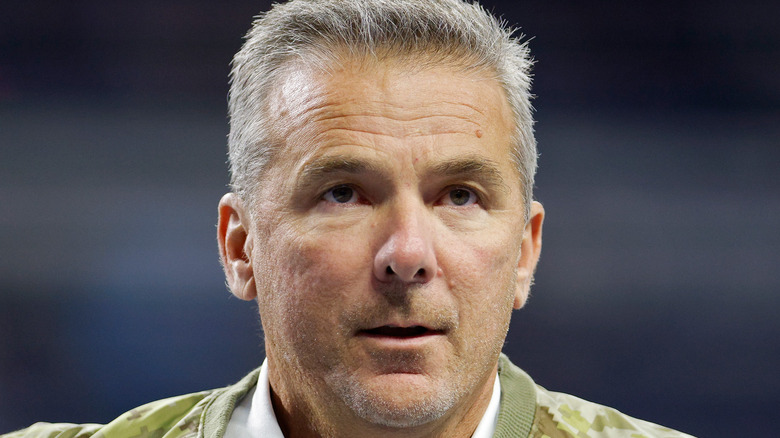 Once again, 2021 has not been a good year to be a fan of the Jacksonville Jaguars. At the time of writing, the Jaguars are tied for last place in the AFC South with a 2-11 record, and their fancied rookie quarterback, Trevor Lawrence, has largely been a flop thus far. However, it can also be said that the biggest disappointment in the Jaguars organization this season has been none other than their now-former head coach, Urban Meyer, who was fired on Thursday, December 16, 2021, before he could even complete his first season with the team.
As noted by CBS Sports, the decision came mere hours after former Jaguars kicker Josh Lambo alleged to the Tampa Bay Times that Meyer once kicked him and swore at him during practice. This was just the latest example of negative publicity for the college coaching legend, who, in October, was spotted accepting a lap dance from a much younger woman at his restaurant in Columbus, Ohio — what made this particularly scandalous is the fact that Meyer is 57 years old and married with three children, per The Guardian. Not helping matters were the reports of locker room tensions between Meyer and his players and assistants, with Tom Pelissero of the NFL Network writing that many within the organization took issue with the coach's "hard-charging and sometimes condescending approach."
Fans may know Meyer for his national championship victories with Florida and Ohio State, as well as the future NFL stars (e.g. Ezekiel Elliott) and busts (e.g. Tim Tebow) he had coached in the college ranks. However, there are several details about his career that kind of fly under the radar, especially given the aforementioned controversies.
Meyer spent some time playing minor league baseball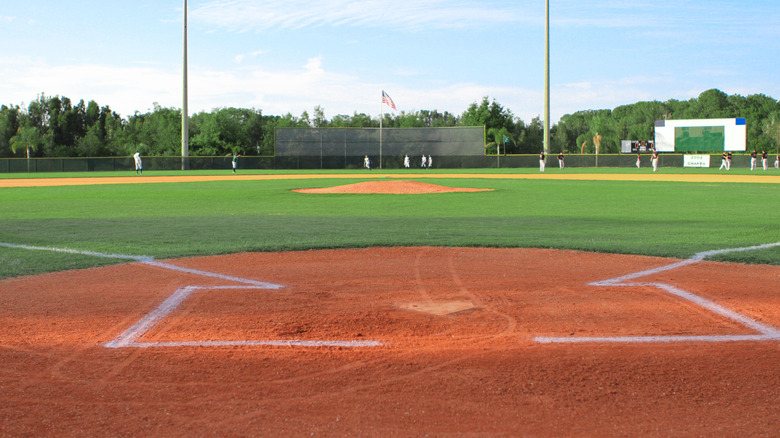 Some of the best players the NFL has ever seen were good enough at playing high school baseball to be selected in the MLB Draft — quarterbacks Tom Brady, Russell Wilson, and John Elway immediately come to mind. Heck, you can definitely mention Hall of Fame cornerback Deion Sanders as well, as he had success in both the NFL and the MLB and is the only person in history to suit up for the World Series and the Super Bowl. Likewise, Urban Meyer was a star baseball player for St. John High School in Ashtabula, Ohio, and was picked by the Atlanta Braves in the 13th round of the 1982 MLB Draft as a shortstop.
Some of Meyer's minor league teammates included Ron Gant and Mark Lemke, who would go on to play key roles for the Braves' World Series teams of the early '90s. "I remember being wide-eyed and young and not knowing a whole lot back then," Lemke told MLB.com. "But I think we all thought Urban, more than any of us, even, would be in the big leagues someday."
Despite showing some initial promise as a good athlete, Meyer's minor league numbers were nothing to write home about. According to his Baseball Reference page, Meyer ended his two-year stint in the minors with a career batting average of .182 and one home run in 138 at-bats.
His college football career as a player was even less impressive
After wrapping up his unremarkable professional baseball career due to injuries, Urban Meyer shifted his focus to football and returned to his home state of Ohio to enroll at the University of Cincinnati. There, he made it to the Bearcats football team as a walk-on. While he eventually earned a letter as a defensive back and special teams player, he was far from a star-caliber player, as evidenced by his short, but sweet biography in the 1985 Cincinnati football media guide (via Cleveland.com): "Made the team as a walk-on in 1984 spring drills … saw action as a reserve at safety and was the holder for PAT and FG attempts last season … good all-around athlete … 1 letter."
As further proof of how his college football stint was even less impressive than his time in the Atlanta Braves minor league system, the outlet noted that Meyer tallied just two tackles in the 1984 season, both in a 48-17 blowout loss to the Florida Gators. The Bearcats' record that season was also very similar to the 2021 Jacksonville Jaguars' record, as they won just two out of 11 games.
Perhaps David Currey, who coached Cincinnati's football team from 1984 to 1988, said it best when he told Cleveland.com that Meyer was a "much better coach" than a player. "He wasn't a great player, he wasn't going to play for a living, but you could sure tell he was going to coach for a living if that's what he wanted to do," he added.
Meyer spent 15 years as an assistant before getting his first head coaching job
Obviously, Urban Meyer wasn't going to become the next great defensive back in the NFL, so he spent the 1985 season as a student assistant for the Cincinnati Bearcats and defensive back coach for St. Xavier High School, according to Cleveland.com. This marked the start of what would turn out to be a decorated coaching career, though he first had to toil for over a dozen years as an assistant coach. After graduating from Cincinnati, he moved to Ohio State for his master's degree, and while there, he served as a graduate tight ends and receivers coach in 1986 and 1987, respectively. He then coached at Illinois State from 1988 to 1989, Colorado State from 1990 to 1995, and Notre Dame from 1996 to 2000 before earning his first head coaching job in 2001 with the Bowling Green Falcons.
During his time at Bowling Green, Meyer made an immediate impact, transforming a team that went 2-9 in 2000 into one that finished 8-3 in 2001 and 9-3 in 2002. Much of it had to do with his trademark spread offense, which was then in its "formative" years (via Smart Football) but on its way to becoming the same offense led by the likes of quarterbacks Alex Smith at Utah and Tim Tebow at Florida, both of whom had stellar college careers under Meyer.
He's a big fan of this iconic musician
We've already explored Urban Meyer's less-than-heralded time as an athlete and his beginnings as a would-be coaching legend. But before we get back to the football side of things, we should also shed some light on Meyer's favorite musician, because it just might come as a surprise to some of you. According to Margaritaville, Meyer first became a fan of Jimmy Buffett back when he was still studying (and riding the bench) at the University of Cincinnati. Although by that time, Buffett was already well-established thanks to the success of his 1977 hit "Margaritaville," Meyer was not at all familiar with the singer-guitarist. But after he was asked to work security at one of Buffett's 1984 shows, he became an immediate fan.
By all accounts, it seems that Meyer's Buffett fandom is still as strong as ever. His wife, Shelley, told Gator Country in 2006 that she and her husband had attended "about 10 or maybe 12" Buffett shows and always tried to watch him live at least once per year. And since the musician also happens to be a huge Gators fan, he invited Meyer onstage during a Tampa concert, not long after the coach won his first national championship with Florida in 2007.
As a coach, Meyer is no stranger to controversy behind the scenes
Urban Meyer's brief time with the Jacksonville Jaguars was seemingly marked by PR disaster after PR disaster, but that was certainly not the first time he had been in a controversial situation as a head coach.
As pointed out by The New York Times, at least 31 Florida Gators players were arrested during Meyer's six seasons coaching the team from 2005 to 2010. While many of the arrests were related to your typical college-kid misadventures, e.g. underage drinking, some players were accused of far more serious things, such as burglary, aggravated assault, credit card fraud, and domestic violence. Many of the charges were eventually dropped or pleaded down, and publications such as the Orlando Sentinel criticized Meyer for allegedly looking the other way whenever one of his players would get arrested and giving the more talented ones second chances they might not have deserved.
Perhaps the most prominent of the Meyer-era Gators who got in trouble with the law during their time as student-athletes in Florida was Aaron Hernandez, who, while playing for the New England Patriots in 2013, was arrested and charged for the murder of Odin Lloyd, thus reigniting conversations about whether or not Meyer was too lenient as the Gators' coach. Initially, he declined to comment on his former tight end's arrest, though Shelley Meyer defended her husband on Twitter, writing, "When will we start holding individuals accountable for their own decisions/actions and stop blaming any/everyone else?"