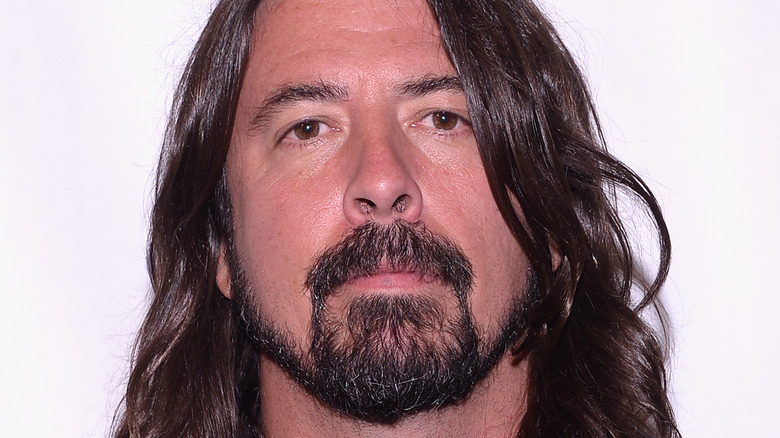 Iconic musician and creator of the Foo Fighters Dave Grohl has been a radio, MTV, and award show staple for decades. His signature style and self-taught skills have inspired a generation, and his band has become a beloved and incredibly commercially successful group.
Grohl has had an affinity for making music since he was young, and he attributes some of his inspiration to a television performance by another beloved and commercially successful rock outfit. "Seeing The B-52's for the first time playing 'Rock Lobster' on 'Saturday Night Live,' it really did change my life because I felt like, 'Oh, like, I understand them, they understand me,' and I didn't feel alone anymore," he shared with Channel 4 News.
Grohl went on to help others feel less alone through his own music, but not without his share of heartbreak along the way. Though he maintains a positive outlook on life, he's weathered devastation and loss. Here are the tragic details about Dave Grohl.
Dave Grohl's parents divorced when he was a kid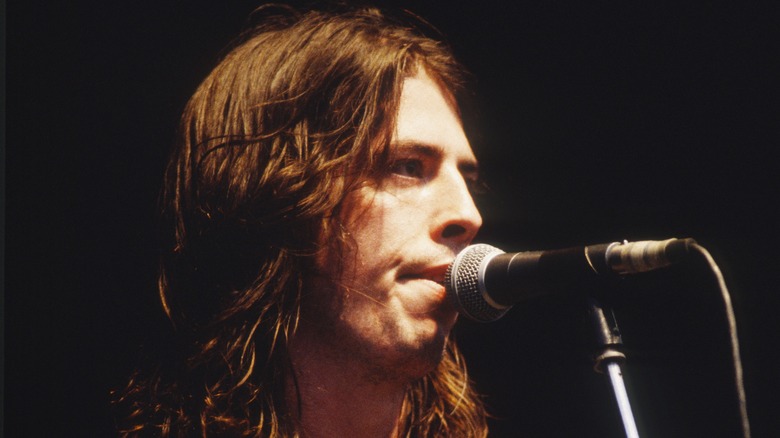 Dave Grohl was born in Ohio and grew up in Virginia with his sister and mother. Per The Guardian, his parents split when he was in elementary school, and that's about when he picked up a hobby that would change his life forever. As he wrote in "The Storyteller: Tales of Life and Music" (via Mirror), "Around the time of my parents' divorce I discovered music. I learned to play the drums." However, his desire to be a professional musician wasn't accepted by his dad.
As Grohl shared in his memoir (via Mirror), "So I wasn't allowed to be a musician. We had that painfully awkward conversation about what I was going to do with my life. I didn't know what to say but I knew this was it. I wrote a runaway note. This began the separation between my father and I." In a piece about his father for The Atlantic, Grohl shared that while their relationship hit its fair share of speed bumps, they eventually reconciled and learned to appreciate one another's differences. "It was as if I had stepped out of his shadow, and my love for him was now allowed to grow," he wrote.
Despite his father's initial misgivings about his career choice, Grohl joined the band Scream while he was still in high school. Although the band dismantled due to one member's sudden departure, the break up was ultimately a blessing in disguise, as it led Grohl to Nirvana.
Kurt Cobain died in 1994
Although now Dave Grohl is best known for his work with his band Foo Fighters, his first introduction to fame was with legendary '90s rock band Nirvana, which was famously led by Kurt Cobain. On April 5, 1994, Cobain died by suicide in his home in Seattle, Washington.
Cobain's death led to the dissolution of Nirvana, and left behind surviving members Grohl and Krist Novoselic. Per Rolling Stone, Grohl opened up about Cobain's death during his 2013 SXSW keynote. "When Kurt died, I was lost," he said. "I was numb. The music that I had devoted my life to had now betrayed me and broken my heart." He told the audience that he needed to take a brief break from music entirely. "I couldn't bear to hear someone else's voice singing about pain, or joy, or love, or hate," Grohl said
After Nirvana ended, Grohl formed Foo Fighters, recording most of the instrumentation and vocals for the debut album alone. The musician has shared that his starting Foo Fighters was a survival tactic after Cobain's death. "I can understand how some people might resent me for having the audacity to continue playing music, but it'd take a lot more than that to stop me from doing it," he told The Guardian.
If you or anyone you know is having suicidal thoughts, please call the National Suicide Prevention Lifeline​ at​ 1-800-273-TALK (8255)​.
Dave Grohl and his first wife split up
The mid '90s were full of heartbreak for Dave Grohl. That same decade, Grohl and his first wife divorced after less than a year of marriage. Grohl was married to Jennifer Youngblood, and has since disclosed that infidelity caused the two to break up, per The Guardian. The timing of his split from Youngblood lined up with the making of "The Colour and the Shape," the Foo Fighters' seminal 1997 album. "I miss her a ton, she's the funniest g****** weirdo you ever met in your life," he once said in Melody Maker magazine just a few years after their split (via NME). "It would have been better had we not got married."
Going through divorce didn't sour the Foo Fighters' frontman on love, and when he met Jordyn Blum in 2001, the sparks flew immediately. He once recalled in Q Magazine, "So I'm just having some drinks and acting like a jack***. And by the end of the night I was pissed and I'm staring at her going, 'you are my future ex-wife.'" The two married In 2003 and have been together since. They share three children, and Grohl has stated that his family keeps him grounded. "So Jordyn and Violet are anchors that keep me from completely disappearing," he told The Guardian in 2007, before the birth of his second and third daughters.
Music has taken a physical toll
Dave Grohl's career has made him incredibly rich and famous, but it's come at a cost. One may assume playing music for a living would not take a wild physical toll, but the line of work has not been easy on Grohl's body.
As reported by BBC, Grohl fell off stage while performing in Sweden in 2015, breaking his leg and causing Foo Fighters to cancel a few subsequent shows while he healed. Grohl didn't let his injury stop him initially, though. He reportedly told the crowd, "I'm going to go to hospital. I'm going to fix my leg. And then I'm going to come back. … You have my promise right now that the Foo Fighters — we're going to come back and finish the show." And they did just that: Grohl returned and finished the set with a broken leg.
The drummer has also suffered hearing loss from his music career, and told Howard Stern in February 2022 he believes he has tinnitus. "My left ear is kind of worse than my right because of my snare drum and my stage monitor when I play the drums," he explained. "I'm a rock musician. I'm f**king deaf. I can't hear what you're saying."
He's watched loved ones struggle with drug use
For many, rock music and drug use are synonymous, but Dave Grohl has chosen another path after both bad experiences and painful losses. "I've seen so many people just lose it all with drugs and die," he told The Guardian in 2011.
Grohl explained his choice further to the Sydney Morning Herald, noting, "One thing I did before Nirvana became popular was I stopped doing drugs," adding that he didn't feel healthy while on them. In the aforementioned The Guardian interview, he shared, "I've watched a lot of my friends continue down that path. Watched them get f***ed over by it." The rocker told The Sun (via NME) that he did try smoking marijuana again after a decades-long hiatus, but after watching "Keeping Up with the Kardashians" while high, he quit again. "It freaked me out. I was like, "I'm never doing this ever again. It's definitely not for me."
If you or anyone you know is struggling with addiction issues, help is available. Visit the Substance Abuse and Mental Health Services Administration website or contact SAMHSA's National Helpline at 1-800-662-HELP (4357).
He has a complicated relationship with Courtney Love
Before his death, Kurt Cobain was married to Courtney Love. The two had a child, as well as a tumultuous relationship. But the tumult didn't end for Love after Cobain's death, as she and Nirvana drummer Dave Grohl spent decades at odds. "There are a lot of people that I've been angry with in my life, but the one that's most noted is Courtney," Grohl told The Guardian of their rift in 2007.
Part of the infamous feud was due to a lawsuit filed by Love in order to obtain funds from the late musician's work, per ABC News. The battle continued when Love accused Grohl of behaving inappropriately toward her daughter, Frances Bean Cobain. All three parties, including Love, denied the claim. In 2021, Love took to Instagram (via NME) to accuse Grohl of "gorging on Kurt's fortune and Kurt's goodwill," but then later apologized for the post.
The feud seemingly came to a place of peace when the two reunited in 2014 for Nirvana's induction into the Rock and Roll Hall of Fame and even embraced. According to Rolling Stone, Love told the audience, "This is my family I'm looking at right now. I just wish Kurt could have been here. Tonight he would have really appreciated it."
His friend and bandmate Taylor Hawkins died
On March 25, 2022, Foo Fighters drummer Taylor Hawkins died in Colombia while the band was there for their tour. The toxicology report revealed that there were 10 different substances in his body, among them being THC, antidepressants, and opioids, per CNN. As of this writing, the cause of death has not been determined.
In addition to being longtime bandmates, Dave Grohl and Hawkins had a deep bond. "The first time we had a beer together, we were like, 'We're gonna be best friends for the rest of our lives,'" Grohl once shared with Radio X. "And it's true, really." After Hawkins experienced a heroin overdose in 2001 that left him in a weeks-long coma, Grohl told The Guardian that he was ready to step away from music once and for all. As he explained to the outlet, "Because, to me, it felt like music equalled death." Hawkins stopped using after the overdose, telling Kerrang (via The Hollywood Reporter) that he'd taken up hobbies like mountain biking.
Following Hawkins' death, the Foo Fighters announced on Instagram that the rest of their tour dates had been cancelled. The band wrote, "Let's take this time to grieve, to heal, to pull our loved ones close, and to appreciate all the music and memories we've made together."
If you or anyone you know is struggling with addiction issues, help is available. Visit the Substance Abuse and Mental Health Services Administration website or contact SAMHSA's National Helpline at 1-800-662-HELP (4357).