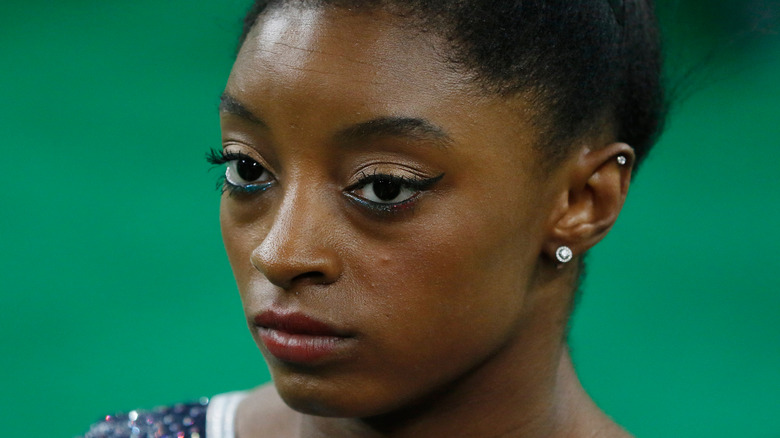 The following article contains references to sexual assault, domestic abuse, and addiction.
As a seasoned gymnast, 24-year-old champ Simone Biles took on the COVID-delayed 2020/2021 Summer Olympic trials — held at the end of June 2021 at St. Louis, Missouri's America's Center — like she did any other gymnastics competition: She was ready, she was fierce, and she was there to be the best she could be. She held that promise even though Biles had theoretically surpassed her peak as a female gymnast, which stands at age 16, according to The Daily Philadelphian.
Not surprisingly, the phenom's scores were off the charts (figuratively, of course!) during those women's trials, according to Newsweek. Biles' triumph was exemplified during her daring floor routine. This superstar — so dedicated to her sport that she has the Olympic circles tattooed on her right forearm — executed a near-perfect triple-twist, double backflip run, noted MSN. The move — invented by the 4'8" gravity-defier — is called "The Biles," and is one of four named after her (per CBS Sports).
Biles' rarified performances naturally led to her being named leader of the Team USA gymnastics team for the Tokyo Summer Olympics, a triumph in itself that was dashed when Biles stunningly dropped out of the team final after an uncharacteristically lackluster vault. The team went on to a silver medal finish, and reported an unspecified "medical issue" as the reason for Biles' shocking exit (via AP).
Beyond the superstar's heartbreaking turn of events in Tokyo, this powerhouse has a daunting history of powering through personal and professional obstacles. Here's what happened as Simone Biles worked her way up to becoming an unsurpassed elite athlete still seeking Olympic gold.
Phenom Simone Biles had a troubled childhood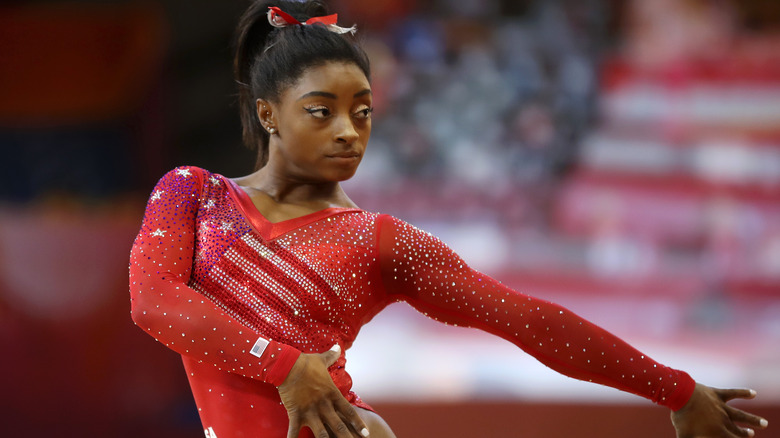 "It was hard to give up my kids but I had to do what I had to, I wasn't able to care for them," Simone Biles' mother, Shanon Biles, told the Daily Mail in 2016. Shanon struggled with drug and alcohol addiction, and her four children were put in the foster care system when Simone was a toddler.
In the third episode of Facebook Watch docuseries "Simone vs Herself," the gymnast opened up about the hardships she faced living with her biological mother. Remembering a cat that roamed around the area, she said, "I would be so hungry, and they would feed this cat and I'm like, 'Where the heck is my food?'" She continues to have disdain for the feline population because that "street cat" was fed and she wasn't.
Eventually, a neighbor told children's services about the four kids, and Simone and her siblings stayed together in the foster system. "I don't remember a lot about foster care," Simone shared in her Facebook Watch series, "but I definitely knew that we had been taken from our biological mom and then you just think you're going to go back to her."
In 2016, Shanon told TMZ that she has been sober since 2007.
If you or anyone you know is struggling with addiction issues, help is available. Visit the Substance Abuse and Mental Health Services Administration website or contact SAMHSA's National Helpline at 1-800-662-HELP (4357).
Simone Biles never knew her biological father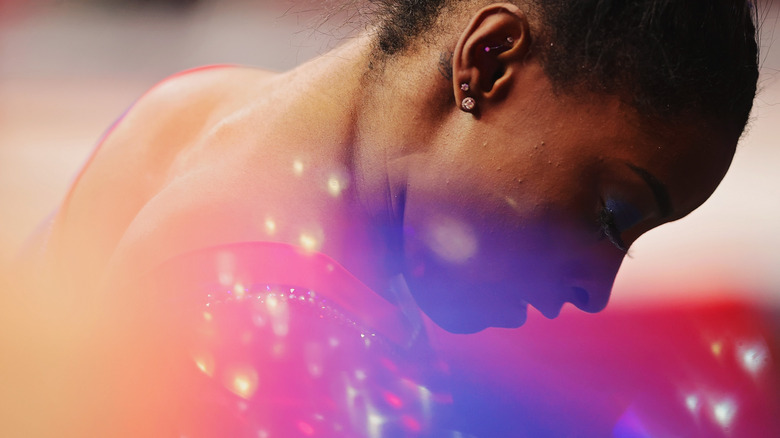 Simone Biles doesn't have a relationship with her biological father, Kelvin Clemons. Ten years before she was born on March 14, 1997, Clemons was charged with everything from "raping a family member" to "kidnapping," according to Radar Online. He was reportedly arrested for these heinous crimes but ultimately received dismissals in court. He would go on to commit a number of transgressions, and as Radar Online chronicled, he would end up pleading guilty to various burglary charges. After Simone was born, Clemons was arrested again after being charged with domestic violence against Shanon Biles, but according to Radar Online, the charges were dismissed. The outlet noted that he was also arrested for assaulting a girlfriend and spent 180 days in a correctional facility.
Meanwhile, Simone's brother Tevin Biles-Thomas has faced legal issues of his own. As CNN wrote, "Biles-Thomas was arrested in 2019 on charges of murder, voluntary manslaughter, felonious assault and perjury in connection with a New Year's Eve fatal shooting in Cleveland." The outlet also reported that he was acquitted in 2021.
Following her brother's 2019 arrest, the elite athlete released a statement on Twitter. "My heart aches for everyone involved, especially for the victims and their families," she wrote. "There is nothing that I can say that will heal anyone's pain, but I do want to express my sincere condolences to everyone affected by this terrible tragedy. I ask everyone to please respect my family's privacy as we deal with our pain."
If you or someone you know is dealing with domestic abuse, you can call the National Domestic Violence Hotline at 1−800−799−7233. You can also find more information, resources, and support at their website.
If you or anyone you know has been a victim of sexual assault, help is available. Visit the Rape, Abuse & Incest National Network website or contact RAINN's National Helpline at 1-800-656-HOPE (4673).
After some difficult times, Simone Biles 'got a second shot at life'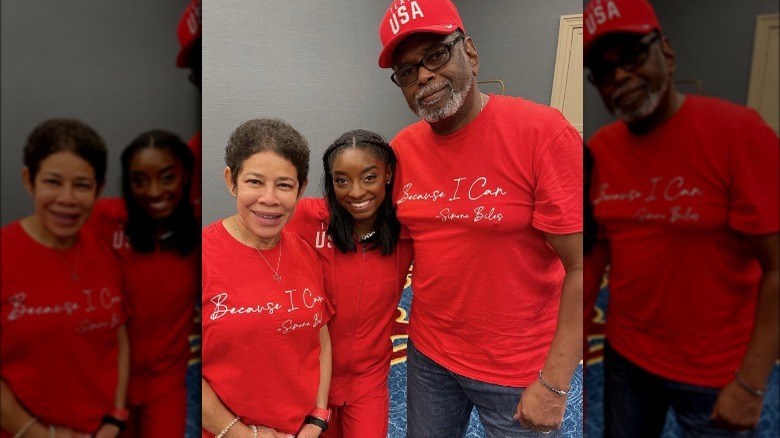 Some years after Simone Biles was separated from her biological mother, she and sister Adria Biles landed in Texas with their grandfather and his wife, per Adoptions with Love. Ron and Nellie Biles adopted Simone and Adria, going from grandpa and grandma to dad and mom. Even though the two girls were still toddlers, they knew they had finally found their forever home. As Simone said in the "Facebook Live docuseries "Simone vs. Herself," "I also believe everything happens for a reason and I'm forever grateful for that because I definitely got a second shot at life."
In addition to being loving parents, Ron and Nellie helped set the groundwork for Simone's love of gymnastics. As Nellie and Simone explained in the Facebook Live series, everything changed when the future Olympian's daycare field trip to a farm was diverted to a gym due to rain. There, she first took part in gymnastics where she had "a blast," even though she was the "smallest" and "bounciest" person there as she tried to go through certain paces. She returned again and again, but said she didn't "see the talent that I had."
Cut to ESPN writing that she "is unlike any gymnast we've ever seen" and USA Today remarking that "there is universal agreement that Biles is the best there is, of her generation and every other."
Growing up, Simone Biles was body-shamed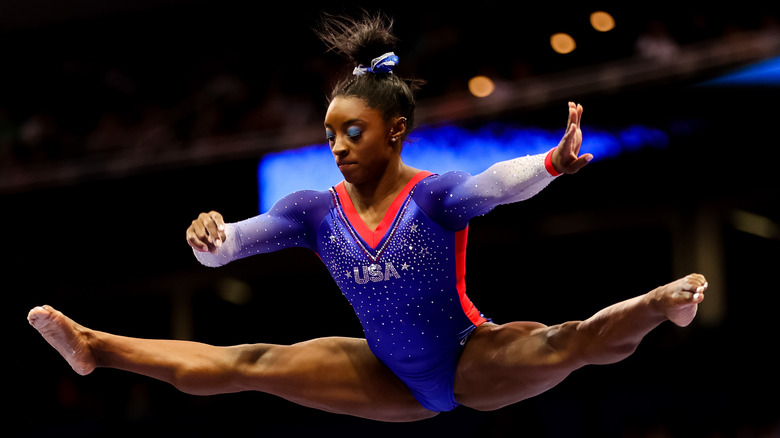 Simone Biles has endured vicious body-shaming comments regarding her muscular build. In an interview with NBC Sports, she "discussed a 2013 incident in which she overheard a coach saying she struggled in a meet because she was 'too fat.'" She shared, "I feel like I'm a very petite young girl and so to hear that at such a very young age, it just kind of shocked me." Still, Simone believes "everything happens for a reason, so that had to happen for me to be where I am today. If it didn't happen, things might have been different."
Not only was Simone body-shamed, but she has also been subjected to racist comments. One, which was caught on tape, happened when the elite athlete was 16 and competing on a world level. As USA Today recounted, Italian gymnast Carlotta Ferlito remarked in an interview, "I told [teammate Vanessa Ferrari] that next time we should also paint our skin black so then we can win, too."
Ron Biles wasn't having it. "The racial comment was really out of line," he emphatically stated to USA Today, but added that his daughter, thankfully, was "not fazed by it." Simone's mom, Nellie Biles, agreed, telling the same outlet, "I told her, 'Don't get roped into this.' … Just be proud of your performance and outcome.' People are entitled to their opinion. For her to go into this racism stuff is pointless, and she's not going to address it."
Putting treatment on hold, Simone Biles competed while suffering from a kidney stone attack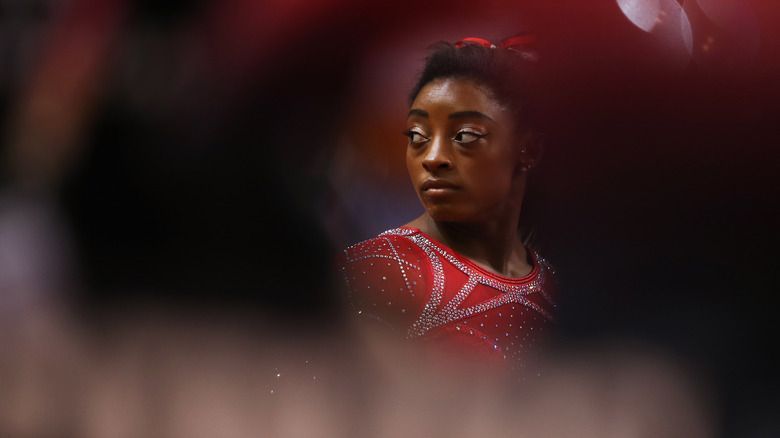 If you've ever had a kidney stone attack, then you know how excruciating it can be. When this happened to Simone Biles, she felt the pain, but she also put treatment on hold until after she was done competing in Doha, Qatar, at the World Gymnastics Championships. Only a day before the actual events took place, Biles sought emergency medical help after experiencing "stomach pains on her right side," reported Today. Thinking it was her appendix that was at fault, the elite athlete was given tests revealing that a kidney stone was the culprit.
So would this kidney stone stop this determined gymnast? No way. The champ called the situation "manageable" during an official Olympic Channel podcast. While admitting to being "a little bit" worried about the malady, Biles felt she had to compete "for my team." She also indicated she was worried about passing the kidney stone during the competition but was told by the experts that her kidney stone was too big to have that happen. After making that statement, this world-renowned gymnast laughed, showing her everlasting good nature.
The final diagnosis? Biles decided to wait until she was back home to have the surgery to remove the offending kidney stone. She also prevailed during the championships, "dominat[ing] every apparatus she competed on, which of course was all of them," asserted SBNation, who called the performance "iconic."
Simone Biles' ADHD medication was called into question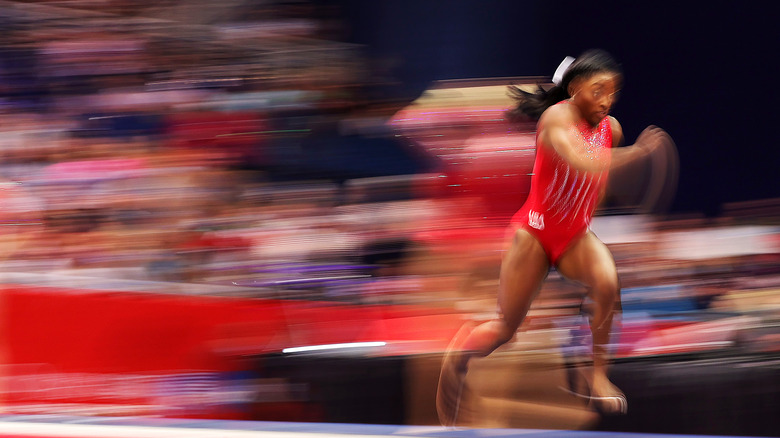 Simone Biles' ADHD diagnosis and treatment made headlines in 2016. Although the phenom is comfortable with having ADHD and taking meds for it, she hadn't said much about it until hackers found their way into the World Anti-Doping Agency's database. The information on the medication she takes was revealed, and some tried to suggest something untoward was going on, per ESPN. As the outlet noted, "The leaked medical records revealed that Biles takes Ritalin, a stimulant commonly used to treat ADHD. The hackers accused her of using an 'illicit psycho-stimulant' while competing, but USA Gymnastics confirmed that Biles had been approved for a therapeutic-use exemption." In other words, there wasn't an issue.
Did Biles get rattled when her medical records were made public? Nope. As ESPN cleverly reported, she "flipped the script" to speak out on Twitter about the truth. In a Notes App post, the then-19-year-old said she began taking ADHD meds at a young age and that she plays "a clean sport," which "is critical to sport."
Biles also addressed the stigma head-on. "Having ADHD, and taking medicine for it is nothing to be ashamed of nothing that I'm afraid to let people know," she tweeted.
Simone Biles trained with a fun coach and one who was quite the opposite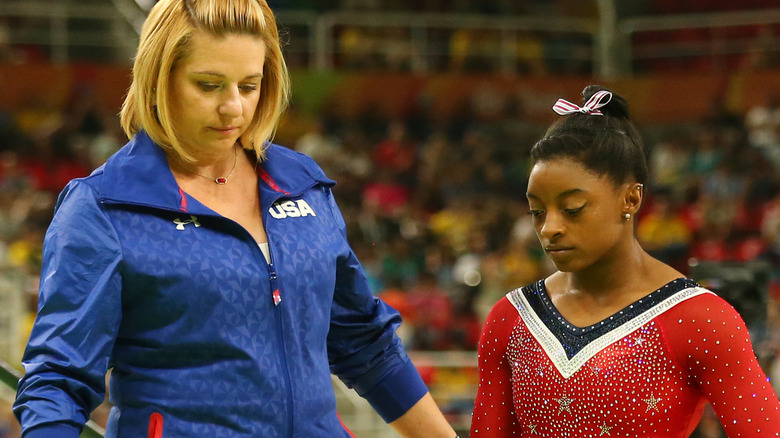 Early in her career, Simone Biles trained with her fun-loving coach — but also with the women's USA Team's national coach, who evidently was the opposite. This change was drastic, especially for the young athlete who wanted to please at all costs. While her at-home coach was Aimee Boorman, a gentle force who was able to get Biles to the top of her sport, she is also a professional trainer who believes athletes should also have a good time, according to The Guardian.
After Biles became a contender, she also began to go to Károlyi Ranch for their intense training programs. The young athlete would travel 50 miles away from her Houston home to be coached by Márta Károlyi, "a Romanian-American known for her unforgiving attitude and the inculcation," according to The Guardian. Biles illustrated these traits when she wrote in her memoir, "Courage to Soar," that Károlyi had once told her she wasn't to "cheer for her peers at competitions." Beyond that negative dictum, when the teen trained she was also to suppress expressions of joy — including laughter. As Biles pointed out, she, along with her fellow gymnasts, wasn't allowed to "imply she was enjoying herself."
After Boorman left Houston for Florida in 2017, Biles began training with coaches Cecile and Laurent Landi. Their style of training is similar to Boorman's, which is "a radical twist from the all-knowing, all-controlling methods of Martha Karolyi," The Washington Post noted.
Dr. Larry Nassar assaulted Simone Biles and many other gymnasts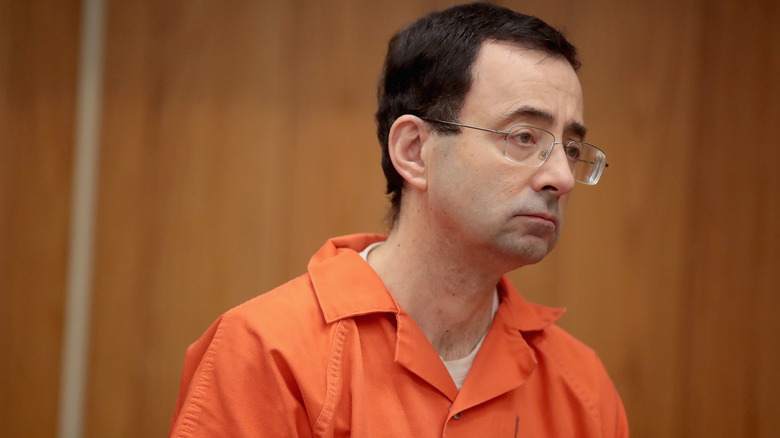 Not long after Cecile and Laurent Landi began to work with Simone Biles, they noticed she wasn't herself — neither as an athlete or as a person. This happened shortly after the elite athlete took to Twitter and said she was one of the many gymnasts sexually assaulted by Team USA physician Dr. Larry Nassar.
One morning, Cecile discovered Biles "in the locker room, knotted in a ball and crying," according to The Washington Post. Although Biles told her coach she would be fine, she wasn't, so when Biles seemed to be off her game and down, the coaches told her to take some time off. As Biles told the outlet, "Gymnastics is supposed to be your safe place, but some days it wasn't. [Cecile and Laurent] understood that. So, to keep me safe, they'd just say: 'You need a mental break. Just go home and relax.'"
That was easier said than done. Biles' long tweet was put up shortly before Nassar's week of sentencing hearings. She had been very candid about the ordeal only a day before 100 other victims spoke out against the man they trusted as their physician. She wrote, "I've felt a bit broken and the more I try to shut off the voice in my head the louder it screams." Still, she said she was no longer afraid to speak out since she "too [is] one of the many survivors … sexually abused by Larry Nassar."
If you or anyone you know has been a victim of sexual assault, help is available. Visit the Rape, Abuse & Incest National Network website or contact RAINN's National Helpline at 1-800-656-HOPE (4673).
Simone Biles 'didn't want to set foot in a gym' after assault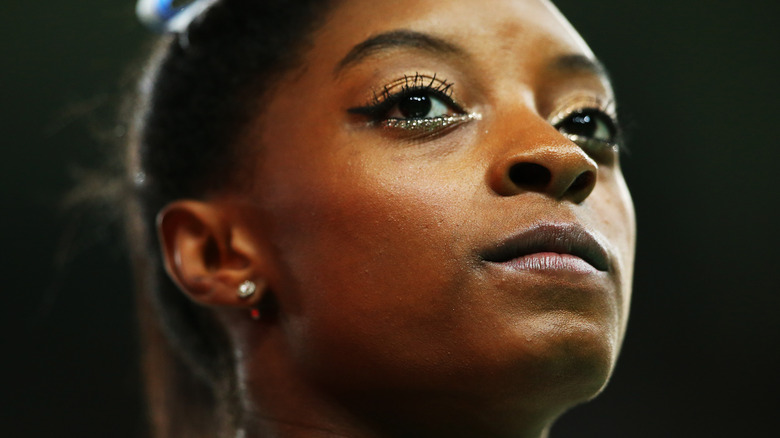 After Simone Biles came forward with her accusations against Dr. Larry Nassar, he was convicted of molesting members of the USA Gymnastics team. As CNN reported on January 24, 2018, Judge Rosemarie Aquilina gave the team doctor 40 to 175 years behind bars, stating, "I've just signed your death warrant."
This had been a long time coming. Even after the investigation began, "Nassar continued working with athletes for more than a year," according to the Indianapolis Star. The outlet also noted that "Nassar's reign of sexual abuse wasn't stopped" until after September 2016.
After all she has endured, Biles continues to believe in gymnastics. Speaking with The Guardian in 2019, she shared, "I feel like, if I have kids, I'll probably enroll them, in spite of the horror stuff that happened to me. Because I know how much joy the sport has brought me." She also shared that she's in therapy "because there were times when I didn't want to set foot in a gym." Biles continued, "But am I going to let that keep me from my passion, and the goals that I still have? It's just another bump you have to get over."
If you or anyone you know has been a victim of sexual assault, help is available. Visit the Rape, Abuse & Incest National Network website or contact RAINN's National Helpline at 1-800-656-HOPE (4673).