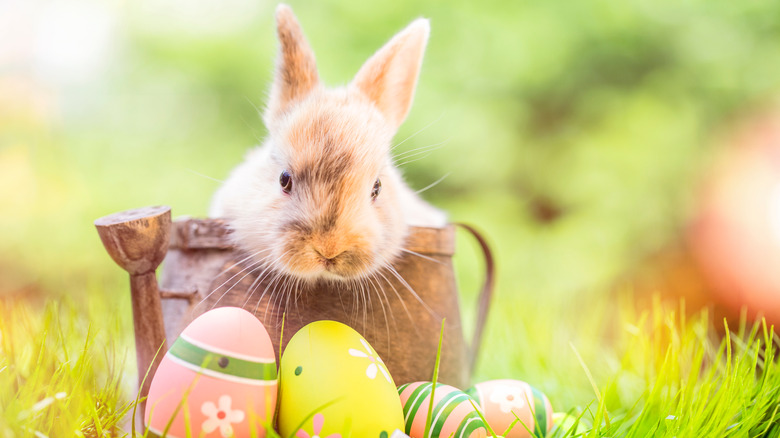 We may receive a commission on purchases made from links.
Easter baskets, colorful bunnies, decorative eggs, lovely tulips, and a hopping Easter bunny spring us forward right into Easter. During spring, the flowers begin to bloom, the sunshine lasts longer, and the animals come out of hiding. Naturally, this indicates it's time to decorate your home for the Easter season. From bunnies to themed Easter eggs, there are many memorable ways to decorate the home this time of year.
You can display Easter eggs in just about every nook and cranny of a home. There are even bunnylicious baskets filled with festive fun that invite Easter into the home in style. Here's a basket ready to go from Harry and David that would give the home fantastic Easter appeal. Or, tell the family you love them by sending a holiday basket in the mail.
Whatever you choose to do, let's do some spring cleaning, spruce up the furniture, give drab bedrooms some holiday flair, and convert the home into an Easter extravaganza. Let's hop to it!
Decorate your front door with a bunny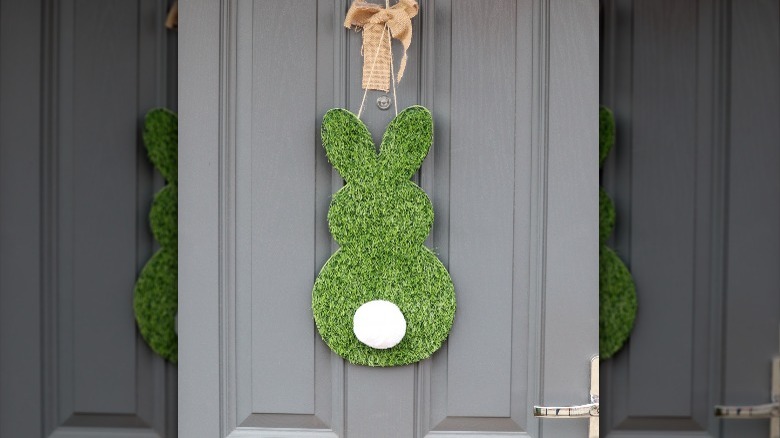 What better way to introduce friends and family to your Easter-themed home than with a precious front door welcome bunny? Since the front door is often the first thing guests see, it's paramount that we set the scene of Easter here. This welcome bunny from Country Door does just the trick, setting the tone for the entire home perfectly.
However, let's not stop with just one darling bunny. The front door could also use an Easter bunny wreath. This wreath from Norassj features a bunny made out of greenery with a burlap bow around the neck. It can also function as decoration for an interior wall. Another great decorative option for your front door is this metal garden statue from Plow & Hearth, available in either pink or blue. This bunny is wearing a raincoat and rain boots and well-prepared for spring showers.
Make a statement with an egg tree
When guests step through your front door, they usually enter the foyer. This entrance area is where you can set the vibe for the entire home with a festive Easter tree. Easter trees are becoming more popular each year due to their darling and whimsical design elements. They allow you to show off Easter ornaments and highlight your decorating creativity. Perhaps you can even start a new family tradition by decorating an Easter tree together. This Easter tree from Overstock comes with pastel-colored eggs and beads already in place. There are also bare Easter trees on Etsy that let you style your eggs. This white plastic tree features LED lighting so you can illuminate the tree at night.
Now let's take a look at some egg decorations. This trio of wool eggs from Anthropologie features wool material and pretty floral designs. These glass eggs from Current are another lovely choice. The hand-painted ornaments will make your tree sparkle with Easter spirit.
Liven up the coffee table with whimsical eggs
Create a centerpiece for your living room coffee table with decorative eggs, greenery, and bunnies. You'll be the talk of the town by displaying Easter-related items on your living room coffee table. Painted eggs add undeniable holiday flair and a fun pop of color to the room. The living room coffee table, side tables, ottoman, and fireplace mantel can appear drab when decorated with everyday items. Let's spruce them up this Easter by decorating with beautiful, hand-painted Easter eggs from Grandin Road. They are available in a set of three and instantly make any area more fanciful and fun.
We recommend pairing the eggs with white pedestal stands available from Grandin Road. This is an "eggceptional" way to display your designer eggs in style. You can also easily reuse the pedestals for candles or other figurines when the holiday season is over.
Freshen up the mantel with bunnies
Now it's time to liven up your living room mantel. Traditional mantel decor typically features festive bunnies and is taken down after Easter. However, for our purposes, we want to create some fun Easter hygge with this bunny duo from Amazon. The cute pair is 5.5 inches tall and holds an Easter egg and carrot. Adding this decoration to your mantel will definitely invite some conviviality into the entire room and make a few of your guests chuckle.
Let's sprinkle some other amusing animals around them for creativity's sake. This hen and rooster duo from Amazon features a porcelain hen with a little chick popping out of the hatched egg in front of her. A porcelain rooster stands guard nearby on a white stone. These cute animals are ideal for arranging around a handful of bunnies and adding an entertaining element to the mantel.
Style your kitchen table with Easter treats
During Easter, the kitchen is often the place where you dye colorful eggs and cook ham on the big day. While there are plenty of ways to add some holiday spirit to this room, let's focus on the kitchen table and your Easter party. The kitchen table is a prime place to add yummy Easter treats, including this seasonal bundle of chocolate-covered eggs, deliciously-designed Easter cookies, pears, dried apricots, crackers, and cheeses from Harry & David.
Naturally, these delights can also decorate the kitchen area. However, to make your kitchen table stand out decoratively and deliciously, we suggest putting all the delectables together in one place. The box, which reads "Happy Easter," is party-ready, and features a cookie gift box, banquet box, and giant truffle egg duo. It weighs 7 pounds and will likely have guests digging into the display in a hop.
Create an Easter-worthy kitchen counter
Now that we've decorated the kitchen table, let's focus on the counters. There are so many darling Easter decorations for kitchen counters, so let's not skimp on the Easter spirit here. Kitchen counters tend to get cluttered with everyday items such as the coffee maker, blender, and microwave, so you'll probably want to do some spring cleaning before decorating. Once your countertops are clear, decorate with serving items such as this bunny salt and pepper dispenser set from Mudpie. You'll likely want to shake the salt and pepper a little more once you see how cute these are.
There's also this bunny cheese serving plate from Mudpie that says "hello spring." If you have a kitchen island, consider using this space to display the salt and pepper bunny shakers. Next up is this darling Easter tea kitchen towel set from Wayfair. The towels come in a checkered pattern with an egg design. And last but not least, we can't forget the yummy deviled eggs on Easter. Your guests are going to love this bunny deviled eggs dish from Mudpie.
Fill the dining room with festive delights
When it comes to decorating a home, the dining room is often a focal point since it's where meals, gatherings, and parties take place. To get the Easter spirit flowing in your dining area, start by decorating the dining room table. Place fresh tulips in this white sculptural bunny vase from Williams Sonoma and surround it with four white bunnies with green bows from Mrs. Alice. Off to the side, place this sculptural bunny serving bowl from Williams Sonoma and fill it with a dip or candy.
Now let's get into the plates, placemats, and glasses for this hoppy holiday. This set of four tulip plates from Mrs. Alice will make your table shine with everything Easter. They feature a white base with colored tulips in the middle and a green rim. Try putting them on top of blue-and-white placemats and pairing them with these napkins (both come in a set of four), also from Mrs. Alice. Now, we need to concentrate on the glasses. And we've got the perfect pair for you! These tumblers come with a gold bunny face on the side. They are super popular on Etsy and make the dining room table feel more magical.
Scatter bunny throw pillows around your bedroom
Bedrooms always need to be decorated for the holidays, especially when guests are staying over. There's nothing lovelier than getting ready for a cozy night's sleep with a jovial bunny throw pillow and other festive decorations nearby. It definitely helps remind guests they're visiting during a special time. This throw pillow from Redbubble adds fun charm to any bed, sofa, daybed, reading nook, or office chair. The cute bunny face and flowers will also be a hit with your friends and family.
Don't be shy if you're decorating with throw pillows. They instantly add visual appeal to any seating area in the home. For example, this throw pillow from Overstock is perfect for the bedroom or a bay window with a cozy nook. A few of these cute bunny throws will spruce up the section and remind everyone spring is in the air.
Add holiday cheer to the family room
The family room is typically where the whole group gathers to relax and unwind after a meal. Ideally, this space should be as appealing and well-decorated as the rest of the home, especially if you're hosting an Easter party or festive dinner. An ottoman or coffee table is a great, multifunctional place for holding practical items and decorations, and this is an ideal spot to decorate with Easter-themed pieces like bunny artwork.
First up, we have these delightful bunnies playing in cabbage from Overstock. Made out of resin, these three cute bunnies will keep the conversation rolling long after dinner is over. There's also this pastoral set of bunnies from Mrs. Alice, which features a rural bunny scene. It comes complete with rattan rabbits, hand-painted eggs, Easter nests, hand-painted vases, and decorative green moss on the bottom. Who could resist these sweet faces?
Bring tranquility to your entertainment room
In the entertainment room, it's best to add minimal Easter decor since this space is already busy enough with the television. Adding a few candles is all it takes to transform this room with holiday cheer. Incorporate festive candles with cute bunny and egg designs. Candles with spring-inspired scents like jasmine, mandarin, iris, rose, citrus, and sandalwood will transport you to a warm and sunny day.
If you prefer flameless options, Kohl's offers this small and lovely LED pillar candle with floral designs and a sweet bunny butt. There is also decorative twine wrapped around the candle. A few of these on the main and side tables should keep the room in good spirits. You can spruce up your LED candle with egg-shaped candles from Etsy. These soy candles are a top seller on Etsy and come complete with an egg yolk in the middle and egg-shaped votive glass covers.
Enhance your bathroom with scented candles
Many people forget to decorate the bathroom when adding holiday decorations to their homes. However, this is a place guests are sure to visit. Make your powder room Easter-ready this year by decorating with a fun variety of bunnies. Let's display these scentsational Easter bunny soaps from Simply Inspired Goods throughout the bathroom. Or, try these sweet little bunnies from Etsy that come in a set of four. These gray Easter bunny soaps from Etsy are also darling.
Do you have a window in the bathroom? If so, try sprinkling bunnies on the mantel. Another great place to display your bunnies is in bathtub corners. Or, consider creating a bunny club along the back wall of the bathtub. Another option is to place them behind the sink where everyone can notice them while washing their hands. Or, try combining all of these options for a bunny bathroom party.
Let Easter spirit fill your library
The library is typically a room for serious reading, study, and contemplation. Traditionally, libraries are darker rooms with deep colors such as brown, navy blue, and maroon. However, you can bring a little festive light and cheer to your reading room this Easter. Decorate with classic bunnies, Easter-themed paperweights, and other holiday pieces to make the library ready for spring. A gorgeous porcelain collector's bunny from Lladró will add refined style to any library. Lladró is a Spanish brand well-known among folks who appreciate fine porcelain. Each piece is intricately designed and hand-painted in Spain.
Swarovski is another wow-worthy collector's favorite. Each piece in the Crystal Classics collection features meticulously designed figurines, such as this bunny holding a green and orange carrot. If your library is home to loose papers and other knickknacks flying around, make your space more organized by using this bunny from Crystal Classics as a paperweight.
Adorn the backyard with bunnies
No backyard is Easter-ready without a welcoming bunny statue. Adding holiday spirit to your yard will create a magical Easter experience for your family and guests. This 1 pound wooden Easter bunny from Wayfair will feel at home in your garden. The light wood bunny sits holding a cracked egg with a little chick popping out. A true delight for this holiday!
This cute set of 3D bunnies from Wayfair will look great both indoors and outside. The hand-painted and handcrafted come with metal stakes so you can securely place them into the ground. They would be a lovely addition to a large flower pot or lawn. Last but not least, remember to add Easter eggs to your garden. These hand-painted eggs from Grandin Road are made out of fiberglass and have a sleek, glossy finish. Decorating with these is the perfect way to set the ambiance for a quintessential Easter party or backyard egg hunt.
Sprinkle Easter baskets around your home
This spring, spice up your home with beautifully decorated Easter baskets and festive treats. These baskets are a classic staple of the holiday season and look amazing on living room tables, kitchen countertops, and extra floor space in the home. Consider placing an Easter basket either on top of your entrance table or surrounding area to make a festive first impression. This Easter basket from Williams Sonoma features Peter Rabbit and plenty of other tasty treats. Best of all, the goodies come with the basket, so you won't need to run to the store to buy more chocolates and candies.
This delicious Easter basket is another great find from Williams Sonoma. Use it to decorate your kitchen, den, living, or family room. This fanciful basket features a cute bunny and a large selection of sweet treats, chocolates, candies, and other seasonal delights. Happy Easter!