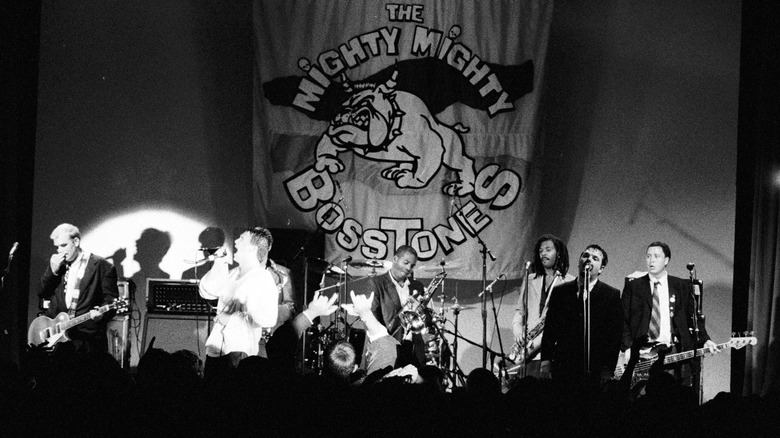 Success and fame are a fickle business and as such, fans have seen a dizzying array of rock bands rise, fall, evolve, and fade into obscurity. These rockers disbanded due to all the drama only the surging ego of a rock star can muster. Others simply wheezed their last shaky breath as the sands of time ran out.
Some were the biggest names in their respected categories, the most recent being The Mighty Mighty Bosstones, who almost single-handily popularized ska into the mainstream back in the 1990s. It always feels like the end of an era when the bands of our rebellious youth pack their instruments away in their well-traveled cases. From epic feuds to soul-crushing losses, here are some of the rock bands that broke up this century.
Find your nearest socially distanced mosh pit and let's dig in.
Oasis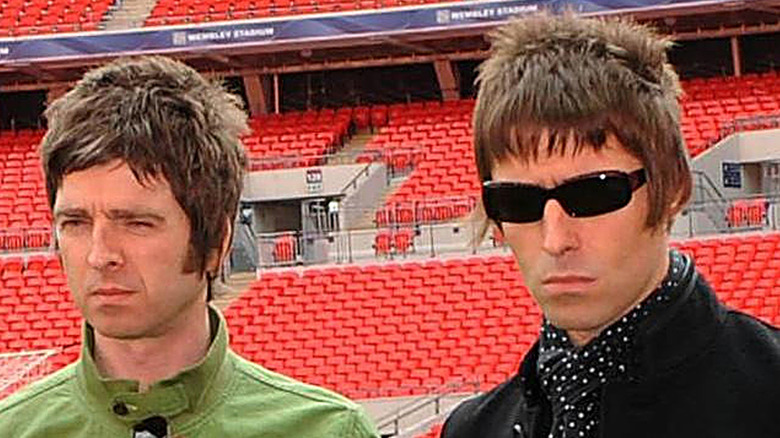 Witness a story as old as Cain and Abel play out in true rock 'n' roll fashion. Formed in 1991 in the United Kingdom, Oasis released numerous hits, including three platinum albums in the United States. With tracks like "Don't Look Back In Anger" and "Wonderwall," they seemed hell-bent on being the spiritual successor to the Beatles -– including drug use and the bitter, nasty rivalry between bandmates.
In fact, Noel and Liam Gallagher's sibling rivalry is perhaps more famous than the band's music, as Rolling Stone notes. Over the years the two have engaged in everything from fistfights to petty arguments -– one of which was released in 1995 as a single, called the "Wibbling Rivalry." Picture 14 minutes of grown men going from a serious interview to bickering like little schoolboys. Rolling Stone reports that their rivalry graduated to Liam heckling Noel on Twitter — for example, in 2016, Liam famously captioned Noel's photo with the word "potato" (a gag that would pop up frequently on the platform).
The band was doomed to end at some point considering Noel has quit the band on numerous occasions. The final nail in the coffin slammed in place when Noel walked out before a performance in Paris in 2009. According to Ultimate Classic Rock, a violent outburst unleashed by Liam before the band went on stage prompted Noel to quit on the spot.
Audioslave
Born from the ashes of Rage Against the Machine and Soundgarden in 2001, on paper Audioslave was destined for long-term collaborative genius, but the supergroup may have been doomed from the start. Not long after the band formed, lead singer Chris Cornell (from Soundgarden fame) quit because he didn't like the creative direction they were taking, reports Rolling Stone.
If that wasn't an omen for their future, what was? Known for their gritty, heavy sound and post-grunge vocals, they have the distinct honor of being the first American rock band to perform in Cuba in 2005 (via AllMusic). Their work spanned three albums and graced the airwaves with singles like "Cochise" and the sardonic "Like a Stone."
The band closed shop in 2007 when Rage Against the Machine reunited briefly for Coachella. Reuters reports Cornell walked away claiming the reason was "due to irresolvable personality conflicts as well as musical differences." He also described the band's dynamic as a "sociology experiment." Seems all that creative genius was volatile indeed.
Cornell sadly died in 2017 from suicide. Former members of Soundgarden and Audioslave, along with Dave Grohl, Miley Cyrus, and Fiona Apple gathered for a five-hour concert in his honor in 2019.
If you or anyone you know is having suicidal thoughts, please call the National Suicide Prevention Lifeline​ at​ 1-800-273-TALK (8255)​.
The Cranberries
It all started when a quiet country girl auditioned with some city boys in Limerick, Ireland, back in 1989, according to The Cranberries official website. They knew instantly they had gained their new frontwoman and a brilliant songwriter. The Cranberries captured the airwaves with lead singer Dolores O'Riordan's unforgettable voice with songs like "Linger" and "Dreams." Within months of releasing their debut album, "Everybody Else is Doing It, So Why Can't We?" stole the number one slot in both Ireland and the U.K. and went on to sell six million copies globally.
A big turning point for the band was with "Zombie" — the band's official website states the song was denouncing the Irish Republican Army's (IRA) Warrington bombings that killed two young boys. A BBC article reveals the song was so influential it has been sampled by the likes of Eminem and was covered by metal band The Bad Wolves (O'Riordan was set to record with them, but died before the collaboration).
Despite taking multiple breaks throughout their 30-year run, they always came back with strong material and incorporated new flavors into their sound. However, tragedy struck in 2018, as the BBC reported O'Riordan was found dead in her hotel room. She had died from accidental drowning due to alcohol intoxication.
According to Rolling Stone, the surviving members announced one final album, "In The End," composed of songs O'Riordan recorded before her death. They disbanded in 2019.
The Dillinger Escape Plan
One might not think it's possible to blend jazz with heavy metal, but then the Dillinger Escape Plan arrived on the scene, gave the world a determined stare, and proclaimed "watch us …" They took heavy metal to new heights with their chaotic hardcore drum patterns and jumpy, swinging time signatures.
The shows were often legendary -– according to Rolling Stone, they fought fans, guitarist Ben Wienman brutally bloodied his face running into a monitor in Anaheim. and they got banned from the U.K. for singer Greg Puciato's interesting marketing decision to defecate on stage at the Reading Festival.
The band saw its share of rotating musicians come and go, but as Revolver reports, the relationship between Weinman and Puciato is part of what may have killed the music. Puciato was known for his wild antics and drug use in contrast to Weinman's calm more balanced demeanor.
Internal struggles are par for the course in the industry, and Puciato and Weinman had numerous personal issues and fought frequently increasing tension. In an interview with Louder Sound, Weinman said a songwriting break led him to feel like the band had achieved all it could creatively, and the band agreed to part ways at the end of the Disassociation tour in 2016, reports The Observer.
Yellowcard
In 2016, somewhere off Ocean Avenue, fans of famed emo band Yellowcard sobbed the salty tears of disbelief, mourning their disbandment. Yellowcard's sound was a bit unusual considering it featured a violin — nevertheless, it evolved over the years from pop-punk to the biting alt-rock that closed out their final self-titled album.
Much of these Florida men's career came from riding the success of their debut album, "Ocean Avenue," as per AllMusic, and getting their work featured on several video game soundtracks. If you played "Madden NFL 2004," no doubt you heard their song "Way Away."
It seems, however, that after 10 albums and performing live in each corner of the planet, the members had suffered burnout. According to a feature by Alt Press, lead singer Ryan Key expressed, "I think between putting out so much music and touring our a**es off for the past five or six years, it hasn't been hard to make that choice [to disband]."
It's clear they felt they had achieved their peak and wanted to leave their legacy on a high note with one final world tour after the release of their final album. They popped back into the news in 2019-2020, when they filed and then dropped a copyright lawsuit with Juice Wrld, reports The New York Times.
As I Lay Dying
Just like divorce, bands split up for all sorts of reasons — tensions, money, finding out your lead singer is headed for the "Graybar Hotel." Yes, it was legal trouble due to an act of revenge that forced screamo band As I Lay Dying into a hiatus. Lead vocalist Tim Lambesis was sent to prison for planning to hire a hitman to kill his estranged wife in 2013, reports Rolling Stone. Hard to believe in their early days they were actually thought of as a Christian band.
As I Lay Dying formed in 2001 in San Diego and capitalized on their melodic metalcore and throat scraping vocals. In an interview with Noisecreep, Lambesis said that while religion did have some influence on their work, they made it a point not to preach at shows and wanted to "be judged on the music."
They played numerous festivals until 2013 when, according to Rolling Stone, Lambesis was arrested during a murder-for-hire plot. It was then that his fellow bandmates split for their own side projects. Strangely enough, Lambesis produced an album for his Arnold Schwarzenegger-theme parody band (named Austrian Death Machine) before his trial.
In 2018, NME reports they made a controversial reunion once Lambesis was out of jail, but with one member short: Guitarist Nick Hipa left to concentrate on his motion graphics career in 2021.
Slayer
As Rob Zombie once said of their shows, it's "like trying to watch a rock concert in a riot" (via Revolver Magazine). Along with their contemporaries Anthrax, Metallica, and Megadeath, Slayer eschewed the hair metal acts of the 1980s and helped define thrash metal as we know it today.
As Revolver details, Slayer has produced 12 studio albums, won two Grammys, and even had their own exhibit in the Smithsonian at one point. They weathered their fair share of controversies too (in the early years pearl-clutching parents assumed they promoted Satanism), as Louder Sound reports they were accused of racism and Nazism (due to a song about Josef Mengele's war crimes) among other things.
They suffered a personal tragedy of losing bandmate Jeff Hanneman — NPR states that he died from liver failure in 2013. And, frontman Tom Araya lost his ability to headbang thanks to needing surgery to insert pins to fuse vertebrae in his neck. Araya shared his recovery with Noisecreep in 2010, saying his brand of headbanging caused damage to the disks.
All good things must come to an end though, and in 2018, after nearly 30 years on the heavy metal scene, Slayer announced their farewell tour. In 2019 they officially disbanded — a move that co-founder Kerry King regrets. He feels they may have quit a bit prematurely, telling NME, "I hate not … playing." The choice to bring the act to a close felt like a natural means to preserve their legacy of being a pioneer in thrash metal.
H.I.M. (His Infernal Majesty)
Coming all the way from Finland in 1991, H.I.M.'s distinguishing characteristic was infusing romance within a backdrop of heavy wrapped-in-gothic aesthetic (the Heartagram symbol comes to mind) with their debut "Greatest Love Songs Vol. 666." Classic tracks include "Vampire Heart," "Wicked Game," and "Killing Loneliness" — each one masterfully blending seductive vocals with weighty dark guitars, as observed by AllMusic.
When their original drummer, Gas Lipstick, quit in 2015, it marked the beginning of the end. Lipstick released a statement on his Facebook stating, "I simply feel that it's time for me to move on as a musician," and that he bore no ill will with the band.
In February 2017, the members gathered at a pub in Helsinki to talk about their future, or rather lack of it. According to singer Ville Valo in an interview with Louder, the band was losing its ambition, and the spark that guided them 26 years through the industry had "gone somewhere else."
It seems the split was amicable with its members feeling they had reached their logical end. Valo has since moved on to a new project called Ville Valo and the Agents, as per Loudwire.
Type O Negative
Not everyone can carry on after the death of a bandmate, and Peter Steele was a larger-than-life character that was impossible to replace. Formed in 1990 out of Brooklyn, New York, Type O Negative took the raw power behind thrash metal, slowed it down, and enchanted listeners with Steele's dark, velvety, brooding growl (via AllMusic).
Lyrically, their songs often evoked feelings of despair as they explored dark themes with a sense of sardonic humor and sarcasm. Louder wrote they called themselves "The Drab Four" (probably a dig at them being the opposite of the Beatles' uplifting sound).
Highlights from their catalog include "Black No. 1," a song poking fun at the pretentiousness of goths in the late 1980s, and "Christian Woman," a song inspired by a sexual encounter Steele once had, as per Revolver magazine.
Unfortunately, Steele died at 48 in April 2010 from sepsis due to diverticulitis, leaving fans in a state of disbelief, Loudwire reported. Five years prior the singer pulled a prank by announcing his death on the band's website. The remaining band members, Kenny Hickey, Josh Silver, and Johnny Kelly couldn't continue after the loss of one of goth metal's most iconic figures.
The Mighty Mighty Bosstones
As of January 2022, the men who brought us catchy hits like "The Impression I Get" are no longer making music. According to the AV Club, The Mighty Mighty Bosstones made the announcement on their Facebook page. The Bosstones were powerhouses of ska-punk who were famously featured in the 1995 movie "Clueless".
They formed a group back in the early 1980s in Boston when ska was seeing a third-wave revolution, as reported by the Boston Globe. Their sound was best described by the Tampa Bay Times as "​​the mutant spawn of Madness and Motorhead. The illegitimate children of ska and punk."
It was honestly for the best that they hung up the mantel — especially after releasing the very cringe-worthy but well-meaning "The Killing Of Georgie Part III," a song about the murder of George Floyd.
No specific reason was given for the split, but as Rolling Stone wrote, rumor has it that it was partly due to frontman Dicky Barrett allegedly writing a song for an anti-vaxxer rally sponsored by Robert F. Kennedy Jr.
R.E.M.
Before "alternative rock" was a clear designation, and years prior to Nirvana taking grunge mainstream, the left-of-center kind of guitar music was called college rock, and R.E.M. made it accessible to the masses. With Peter Buck's complicated and jangly riffs and inscrutable lyrics delivered in the angelic howl of Michael Stipe, R.E.M. provided the soundtrack of a generation while also scoring massive hits like "Losing My Religion," "The One I Love," "Orange Crush," and "Everybody Hurts."
The demise of a band as archetypal as R.E.M. may take awhile, and that's what transpired. In 1997, the core four of R.E.M. lost one of its founding members when drummer Bill Berry quit the group. Two years earlier, he endured a ruptured aneurysm during an R.E.M. show in Switzerland (via the Chicago Tribune), and since then, as he said in a statement to Rolling Stone, his "priorities have shifted." He added, "I loved my 17 years with R.E.M. but I'm ready to move on to a different phase of my life."
Other drummers played with R.E.M. on record and on tour for the next 14 years before the band decided together to move on in 2011. "As lifelong friends and co-conspirators, we have decided to call it a day as a band," Stipe, Buck, and bassist Mike Mills said in a website statement (via Rolling Stone). "We walk away with a great sense of gratitude, of finality, and of astonishment at all we have accomplished."
The White Stripes
With so much explosive sound coming from just two people, the White Stripes could not be ignored. Consisting of guitarist and singer Jack White and drummer Meg White (claiming to be siblings, but actually a divorced couple, per Rolling Stone), the duo busted out of the Detroit music scene with its blues-punk mashup and brought indie rock to the mainstream. They'd be hailed as the saviors of 2000s rock, responsible for classic tracks like "Fell in Love with a Girl," "Seven Nation Army," and "Blue Orchid."
The White Stripes released albums at a rapid clip in the late '90s and early 2000s, churning out six studio LPs in eight years, the last being "Icky Thump" in 2007. The writing on the wall regarding the band's future was clear when Jack and Meg White then went four years without releasing any new material. In 2011, the duo told fans what they'd probably already figured out: that the White Stripes' moment had passed. "The reason is not due to artistic differences or lack of wanting to continue, nor any health issues," Jack and Meg White said in a statement on their website (via The Hollywood Reporter). "It's for a myriad of reasons, but mostly to preserve what is beautiful and special about the band and have it stay that way." While Meg White left the music industry, Jack White went on to a fruitful solo career, winning four Grammy Awards along the way.
INXS
Few bands were as successful in the '80s — or as inextricably linked to the decade — as INXS. Led by the whisper-to-a-scream vocals of teen idol lead singer Michael Hutchence and three musical Farriss brothers, the Australian six-piece dominated the pop rock of the era with its shined-up, danceable New Wave, heard on big worldwide hits like "What You Need," "Need You Tonight," "Devil Inside," and "New Sensation." In November 1997, according to Far Out, Hutchence was found dead in his hotel room at age 37. The rest of INXS soldiered on, eventually hiring J.D. Fortune as its lead singer, found through the completion reality show "Rock Star: INXS."
After more than three decades, 12 albums, millions of records sold, and continuing for more than 15 years after losing its charismatic lead singer, INXS decided it was time to disappear in 2012. "It's time to step away," the five surviving, founding members of the group said in a joint statement (via Billboard). "We understand that this must come as a blow to everybody, but all things must eventually come to an end." That press release confirmed what drummer Jon Farriss said on stage at a concert in Perth, Australia, days earlier, that it would be INXS's last show ever and the idea left him "getting teary."
Daft Punk
French musicians Guy-Manuel de Homem-Christo and Thomas Bangalter teamed up in 1993 for a project that would explore pop, rock, and dance music through the lens of electronic instrumentation. They called themselves Daft Punk, and they quickly became a sensation on the European house music scene, according to Rolling Stone, before breaking into the electronica-sampling mainstream in the late 1990s with hits including "Around the World" and "Da Funk." De Homem-Christo and Bangalter recognized the importance of imagery in modern music, and in addition to producing visually stunning music videos to go along with their songs (the anime videos for the first four singles from their 2001 album "Discovery" became a full-length animated film), the duo never appeared or performed without their shiny, metallic, robotic helmets.
Befitting a band who incorporated cinematic visuals to bolster its repertoire of music that sounded like it came from an alien planet in the distant future, Daft Punk announced its split with a dramatic and baffling short film. Having not released a full-length album since 2013's "Random Access Memories" (a Grammy winner for Album of the Year), Daft Punk shared an eight-minute chunk of its 2006 film "Electroma" in early 2021. Therein, two robots (standing in for de Homem-Christo and Bangalter) wander into the desert and one of them explodes, leading to the on-screen epitaph, "1993–2021." The band's representative, Kathryn Frazier, confirmed to Rolling Stone that this video announcement was, in fact, a breakup statement.
Crosby, Stills, Nash, and Young
Serving as a bridge from the hippie-laden late '60s into the introspective singer-songwriter days of '70s, Crosby, Stills and Nash (and sometimes Crosby, Stills, Nash and Young) were one of rock's first supergroups. David Crosby (of the Byrds), Stephen Stills (of Buffalo Springfield), and Graham Nash (the Hollies) were a collective, harmonizing powerhouse who resonated with the Baby Boomer generation whenever they released an album via several different lineups. But they'll probably be best known for their early stuff, like "Suite: Judy Blue Eyes," "Ohio," "Woodstock," "Our House," and "Teach Your Children."
The last time all four members played together was a benefit concert in October 2013. Personality conflicts have weighed on the band for years (including Crosby publicly insulting Young's girlfriend to a reporter), and it's what ultimately led to the band's seemingly and probably final split in 2016. Nash made it abundantly clear in interviews that he can't stand one bandmate in particular. "I don't like David Crosby right now. He's been awful for me the last two years, just f***ing awful. I've been there and saved his f***ing a** for 45 years, and he treated me like s***," Nash told Lust for Life (via Consequence of Sound). In case those comments didn't quite register, Nash re-iterated to Billboard, "Right now, I don't want anything to do with Crosby at all. It's just that simple. In my world there will never, ever be a Crosby, Stills, Nash, and Young record."
Black Sabbath
Black Sabbath led a rock revolution in the early 1970s, taking traditional blues-based rhythms and instrumentation and making it dark, spooky, menacing, and very, very loud. Fronted by Ozzy Osbourne, Black Sabbath are synonymous with heavy metal music, inspiring millions to head bang and flash the devil horns gesture with raucous, monster riff-driven ragers like "Iron Man," "Paranoid," and "War Pigs." According to Rolling Stone, the band had a lot of lineup changes from the late '70s onward, with a substance abuse-troubled Osbourne frequently coming in and out of Black Sabbath while maintaining a solo career even more iconic than this work in Black Sabbath.
Almost 50 years after the band formed and played its first shows in the members' hometown of Birmingham, England, Black Sabbath returned to the city in February 2017 to play the final show of "The End," the tour proclaimed to be the last one upon which they'd ever embark, according to Rolling Stone. Three out of four original members — Osbourne, guitarist Tommy Iommi, and bassist Geezer Butler — hit the stage, with only drummer Bill Ward missing, having left the group prior to its 2011 reunion over a contractual issue. The evening was captured on what would be Black Sabbath's final release, the live album "The End."
Golden Earring
A quintessential classic rock band, Golden Earring was one of the biggest, loudest, and hardest-charging rock bands of the '70s and '80s. Topping the charts in its native Netherlands from the '60s through the 2010s, Golden Earring is best known in the United States and United Kingdom for the rock radio staple "Radar Love" and the early MTV standout "Twilight Zone."
In 2018, Golden Earring merited a mention in Guinness World Records. The four-man formation of Rinus Gerritsen, George Kooymans, Barry Hay, and Cesar Zuiderwijk had stayed intact since 1970, a period of 48 years, making it one of the longest-lasting lineups in rock history. (And that doesn't even count the nine years the band was together before that in various other permutations.) That grouping would last for another three years — as would Golden Earring itself. According to Dutch-language newspaper Algemeen Dabbled (and Classic Rock), Kooymans told his bandmates in late 2020 that he'd been diagnosed with amyotrophic lateral sclerosis (ALS), also known as Lou Gehrig's disease, a devastating and degenerative neurological and muscular disease. "I am indeed ill," Kooymans said. "Unfortunately, performing is no longer possible." Without its guitarist of many decades alongside them, the rest of the band opted to end Golden Earring. "We always said we would keep going until one of us fell over," Hay said.